The holidays are upon us, and that means that holiday markets will be popping up all over the city. These markets are full of small boutiques selling goodies and crafts to the residents of New York City and tourists and are extremely popular no matter where they are. Some markets are larger and more lavish than others, but all of them have something special to bring to the table. If you want to know which ones are the best, then we've got you covered. Here is CitySignal's list of the best holiday markets in the city!
Best Holiday Markets in Manhattan
View this post on Instagram
Union Square Holiday Market
The most famous holiday market in the city, the Union Square Market runs from November 17th to December 24th. This market is enormous, with over 160 vendors selling clothes, accessories, and ornaments. This magical market is part of the quintessential NYC Christmas experience, so you don't want to miss out on this one.
Holiday Shops at Bryant Park
Known for their food vendors, the Holiday Shops at Bryant Park are open from October 28th to January 2nd. The venue is located right next to the Bryant Park ice rink, which can be enjoyed during your shopping excursion. With some of the best arts and food vendors in the city, this is a delicious way to spend the holidays. You'll want to pop by multiple times.
Columbus Circle Holiday Market
One of the smaller holiday markets in the city, this pop-up runs from November 28th to December 24th. Though it's smaller, it's one of the most refined markets in Manhattan, even going so far as to sell holiday home goods. These artisans are talented and will satisfy any holiday craving you can think of.
Grand Holiday Bazaar
The only indoor and outdoor market in the city, this pop-up starts on November 24th and is open on December 1st, 8th, 15th, and 22nd. With over 150 vendors specializing in crafts, food, and apothecary items, this place is festive and fun, and is a good market to visit if you don't want to spend all day shopping outside.
Pop-In at Nordstrom
Right in the Nordstrom flagship store on 57th street, this holiday market has seasonal fun for everyone, not just those who celebrate Christmas. You can participate in the pop-up online and in-store throughout the holiday season, and buy some of the most comfortable clothes and accessories you've ever experienced.
Best Holiday Markets in Brooklyn
View this post on Instagram
Brooklyn Flea Holiday Market
Sponsored by the Brooklyn Flea Market, this pop-up lasts from Thanksgiving until December 24th. You can expect many familiar Brooklyn Flea faces to show up here, along with a ton of new vendors selling snacks, accessories, clothes, and more. This is Brooklyn's largest holiday market, so you don't want to miss out.
FAD Market Holiday Pop-Ups
With several locations around Brooklyn, this pop-up can be experienced in a variety of ways. The Boerum Hill pop-up is on December 3rd, 4th, 10th, 11th, 17th and 18th. The Dumbo pop-up is open on the exact same dates. Both are open from 11am – 6pm, and feature some spectacular holiday goodies that make great gifts.
Industry City Makers Guild
Much like Santa's workshop, the Industry City Makers Guild will have seasonal selections during the holidays. Along with the Maker's Guild, industry city will have a ton of holiday pop-ups and even an ice rink! Always a fun place no matter what time of year, industry city will be the highlight of your holidays in the city.
The Makers Show
A City Point Tradition, this pop-up shop runs from November 25th to December 23rd, and showcases vendors who are members of marginalized communities. Rooted in social justice, these vendors are talented, and make great food, crafts, and apothecary items that are to die for. These items make great gifts for yourself and others.
Best Holiday Markets in Queens
View this post on Instagram
The Queens Craft Brigade
The Queens Craft Brigade is a pop-up that opens on certain days of the year. The crafts here get rather festive when they are open on November 26th and December 10th, and the fashion sold here is beyond words. Some of the coolest shirts, hoodies, and hats come out of this place, so head over to Queens and pick out something great.
Astoria Market
This market is located in the famous Bohemian Beer Hall, and takes place December 11th and 18th. The market is full of great meals, baked goods, and crafts that make a great gift for anyone of your friends and family. Since it's held in a beer garden, the market is essentially a big party, so come out and have a good time!
Best Holiday Markets in The Bronx
View this post on Instagram
Bronx Terminal Market
This holiday market is sponsored by the Bronx Terminal Market. There's usually a community tree lighting event along with holiday-themed arts and craft activities for you and your family! Since this event is being held in the Bronx Terminal Market, there will also be plenty of shops making this holiday market the perfect place to do some holiday shopping.
Other Holiday Events in NYC
View this post on Instagram
Holiday Events at Macy's
Macy's on 34th Street always has holiday celebrations like parades, SantaLand, and much more. Their special holiday items always make a big splash with locals and tourists alike, and they always have special window displays during the holidays. If you're looking for festive shops, Macy's is the place to go.
Pop-up Bars and Restaurants
Markets aren't the only things that pop in and out of the city. Bars and restaurants also come to town, making spirits bright with their holiday decorations and specials. You can find a list of the best ones here. It's good to make reservations to these places, as they can be very popular and fill up fast, especially places like Rolf's.
Tree Lighting
Rockfeller always has a huge Christmas Tree, and they make a big deal out of lighting it. The lighting will take place on November 30th, and it's always a popular event, especially with tourists. It's good to get there early so you can find a good spot to see the action.
Explore!
NYC is very romantic during the holidays, and there are markets in some of the coziest corners of the city. It's always good to walk around the neighborhood to find pop-ups, holiday specials, and cool Christmas lights. The city is always bright and energetic, and that goes double when it's the holidays. So get out and see what's happening!
---
Holiday markets and events are some of the best parts of December in NYC. These places are full of talented artists, crafts people, and cooks who are just waiting for you to try their stuff. You'll always find something that tickles your fancy here, whether it's an ornament, bar soap, home appliances, or clothing. It might be cold, but these places always have the best coffee and hot cocoa, as well as treats that will make your heart warm. These markets are just waiting to be explored, so don your winter jacket, grab some cash, and head to your favorite borough to shop till you drop.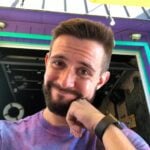 Russell is a writer and comic based in New York City. His plays have been featured at Penn State's Cultural Conversation's Festival, The NYC Thespis Festival, and Imaginarium's Inaugural Theater Festival. Follow him on TikTok and Instagram @pooleparty528