One of the best parts of NYC is the shopping. People love seeking great deals from their favorite places, finding rare items that are unique, stylish, and telling a story. However, not everyone enjoys the various big stores on Fifth Avenue or the boutiques of SoHo. This is where The Brooklyn Flea comes in. One of the most popular bazaar-style markets in NYC, Brooklyn Flea has been selling some amazing goods since 2008. They have everything from clothes to collectibles, and all the vendors are experts in their fields, so the quality is guaranteed. Sounds interesting? Let's take a closer look!
View this post on Instagram
Where is Brooklyn Flea?
Brooklyn Flea operates two locations. DUMBO Flea, located at 80 Pearl Street, is open annually from April until December, with operating hours from 10 a.m. – 5 p.m. every Saturday and Sunday in DUMBO. The Chelsea Flea is located at 29 West 25th Street and is open all year long. The hours for the Chelsea location are 8 a.m. – 5 p.m. every Saturday and Sunday. Both flea markets are open on holidays, rain or shine, so bring a raincoat and some sunscreen and get to shopping!
Is Brooklyn Flea Cash Only?
All vendors in both locations of Brooklyn Flea take cash. Some vendors are able to take credit cards, however, there is no guarantee that all of them will. Both locations have an ATM, run by the market, with a $2.50 charge.
What Kinds of Stuff can be Bought at Brooklyn Flea?
Brooklyn Flea has a variety of goods like clothing, jewelry, art, collectibles, and even furniture! Some past vendors include the fashion line Superfussy, the miniature terrariums of Terrart, and the antique/repurposed items from Prodigal Objects. Current vendors include vintage art and antiques from Hook & Ladder, beautiful clothing from Dammi Vintage, and eclectic handmade wonders from Stephanie V Creations. Vendors are changing constantly so check out the Brooklyn Flea Instagram to see what's new! If you have stuff that is worth selling, sign up to become a vendor at their website.
Does Brooklyn Flea Serve Food?
View this post on Instagram

Not only do they serve a ton of delicious food, but they also run a separate enterprise called Smorgasburg, a huge open-air market with locations at the World Trade Center, Jersey City, and Williamsburg to name a few. Smorgasburg sets up stands at DUMBO Flea, so bring your appetite, because the food here is some of the best in the city!
Other Things You Should Know Before Heading to Brooklyn Flea
Brooklyn Flea is completely free to enter and is open to all ages, so the entire family can spend the day shopping and eating delicious foods. Dogs and service animals are welcome at both the DUMBO and Chelsea locations. Both markets are outside, though the DUMBO location does have some vendors set up under the Brooklyn Bridge arches. The environment is very relaxed, so grab some friends and head to one of the markets for a fun filled weekend.
---
NYC is full of shopping opportunities that blow the mind of residents and visitors alike. However, while larger, indoor stores might have the name brands we know and love, Brooklyn Flea is home to up and coming brands and special items that can't be found anywhere else. It's a truly special place that has cemented itself in the cultural zeitgeist of NYC. It's even received accolades from major publications like the New York Times, which called it "One of the great urban experiences of New York." These markets are truly special places. Once you visit, you'll be making repeat trips every weekend.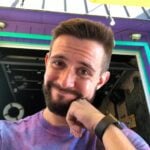 Russell is a writer and comic based in New York City. His plays have been featured at Penn State's Cultural Conversation's Festival, The NYC Thespis Festival, and Imaginarium's Inaugural Theater Festival. Follow him on TikTok and Instagram @pooleparty528