New York City is home to an astonishing amount of wonderful little relics. Even though platforms such as Amazon and eBay exist for most necessary items, there is nothing like an original commodity that not everyone has access to. We are also in an era where even though online shopping is convenient, it is not always the most reliable. In order to ensure that you receive your gifts on time and they are exactly what you think they are, in-person shopping is still your best option. Thankfully, there are many options for gifts that can easily be classified as the best places to shop in Manhattan or other boroughs for that matter. Whether it be in the heart of Midtown or the quaint streets of Greenwich Village, the New York shopping streets will not disappoint. So, if you are visiting, recommending a place, or shopping for friends, we have you covered. Below are the top NYC neighborhoods for gift shopping. 
Best Shopping in NYC
Midtown
Midtown shopping is THE place to go if you are visiting New York City. Even though most locals will stray away from this area due to the busyness of Times Square, options like Fifth Avenue and Rockefeller Center are also available. Fifth Avenue is home to both high-end department stores and more casual, but still well-known shops such as Nike, Urban Outfitters, Zara, and H&M. Although, it is always fun to stop by Barney's New York, Bergdorf Goodman, and the original Saks Fifth Avenue. There is mostly only clothing, shoes, and accessory shopping in this area. You won't find one-of-a-kind vintage pieces the way you would in areas like Williamsburg, Upper East Side, or Greenwich Village. Midtown shopping is very commercial and will be your go-to for a lot of basics. Rockefeller Center has an enormously large selection of shops within the premises where you can find toys, clothing, home goods, and stationery stores. Even though it is an experience, try not to shop too seriously in Midtown during the holiday season. It can definitely get a bit out of control.
Soho
SoHo in lower Manhattan serves as one of the largest, most well-known shopping districts in the world. It spans across 73-acres and can be located in the area south of Hudson Street. To find a gem in this popular shopping district wouldn't be too difficult at all. This is due to the "SoHo effect" which was a form of gentrification in the late 1900s and early 2000s. Many poor artists and small factories attracted tourists from all over who were seeking out fashionable clothing and exquisite architecture. SoHo's chain outlets are clustered along Broadway, Prince, and Spring Streets where there is a multitude of clothing, accessory, shoe, furniture, and gift shops. It is known for its commercialization and mix of boutiques for shopping.  
We definitely recommend taking a trip to one of the best shopping areas in NYC whether you purchase something or not. SoHo is arguably the second most famous neighborhood in all of Manhattan right after Midtown. 
1.) Pearl River Market – 452 Broadway
This 3-floor emporium may be the best for gift shopping on the entire list. In 1971, a group of young Chinese men and women came to America in order to open a small "friendship" store located in downtown Manhattan. Today, Pearl River Market sells some of the best items around at a very reasonable price. Want to buy a friend a clothing item? Don't worry, Pearl River Market has it. Looking to buy grandma some yarn for her new project she wants to have done in a few months? Just look at the directory for the 'craft' section and Pearl River Market will have it. Listing other gift shops in Soho isn't even worth it because THIS is the one. 
NoLita
NoLita, a quaint little neighborhood in Lower Manhattan also known as 'North of Little Italy', is a wonderful place to go shopping. Houston, Bowery, Broome, and Prince Street are the most popular streets that are located within NoLita and are home to big-name shops and smaller, independent shops.  However, there are more designer boutiques than well-known places that are stuffed with gorgeous jewelry items, one-of-a-kind accessories, and sweet clothing pieces that will have you feeling nothing but luxurious. Recently, there has been a wave of French shops (such as Sézane, Cire Trudon, Maison Kitsuné, and Le Labo) that have come to the NoLita area. It is slowly but surely beginning to own the name 'The French Quarter of New York' with the influx of Parisian brands and French delights. 
1.) Loeffler Randall – 10 Prince St
This Brooklyn-based brand is female-founded and 94% female-run. Loeffler Randall makes distinctive products in small batches with heavy attention to detail. They use raw materials to create their handmade shoes and breath-taking accessories. Reducing waste is at the top of their priorities with sustainable packaging and practices. At Loeffler Randall, you can find shoes, accessories, handbags, and ready-to-wear clothing items. 
2.) Deciem, The Abnormal Beauty Company – 26 Prince St
Deciem is one of the hottest skincare shops on the market right now. This company prides itself on transparency and insight when it comes to all and every beauty product you can think of. All of their products are of the highest quality and are such an incredibly thoughtful gift to give to someone, especially if they are skincare-obsessed. If not, a gift from Deciem is a great place to start.
Chinatown
For a change of pace, check out Chinatown! The vibrant lights and mouth-watering food are not the only things Chinatown has to offer. The lively sidewalks span from roughly around the south end of St. James Place to the north of Canal St. Along this area are a bunch of little shops that classify it as one of the best shopping areas in NYC, especially if you are looking for trinkets to give to others… Or even yourself! There is a multitude of imported goods one can find on the streets of Chinatown. Canal Street was previously the home of warehouse selling stores that had surplus/salvage electronics and hardware. Nowadays you can find many knock-off vendors swarming the area selling various brands of perfumes, handbags, clothing items, and watches.
Another primary contributor to the economy of Chinatown is the mini-malls you can visit that are home to a variety of small shops. The two largest and most well-known in the area are Elizabeth Center and East Broadway Mall. Within the small shops located in the mini-malls are places where you can find imported knickknacks, popular culture merchandise, art prints, and specialty handmade items. 
1.) Coming Soon – 53 Canal St.
Coming Soon is a funky shop that will have your eyes gazing in all different directions from the crazy shapes and colors that fill the space. They curate, create, and sell household items that make the perfect gifts. Instead of following a traditional vendor-buyer model, Coming Soon values a more collaborative approach to ensure an experience that you wouldn't find at any old gift shop. Ranging from marbled cutting boards, idiosyncratic coffee table books, and weirdly shaped floor lamps… Coming Soon has it all. 
2.) November 19 Market – 37 Orchard St.
Created and opened in 2016, November 19 Market became a destination that sold hand-crafted home and lifestyle goods. Items change regularly depending on factors such as the current season and what vintage pieces the owners come across during their travels around the world. In the November 19 Market store, customers can find items such as found fashion pieces, candles, dish sets, accessories, and all types of little knick knacks to place in a household. 
Greenwich Village + West Village
Let's take a look at one of the most invigorating neighborhoods New York City has to offer. Greenwich Village, currently and historically, is filled with nothing but life from all over the world. With a mix of culture, backgrounds, and ongoing admiration for the arts, this area is a fantastic option if you want to take a trip down a lively New York shopping street or two. The shopping here is a bit more unique than the other places on our list. There is a multitude of specialty book and music emporiums because of the rich history pertaining to each respective medium of art. Bleeker Street is also within the neighborhood and is known to be a boutique alley showcasing designs of high fashion brands such as Ralph Lauren, Marc Jacobs, and a bunch of other haute couture shops. Christopher Street is another fun little option where you can find antiques from all over the world. Pinkies up and wallets ready because this shopping area will have you spending a hefty amount. 
1.) Jonathan Adler – 37 Greenwich Ave
Jonathan Adler is a luxe furniture store with locations all over Manhattan, but one larger one in Greenwich Village. This company was started by the one and only Jonathan Adler who quit his day job to pursue his love for pottery. Today, the furniture store curates items suitable for in-store purchasing and e-commerce platforms. This famously-known retailer has a ton of options ranging from smaller gifts to bigger gifts for any occasion. Jonathan Adler sells rugs, decor, pottery, and different pieces of furniture. They even have a section specifically for gifts. 
2.) Pink Olive – 30 Charles St
Pink Olive is a place that will have you smiling from ear to ear the second you walk through its doors. Grace Kang, founder and chief buyer, has always had an affinity for fashion and stationery. So, she went ahead and created a store that was home to all of the things she loved the most. At Pink Olive, customers can choose from baby products (clothes, accessories, toys), paper goods (activity books, cards, party favors, stationary), various things for the home, accessories (jewelry, socks, hats), candles, and special holiday gifts. 
Best Places to Shop in Brooklyn
Williamsburg
Ah yes, Brooklyn's most prized possession. The beloved and glorious Williamsburg. This neighborhood has gone through the process of gentrification and since then has become a hub for contemporary art, hipster culture, and thrilling nightlife that can be compared to the scene in Berlin, Germany. Concerning the shopping here in Williamsburg – it is nothing but trendy. The artists who have come to the area took their craft with them and created sights you won't see anywhere else in Brooklyn. The best part is, that a lot of it is rather reasonably priced. The creative energy runs deep and comes out in eclectic accessories and weirdly shaped home good items. There are also a few really good bookstores in the area with a couple of coffee shops nearby to accompany your new reads. 
1.) Mother of Junk – 567 Driggs Ave
This beautifully hectic is one of Williamsburg's best thrift shops. Why you may ask? Well, the number of items both hidden and in plain sight throughout the store is enough to satisfy a whole army of shoppers. From creepy dolls to vintage paintings and funky costume jewelry, Mother of Junk can be a great place to find a gift for someone you will not find anywhere else. 
2.) The Mini Mall – 218 Bedford Ave
The Mini Mall is probably Williamsburg's most shopped spot. This small indoor mall is home to a handful of stores selling all different kinds of items. The prices in each store range from affordable to very expensive, but the quality is always top-notch. There is a bookstore inside, smaller gift shops, and even a place to get pierced!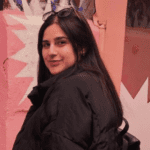 Carly is a freelance writer with interest in topics pertaining to lifestyle blogging, social justice, and anything to do with film/media. She graduated from the University of Wisconsin - Madison with a degree in English & Literary studies in hopes to write for a large music publication. When she is not writing, you can find her watching movies, cooking her famous Carbonara, and enjoying time outdoors.