Ice skating has almost always been part of NYC's identity, even before man-made ice rinks started being built in 1939. People were skating on frozen bodies of water in the 1700 and 1800s near places that would become Central Park, Prospect Park, and McCarren Park. Prospect Park even blocked off their frozen lakes in 1920, effectively making it a city-run skating rink, where they charged 25 cents to rent a pair of skates. Today, this proud tradition continues, and now NYC has a ton of man-made ice rinks both seasonal and year-round.
Best Ice Skating in Manhattan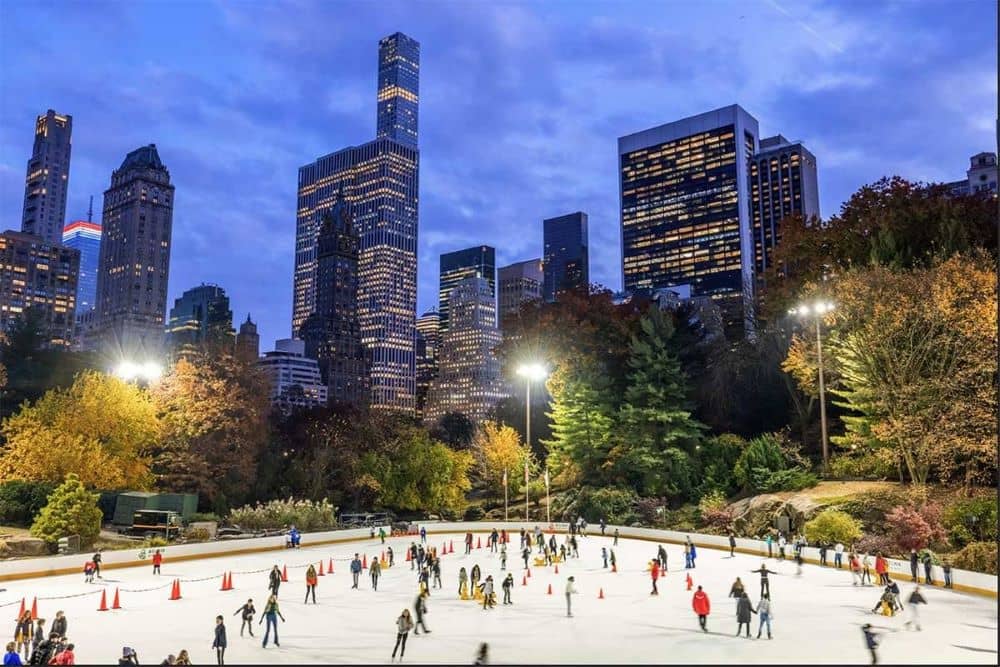 The Rink at Rockefeller Center
Easily the most famous ice rink in NYC, The Rink at Rockefeller Center has been featured in a ton of television programs and movies. Opening on November 5th, this rink is extremely popular for the scenic aspects alone. The gold statue and the Rockefeller Christmas Tree will watch over you as you skate your way through your own personal romantic comedy. Tickets for children under five start at $11 and start at $20 for everyone else. Delighting skaters since 1931, this rink is perfect for families or special date nights.
Ice Skating in Central Park
One could say that NYC's love affair with skating started in Central Park, and continues to this day. The park has three skating options, though one of them is closed for renovations until 2024. The two that are open are Wollman Rink, the most popular skating spot in Central Park, and Conservatory Water, a frozen lake that allows you to skate for free as long as the weather conditions are right. Wollman Rink is open from October 24th to March 15th, with tickets starting at only $15 off-peak hours. You can even rent skates here for $10, and the rink is open late most nights, making it great for a date night.
The Rink at Bryant Park
Right outside a popular holiday market, The Rink at Bryant Park is free to enter, but provides an unforgettable experience if you're willing to throw a little cash around. For example, their Premium Skate package can be anywhere from $135 to $150, and offers guests a skating concierge, snacks and beverages, and access to the Polar Lounge along with extended time on the ice. You can still enhance your experience without spending $100, though. You can rent skates, helmets, and even skating aids for those beginners who want to get in on the fun. They even offer blade sharpening!
The Sky Rink at Chelsea Piers
One of the few year-round ice rinks in the city, The Rink at Chelsea Piers is an extremely popular place, especially if you want to join a rec league of some sort. They're most popular for their general skating times, which take place every day of the week. A single session, skate rental, and helmet rental will cost a total of $35 for a one hours session, and they even have coaches you can hire to give you lessons and additional skating advice. If you want to skate in the summer, this is the place to do it.
Best Ice Skating in Brooklyn
View this post on Instagram
LeFrak Center at Lakeside
Opened over 150 years ago, LeFrak Center at Lakeside has kept the proud tradition of Brooklyn ice skating alive and well. The center offers general skating, figure skating lessons, and even rec leagues for ice hockey when the lake finally freezes over. Ever want to try curling? They have that too! LeFrak offers a variety of winter sports and activities that are great for families, so be sure to check it out once it starts to get cold.
Industry City Ice Rink
A newer addition to the NYC ice skating lexicon, Industry City Ice Rink is fun and affordable. With tickets just $12 and skate rentals just $10, it's one of the most accessible ice rinks in the entire city. The rink itself is a bit smaller than its siblings, but it makes up for this by being surrounded by Industry City, which is full of shops, restaurants, and bars. The décor around the rink is bright and festive, making this the perfect place for families and couples to have a pleasant evening.
Abe Stark Arena
Many people think that Coney Island is just a summer destination, but the Abe Stark Arena shows that you can have fun here anytime of year. The arena has a ton of sporting events, so general skating is mostly on Saturdays in the afternoon. However, tickets for this rink are extremely affordable, starting at only $10 per person and just a $5 skate rental. The rink also has holiday hours for those seeking to do something special on Thanksgiving or Christmas weekend, and hours for the rink are even extended these day so the fun doesn't have to end right away.
Best Ice Skating in Queens
View this post on Instagram
City Ice Pavilion
One of the best skating opportunities in Long Island City, this skating rink is open year round, and offers general skating, hockey leagues, and even birthday parties. They also offer a variety of skating classes for children and adults, and even have private lessons for those who need a more hands on approach when it comes to skating. This amazing place has a little bit of everything, so prices vary depending on what you want to do. However, this rink is extremely affordable, which makes it extremely popular among residents of NYC.
World Ice Arena
Another year round rink, this massive facility offers classes, hockey leagues, and even a coffee club for skating and sports enthusiasts. Located in Flushing Meadows Corona Park, this facility is a gem in the borough, and is extremely popular with those who want to skate outside the winter seasons. They have a skating school for children, where they can learn to free skate or specialize in hockey or figure skating. They even have pick-up hockey for adults, so people of all ages can enjoy this amazing place. The best part, though, is the public skating sessions that start at just $8.
L.I.C. Ice
Though this rink is more geared toward hockey, that is not a downside. Hockey fans will know this place as the training ground for the New York Islanders, a professional hockey team known for their philanthropy work with young hockey fans. The facility offers a variety of classes for younger hockey fans, many of which are taught by Islander players themselves. They offer seasonal classes all year long, so you never have to wait too long for their next training session. If hockey is your life, you'll definitely want to check this place out.
Best Ice Skating in Staten Island
View this post on Instagram
WWII Veterans War Memorial Ice Skating Rink
One of the best places to go for outdoor skating in Staten Island, the WWII Veteran War Memorial Ice Skating Rink is extremely affordable and extremely large. Very popular amongst the families of Staten Island, this rink is open to the general public on Fridays, Saturdays, and Sundays, and only costs $11, though renting skates will be an additional $6. This rink is also open on most holidays, making it a great way to celebrate a special Thanksgiving, Christmas, or New Year, so be sure to check this one out!
The Staten Island Skating Pavilion
Sponsored by Staten Island University, this pavilion is dedicated to all things ice skating, from recreational fun to competitive figure skating. Open year round, this place even offers skating summer camps for hockey and figure skating, allowing kids to hone their skills so they can play better in their rec leagues. For those who just want to skate for fun, they offer plenty of opportunities for that too, with general skating taking place on the weekends for a reasonable price. This place has a ton of skating opportunities so don't miss out!
Other Locations For Ice Skating
View this post on Instagram
Governors Island Winter Village
Sporting a 5000 square foot ice rink, the Governors Island Winter Village is one of the most fun ways to enjoy winter in NYC. Surrounded by food vendors and shops, the Winter Village Ice Rink is open Fridays thru Sundays, as well as all holidays recognized by the Department of Education, and only costs $11 to enter, with $8 skate rental should you need one. This event lasts far beyond New Years, so you can enjoy it as many times as you want. The Winter Village is a magical place, so be sure to check it out.
---
Ice skating has always been popular in NYC, which is shown by the fact that the first manmade rink was built in 1939, and only just closed in 2008. Since then, many rinks have come and gone, but the love of skating has always remained the same. Whether you want a year round rink, or just a seasonal experience, NYC has got you covered in almost every single borough. So celebrate the most magical time of year in NYC by doing an activity that has been around since the city itself. It unique, it's romantic, and it will create memories for you that last a lifetime.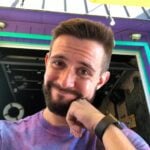 Russell is a writer and comic based in New York City. His plays have been featured at Penn State's Cultural Conversation's Festival, The NYC Thespis Festival, and Imaginarium's Inaugural Theater Festival. Follow him on TikTok and Instagram @pooleparty528