Throughout 2021, we saw unprecedented behavior in the housing market. It's been preponderantly blamed on COVID-19, which indeed seemed to precipitate unparalleled trends in the marketplace – and not just in traditional real estate. The proptech industry, intended to disrupt the antiquated traditions, also grew by leaps and bounds. In fact, the tech giants, in general, turned into supergiants, while even cryptocurrency had a few record-making runs, on the heels of our introduction to the Metaverse. Looking back on this ominous time in history, the majority of these things seem inevitable; oddly predictable, in some way. I suppose it seems that way due to our extended worldwide quarantines, followed by mask mandates, vaccine mandates, surprise variants and what we are supposed to think of as "the new normal" – yet, I digress.
Back to the housing market. In short: it's been crazy! And the proptech industry has given us cutting edge startups like Opendoor, June Homes, and even mortgage lender Better.com – sans CEO Vishal Garg, of course. Don't even get me started on Zillow.
But let's talk about the iBuying industry, now dominated by Opendoor (OPEN), who now has nearly 80% of the iBuying market share – since Zillow Offers failed conspicuously – heading into 2022.
In fact, their Q1 earnings delivered stellar reports, at least according to the Seeking Alpha article that sparked my interest. However, then my boss pointed out another article in The Real Deal – with the exact opposite viewpoint. What am I supposed to do with that?! I thought. Hmmm. And here we are.
PropTech Stars
The problem is, both of these articles have a point grounded in non-fiction. And the fact is, now that the world is trying terribly hard to go back to the real normal, as we knew it, anyway – amidst a war on another country by our country's historic antagonist – iBuying will almost certainly lose a portion of its shine. All of this notwithstanding, the Seeking Alpha article was incredibly in-depth and comprehensive, in my opinion. Plus, since it was specifically geared towards investors, I have to believe in its value.
You're not going to believe this, but as soon as I wrote that last sentence, I went to check the current stock price of Opendoor, which is indeed down at $8.25 as I write this – and I found headlines in The Motley Fool that made me smile. They read, "Motley Fool Triples Down on 'Millionaire-Maker' Stock", which gives me further confidence in my ever-fallible opinion. (I hope I'm giving someone a chuckle out there.) But sometimes what an article doesn't say is telling, since that piece didn't specifically identify Opendoor, or anyone else, for that matter. After all, I'm not a paying subscriber. So now I'm left second-guessing myself again.
Ever the perfectionist, I found more of what I was looking for with a CNN article. (Beggars can't be choosers, ha-ha.) The article states they polled 10 investment analysts and the consensus was to buy Opendoor stock.
This opened my door, and I found the nitty-gritty of information I'd been looking for. Another source, Wall Street Zen, polled 6 analysts and overall they rated them a "buy" as well. And guess what? I also found an article that I could read for free in The Motley Fool, and was indeed felt vindicated with their strong opinion to buy. Then I saw the date was August 2021, so again, it left doubts. I kept looking, diligent if nothing else about my never-ending quest to find the facts in every story for our readers! I found MarketBeat that gives a current run-down which is best illustrated in this screenshot: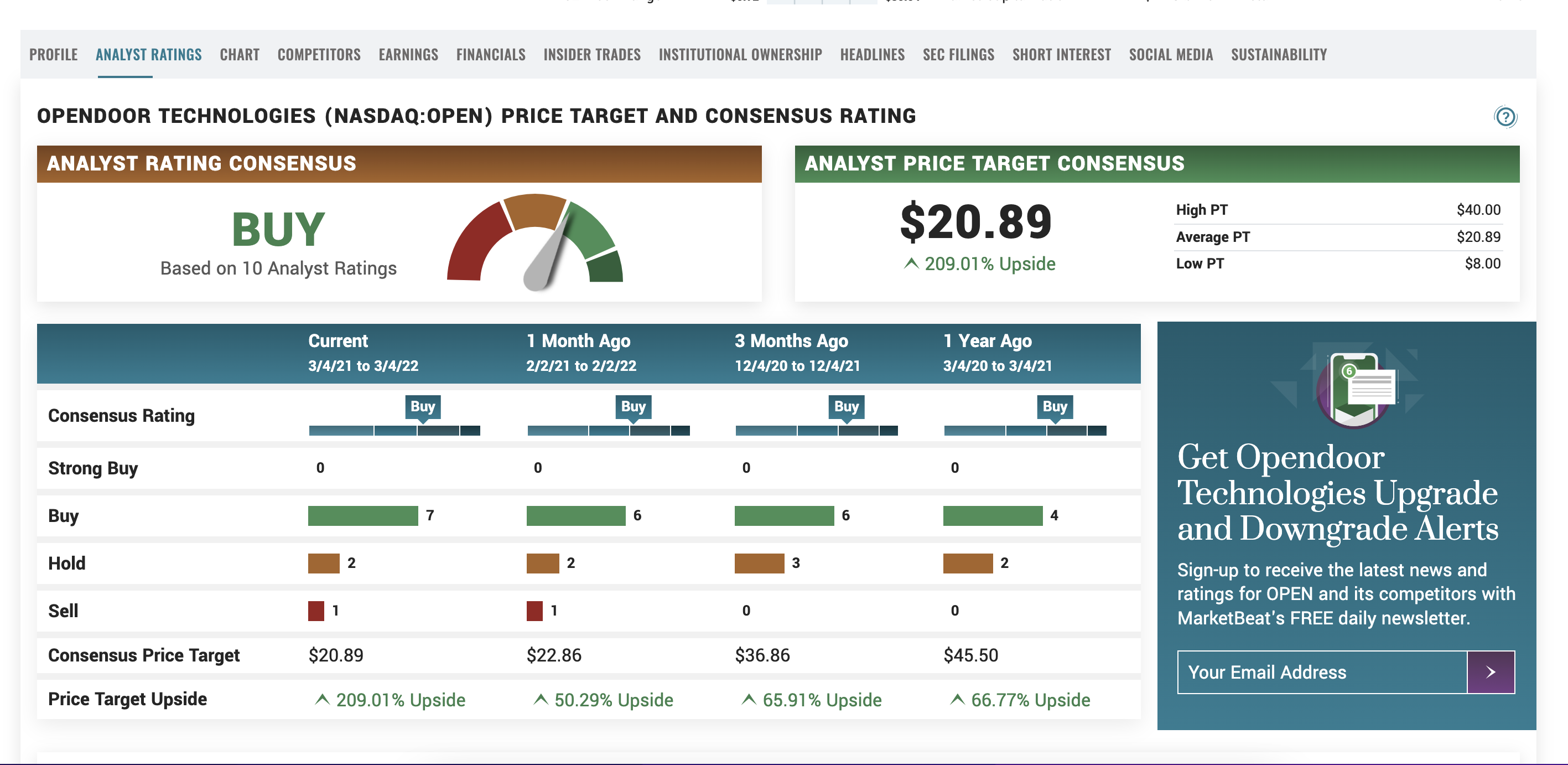 Still, though I don't want to sound wishy-washy, I have some reservations. But I have a pretty good feeling Opendoor is going to be a star. It will be highly interesting to watch their progress – or lack thereof. But their stock price has gone up, just since last night to currently $8.59. To be clear, this is a low price to buy in at, and unless they suddenly pull a Zillow, you're almost sure to make money. To be cliche, I'm going to give them a tentative "thumbs-up". In the meantime, I'll try to come up with something unique and clever for my own humble but educated opinions rating system.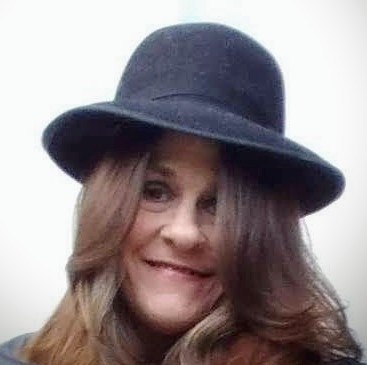 Rochelle Harris is a passionate writer originally from Phoenix, AZ. who credits her success to integrity and determination. She has a great sense of humor, loves music and her family, and writes fiction and poetry in her spare time. She is excited about the New York experience and lifestyle! Follow Rochelle on Twitter at @LinguisticAnRky or get in touch at [email protected]