Crypto and digital assets started off the month with a massive rally, turning around a week of concerns that China and other governments might look to control or restrict digital asset trading.  Bitcoin is up almost 18% from the lows in the past 48 hours, with Ethereum and Dogecoin also making solid gains on the day.  In related news, TikTok enters the NFT game, releasing their first wave of creator-led NFT collections.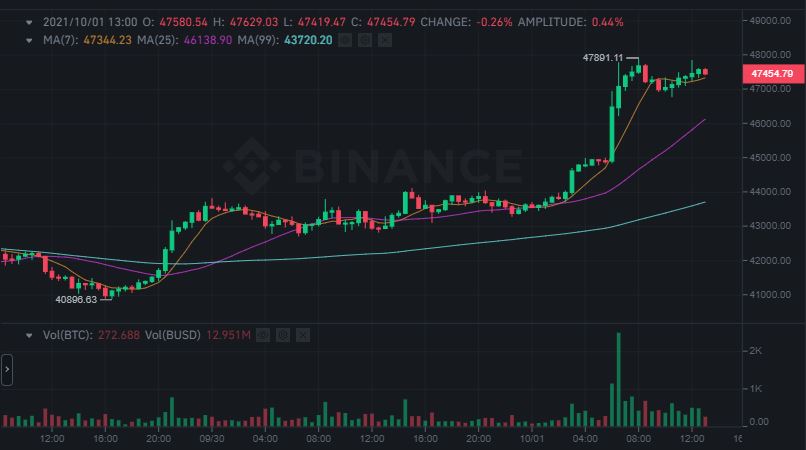 Political, Inflation and Taper Risks Still Loom
Although equity and bond traders faced a relatively calm day, VIX remains elevated at 21 mid-day on October 1st, 2021.  The NASDAQ and S&P are down over 5% from their all-time highs last month and newly released economic data is still discouraging.  Today's Personal Consumption Expenditures report echoed what the CPI data showed the past two months:  prices are definitely rising.  Some world-famous economists such as Paul Krugman argue that the inflation numbers are simply transitory.  Meaning, as the world shifts from a pandemic to remote work to a new normal, there will be some dislocations in the economy as we adapt.
But if the inflation persists beyond acceptable levels, investors will conclude that the Federal Reserve will have no choice but to begin tapering their monetary policy accommodations.  The last time this happened was known as the "taper tantrum", and eventually a hike in the Federal Funding rate.  In December 2018, a Fed rate hike ultimately led to a 15% drop from peak to trough in the S&P 500.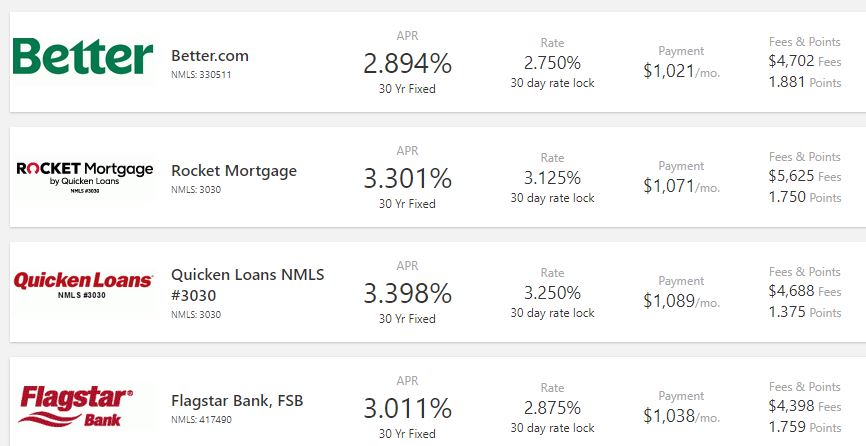 Despite the volatility of the past two weeks, today's mortgage rates and home equity loans are still only slightly higher than their historic lows from the summer.  Homeowners can still lock in rates that will not rise for the lifetime of the loan, whether it is for a new home purchase, a standard refinances, or a cashout refinance.  Those who can withstand some fluctuations in their monthly payments can opt instead for a home equity line of credit, which will be pegged to a floating rate such as 6-month LIBOR.  Shorter duration cash rates will likely lead to an overall lower monthly payment during the beginning of the loan, but will very likely track the Federal Funds rate should it rise as expected in the next 2 years.
Moves For Next Week, 10/4/2021
Traders large and small definitely feel there has been a major shift in sentiment last month.  All summer long, most small pullbacks were great buy-the-dip opportunities, allowing for quick profits immediately after any small retreat in the Nasdaq or S&P.  However, the past 3 weeks have seen the most two-sided action since March of this year.  Large multi-day drops create far more risks for leveraged investors who have become accustomed to a quick rebound.
Over in the Tastytrade world, veteran options trade Tom Sosnoff recommends taking advantage of the environment by selling option premium while keeping a slight bias towards a drop in the market.  Known to some as short-vol, short-delta, these positions profit in 3 different ways: the inherent daily time decay in options as they approach expiration, a reversion in VIX as the market calms down from the heightened fear, and a safety buffer from the short-delta bias if the market drops a mild amount.  Of course, Sosnoff warns to "stay small", as any short-options strategy can easily become highly leveraged and costly positions should the underlying crash.
Mr. "Hud" Chavij recently came from abroad and brought with him a level of determination and creativity that instantly gained him a reputation among the NYC real estate thought leaders.