Kensington Basics
Welcome to Kensington, the residential neighborhood that acts as a haven from the busier parts of the city! Full of row houses, apartment complexes, and even full-blown houses, this neighborhood is a peaceful place to settle down and plant roots. Located in Brooklyn by the Greenwood Cemetery, this area is a bit further away from the hot spots and nightlife of the city, which is just how the residents here like it.
History of Kensington
Kensington was a mostly rural area until the late 1800s when Ocean Parkway was completed in an effort to expand Brooklyn. This expansion was meant to accommodate the growing population of the city, which was then incorporated into NYC in 1898. Kensington wouldn't have a name of its own for a while, though, as it was considered part of Flatbush for much of the 20th Century.
The separation from Flatbush would be cemented in 1968 by the New York Times, which ran an article stating that the border of the neighborhood was Ocean Parkway. The name Kensington really took off in the 1980s, when real estate agents were trying to come up with a unique way to sell the area to potential residents. The name stuck, and those potential residents became permanent ones, transforming the area into a family-friendly neighborhood.
Where to Eat in Kensington
View this post on Instagram
Kensington is a very residential neighborhood with fewer commercial properties. However, residents and visitors of the neighborhood can still find some great restaurants to dine at. Some of the best include:
Thai Farm Kitchen ($$)
This Thai restaurant is delicious and affordable, just the way a good Thai place should be. This restaurant was featured in the New York Times list of "19 Best Bites to Try from Around the World" and its menu is full of classic comfort food that will make your heart sing.
Jalsa ($)
This Indian restaurant has a huge menu and amazing delivery services. They have specials for all sorts of cultural celebrations, especially for Diwali. They also cater a ton of events for an extremely reasonable price, so they can be your go-to for a night out or a big party.
Shenanigans Pub ($)
This bar and restaurant is a great place to relax and unwind after a long day's work. The drinks are cheap, the service is great, and they have all the classic bar food flair like burgers, wings, and nachos. It's just a fun bar in a chill neighborhood.
Where to Live in Kensington
Kensington is mostly made up of residential homes. Residents of this area have plenty of options to choose from and we've listed some of the best ones include:
275 Webster Avenue
This large co-op is perfect for smaller families and young professionals, as it features a variety of units from studios to two bedrooms. Each apartment comes with hardwood flooring, stainless steel appliances, and large windows that flood rooms with natural light.
931 Newkirk Avenue
This historic home has been converted into a three unit rental building, and is a great example of the type of housing Kensington is known for. Units here are huge and most come with outdoor space like a yard or balcony. Perfect for those that want the suburban style of living while being in the city.
Imperial House
This red brick co-op has huge homes, most of which come equipped with private balconies. These homes offer great views of the surrounding neighborhood, and even the Manhattan skyline! The units can accommodate washer and dryers, adding convenience to its residents' lives. 
581 Ocean Parkway
A newer rental building in the area, this complex was constructed in 2016, and features gorgeous appliances that anyone will fall in love with. They also have a variety of building amenities like a fitness center and a laundry room, making this an extremely convenient home.
235 Ocean Parkway
This beautiful condo has spacious homes, many of which have access to classy looking Juliet Balconies. These homes all come with stainless steel appliances, but many more come equipped with extra features like washer and dryers, as well as master bathrooms.
4310 18th Avenue
This rental building has undergone a massive renovation recently, and now comes equipped with beautiful hardwood flooring, stainless steel appliances, and beautiful new cabinets. This complex is perfect for families and young professionals alike.
Traveling in Kensington
Kensington is a smaller neighborhood with a decent amount of ways to travel and commute. Some of the best ways to get around include:
Trains
Kensington is a bit out of the way. As a result, the subway system doesn't have the best access here. However, the F train goes all the way through the neighborhood. The G train will get you to the northern portion of Kensington, while the Q line is just a short walk into Flatbush.
Buses
There are a decent amount of buses that service this area thanks to the major roadways here. These buses include the B8, B11, B16, B35, B67, B68, B69, and B103. These buses stick to the major roadways and usually avoid the side streets.
Ride Shares and Bike Rentals
This neighborhood was made for cars. Trains and buses provide some access, but having a car here will be a game changer for you, especially with Ocean Parkway nearby. This also makes ride sharing a great option for getting around. Do you prefer biking? Kensington has miles of bike lane just waiting to be ridden on. They have several Citi Bike docking stations in the northern part of the neighborhood. However, it'd probably be best to get your own bike in order to have more freedom. This is also an extremely walkable neighborhood.
---
What Kensington lacks in entertainment venues and parks, it makes up for in sheer livability. To live here is to live in a suburb, but one that has great access to the rest of the city. The people who live in this area enjoy peace and quiet on a daily basis, which is hard to find in NYC. It makes for a very serene experience, and a great place to raise a family. You'll get a ton of space for a more affordable price in this neighborhood. Kensington is definitely worth checking out if you're seeking a more quiet area of the Big Apple.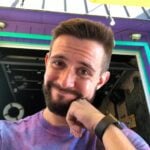 Russell is a writer and comic based in New York City. His plays have been featured at Penn State's Cultural Conversation's Festival, The NYC Thespis Festival, and Imaginarium's Inaugural Theater Festival. Follow him on TikTok and Instagram @pooleparty528