It's hard to imagine that Brooklyn was once roaming farmlands where locals planted corn, tobacco, and fished along the rivers. But as we all know, a lot can change in 600 years. Today's Brooklyn is the most populous- and some say popular- borough of New York City. With 2.5 million residents and over 1.37 million homes, there are many brownstones and limestones to admire.
Still, some places are just a little more special than others. These historical homes and structures in Brooklyn are worth knowing. Through the cumulative visions of influential designers, developers and architects, Brooklyn is home to numerous buildings and features exclusive to its borough.
Historical Development of Brooklyn Architecture
It was the late 1800's and the United States expansion was well underway. Growing numbers of people were moving to Brooklyn, especially between 1880 and 1930. Drawn by opportunity and affordability, the newcomers created massive housing demand. Single-family homes just weren't cutting it anymore. Architects and developers began exploring designs for multi-unit housing developments. It was during this time that Kinko houses first appeared.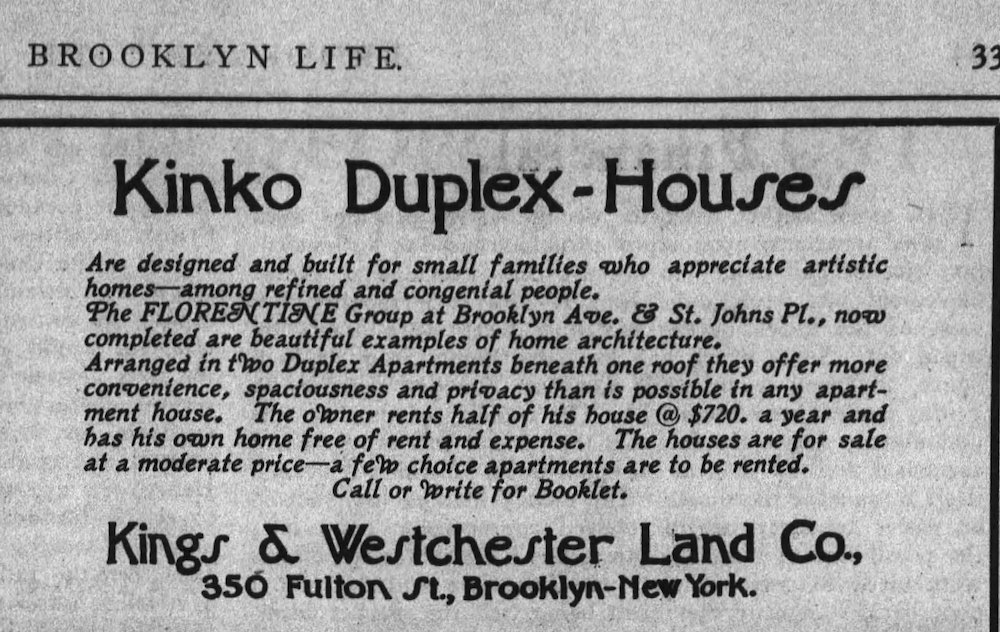 The Two-Family Kinko Duplex House
One of the biggest takeaways we have from this era are Kinko houses, a popular housing design that gained popularity straight from inception in 1905. Kinko houses are residential, two-family duplex homes with separate private entrances for each unit such as evident at 362 Parkside Ave. To have separate entrances was an uncommon feature at the time. The name "Kinko" is an abbreviation of their first builder, Kings & Westchester Land Company. Newspapers and magazines quickly sung praise; Westwood Realty reported Kinko homes as "The most perfect houses ever built for two families."
Giving each duplex its own front door, stairway, porch, cellar, and house number was a break from tradition that kept both units at nearly equal value and maintained privacy between tenants. For example, homes like 1156 Sterling Place in the same neighborhood of Crown Heights had the same street address and looked like one unit.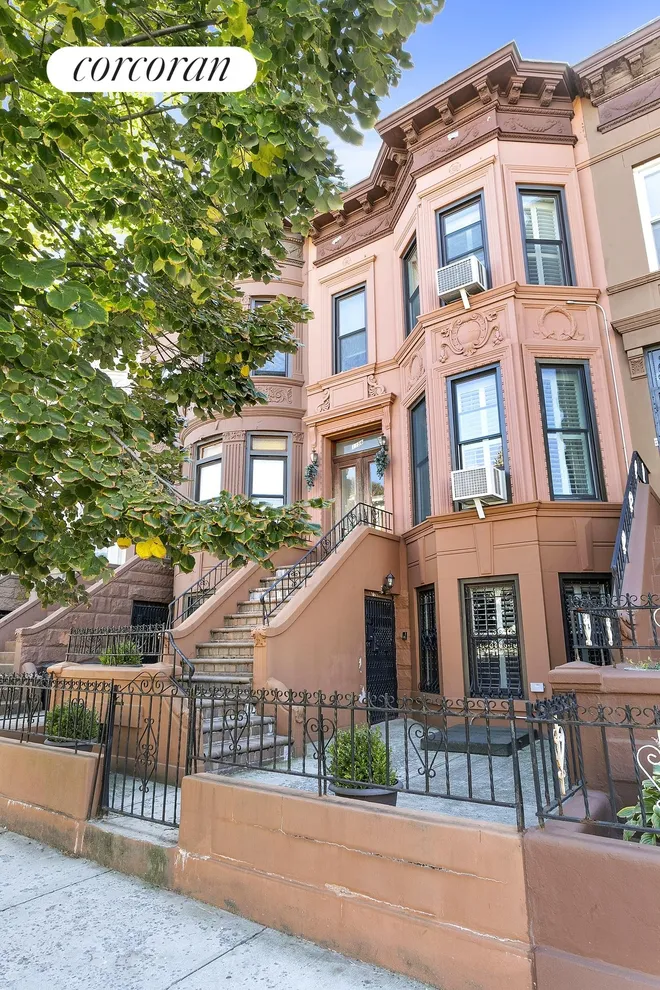 Houses varied stylistically but contained the same features as one another: living room, dining room, kitchen, and staircase to the second floor with four bedrooms and a bathroom. Style concepts include English Terrace, Colonial Revival and Florentine.
Brooklyn's row homes and Kinko houses first appeared around Crown Heights North, St Johns and Brooklyn Avenues, Sterling and Hampton Places and around St. Gregory the Great Catholic Church. Most of the homes sold immediately.  
The Future Melrose Parkside Historic District
In Flatbush, the prominent Brooklyn architects Benjamin Driesler and Axel Hedman created a number of historical rowhouse developments. One specific grouping of homes is under consideration for historical status. To be marked historical would protect the building from demolition or major alterations, preserving both its history and original design.  
The potential Melrose Parkside Historic District would be composed of 38 single and two-family row houses situated between Flatbush and Bedford avenues in Prospect Lefferts Gardens. Of the 38 houses, 20 are Kinko houses. The Landmarks Preservation Commission voted unanimously to consider the Flatbush row houses as a historic district. In next steps, a public hearing will be set and conducted before a final vote by the Commission determines the outcome.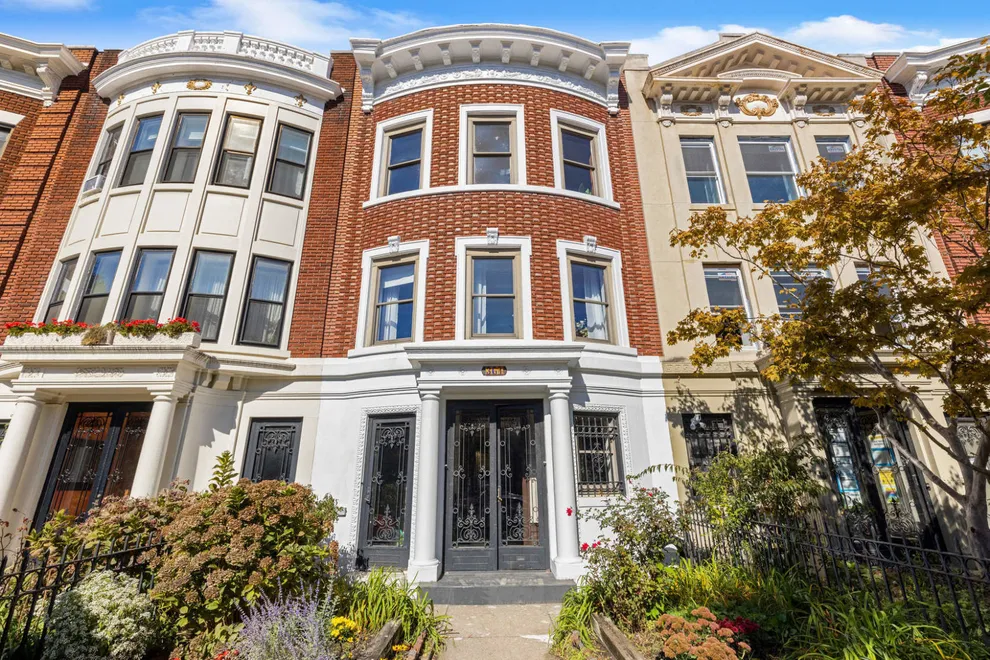 The Arts and Crafts Duplex Houses in Crown Heights
In another part of Brooklyn, one Kinko home in particular has received much attention. Located at 1040 Sterling Place, this building was constructed in 1905 through designs by Kings & Westchester Land Company. Listed in 2020 for an asking price of $1.625 million, 1040 Sterling Place is revered for gorgeous interior and exterior details.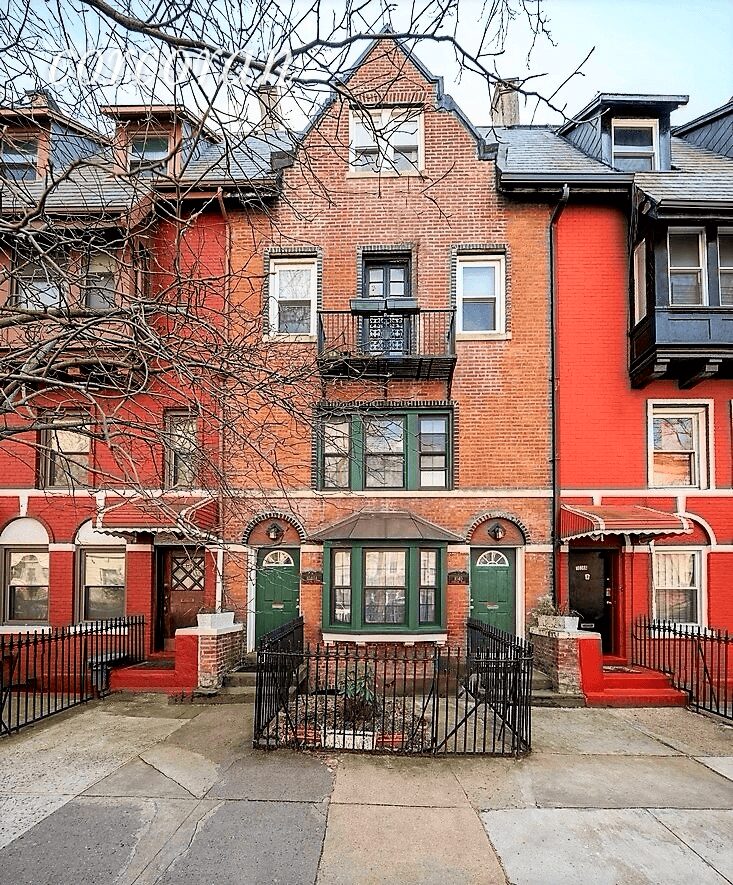 The popular Arts and Crafts style home includes red brick exterior, gabled façade, oriel windows, iron balcony and dark brick exterior detailing. Each unit has separate entrances and an identical layout including hardwood floors, built-in bookshelves, china cabinets, wall moldings, wood mantels, brick fireplaces and a Juliet balcony. The lower unit has garden access, while the upper unit enjoys roof deck access.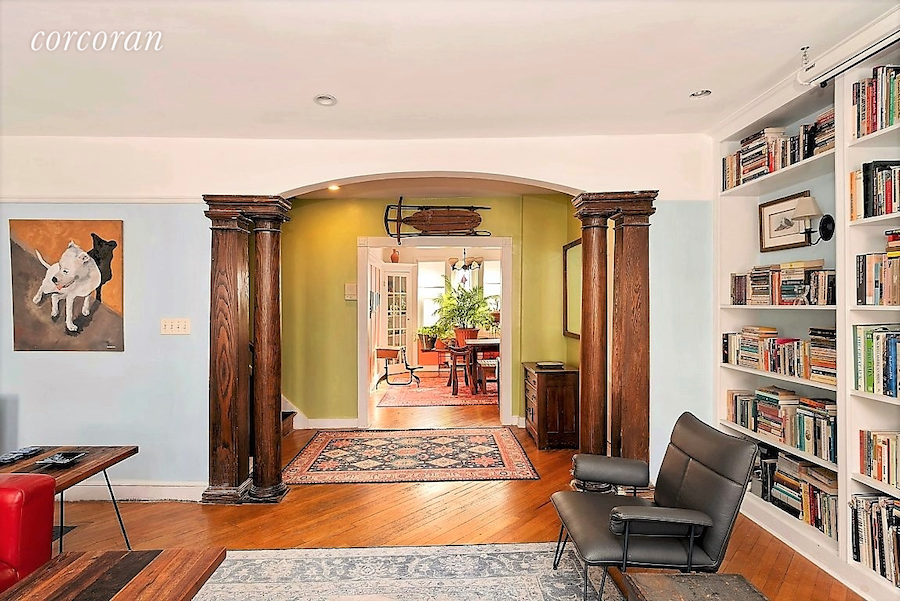 But Brooklyn isn't all Kinko homes. There are many famous non-residential buildings throughout Brooklyn. Amongst them are the interesting backstories of Brooklyn's Old Stone House, the Prospect Park Boathouse, and Brooklyn Borough Hall. And, of course- the Haunted Mansion of Melrose Park.
Despite appearances, this house is a famous war relic. The Vechte-Cortelyou House, a Dutch stone farmhouse, was the location of the largest battle of the American Revolutionary War, the 1776 Battle of Long Island. While the original house was destroyed in 1897, the Old Stone House of Brooklyn is an exact replica, built with unearthed original materials.
View this post on Instagram
 Famous in pop culture as well, the Old Stone House was also a clubhouse to the Brooklyn Superbas, who eventually became the Brooklyn Dodgers. The New York City Department of Parks and Recreation purchased the land in the 1920s before reconstructing in 1934.
The Old Stone House was finally listed on the National Register of Historic Places in 2012. It now operates as the Old Stone House Historic Interpretive Center, a museum that gives educational tours to school children on local and regional history. Check their calendar for upcoming exhibitions and events. 
The Prospect Park Audubon Center at the Boathouse
Erected in 1905, the Prospect Park Boathouse is a stunning piece of Brooklyn Beaux Arts architecture. Designed by locally famous architects Frank Helmle and Ulrich Huberty, the building was based on Jacopo Sansovino's design for St. Mark's Library in Venice. The major feature would be white terra cotta, creating an elegant backdrop to Lullwater and Lullwater Bridge.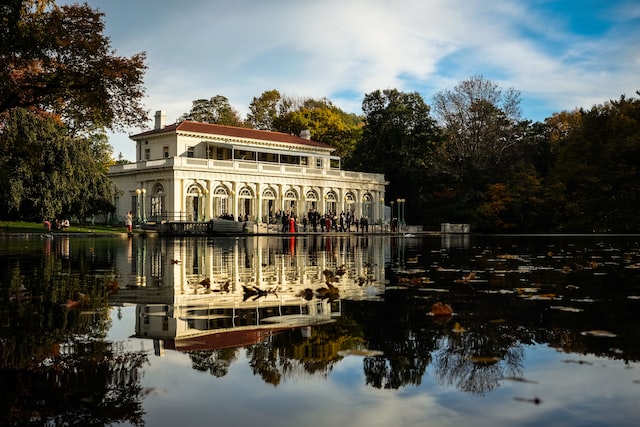 The Prospect Park Boathouse, although beautiful, eventually became abandoned. Many saw the building as useless, prompting a number of movements through the years, particularly the 1930s, hoping to raze or demolish the building. With boats located elsewhere, the structure had fallen into disrepair.
In 1964, with demolition just a few days away, local poet Marianne Moore rallied with other preservationists and urged officials to save the boathouse. At 48 hours before demolition, they won. The Boathouse was declared a historic landmark in 1968, and a $5 million dollar restoration project in 1999 replaced the terra-cotta façade while creating the Audubon Nature Center. The boathouse was one of the first buildings to be declared a historic landmark in Brooklyn.
Currently, the Prospect Park Boathouse can be rented for daytime and evening events, accommodating up to 225 guests and featuring catering from Purslane.
Brooklyn Borough Hall
Built of Tuckahoe marble, this 1848 construction is the oldest public building still standing in Brooklyn. Designed by architects Calvin Pollard and Gamaliel King, Borough Hall was the original City Hall of Brooklyn. Typical of 19th-century city halls, it contained the Mayoral offices, City Council offices, a courtroom, and a jail. It served as City Hall for almost fifty years and is now considered the soul of Brooklyn civics. 
It is considered one of the best examples of Greek Revival in the city. With massive columns and a monumental staircase, the entrance is flanked by six fluted Ionic columns. The cast-iron cupola is a replacement as the original burned in an 1895 fire. The courtroom contains a coffered domed ceiling, fluted Ionic columns, carved wood paneling, and detailed plasterwork.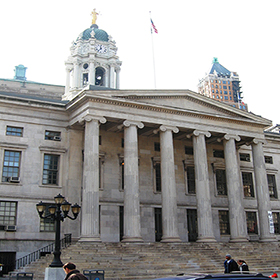 A restoration project in the 1980s helped restore the exterior to its original beauty. The restoration work included stone restoration, copper shingles replacement, stainless steel cladding, and clock and tower repair. Virtue, the bronze statue on the roof, was created after construction through drawings and documents.
Borough Hall received landmark status in 1966, where it was declared "a dignified civic structure of impressive scale."
The Ghost of the Mansion in Melrose Park
Let's end with a little ghost story. Melrose Hall was constructed in the 1740s at Bedford Ave and Winthrop Street in Flatbush. Seated along an avenue of pines, the hall was an important community centerpiece for the area. The pre-Revolutionary War estate is also said to be haunted by former inhabitants and POWs.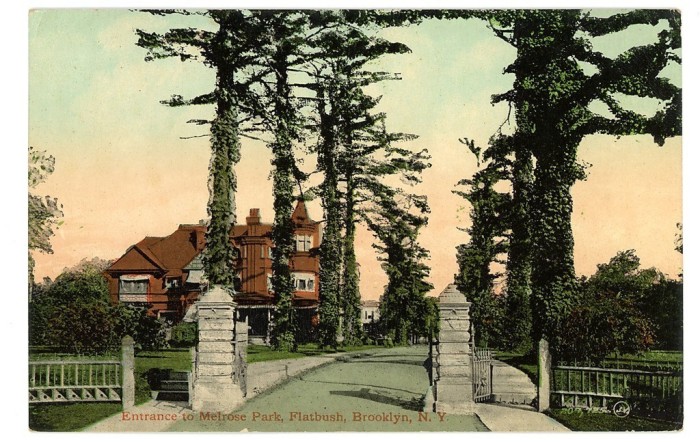 A number of hidden passageways, hallways, and rooms were discovered over the years. Above the banquet hall was a chamber. A secret staircase was found leading to this small room where a girl, Isabella, was rumored to die of starvation.
People claimed Melrose Hall was haunted by this woman, the mistress of its previous owner. Others saw the ghosts of soldiers around and beneath the building.
In the 1880s, the residence was dramatically altered to make room for a bustling Bedford Avenue; the wings, ballroom, and outbuildings were torn down, and main house moved 400 feet back to accommodate a growing Bedford Avenue. During alteration, secret cellars with chains coming from the walls were discovered.
In the 1880s parts of the estate were sold off as developers began planning the Melrose Park neighborhood, which would center around Melrose Hall. The hall was eventually torn down in 1909 to make room for row houses.
While much has been forgotten, some still claim to feel an ominous presence when in the area. Luckily, the rest of Brooklyn has done a good job at preserving historical buildings and homes, with few ghosts to watch out for.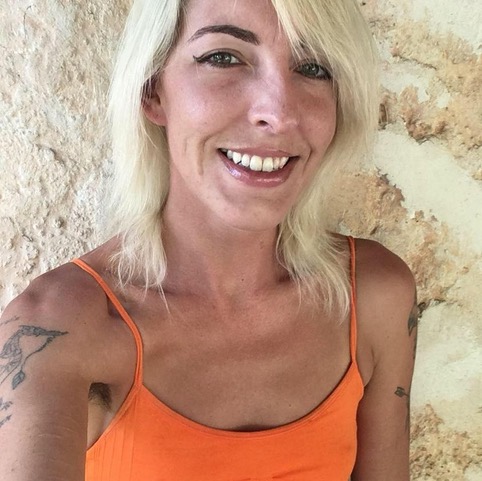 Lindsey Rae is a freelance writer, videographer, and medium format photographer with a background in economics, documentary filmmaking, and human rights. In past lives she covered the arts scene in Seattle and LA before morphing into a finance journalist, reporting from the NYSE for German news media. When not writing about culture & lifestyle she can be found studying herbalism and traditional healing techniques. She enjoys running, yoga, and world travel. You can find her at www.linerae.com or IG @hunteressthompson