An article in the New York Times recently covered Zillow Group's New York City listing portal study on which NYC neighborhoods were the best for sellers. The results are clear as day—Brooklyn is the capital of NYC's sellers' market. 
In the third quarter, Manhattan, Brooklyn, and Queens all witnessed a record high number of sale contracts. When compared to pre-pandemic numbers of 2019, homes in 2021 are selling a week faster and closer to their asking prices, overall. However, it's obvious that Brooklyn is faring better than its neighboring markets. 
A market that favors sellers will have all of the following:
Few days on the market

Few price cuts

Final sale prices closer to initial asking prices

Multiple interested buyers
Although the NYC market is doing fairly well as a whole, sellers have higher negotiating power in some markets more than others. One of the most telling factors determining whether the seller or buyer has higher negotiating power is the median-sale-to-list-price ratio. 
The median-sale-to-list-price ratio represents how close a seller gets to their original asking price. The higher the ratio, the more money in sellers' pockets. 
In 2020, NYC sellers were getting 92% of their asking prices. In Q3 of 2021, that number was close to 96%, signaling a more competitive market and higher negotiating power for sellers.
All top 10 of the best sellers' markets in NYC have an above-average median-sale-to-list-price ratio of 98% or higher. This marks a clear advantage for sellers and little wiggle room for buyers. Take a look at the list of Top 10 Sellers' Markets in NYC at the moment pulled from the NY Times article: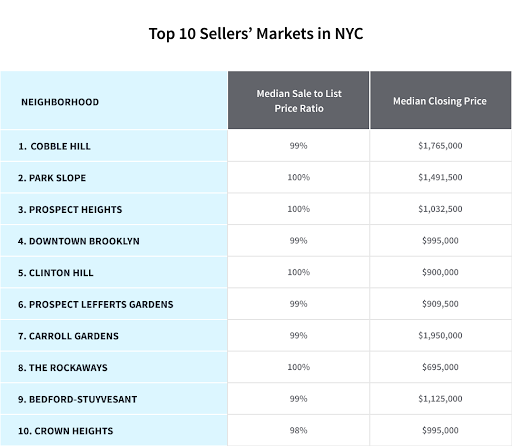 Brooklyn Neighborhoods Represent 9 out of Top 10 Sellers' Neighborhoods in NYC
Only one neighborhood on the list is not located in Brooklyn—the Rockaways, located in Queens. In taking a look at the New York Times' Top 20 Sellers' Market list, you'll notice a total of 18 places are taken up by Brooklyn neighborhoods, with Ridgewood in Queens coming in at 14. 
Brooklyn has become the go-to NYC borough for many home shoppers throughout the pandemic. It's not hard to see why. 
Several Brooklyn neighborhoods have easy access to public transit, abundant green space, and a plethora of local amenities to enjoy. The borough is also known for its diverse population, lively nightlife, and no shortage of popular restaurants. Offering much of what Manhattan does at a smaller price tag, Brooklyn is an attractive place to live. 
Cobble Hill homes are at the top of the list, selling for close to $2 million with minimal opposition from buyers. For example, on November 4th 347 Henry Street had a listing that had a contract pending at $3.72 million. Sellers in the laid-back neighborhood were also the least likely to experience a price cut and sold the fastest among the majority of its competitors. 
In terms of spending the shortest time on the market, Cobble Hill is tied only with Downtown Brooklyn. Homes in both neighborhoods spent an average of only 35 days on the market before selling. Brooklyn ended Q3 2021 with its homes spending a median of 61 days on the market. 
Strong Competition allows Sellers to Stay Firm on Price
With median-sale-to-list ratios of 100%, the Rockaways, Clinton Hill, Prospect Heights, and Park Slope were among the most competitive markets in NYC. It's probable that buyers are experiencing strong bidding wars in these areas with prices shooting up to astronomical highs, no doubt making NYC even less affordable.
Although stressful for buyers, these bidding wars are favorable for sellers, who likely won't have to budge on their prices. With little room to negotiate on the selling price, buyers need to act fast in order to secure a property. This means homes stay on the market less time, overall and list at a higher price point.  A few examples of this are how Unit 2K in the Love Lane Mews went off the market on October 9th for $2.29 million and1406 Albemarle Road went off the market on October 6th for $3.199 million.
In the New York Times' Top 20 list, days-on-the-market range from 35 in Cobble Hill and Downtown Brooklyn, to 69 in Boerum Hill. The median number of days on the market for all neighborhoods on the list is below 60, while the median number for homes citywide sits at 72.
For real estate developers and owners looking to invest in residential, Brooklyn is a promising area, that's for certain. Sellers shouldn't be too concerned with being able to get their homes off the market, and buyers should be prepared to go higher on their bids. As Brooklyn continues to grow and attract the attention of aspiring Brooklynites, we can expect stronger competition in the housing market.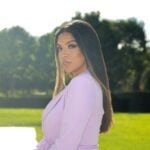 Vivian Tejada is a freelance real estate writer from Providence, RI. She writes SEO blogs for real estate, travel and hospitality companies. She's passionate about the future of work and helping Latin American freelancers achieve time, location, and financial freedom. When she's not writing you can find her at the gym, a family cookout, or at brunch with her girls. Follow her on Linkedin to learn more.