During my 5-year stint as a New York City real estate agent, I came to know Juliet balconies quite well.
These architectural oddities, often mistaken for actual balconies, were named after a scene from one of Shakespeare's best-known plays, "Romeo and Juliet."
Surprisingly, there was no mention of the word "balcony" in this tragic tale about a pair of star-crossed lovers. The story goes that this decorative element was added in later performances, making it effectively a total fake-out.
What is a Juliet Balcony, Anyway?
According to Dictionary.com, a Juliet balcony, sometimes called a balconet, is "a railing or balustrade before a window, giving the effect of a balcony."
Wikipedia's definition is a little more nuanced:
"A balconet is an architectural term to describe a false balcony or railing at the outer plane of a window-opening, and having, when the window is open, the appearance of a balcony."
To put it another way, these balcony wannabes are nothing more than great big phonies. And yet, they became one of the most sought-after features during my years as a real estate agent.
The Juliet Balcony: A Window Into Selling Real Estate
It was the summer of 2013, the year when Citi Bikes appeared in NYC almost overnight, delighting bike enthusiasts while enraging car owners who were suddenly deprived of curb space. But I digress.
I was leasing studios and 1-bedrooms at a pre-war low-rise in Manhattan's Chelsea neighborhood — not an easy feat when all of the apartments were cave-like. I'm talking small, dark, and poorly laid out.
To make matters worse, they had exposed radiators that made this awful clanging sound when the basement boiler sent up steam through the pipes, as if to produce the steam required someone (perhaps a leprechaun) to bang on the boiler with a wrench.
Despite these shortcomings, the landlord was confident that the apartments would fly off the shelves, and he was right! By September, the building reached the golden number in real estate: 98% occupancy.
How? Well, the spaces left much to be desired, but they had at least three things going for them:
1) They were renovated (except for the exposed radiators that doubled as fountains whenever they squirted hot water);
2) They were located in one of the city's most desirable neighborhoods (this was true);
And 3) They had something special. Something no other building within several blocks' radius had:
Private outdoor space.
But as I subsequently discovered, this wasn't entirely accurate.
You Call That a Balcony?
I noticed that the studio and 1-bedroom apartments came with large windows in the living area, each with french shutters that opened inwardly. The landlord preferred that we leasing agents use the french word for shutters when pointing them out to prospective renters, as this would add a touch of old-world mystique that renters would find hard to resist.
"Call them volets," the landlord said, "like a bullfighter's olé! but with a 'v' in front of it."
The base of the windows started two feet from the floor — lower than most I'd seen in NYC — and they each had a railing projecting from the building's facade. The railings rose about a quarter of the way up the window and wrapped around a concrete ledge at the base. The ledge extended approximately 12 inches from the side of the building, creating a narrow space that looked like it might be home to a few potted plants, but definitely not a spot for a bistro table and chairs.
This was the "private outdoor space" promised in the listing. When a potential renter looked wistfully at the dark space and noisy radiators inside, I was to dazzle them with the thought of how perfect it would be to sit out on their own private Juliet balcony.
"You call that a balcony?" a potential renter once asked me. "That's barely a window ledge."
"Yes, but isn't it lovely?" I answered half-heartedly.
The Juliet Balcony in NYC
In NYC, Juliet balconies appear on pre-war and post-war buildings alike. While they're not full-fledged outdoor spaces, they're total upgrades from your standard and plain New York City window, which is forgettable at best.
At least a Juliet balcony gives the illusion of an outdoor space. In my real estate experience, this is better than no outdoor space at all. Some of my past customers agree: The drab studios and 1-bedrooms I leased to them were made infinitely more exciting by their Juliet balconies, even when pesky outdoor elements like the surrounding high-rises and a dense tree canopy on the sidewalk blocked any natural light from filtering through.
What's more, some of these renters filled their narrow window ledges with potted plants and other inspiring objects, which made them feel right at home.
The Allure of Juliet Balconies
Some Juliet balconies in NYC come with railings in ornamental shapes, with balustrades made of stone or steel. These depict garlands, bells, and fruit vines, among other enchanting themes. The details add a certain je ne sais quoi that renters are sometimes willing to pay extra for.
With demand for these railings driven by consumer appeal, it's no wonder that an online listings platform like RentHop has dedicated a webpage to apartments in Manhattan that feature a Juliet balcony.
What is a Balcony if not an Oversized Window Ledge?
Back to my stint as a real estate agent.
When I was leasing dark studios and 1-bedroom apartments in Chelsea, my boss preferred that I use inflated showmanship to rent tiny real estate at inflated prices.
But in the end, renters in NYC confirmed what I had suspected all along: They wanted an agent who would "tell it like it is."
And so, gone were the days of calling a narrow, concrete ledge with a two-foot railing a balcony. In its place, I found myself calling it "the balcony that never was," and since that day no one has officially complained.
"No, a Juliet balcony isn't a real balcony," I'd say to anyone who asked. It is undeniably, and unapologetically, a cute window ledge with a railing.
And it's still better than no balcony at all.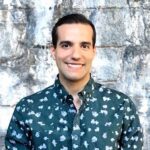 Ivan Suazo is a copywriter and SEO blogger with over ten years of experience in the real estate industry. He's also the founder of a wellness blog, QWERTYdelight.com, and writes sleep stories for the Slumber App.