The literal pinnacle of luxury, The Penthouse at Central Park Tower, listed by Serhant, answers the age-old adage of what it's like to be on top of the world. Placing you at a soaring 1,416 feet above New York City, the three-floor penthouse of this, the largest residential tower on the planet, is rightfully dubbed "The One Above All Else." From the entrance on 57th street, a private elevator zooms you to a private reception station, which opens to a private foyer and into the dazzling residence at this ultra-exclusive selection of Billionaires Row. Wrap-around floor-to-ceiling windows offer dazzling once-in-a-lifetime views of Central Park, Midtown, and the downtown skyline, truly pushing the definition of prime real estate to the extreme.
Elevated Excess
With 17,545 square feet of interior space and 1,433 square feet of outdoor space, the penthouse features seven beds, eight bathrooms, and three powder rooms. Of course, there are the amenities which include an observatory, a library, a grand salon and a family room on the 129th floor, bedrooms, a gaming hall, and a private balcony one floor up, and on the 131st floor, a private ballroom equipped with a catering kitchen, study and private gym.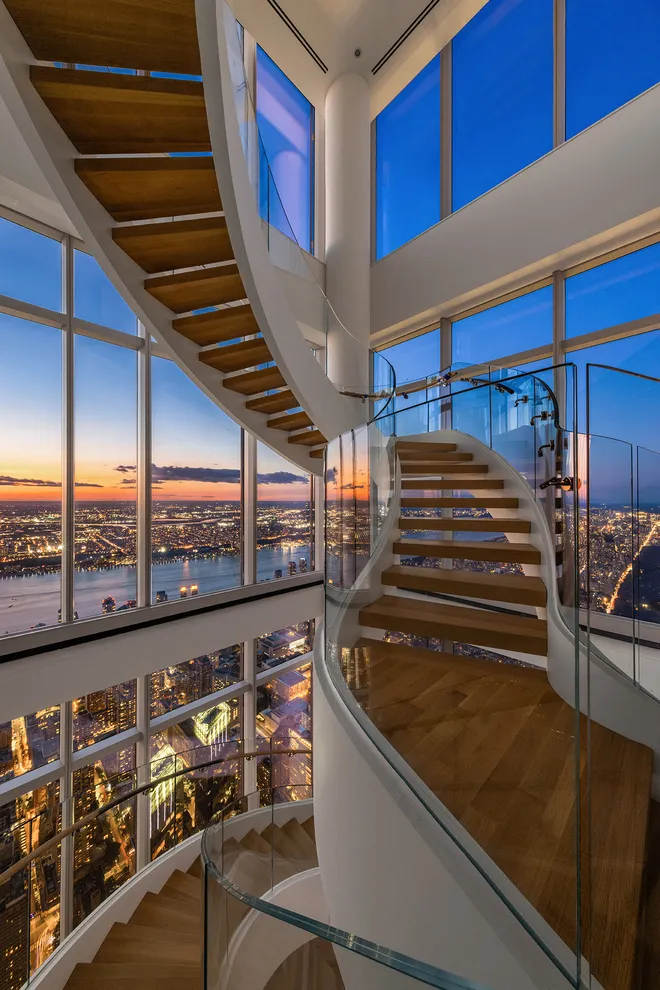 Each floor offers ample outdoor space, with multi-function terraces strategically placed at the corner of the building to offer the best views of the city. And thanks to Otis Elevator, who developed the specially made high-speed private elevator that goes 2,000 feet per minute for the residence, you can make it from the seven-story Nordstrom's on the ground floor to the penthouse in about a minute and a half. 
Who Designed Central Park Tower?
Designed by multinational Adrian Smith + Gordon Gill and developed by Extell, the tower, completed in 2021, dominates the Midtown skyline. The interior of the residence is designed by Rottet Studios, whose credits include The James Royal Palm in Miami Beach and The Surrey Hotel in Manhattan. A+G are no strangers to luxury realty, having an international track record which includes buildings in cities such as the Masdar Headquarters in Abu Dhabi, The Golden Cross Sky Ring in Beijing, and the Samsung Togok Tower in Seoul. The Council on Tall Buildings and Urban Habitat designated the tower as the tallest residential building ever built beating out The Steinway Tower by SHoP just across Central Park, also awarding it the 2021 Award for Best Tall Building 400 meters and above.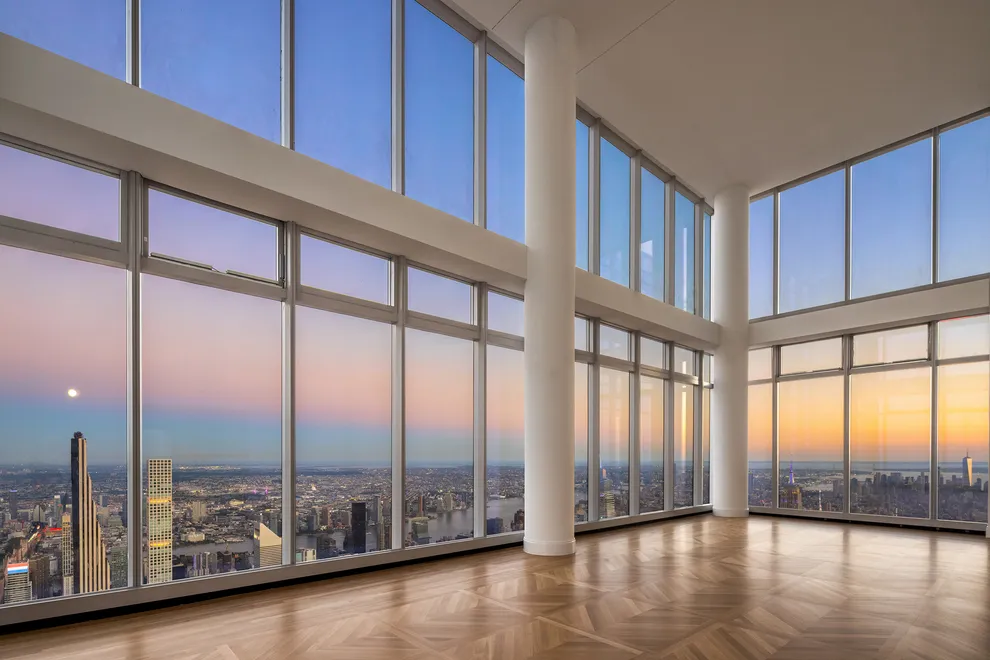 Floor to Ceiling Flawless  
The residences themselves don't start until approximately 300 feet above the ground floor while other floors are inhabited by amenities such as The Central Park Club. Highly exclusive, the club features 50,000 square feet of luxury accommodations spanning three floors beginning on the 14th; some amenities include a resident's lounge, swimming pool, cabana, bar, several screening rooms, a children's playground and food & beverage services. In the downstairs lobby, a 2,000 piece crystal chandelier greets residents, the first installation by french glass art company Lalique in more than 100 years.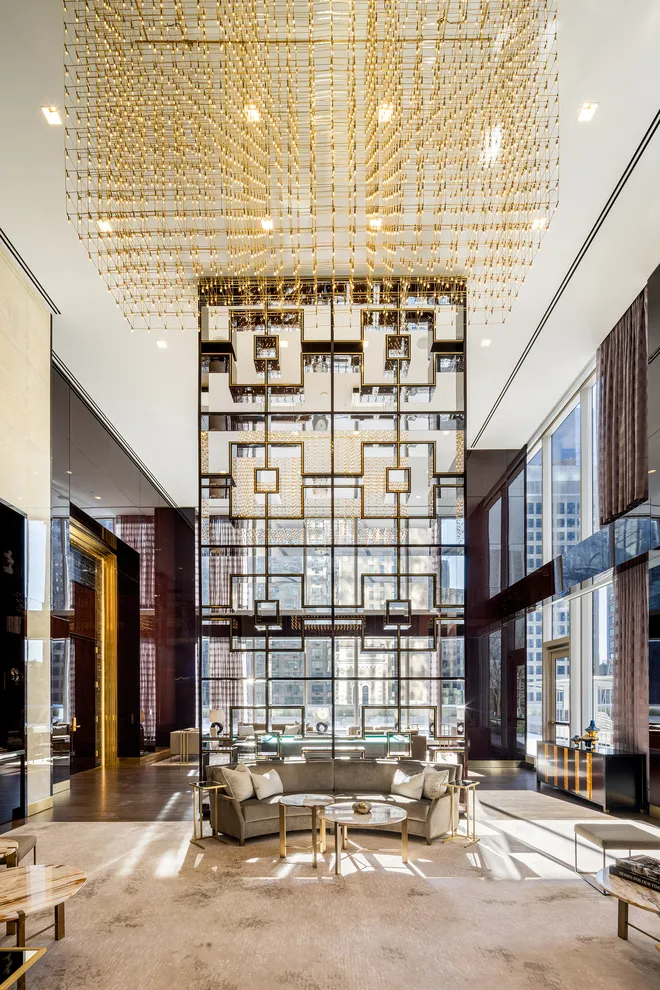 Overall, 179 condominiums in total fill the building on 57th street, marketed by Corcoran Sunshine Marketing Group, who operate luxury real estate internationally with over 600 offices across the Americas, Europe, Asia, Africa and the Middle East, helping attract a wide variety of diverse and interesting customers to the building and Billionaires row. However, the Penthouse apartment on the top floors is an exclusive listing by the Serhant Brokerage.  
What is Billionaires' Row?
Billionaires' Row refers to any of the high-end luxury residential skyscrapers that line the southern border of Central Park, 59th street from 5th ave to Central Park West. They include developments such as 432 Park, 0ne57, Central Park Tower and the Steinway Tower. According to Knight Frank, a real estate agency based in London, Billionaires' Row in Manhattan is the most exclusive street in the world, with 41 registered residential transactions totaling over $25 million in the last five years. This collection of tall or supertall skyscrapers are often used as Pieds-à-terre (think a summer house or spare high-rise apartment) for the ultra-rich and not necessarily as conventional homes.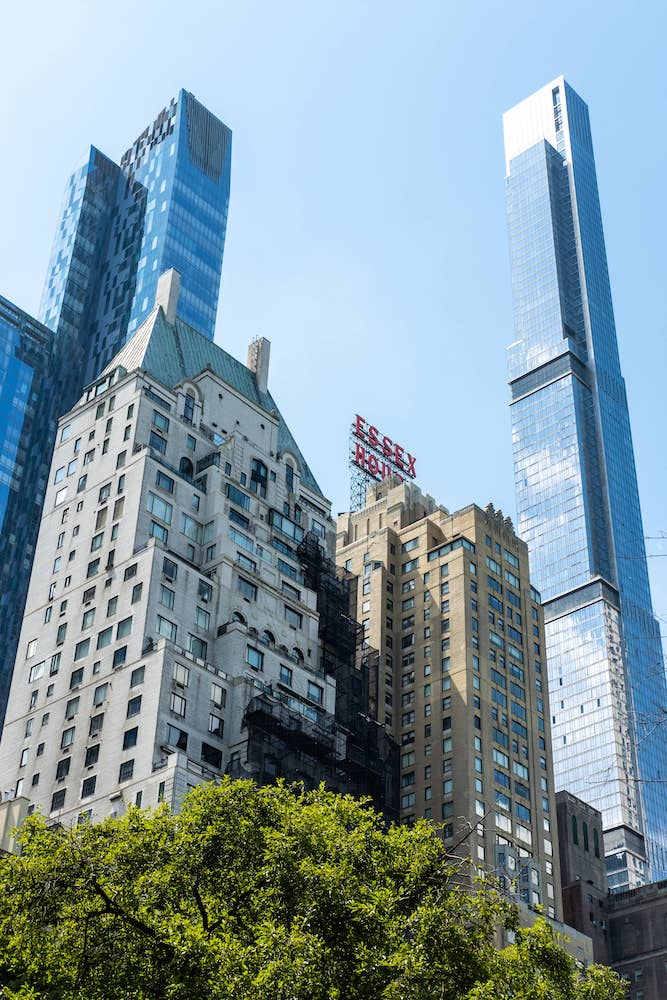 Who lives in Central Park Tower and Billionaire's Row?
Ken Griffin for instance, bought a $238 Million penthouse at 220 Central Park South, the most expensive residential sale in United States history, and reportedly rarely visits the property. Other billionaires such as investor and art collector Liu Yiquan and tech mogul Michael Dell have bought real estate in buildings along the row too, as have celebrities such as Jennifer Lopez and Alex Rodriguez. Controversially, some foreign and domestic companies have been accused of buying units in towers such as these to set up shell companies in a ploy to funnel money in and out of the US from such countries as Russia, Columbia, Malaysia, China, and Kazakhstan. Still, even legitimate purchasers usually prefer to remain anonymous for some obvious and not-so-obvious reasons; not the least of which include personal safety, financial privacy, and public outrage.
Interestingly the listings in the building have typically sold for well below the asking price, which doesn't really mean much when they still close for around between $40 million and $60 million. The second most expensive publicly listed unit currently sits at an asking price of $63 Million, with an estimated $10,000 in monthly charges, not to mention the nearly $19,000 monthly taxes! It doesn't have to stop there though; one duplex on the tower's 127th and 128th floors was reportedly listed at $150,000,000! With prices like these, it's easy to wonder who lives in a place like this! The answer is not too many people at all! 
While it's true that high-earning business owners and their companies, celebrities, and even royalty can be in the market for uber-expensive luxury real estate such as those listed at Billionaires row, this exclusivity means that nearly half of the apartments available remain empty. In the newly built Central Park Towers, up to 89% of the units sit vacant, according to an analysis by brokerage firm Serhant. Even so, developer Gary Barnett is optimistic, standing by a $250,000,000 asking price for the building's penthouse. "There's a bunch of artwork going for $100 million and even $200 million," says Barnett, "When you compare that to 17,000 feet of steel and brick and glass at the top of the world, this seems like a relative bargain."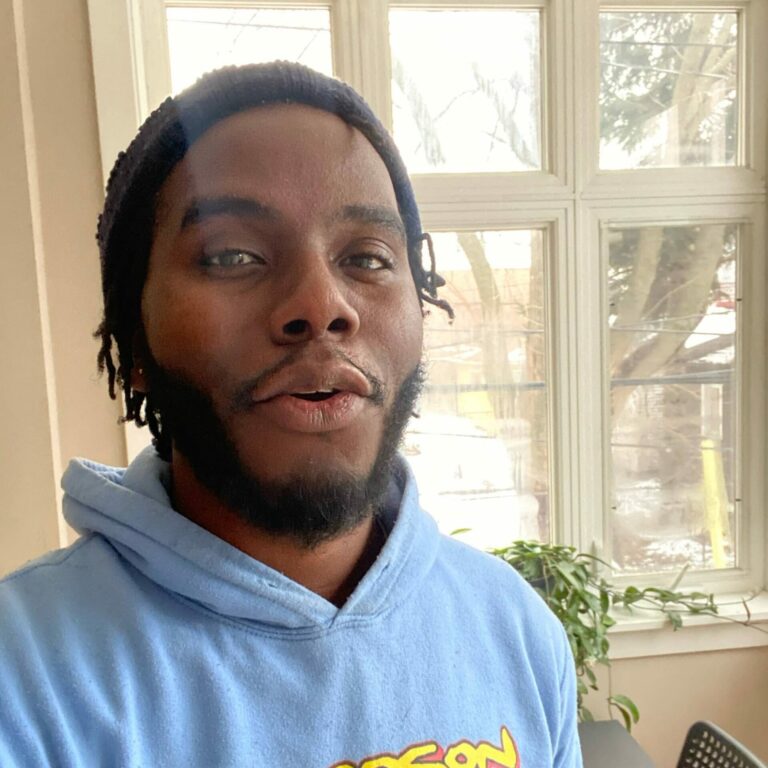 Josiah Thomas Turner is writer and musician based out of Washington Heights, New York. Turner received his undergraduate degree in Drama from the University of Wisconsin - Stevens Point before earning an M.F.A. in Playwriting from The University of Texas at Austin. Born and raised in Milwaukee, Wisconsin, Turner trained as a multi-instrumentalist from a young age and spent much of his early years creating and performing music. Josiah's current interest include animation, video-games and French-Canadian prog-rock.