The state of New York was first settled back in 1624, making it among the first to be inhabited in the nation. With nearly four hundred years of history rooted in such a compact region, it's only natural that New York has developed a reputation for being haunted. These are just a few of the places that New Yorkers and visitors swear are occupied by otherworldly beings, including residential and commercial spaces.
Haunted NYC Residential Buildings
If there's one thing New York isn't short on, it's the long list of spooky residences. We've rounded up just a few you'll want to keep note of so you know where (or where not) to avoid when stepping into some of the city's most notorious buildings.
1. Morris-Jumel Mansion (Haunted Mansion, New York)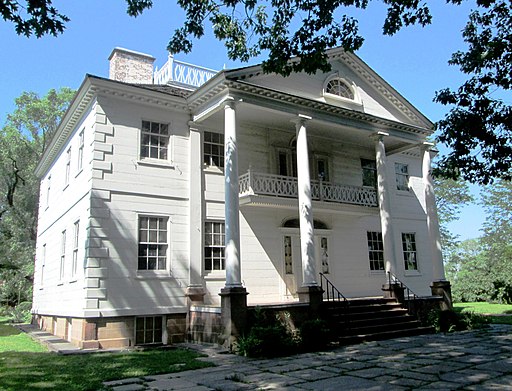 Located in Washington Heights and lovingly referred to as the Morris House or Mount Morris is this haunted Landmark. The home-turned-museum was built back in the mid-1700s by a British military man, Roger Morris. The home itself played a key part in the American Revolution and acted as a place for all sides to convene. One of Manhattan's oldest buildings, the home would later go on to be purchased by a French immigrant, Stephen Jumel, effectively coining the term Morris-Jumel mansion. The Morris House has been featured at the heart of a number of paranormal investigations thanks to reports of strange activity throughout. Capitalizing on this, the Mansion now allows for haunted-theme tours, giving guests the chance to feel the buzz of the home's rich history.
2. The Dakota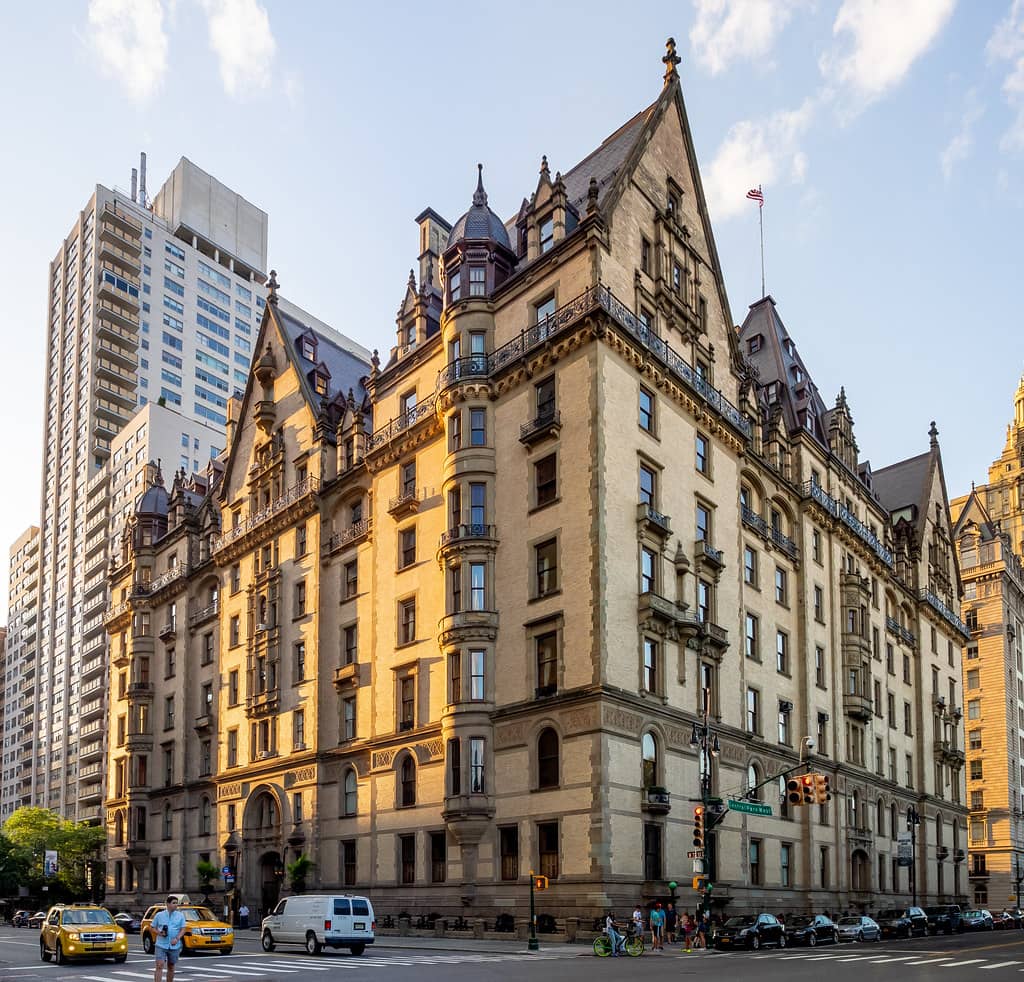 If you're shopping for apartments in NYC, let's hope your only option doesn't come down to The Dakota. These apartments are located on the Upper West Side at 1 West 72nd Street, riddled with luxury and decadence, all originally built for Edward Cabot Clark, a businessman. Despite becoming a coveted landmark, the build is, in fact, not all that it seems – it's much more. As perfect, if not intimidating the exterior might seem, the interior has developed quite the reputation over the years. In fact, it's considered one of the most haunted buildings in NYC! From the ghost of children roaming to former resident John Lennon's ghost, there are quite the experiences at The Dakota – even to this day.
3. House of Death
Hiding behind an unassuming exterior in Greenwich Village is a home with a sinister past. Coined "The House of Death," the residence has seen its fair share of tragedies over the years, making it the center of many haunted NYC conversations. That's because there have been over 20 separate ghost sightings in the building over time and by multiple residents. One of those ghosts said to linger is Mark Twain, who lived in the house for a single year at the beginning of the twentieth century. Despite the short stay, his aspiration has been reported, and he's not the only one. Animals, children, unnamed guests, they all seem to remain, with, as Twain put it, "problems that need to be settled."
4. The Conference House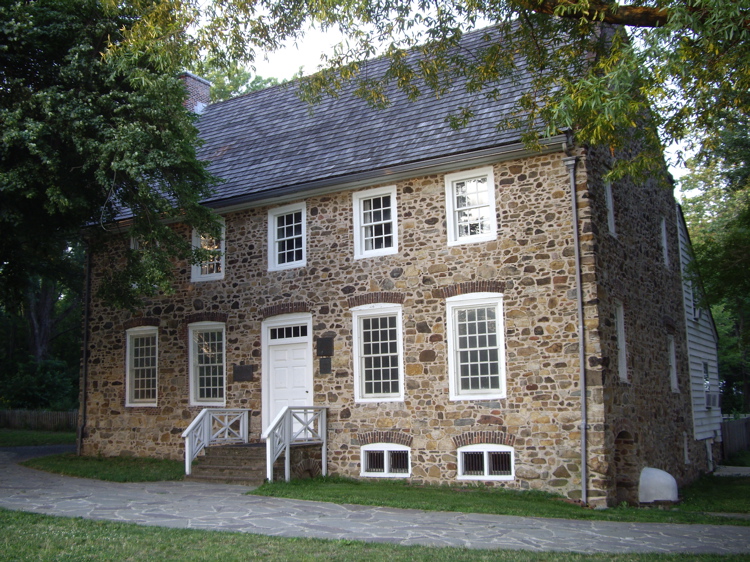 Located across the way in New York City's Staten Island is the Conference House. The home was constructed by an officer of the Royal Navy back in 1680. Sometimes referred to as Billop House, while the surrounding area is Billop's Point, the residence has been carefully preserved, aside from a brief stint as a hotel and rat poison factory. The home currently has U.S. National Historic Landmark rights, thanks to its rich history, but it's nowhere near perfect. There have been multiple reported deaths in the home, leading it to be a notoriously haunted location. One of which is the murky details behind the death of a maid whose candlelight is still visible in the windows and Billop's fiancé, who continues to cry throughout the home due to a broken heart.
5. The Amityville House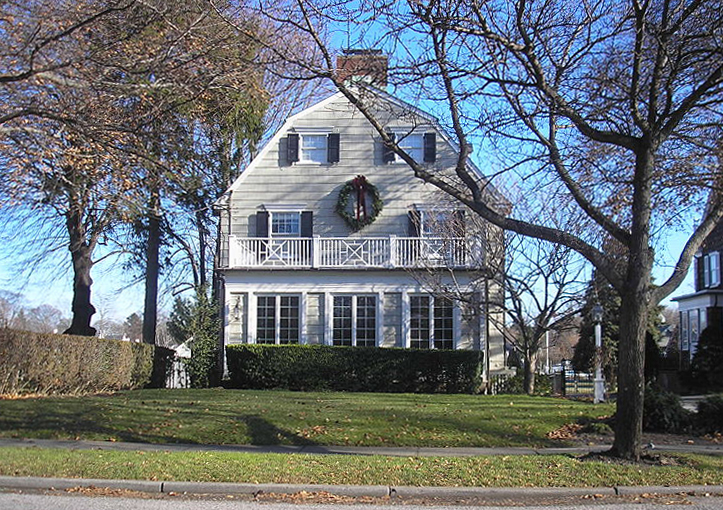 The Amityville House is a real-life horror story located nearby on Long Island, New York. Recently up for sale, the home has struggled to keep a resident feeling at home, and for a good reason – its history is horrific. In the home, a son and brother in the DeFeo family went on to murder all of his siblings and parents. During the murder trial, the defendant's attorneys argued that the murders were the result of voices in the home telling their client to commit the murders. Today, strange occurrences continue to make the home a mainstay on New York's list of haunted places. From inexplicable noises and changes in the air to smelling stranger odors, past residents have and continue to struggle with the building's complicated history.
Haunted NYC Commercial Buildings
Residences aren't the only ones to experience chilling pasts. Just as vulnerable to the paranormal are commercial spaces with muddied pasts riddled with hundreds of years of history. Consider grabbing a drink, visiting, or staying at one of these locations the next time you're looking for something to do in the city!
1. New Amsterdam Theater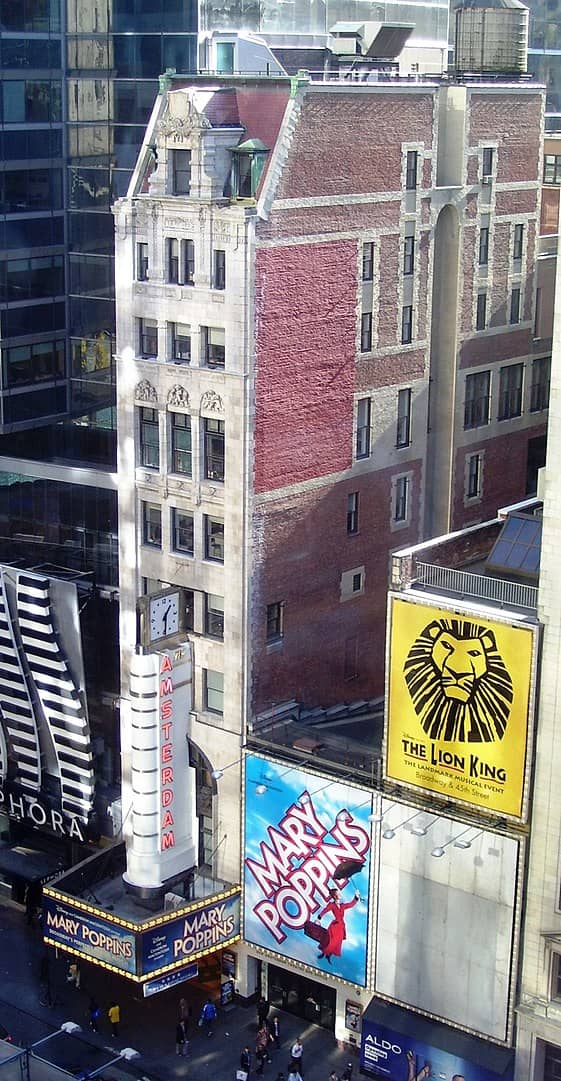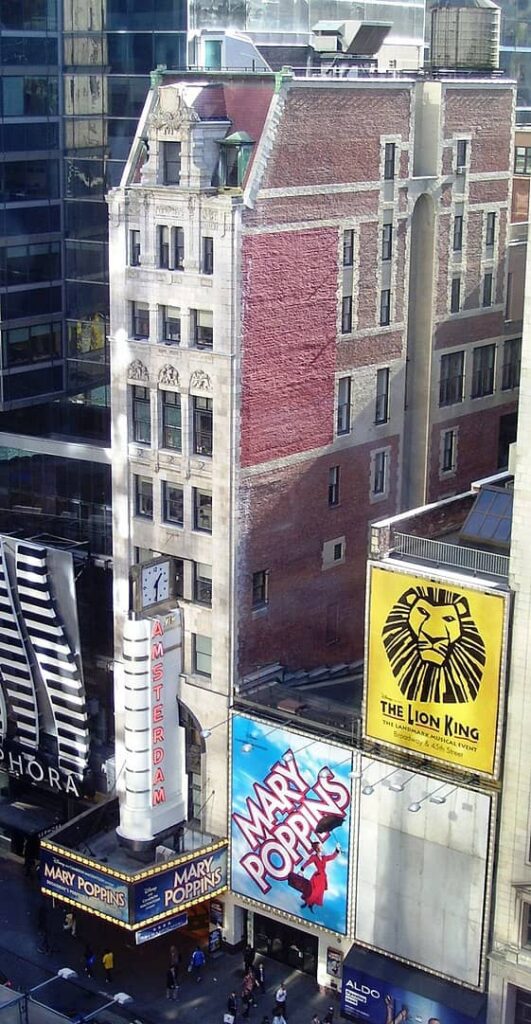 People flock from all over the world to witness a sliver of New York's robust theater atmosphere, and it appears ghosts don't find it too shabby either. It's said that New Amsterdam Theater, which Aladdin currently calls home, has a resident ghost. Her name is Olive Thomas, and she has been calling the New Amsterdam Theater home since the 1920s when she committed suicide. Thomas is notorious for her mischievous ways both during the show, after, and far beyond. Some stories told include ushers and night workers feeling an odd sensation on their back while walking the theater. Another more notable occurrence was an office disturbance that happened when someone mentioned that Olive's relative was a better star than she. In response, a stack of DVDs went flying, with multiple witnesses. If you ever head to New Amsterdam for a show, be mindful of who is lurking in the shadows!
2. Hotel Chelsea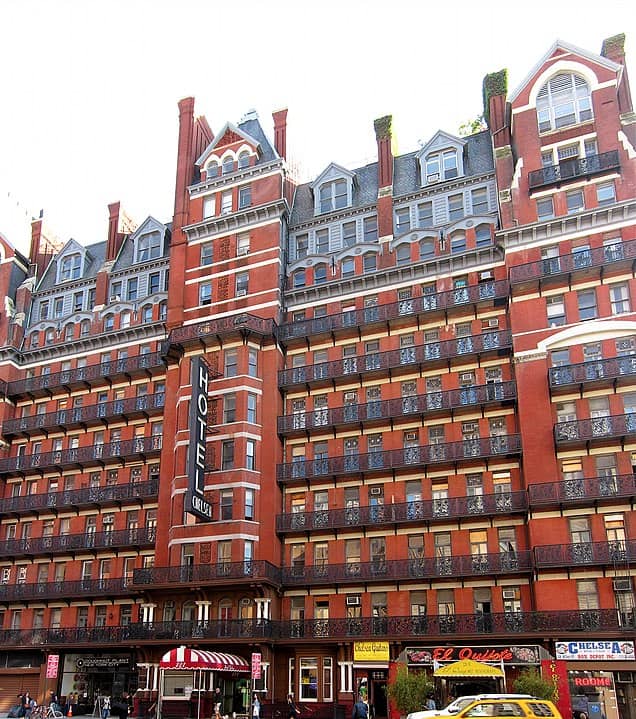 Still operating today, the Hotel Chelsea has quite the past. Despite the decadent build and alluring luxury behind it, Hotel Chelsea houses many secrets in addition to the impressive lists of residents, including Bob Dylan, Janis Joplin, Leonard Cohen, and Mark Twain. With such a robust list of past residents and visitors, it's nearly inevitable that the building would have such a complicated history, still living on today. It's said that a Titanic survivor, Mary, roams the fifth floor, while another ghost, Nadia, jumped out of a window, killing herself. As for why so many creatives have flocked to the Hotel Chelsea and will continue to do so? Larry, the Hipster Ghost, has an answer for that. "there is indeed something underground at the hotel, long, long before the Chelsea Hotel was built, there is some power that is the genesis of the Chelsea Hotel's creative power, according to Book Riot.
3. White Horse Tavern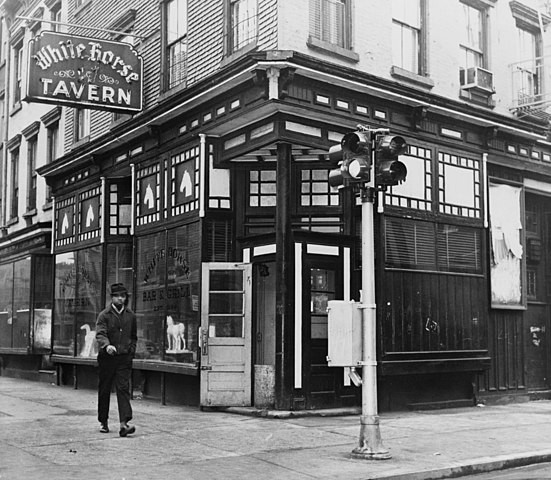 The White Horse Tavern is one destination you'll need to add to the bucket list if you're into the paranormal. This infamous bar, located on Hudson Street, has seen its fair share of haunts, and it started back when the establishment was called the Longshoremen's Bar. When one of the frequent patrons died, it was said that the ghost tales began. Following that, Dylan Thomas, who was a prolific poet, had drunk too much alcohol and died just days after a visit to the bar. Not long after, guests began to describe sightings of Thomas, attributing many odd occurrences to him. Nestled in Greenwich, the bar continues to be a hotspot for ghost sightings and out-of-the-ordinary occurrences. In addition to Thomas, it's said that many other literary figures have also been known to frequent White Horse, including Bob Dylan and Jim Morrison.
4. Washington Square Park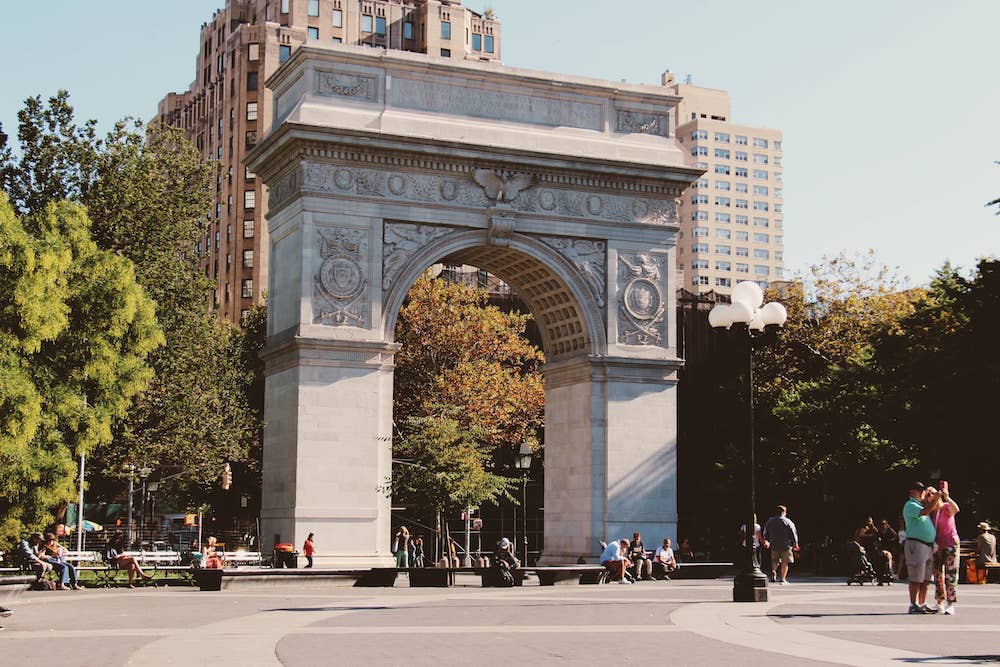 Washington Square Park is a popular spot for those spending time at NYU or for visitors hoping to catch a glance of New York's up-and-coming talent. However, that's not the only draw for Washington Square Park – the location is also big among ghost enthusiasts. Prior to the destination, we recognize now Washington Square Park, or rather the land it sits on, is rich in history. From African Americans to Native Americans and the Dutch, there are multiple groups of people with ties. Perhaps one of the most notable uses was as a burial ground, dating back to the American Revolution. When it came time to transition into Washington Square Park, it was estimated that there were more than 20,000 bodies buried just beneath the surface – the perfect setting for paranormal activity to flourish.
The Bottom Line on Visiting Haunted Mansions & Places in NYC
New York has a complex history, leading it to be one of the most haunted cities in America. From homes and hotels to businesses and attractions, there are plenty of opportunities to witness those paranormal activities for yourself. Next time you're in New York, be sure to check out one of these locations or design an outing that allows you to design the perfect haunted-themed tour in New York!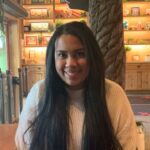 Kylee was born and raised just outside of Sacramento in a small town full of history and charm. She stays up-to-date on the real estate market and hopes to empower hopeful buyers and sellers to make the best decisions for themselves. Kylee is particularly interested in bridging the gap for younger generations, helping them understand the power of owning and investing in real estate.