In 1899, 15 Park Row near City Hall was the tallest office building in the world, standing at 391 feet and spanning 31 stories. By 19th-century standards, this was an impressive height. But today's supertall buildings in New York City are three or four times as big. And with new builds on the way, the city's iconic skyline will be changing faster than it has in decades.
There are currently a few proposed or under-construction skyscrapers set to transform the cityscape. Here are five upcoming supers that we're excited to see in all their glory.
50 Hudson Yards
Height: 1,011 feet / 308 meters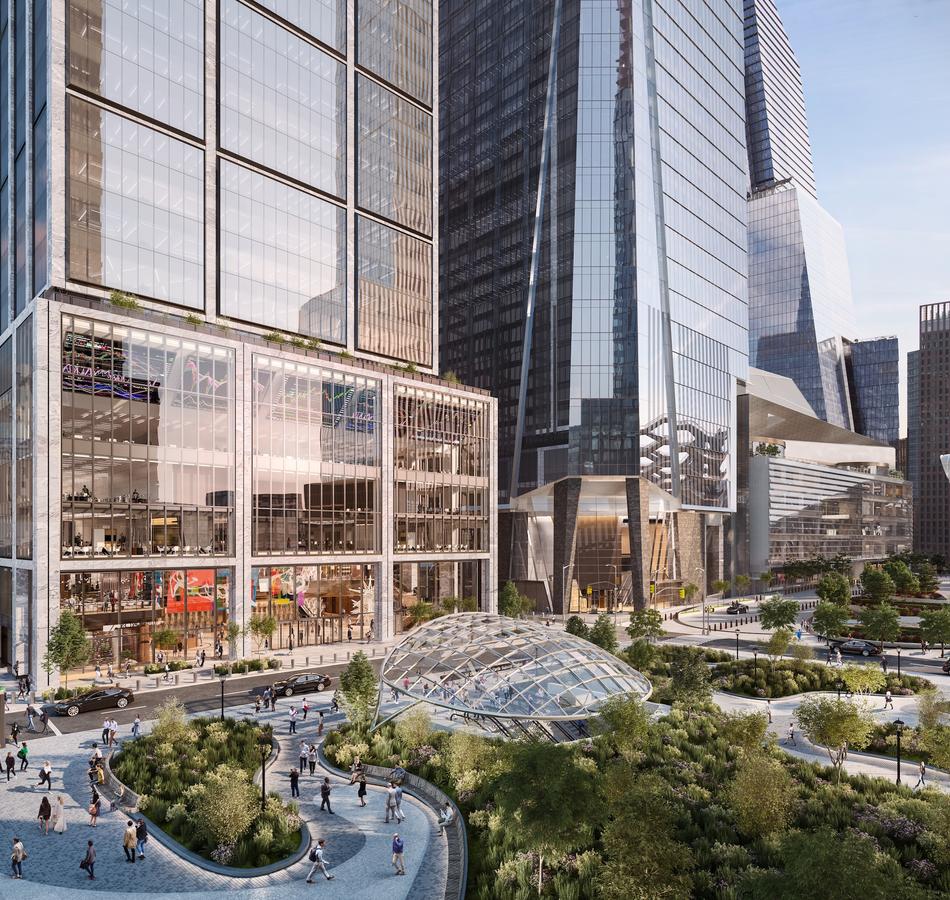 Construction is underway for 50 Hudson Yards, which has already topped off at 1,011 feet and is expected to complete in 2022. Once the red ribbon is cut, this cloud-piercer spanning an entire city block will be the fourth-largest commercial tower in the city. As far as tenants go, 50 Hudson Yards hopes to attract some heavy hitters with its amenities-rich sky lobbies, landscaped terraces, and direct access to the 7 train.
Not that it has to beg: Fortune 500 companies are already taking notice of the property's uber-attractive features and snagging up some serious square footage prior to its completion. In fact, BlackRock, a leading global investment firm, is set to lease approximately 1 million square feet of retail space across 15 floors, while Meta, formerly known as Facebook, will be leasing 1.2 million square feet across 22 floors.
The Spiral
Height: 1,041 feet / 317 meters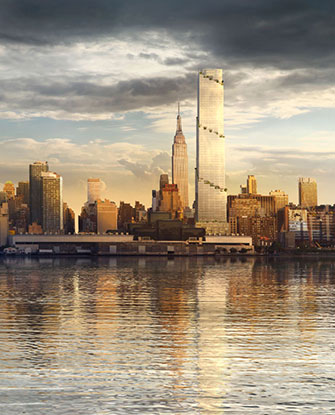 Modeled after a double helix and designed by the Danish architectural firm Bjarke Ingels Group, The Spiral, a new skyscraper in Hudson Yards, has already broken ground, rising two feet every four days in early 2018. As construction moved forward, this glassy structure looked like a snake slithering upward into New York City's skyline. Its conversation piece? A series of terraces brimming with mature trees and verdant gardens ascended the property in a spiral. Viewing it from afar, this contrast of silver and green creates the illusion of a snake's tail coiled around the building, which is just flat-out cool.
Like 50 Hudson Yards, The Spiral also plans to attract prominent companies to its elegant interiors, luring the crème de la crème with its host of upscale amenities, including a swanky clubhouse on the 66th floor and a world-class restaurant worthy of a few Michelin stars.
270 Park Avenue
Height: 1,388-1,425 feet / 423-434 meters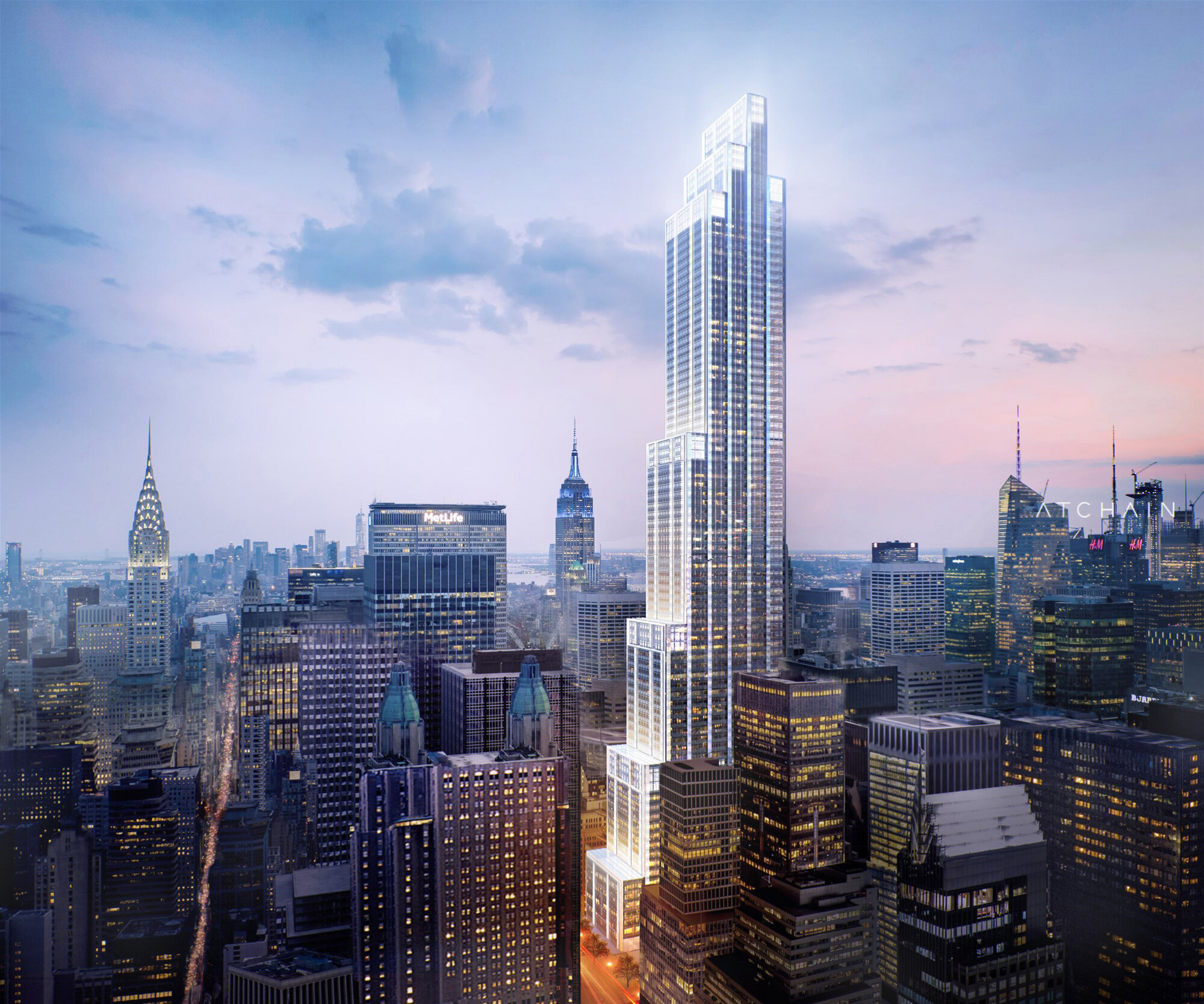 After a bold campaign to purchase air rights above Park Avenue and 46th Street, JPMorgan Chase & Co., the largest bank institution in the U.S., paid $208 million to the owners of Grand Central Station, T.F. Cornerstone, and MSD Capital. Not to mention a serious chunk of change to Saint Bartholemew's Episcopal Church, known casually as St. Bart's. The reason behind such extravagant spending? To soar as high as possible in Midtown East, surpassing other well-known skyscrapers, such as the Chrysler Building and One Vanderbilt.
Unlike other skyscrapers on this list that rose from old rail yards in the city (i.e., Hudson Yards), 270 Park Avenue already existed. Formerly known as the Union Carbide Building, this unassuming property in the shape of a neat Jenga tower once stood at 708 feet. In 2018, it became the tallest "voluntarily demolished building" in the world to make way for a new skyscraper, one that's slated to become NYC's second-tallest commercial building after One World Trade Center.
But that's only if 270 Park Avenue rises to 1,425 feet in the sky. Some speculate that JPMorgan's new headquarters will top off at 1,388 feet, making it the sixth-tallest building in the city. (But who's counting, right?)
9 DeKalb Avenue
Height: 1,066 feet / 325 meters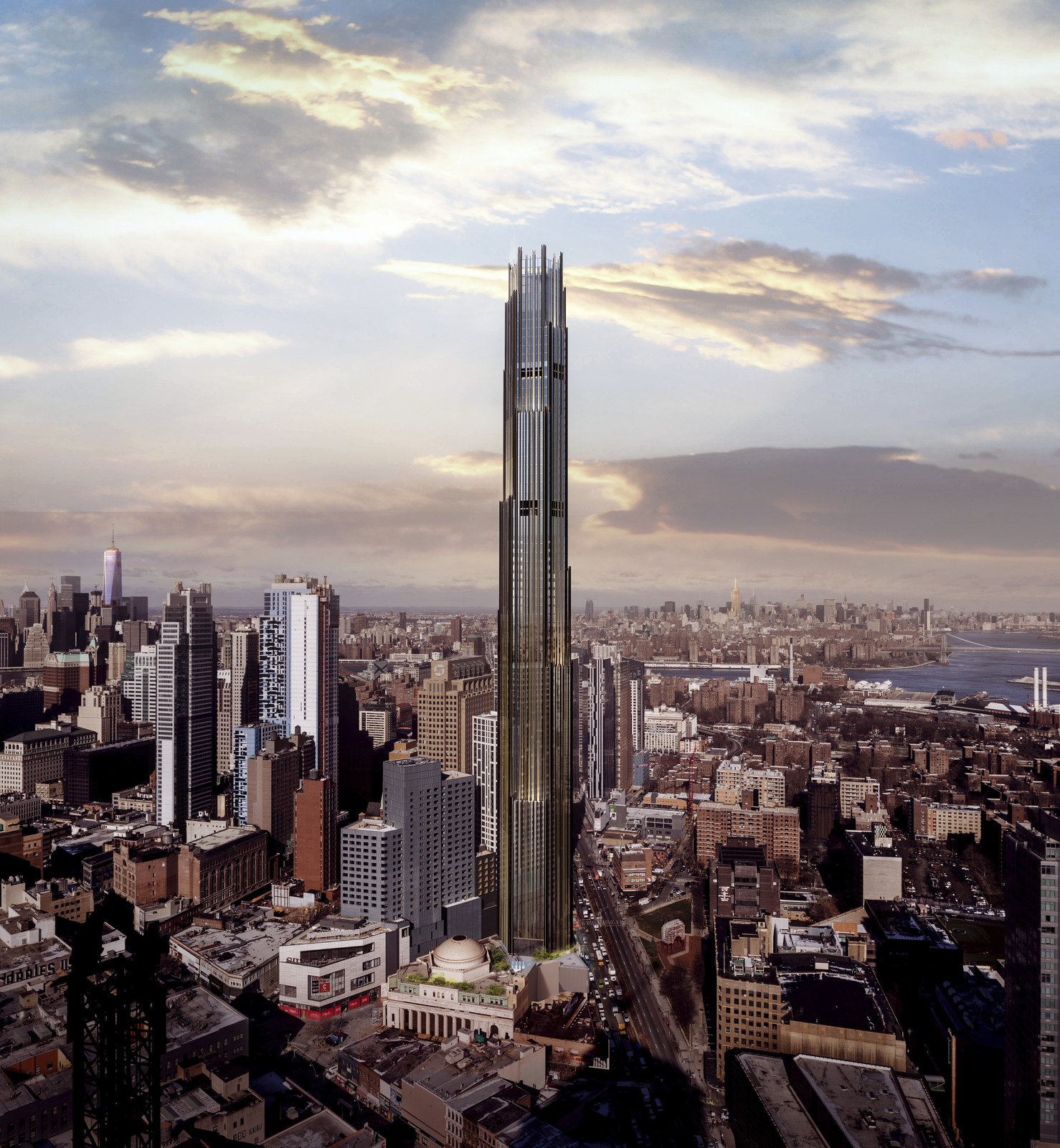 9 DeKalb is Brooklyn's answer to Manhattan's attention-grabbing skyline. Indeed, the spotlight may very well shift in this future skyscraper's direction. Located in Downtown Brooklyn near Fort Greene Park, 9 DeKalb, also called The Brooklyn Tower, is like something out of Marvel Studio's depiction of Asgard. Anyone who's seen "Thor" and its sequels might catch this reference: a majestic skyscraper with jagged edges shimmering in gold.
Slated for completion in 2022, 9 DeKalb will be the tallest building in Brooklyn, combining high-end rentals with luxury condos. The project also incorporates the historic Dime Savings Bank at the base of the property. The bank is a landmark structure whose exquisite interiors may serve as retail space or possibly a lobby for future residents.
2 World Trade Center
Height: 1,270 feet / 387 meters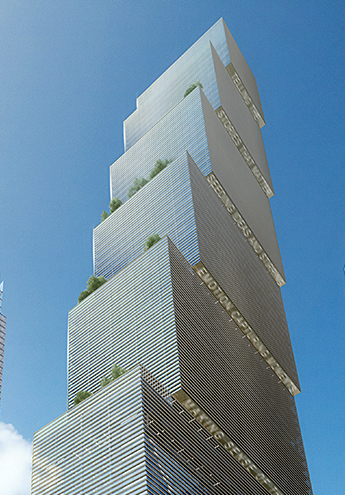 With a planned height of 1,270 feet just below the clouds, 2 World Trade Center will be one of New York City's most prominent skyscrapers, reshaping Lower Manhattan's distinctive skyline forever. But construction hasn't quite hit the ground running, with a lack of new tenants slowing down the building's progress.
Despite the delay, 2 World Trade Center's developer, Silverstein Properties, is relying on the visionary architectural firm, Bjarke Ingels Group (the same company that designed The Spiral), to create a striking masterpiece that's remarkably different from other buildings in the area. It's a tall order, but one that BIG will likely handle with aplomb. After all, the Danish firm was behind the record-breaking Central Park Tower, soaring 1,550 feet in the sky, which has made a name for itself as the world's tallest residential building, with more than 20 of its 179 condo units costing more than $60 million apiece.
Recap of 5 Skyscraper's That Will Forever Change NYC's Skyline
The newest skyscrapers in New York City reflect the best design and architecture. Not only are they super tall, futuristic, and sleek. Many are eco-friendly, offering an oasis for businesses eager to stay within the city's boundaries. They'll leave a lasting impression on the Big Apple's skyline, signaling to the world that this global city is a force to be reckoned with.
But while the Chrysler Building and Empire State Building may continue to reign as symbols of NYC's architectural excellence, new additions may push these relics further into the background, making it hard to predict where the city's future skyscrapers will rank among existing ones.
But one thing is certain: the new buildings on this list will forever change the city's panorama, giving rise to some of the world's most astonishing architectural wonders that will no doubt inspire more ambitious projects in the future.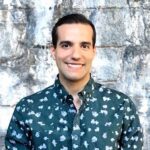 Ivan Suazo is a copywriter and SEO blogger with over ten years of experience in the real estate industry. He's also the founder of a wellness blog, QWERTYdelight.com, and writes sleep stories for the Slumber App.