We've all experienced it in one way or another: driving in from Long Island or New Jersey, soaring high above from a plane, or watching it slowly come into view from a boat or a ferry. No matter how you saw the New York City skyline for the first time, it likely took your breath away. However, once you get used to seeing that skyline, you'll start to notice that some buildings are more…ostentatious than others. Buildings that seem to stand out in a way that just doesn't feel right. They seem out of place, distracting, and…who are we kidding. These buildings are ugly. I don't want to offend the architects or designers, but also, come on.  Some of these buildings are just flat-out ridiculous. Five of these terrible buildings include: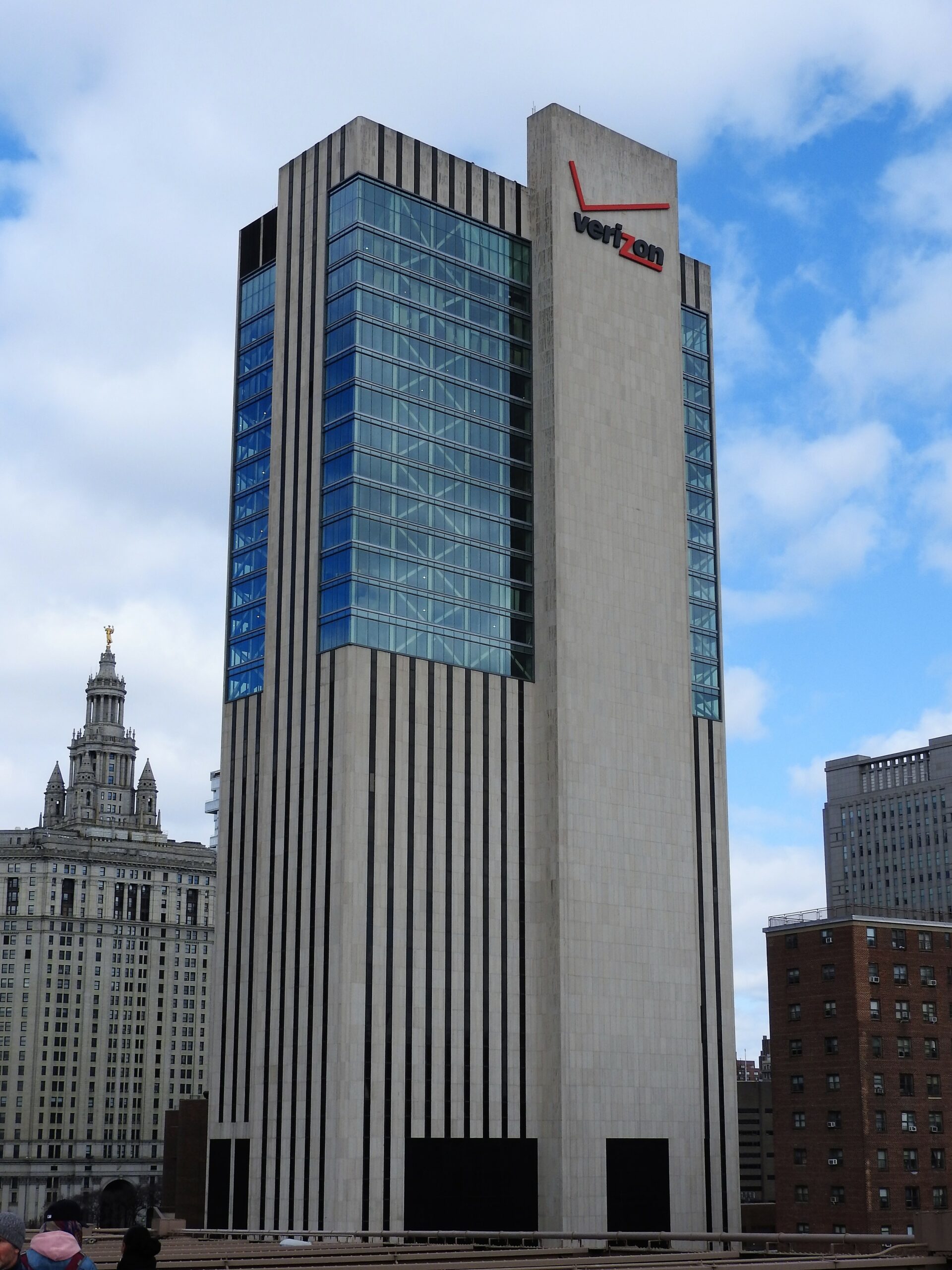 Used as office space for various companies and government entities, 375 Pearl Street has made numerous "ugliest buildings in NYC" lists, and there's a good reason for that. Up until a few years ago, the building looked like Azkaban, the evil wizard jail from Harry Potter. The first time my mom drove by it she said, "I thought the prison was on Rikers Island." And my mother is correct! The prison is on Rikers Island. This building is simply a crime.
The building was originally built in 1975 for the New York Telephone Company with the beautiful intention of funding a school. However, that was the only beautiful thing about it. Architecture critics lambasted it for decades before a proposal for renovation was made in 2008. The plan was put on hold due to Verizon selling the building and the financial crisis. However, the project started up again in 2016 and now 375 Pearl has been made that much "better" by removing much of the top floor and replacing it with glass. It's still not great, to be honest. But hey, just look at it from the 16th floor, up.
200 Park Avenue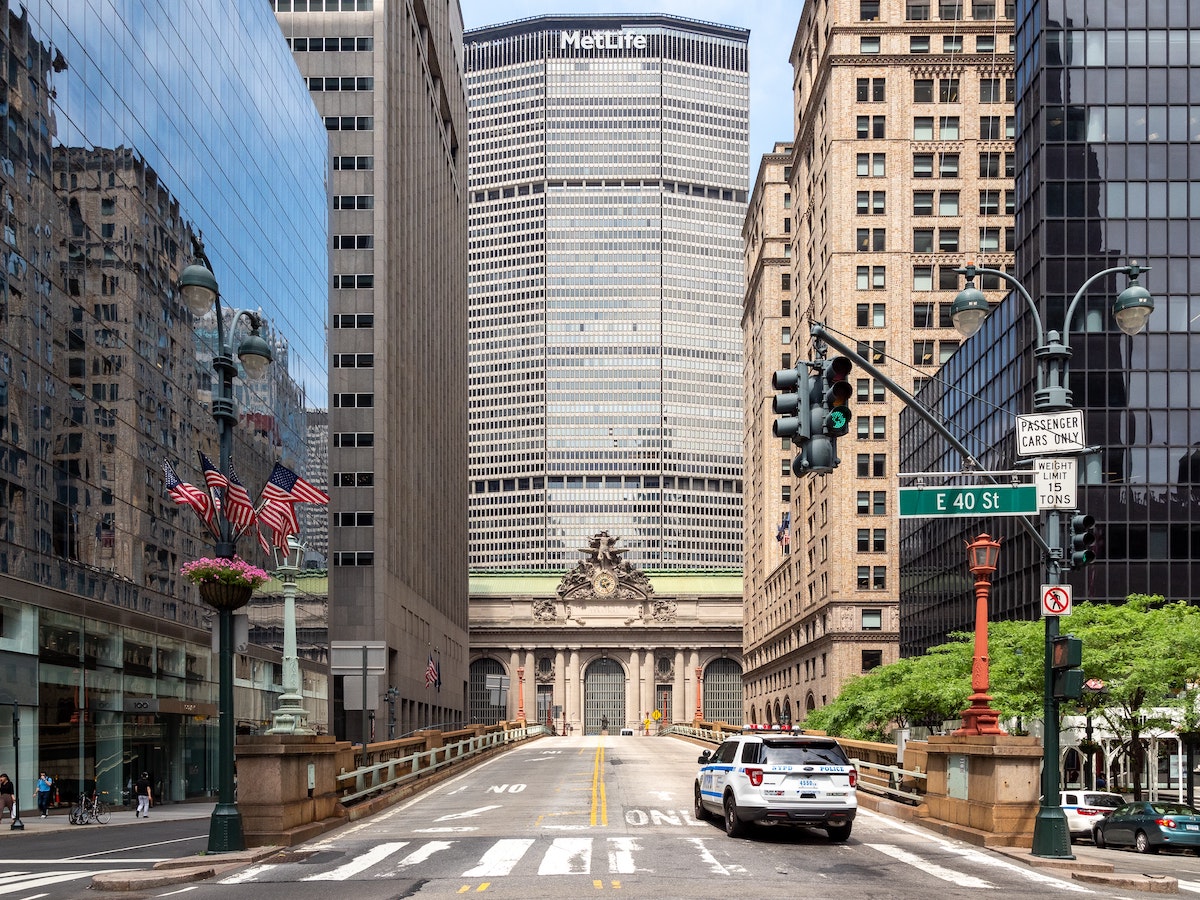 The MetLife building, formerly the Pan Am building, was built in 1963 and was one of the most controversial buildings of the era. Critics thought it would ruin the art deco flow of Park Avenue, and folks fought hard against it. One of the more famous names against the building was Jackie Onassis, who was concerned the building would be the death of Grand Central. People even went so far as to call the design cold and brutal, and yet, up it went.
I should say, I personally have no problem with the MetLife building. It isn't the worst building I've ever seen, and it hasn't hurt me or my family…yet. I just think it's a bit boring. Other buildings in the area have diverted away from the art deco style of the past and made the area work. But Metlife just seems like that weird guy at a party who knows the host but is a stranger to everyone else. That said, it's in several "ugliest buildings" lists, so maybe my apathy towards it counts as a mark against it.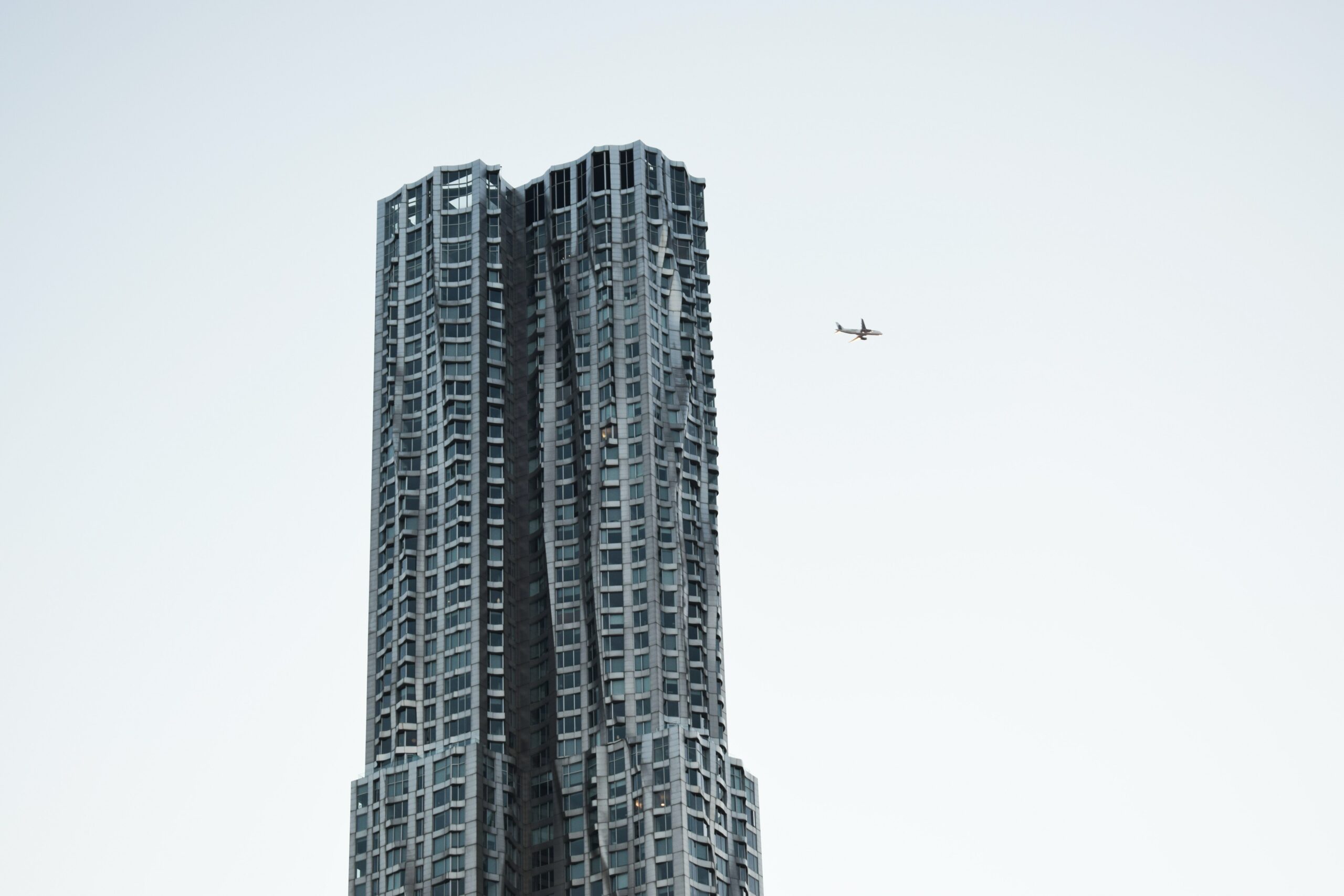 This one is a controversial pick. I know many people, who have a much broader understanding of architecture than I do, have praised this mighty tower for its ingenuity on CityRealty, its boldness, and its beauty. To me, it feels like an unfinished art project. Even in the link I just added above, the critic said it'd be better if the crinkles on the southside went all the way around. But they don't, and now it looks like someone missed a spot while ironing the building.
Opening in February of 2011, 8 Spruce was designed by Frank Gehry, the same guy who designed the Walt Disney Concert Hall in LA and the Museum of Pop Culture in Seattle. He's a celebrated architect and, again, most people seem to like the building. But I don't. It's definitely audacious, which is usually what Gehry goes for. I just don't think it's audacious in a good way. It's also his first foray into the New York City Skyscraper, so maybe this one was just him going big before he went back home to Canada. If you think this building is cool, I'm happy for you! It's just not my cup of tea.
105 Norfolk Street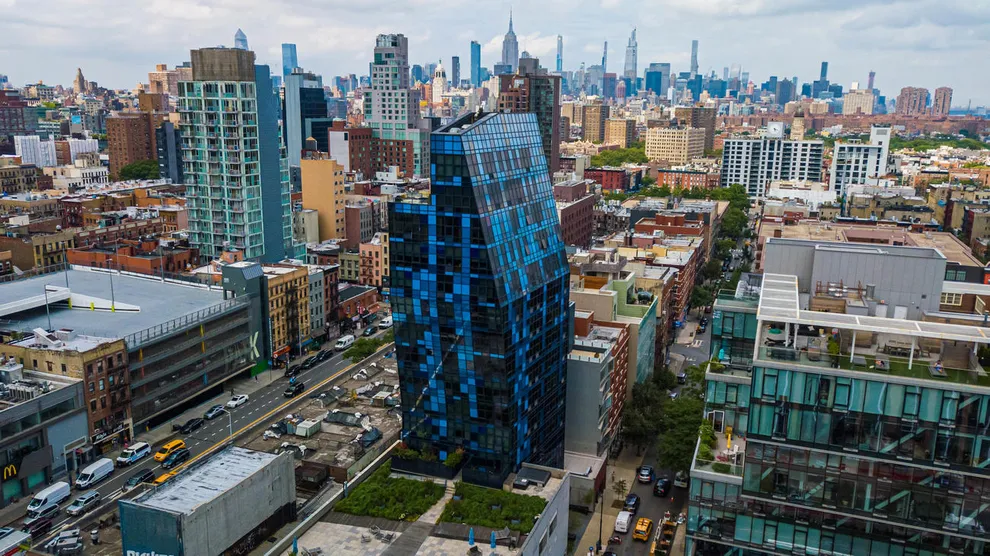 The shortest building on our list is also one of the weirdest to look at. At 16 stories, the BLUE condominium looks like an alien pod that has landed on Earth and is trying to blend in. Designed by Bernard Tschumi and opened in 2007, this residential tower just seems out of place. Not just out of place for the neighborhood either. For the entire city. This building is so weird looking that it has made its way onto several "Ugliest Buildings in NYC" lists with even receiving comments like, "This is a giant pimple on the Lower East Side's ass."
432 Park Avenue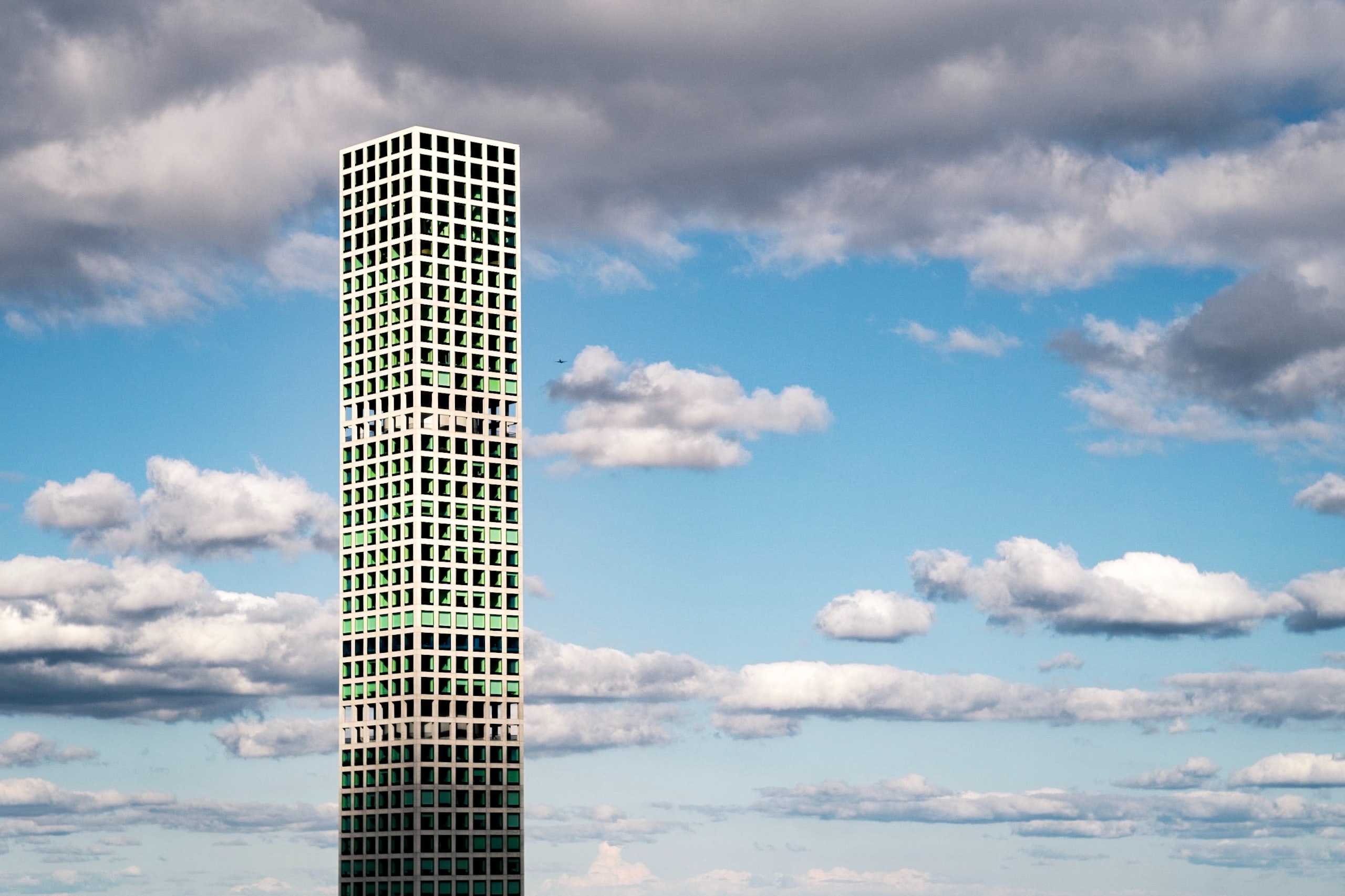 We've had a lot of controversial takes on this list, so let's end with one we can all agree on. 432 Park Avenue is the worst building in New York City. We've discussed the whole of Billionaires Row on this website before, even detailing how the buildings ruin the views for people both inside and out of the city. But no building gets as much well-deserved hate as the skinny, pencil-esque tower that is 432 Park Ave.
The building isn't just ugly, either. It's so tall and skinny that the building actually moves in the wind, floods often, and the walls make terrible noises as these things happen, raising costs for owners in the complex. There's a reason people say the building looks like a giant middle finger.
They say beauty is in the eye of the beholder, which is true for all of these buildings (except 432 Park Avenue). Some people may hate the selections I made for this list. However, every pick has been criticized before and will be criticized after. I'm not saying I'm the King of Architecture. I'm am saying that I think the skyline would be better without these towers of terror.
Seriously, get rid of 432 Park Avenue.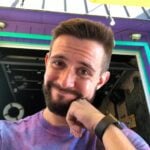 Russell is a writer and comic based in New York City. His plays have been featured at Penn State's Cultural Conversation's Festival, The NYC Thespis Festival, and Imaginarium's Inaugural Theater Festival. Follow him on TikTok and Instagram @pooleparty528