Woodside basics
Woodside is a neighborhood with range – some of the neighborhood is residential and offers a slice of quiet living, whereas the bustling Roosevelt Avenue offers urban appeal. Though the neighborhood is historically Irish, it now is home to a diverse population and boasts a multitude of restaurants, pubs, parks, and even its own all-inclusive St. Patrick's Day parade. 
History of Woodside
The Puritanical Sackett family was one of the first families to inhabit Woodside after the Dutch displaced the indigenous Lenape peoples. The Sackett family passed down property in Woodside for generations before eventually selling their land to John A.F. Kelly, who would launch the first development initiatives for the neighborhood. Kelly was part owner of the Independent Press of Williamsburg and wrote "Letters from Woodside," which spoke to the beauty of the neighborhood and the scenic views from his window. The name "Woodside" stuck when developer Benjamin Hitchcock purchased the property from Kelly, and between his growing developments and the inclusion of a stop on the Long Island Railroad, the population of Woodside doubled, and the once quaint area was well on its way to becoming a prominent NYC neighborhood.
Where to Shop in the Neighborhood

Woodside is home to many local businesses as well as prominent national chains. You can find food, flowers, and more all in one spot. 
J.O.Y. Cube of Signatures
For second-hand designer handbags, turn to J.O.Y. Cube of Signatures! This local business offers name-brand bags and has a layaway program for buyers. 
Roosevelt Flowers and Orchids
Roosevelt Flower Shop is the perfect place to stop and grab a beautiful bouquet. This shop offers bouquets for walk-in clients and flowers for larger events such as weddings, dinners, or corporate and school events. 
Tower Square Shopping Center
Two 1896 brick trolley barn towers, originally part of the New York & Queens County Railway Company depot, mark the entrance to Tower Square Shopping Center. Located at 5106 Northern Blvd, this is a great place to go if you need multiple things at once, as it includes Starbucks, Michael's, GameStop, and more. 
Landmarks and Notable Places of the Neighborhood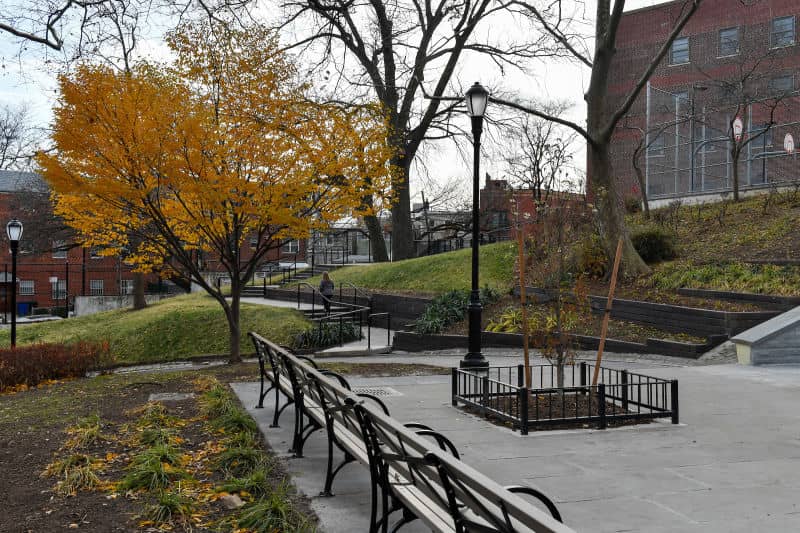 Woodside has a rich history that is reflected in these notable landmarks. 
Doughboy Park
Though there aren't any major parks in Woodside, Doughboy Park is a perfect spot to curl up and read a book on a sunny day. With a WWI and 9/11 memorial, this park offers green space and historical significance. 
Moore-Jackson Cemetery
Moore-Jackson Cemetery is one of the oldest cemeteries in NYC, with just 15 remaining headstones. The tombstone of Augustine Moore dates all the way back to 1769.
St. Sebastian's Church
Though this building was converted into a church in the 1950s, this building began as a Loew's Theater! The building was sold and repurposed, but if you attend a service at this church, you can still see the remnants of the building's past. 
Where to Eat in the Neighborhood
View this post on Instagram
Woodside is known for having a confluence of cultures and restaurants. The neighborhood earned the nickname "Little Manila" due to the fact that it has the highest concentration of Filipino population in New York City.  Here are a few places to check out on your next visit:
SriPraPhai
This local Thai restaurant was founded by Sripraphai Tipmanee, who has served Thai food to the NYC community since the 1990s.
Donovan's Pub
At 24 Roosevelt Avenue and dating back to 1966, this is a classic Irish pub that boasts one of the best burgers in the city. 
Phil-Am Food Mart
Phil–Am Food Mart dates back to 1976 and has offered the finest Filipino food products to the NYC area for over 40 years.
Jolibee Chicken
Located off Roosevelt Avenue, this Filipino-based chain is known for its burgers, fried chicken, and Filipino dishes. 
La Flor
Founded by Viko Ortega, this romantic corner restaurant offers elegance at a reasonable price. 
Bars of the Neighborhood
View this post on Instagram
Woodside has many places to fulfill your need for some smooth sipping. 
Solid State
Solid State is a bar born from a "passion for craft beer and pinball." In addition to a full bar, they offer rotating draft beers and cans. They have a wide selection of vintage and contemporary pinball machines and tabletop games.
Sean OG Tavern
With a dance floor, cheap beer, and televisions, Sean OG Tavern is a great place to watch a sports game or relax with friends. 
Bee Cafe
The Bee Cafe in Woodside offers craft beer, wine, cocktails, and coffee! This is a great spot for drinks and some aesthetically pleasing Instagram shots. 
Where to Live in the Neighborhood
Real estate in Woodside is relatively affordable, and there are wonderful residential areas just a short walk from bustling Roosevelt Avenue. 
56-02 31st Avenue
This beautiful condo building boasts stainless steel appliances, private balconies, and floor-to-ceiling windows.
37-39 63rd Street
This family home occupies the entire first floor of the building and offers an eat-in kitchen, built-in bookshelves, and natural light.
59-34 41st Avenue 
Located just a block off Roosevelt Avenue, this detached family home has a private yard, basement, and one car garage. Priced at $935,000, this home is perfect for a growing family. 
30-47 Hobart Street
This co-op has an open floor plan, city views, and amenities like a private playground and library within the community of Boulevard Gardens. Priced at $335,000, this home offers a mix of affordability and luxury. 
47-50 59th Street
This rental building at 47-50 59th Street is rent-stabilized and offers updated appliances and private balconies. 
Traveling in the Neighborhood
The 7 train, multiple bus lines, and accessible bike lanes make Woodside a convenient neighborhood to travel in. 
Trains
The 7 train is the most convenient subway line to take when traveling to Woodside, although the neighborhood also has a stop on the LIRR at 61st and Roosevelt. 
Buses
The Q18, Q32, and Q53SBS all run through Woodside and make frequent stops. 
Rideshares and Bike Rentals
Woodside is a bike-friendly neighborhood, offering dozens of CitiBike stations stocked with electric and regular bikes. Most streets have bike lanes as well, making it safer to travel. 
---
Woodside, Queens, is a vibrant neighborhood home to an ethnically diverse population, a myriad of restaurants, and historical landmarks. The affordable real estate makes Woodside a great choice for a growing family or for young residents on a budget. If just visiting Woodside for the day, don't miss the incredible Filipino food or the historic Irish pubs – and if you're there on St. Patrick's Day, don't miss the all-inclusive LGBTQ+ friendly parade!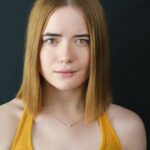 EmmaLee Kidwell (she/they) was raised in Louisville, Kentucky, and now resides in upper Manhattan. EmmaLee attended Pace University and graduated with a degree in Musical Theatre. Though her degree was earned in performance, EmmaLee now pursues writing, directing, and producing. EmmaLee is the librettist of an original folk musical, The Waiting, which has been workshopped at the SheNYC festival, Days of the Dead Festival, and Pace New Musicals festival. In the spring of 2022, EmmaLee started a company with her writing partner, Butterfly Effect Productions LLC. EmmaLee's performing credits include the International and National tours of Baby Shark Live!, Olive Ostrovsky in The 25th Annual Putnam County Spelling Bee, and Brilliant at Theatre Row. In her spare time she can be found playing Sims, visiting the Metropolitan Museum of Art, and writing her own singer/songwriter album.