Astoria Basics
Welcome to Astoria, the neighborhood that has a lot going on! From museums to different cuisines, this neighborhood is full of greatness, just waiting to be explored. Many people in the city know that Astoria has amazing Greek food, but there are all kinds of things in this area that attract tourists and make living here a wonderful experience. There's a lot to do and see in this neighborhood, and once you visit, you won't want to leave.
History of Astoria
Astoria began its New York City life as most neighborhoods did: as farmland and large estates for the wealthy. When it was first colonized in the 1600s, the area was called Hallet's Cove, and it was popular with wealthy New Yorkers. The area didn't change much for nearly 150 years, remaining mostly rural with some lavish mansions here and there.
As Queens began to develop, they needed funding from rich sources. Hallet's Cove was renamed Astoria in the early 1800s as a tribute to John Jacob Astor. Astor was the richest man in the US and invested heavily in New York City neighborhoods. The leaders of Astoria hoped he would invest there after the name change, but he never did.
The neighborhood would eventually receive money from another rich family in the 1800s, the Steinways, who built a factory in the neighborhood. This drew more factories and businesses to the area, which in turn attracted residents to the area seeking work. Astoria thrived throughout the late 1800s and early 1900s thanks to these factories and their workforces. The area was so popular that many early films were shot there.
Sadly, the success wouldn't last. After WWII, many of the factories were shut down and abandoned. Many people still lived in the neighborhood, though, and they worked tirelessly to keep Astoria moving. In the 90s and early 2000s, the area experienced some gentrification, though it's still one of the most diverse places in the city. Today Astoria is thriving, filled with row houses, restaurants, shops, and entertainment.
Shopping in Astoria
View this post on Instagram
Astoria has a ton of small shops with unique items. Some of the best stores in the neighborhood include:
Broadway Shopping Center
This compact mall has been around since 1958 and holds grocery stores, pharmacies, and more. This area is always bustling with shoppers looking for a good deal and a quick bite to eat. This place is a focal point in the neighborhood.
Astoria Bookstore
This bookstore is one of the finest in the city, with literature for all ages and a special section on books that have been banned around the nation. They always recommend books written by those in marginalized communities and have toys and games for those too young to read.
Bike Stop Astoria
As cycling becomes more popular in NYC, more and more bike shops pop up. This store is great because they do repairs as well as sell bikes and bike accessories. They offer free air for those who need to refill their tires.
Notable Places in Astoria
View this post on Instagram
Astoria is filled to the brim with museums, entertainment, and more. Some of the most unique places here are:
Kaufman Astoria Studios
This film studio has been around for a long time and has filmed projects like Titanic, Avatar, and The Wiz. The studio sometimes gives tours and has a museum, the Museum of the Moving Image, dedicated to the history and current practice of film.
Q.E.D
Though this venue might seem out of place, many famous comedians and authors have graced this stage. Welcoming bigger talent and newcomers, this venue is intimate and fun. Shows here are always a blast.
The Noguchi Museum
This museum and sculpture garden features the works of Isamu Noguchi, a legendary sculptor of the 20th century. The museum has been around since 1984, opening just four years before the sculptor's death.
Where to Eat in Astoria
View this post on Instagram
Astoria has a ton of delicious and diverse restaurants that are frequented by locals and visitors alike. Some of the best are:
Amylos Taverna ($$$)
Astoria is known for its Greek cuisine, and Amylos Taverna is the best of the best. This restaurant serves a fun brunch and delicious dinners, making it great for a fun time out with friends or a classy date night.
Trestle ($$)
This American restaurant is hearty and delicious with an industrious vibe. Famous for their burgers, this unstuffy restaurant is a place where folks can let their hair down and have some fun. They also serve a great brunch.
Tacuba Cantina Mexicana ($$)
This Mexican restaurant has been featured in the New York Times, Eater, and TimeOut New York for its delicious foods and creative cocktails. They have heated outdoor seating and a fun atmosphere indoors, making this a great place to eat and relax.
District Saigon ($$)
This Vietnamese restaurant is run by head chef Lam, who started washing dishes in the US and moved up the ranks to make several restaurants a huge success. This place focuses on hot family meals that bring people together.
Koliba ($$)
This Czech restaurant is family run, and serves delicious Slavic food and drinks. Everything here is made with love and fresh ingredients, making these hearty meals even more meaningful. This establishment is one of a kind.
Bars of Astoria
View this post on Instagram
Astoria isn't a rowdy place, but they have some fun bars that make for incredible nightlife. Some of the best include:
Mosaic ($$)
This cocktail bar is known for its creative drinks and delicious charcuterie. Whether you come during the day when the place is bright or in the evening when it's smoky and sexy, you will always have a great time here.
Vintage ($$)
This wine bar is intimate and romantic, with special nights for rare wines and live music. Wine served here comes from all over the world, and they even have snacks to nibble while you enjoy your drink.
Albatross ($)
This gay bar is famous in the neighborhood and has indoor and outdoor seating, both of which have a TV. All of their cocktails are seasonal, making this place fun to visit every single season of the year.
Where to Live in Astoria
Astoria is an extremely popular neighborhood, and the population has been steadily growing for years. Some of the best places to live here include:
The Candle Factory
This condo was retrofitted from an old candle factory, and is now one of the most coveted buildings in the neighborhood. Many units here have private outdoor space, and residents have access to parking and a fitness center.
26-01 24th Avenue
This rental building has been renovated from a historic row house built in 1931. The units here are a bit smaller, making this place better for college students and young professionals. Homes come with beautiful stainless steel appliances.
North Queensview Houses
This seven building co-op was built in 1958 and has renovated its units to keep up with modern living standards. One of the newest additions is the virtual doorman added to these homes, allowing residents to see who enters the buildings.
25-66 33rd Street
Another rental building retrofitted from a historic rowhouse, these units range from small to large, making this place perfect for both single folks and families. The kitchens are brand new, as are the hardwood floors and window moldings.
Astoria Proper
This new condo has ten units in six stories, most of which come with a private outdoor space. This building also has a fitness center, parking garage, and rooftop deck, making this a great place for young professionals.
Traveling in Astoria
Astoria is close to Manhattan, so it's pretty easy to get to and travel in. The best ways to get around this large neighborhood include:
Trains
The NYC subway system services Astoria via the E, M, N, R, and W trains.
Buses
The NYC bus system services Astoria via the M60, Q18, Q19, Q66, Q69, Q101, Q102, Q103, and Q104.
Bike Rental and Rideshares
Astoria is a huge neighborhood. Traversing it on foot is easy and possible, but it can take a while to get where you're going. For this reason, biking and rideshares are very popular. Traffic is mostly light in Astoria, save for the section near the Queensboro Bridge. Biking is easy thanks to the miles of bike lanes in the neighborhood, and it's convenient as Astoria is one of the only neighborhoods in Queens with access to Citi Bike docking stations.
---
Astoria is one of the most diverse neighborhoods in the city, and that diversity shines in the food, drinks, and entertainment in the area. This enormous neighborhood has a little bit of everything, and it's nearly impossible to have a bad time here. The old factories and row houses have founded new uses, transforming the neighborhood while celebrating what built it in the first place. Astoria is a powerhouse of a neighborhood. It's easy to see why people keep moving here. To visit Astoria is to visit a truly unique part of the city, so hop on the N train and see what all the fuss is about.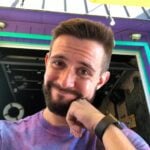 Russell is a writer and comic based in New York City. His plays have been featured at Penn State's Cultural Conversation's Festival, The NYC Thespis Festival, and Imaginarium's Inaugural Theater Festival. Follow him on TikTok and Instagram @pooleparty528