Federal Reserve Chairman Jerome Powell and Treasury Secretary Janet Yellen both discussed the dangerous game of chicken with the debt ceiling currently taking place in Congress.  During a briefing to House Committee on Financial Services, Powell warned about the permanent damage to the country's credibility if the United States defaults on its $28 trillion dollars of debt, in addition to potential financial chaos worldwide.  Many countries see US treasuries as the closest proxy to determining a risk-free rate of return.
Yellen took an even stronger stance, calling for an end to the debt ceiling.  She argued that once Congress agrees on a budget or spending plan, there should not be an additional obstacle in place to stall already-approved bills.  The current rules simply create more room for gridlock and political games, allowing a minority more power than intended.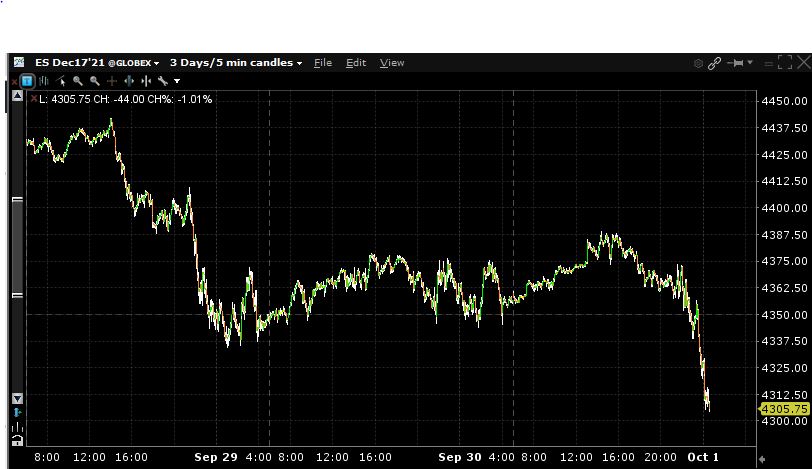 Stocks fell to session lows shortly after the testimony, despite news from Democrats that they have most likely resolved the debt ceiling issue for a few months.  Volatility is back up across equities and rates, with VIX topping 25 as of 12:30pm ET.  Stocks are on track for their worst month since the pandemic began in March 2020, down 4% after reaching new all-time highs just after Labor Day weekend.
NYC Housing and Rates Struggle
The market volatility continues to have a broad impact on real estate and financing decisions.  With mortgage rates solidly over 3%, home affordability continues to decline in New York City.  A rental inventory crunch and the end of pandemic concessions are also squeezing Manhattan rental apartment seekers. According to listings site RentHop, open listings, exclusive listings, and for-rent-by-owner FRBO listings are all trending lower as companies delay their back-to-office mandates.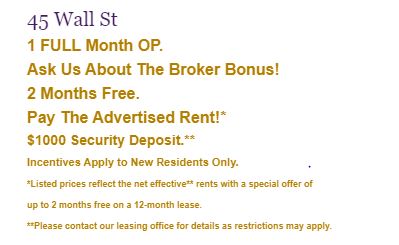 At this time last year, landlords such as TF Cornerstone were advertising over a dozen listings at Financial District staples 2 Gold Street and 45 Wall Street, with net effective rents starting at $2063 per month.  As of today, the situation is very different.  The lowest-priced studio at 45 Wall Street is over $3000, and occupancy may only begin a week into October.  Even 2 Gold Street, complete with their occassional elevator and electrical issues, only has one apartment available for immediate occupancy.

Renewal Vs Inventory Mystery?
One mystery in the rental market is why the inventory crunch exists at all.  Presumably, landlords gave amazing concessions during most of 2020, signing leases during the height of the pandemic, many which should be up for renewal right now.  Wouldn't landlords simply raise the renewal prices enough to ensure they have ample supple?  Perhaps they did, and the tenants are happy to pay the new gross rents, without the deep discounts from their initial year.
Meanwhile, if companies are delaying their return to the offices, then we would expect a decreased demand in renewals or newcomers to the city — which should have freed up plenty of inventory as we reach the end of the summer.   Perhaps the best answer is that everyone is hedging their bets.  With so much uncertainty in the coming year, no one really wants to move and commit to a new multi-year lease.  Are many tenants now reverting to month-to-month leases, hoping to gain some clarity as we ring in 2022?
Mr. "Hud" Chavij recently came from abroad and brought with him a level of determination and creativity that instantly gained him a reputation among the NYC real estate thought leaders.