October nights in NYC are best spent at The Green-Wood Cemetery! Located on 500 25th Street in Brooklyn, these historic grounds are home to the Green-Wood After Hours Event on Friday and Saturday evenings.
What To Expect At The Green-Wood Cemetery After Hours Event
After Hours at Green-Wood consists of an exclusive walking tour that includes the Catacombs—an area normally closed to the public. On this 2-hour tour, guests can explore the cemetery's beautiful landscape and visit the gravesites of notable figures in American history.
Tickets are $30 for the public and $25 for members. Attendees are checked in by name, so there's no need for paper or e-tickets. Due to Green-Wood's hilly and uneven terrain, guests are encouraged to wear comfortable shoes for the best experience. Check-in begins in the meadow at the Main Entrance, located at Fifth Avenue and 25th Street.
Despite it being Halloween, the cemetery does not allow guests to be in costume or wear face paint. Safety protocols also encourage attendees to wear a face-covering at all times, though it isn't a requirement, and to try to maintain a 6-foot distance from those not in their party. It can get quite dark at Green-Wood, so bringing a flashlight is also encouraged.
This History of Green-Wood Cemetery and Its Historic Fund
The Green-Wood Historic Fund organizes the Green-Wood After Hours Event. The fund's mission is to educate the public on the cemetery's historical significance and preserve one of New York City's very first green spaces.
Founded in 1838, this Brooklyn Treasure hosts 478 acres of history, nature, and art. Home to much more than tombstones, Green-Wood has several hills, valleys, glacial ponds, and paths its visitors can enjoy.
By the early 1860s, its cultural appeal and stunning architecture welcomed international attention, quickly making it the most prestigious place to be buried in New York City.
The New York Times once said, "It is the ambition of the New Yorker to live upon Fifth Avenue, to take his airings in Central Park, and to sleep with his fathers in Green-Wood." Oddly enough, there would be no Central Park without Green-Wood! Its popularity among New York families inspired community leaders to create Central and Prospect Park.
With 570,000 souls laid to rest, Green-Wood is also rich in genealogical resources. The cemetery estimates its burial grounds have genealogical information relevant to over 20 million people alive today.
Green-Wood Cemetery's Notable "Permanent" Residents
It's no secret that guests are drawn to Green-Wood due to its permanent residents buried at the cemetery. Residents include artists, baseball legends, inventors, and even Civil War generals. Artist Jean-Michel Basquiat is one of Green-Wood's most well-known deceased artists. Found dead in his apartment on August 12th, 1988, from an apparent overdose, the talented artist only lived to see 27 years of age. However, his work far outlived him. Basquiat's work gained prominence during the neo-expressionism movement. His art focused predominantly on social dichotomies such as integration and segregation, as well as wealth and poverty.
Henry Chadwick, known as the "Father of Baseball," is also buried at Green-Wood. After persuading the New York Times and other big-name newspapers that baseball was something people wanted to read about, Chadwick became the country's first baseball editor. In his writing, he coined numerous baseball terms that are still used today, such as: "assist," "white-wash," "double-play," and "goose-egg." Chadwick passed away from a fever on April 20th, 1908.
While a spooky fright night might not be everyone's style, many Brooklyn residents have relocated to the area as the Cemetery is the perfect place for families to meet up as there is ample space for a stroller to cruise. But even if Greenwood Cemetery is not your local day-to-day haunt, it's a notable location to visit whether you're a long-term New York resident, a tourist, or a ghostly specter looking for a new place to call your permanent home.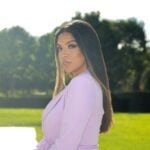 Vivian Tejada is a freelance real estate writer from Providence, RI. She writes SEO blogs for real estate, travel and hospitality companies. She's passionate about the future of work and helping Latin American freelancers achieve time, location, and financial freedom. When she's not writing you can find her at the gym, a family cookout, or at brunch with her girls. Follow her on Linkedin to learn more.