Park Slope Basics
Welcome to Park Slope, the neighborhood with a little something for everyone! When people think of Park Slope, they think of hipsters and artists riding unicycles and vaping outside Prospect Park. This population of quirky young folks is present, but there is way more to this area than people wearing knit caps in the summer. There are many families and history here, a great food and beverage scene, and some of Brooklyn's most unique shopping experiences. This is truly a spectacular neighborhood for residents and visitors alike.
Park Slope History
Park Slope has always been popular, even before European Colonization. The area was originally used as seasonal farmland for the Canarsee Nation until the Dutch took over in 1637. The area was still used as farmland by the Dutch, then followed by the British, until around the 19th Century. The only major event in all that time was the Battle of Long Island during the American Revolution, much of which was fought in the neighborhood.
By the early to mid-1800s, farmland in Park Slope began to get smaller and smaller as Brooklyn expanded its development and transportation improved. Eventually, the farms disappeared, replaced by brownstones and larger, Victorian homes near the newly built Prospect Park. By the end of the 1800s, Park Slope was a wealthy neighborhood filled with beautiful buildings.
However, the city's elites wouldn't stay in Park Slope forever. As transportation improved and nicer homes were built further away, many of the rich left Park Slope, transforming it into a working class neighborhood by the 1940s. Tensions between the white and Black populations of the neighborhood led to some violent struggles, and the neighborhood would retain such a reputation until the 1990s when the city started to funnel more money into the neighborhood. Today, Park Slope is an extremely gentrified area, with many families, young professionals, and artists calling it home.
Shopping in Park Slope
View this post on Instagram
Park Slope has a ton of eclectic shops that sell all sorts of items. Many of these stores have rare selections, and each store on this list is independently run. Some of the best stores in the area include:
Psychic Records
This record shop has a ton of rare items and even purchases records folks are seeking to throw away. This store has an ever-changing supply and knowledgeable staff who love music and comedy. This place has a vast selection, so visit and see what treasures you can find.
Powerhouse on 8th
This independent bookstore has a dedicated staff of readers who know what's new in just about every genre. This store has a ton of stuff that is great for readers of any age, and supporting them means supporting an important, independent organization in the city.
Slope Vintage
Slope Vintage is a great place to shop for some awesome clothes at affordable prices. This place has everything and even takes donated clothing of good quality. Folks who shop at this store will surely find something they'll love.
Notable Places in Park Slope
Park Slope has a ton of stuff that can't be found anywhere else in the city. Some of the most unique places in the neighborhood include:
Old Stone House of Brooklyn
One of the oldest homes still standing in the city, this house has seen everything from the horrors of colonization, to one of the biggest battles of the Revolution, to playing a major role in Baseball history. They have reenactments and education events year-round.
Lesbian Herstory Archives
This museum tells the story of LGBTQ+ activism through the lens of lesbian leaders and movements. The museum holds educational events and has a ton of exhibits that will fascinate and educate. This museum tells tales rarely told in the US.
Gallery Players
This Off-Off Broadway Theater is the gem of the neighborhood and holds shows in their intimate space year round. They perform classics like Shakespeare and modern pieces in the form of an annual New Play Festival.
Where to Eat in Park Slope
View this post on Instagram
Park Slope has a ton of great restaurants that feature a ton of cuisines. You can get virtually anything in this neighborhood. Some of the best restaurants here include:
Athena ($$)
This Greek restaurant has a delicious seasonal menu made with ingredients from local farmers. This means all of their food is prepared and served fresh. The atmosphere here is also fun, and the food is out of this world. If Greek food is your thing, check this place out.
Hanco's ($)
This Vietnamese restaurant is so popular that they already have two other locations after only opening in 2005. The food here is warm and homey, serving specialties like pho, banh mi, and even a variety of bubble teas. This place has been featured in Zagat several times.
Negril BK ($$)
This Caribbean restaurant is insanely delicious, serving favorites like braised oxtail, jumbo jerk shrimp, and their famous jerk rotisserie chicken. This establishment also features some delicious specialty cocktails and hosts an amazing brunch on Saturdays and Sundays.
Namaste ($$)
This Indian restaurant is comfortable, delicious, and has a private outdoor patio that is perfect for a date night. Serving Brooklyn for more than 25 years, this place serves up some of the best Indian cuisine in the borough and offers amazing delivery and takeout options. 
Fausto ($$$)
This Italian restaurant serves up some family favorites for the people of Park Slope and has delicious options like marinated olives, veal bolognese, and Berkshire pork chops. They also have an enormous wine list that is to die for.
Bars of Park Slope
View this post on Instagram
Park Slope has a huge bar scene. Many of them are places to party, and many of them are lowkey. Either way, they're fun. Some of the best bars in the neighborhood include:
Union Hall ($$)
This bar is the definition of fun, hosting regular live events like music, comedy, and even bocce ball tournaments. They have an entire bocce ball league for those interested. This bar has a plethora of specialty cocktails and spicy margaritas.
Park Slope Ale House ($)
This bar isn't fussy and features a huge beer menu for a great price. A classic pub, this place has all the food a bargoer could love while also serving delicious local brews. The atmosphere here is chill and comfortable.
Brookvin ($$)
This wine bar has bottles from all over the world, and a cozy atmosphere with the option of drinking outside. Along with their extensive wine list, they have small plates and charcuterie boards to keep guests well-fed.
High Dive ($)
This fun tap room is so into comradery that guests can buy their friends a drink on their website. The bar has 19 beers on tap, and the menu changes somewhat frequently, so there's always something cool to experience.
Saint Eves Cocktail Bar ($)
This cocktail bar features fun seasonal cocktails that warm you up in the winter or cool you down in the summer. This bar also has a sweet happy menu featuring classic cocktails, a solid beer selection, and even some small plates of food.
Where to Live in Park Slope
Park Slope is a mix of larger apartment complexes and older brownstone buildings. This area is great to live in, and some of the best homes here include:
575 Fourth Avenue
At the southern end of the neighborhood, this condo is very new and offers residents a luxury living experience for a more affordable rate than similar homes in Manhattan. Most homes have a private outdoor space and give residents access to a media room, fitness center, and more.
561 4th Avenue
This rental building is a bit smaller on the outside, but residents who live here can expect their homes to be pretty big on their interior. These homes have stainless steel appliances, hardwood flooring, and enormous windows.
The Homage on 3rd
This condo was renovated in 2016 but was originally built in 1921. A more historic building, this place is right in the middle of the neighborhood, making it extremely accessible to all its best spots. These homes are perfect for families.
270 Berkeley Place
This rental building is a converted single-family brownstone and can now comfortably hold two families. The building was constructed in 1887, making it one of the oldest buildings in the neighborhood. That said, it has been recently renovated.
206 Lincoln Place
This co-op was first built in 1920 but recently renovated to keep up with modern standards. Homes here are beautiful, with exposed brick walls, enormous windows, and brand new hardwood. These units also come with stainless steel appliances.
Parks of Park Slope
The neighborhood is Park Slope after all, and there is ample green space in this community. The best parks in the neighborhood are:
Prospect Park
The largest park in Brooklyn, Prospect Park has a ton of things to do and see. People come to this park to ice skate, visit the zoo, and even get married at one of the many wedding venues. This is easily the best park in Brooklyn.
Washington Skate Park
This park is home to the Old Stone House and one of the best skate parks in the borough. The park also has a popular playground with equipment from the 1920s. This park is full of history and entertainment that's fit for the whole family.
Detective Joseph Mayrose Park
This park is named for one of NYC's most influential detectives, who solved many cases in his 40-year career. The park itself has several playgrounds and nice paths to walk, as well as a stellar dog run that people love.
Traveling in Park Slope
Park Slope is an extremely popular neighborhood and is very easy to get to and travel in. Some of the best ways to traverse this area are:
Trains
The MTA has a ton of trains that travel through Park Slope. Most of these can be found at the Barclays Center, including the B, D, N, Q, R, 2, 3, 4, and 5 trains. The F and G trains also travel through this neighborhood.
Buses
The MTA also has several bus lines that travel through Park Slope, including the B41, B45, B61, B63, B65, B67, B69, and B103.
Ride Shares and Bike Rentals
Traffic isn't bad in this neighborhood, so driving and rideshares are common. That said, biking in this neighborhood is easily the most popular way to get around. The empty streets, numerous bike lanes, and plethora of Citi Bike docking stations make it so convenient.
---
Park Slope is an extremely popular neighborhood, with plenty of food, bars, and things to do. Locals and visitors love this area, which is why this neighborhood always seems lively and energetic. The life and energy of this neighborhood are ever-present and make Park Slope a unique experience for anyone who visits or lives there.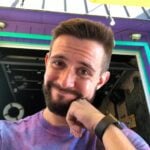 Russell is a writer and comic based in New York City. His plays have been featured at Penn State's Cultural Conversation's Festival, The NYC Thespis Festival, and Imaginarium's Inaugural Theater Festival. Follow him on TikTok and Instagram @pooleparty528