Where else can you live your whole life and never stop discovering new places, new people, and new things to do? That's Brooklyn, baby.
That's one reason why I'll never leave this borough. Another reason: My little corner of Brooklyn is a half-hour away from the Mecca that is Manhattan. The best of both worlds — a little, human-scale neighborhood nestled next to the greatest city in the world. What's not to like?
The following is a walking tour of sorts, starting at the south end of Park Slope's 5th Avenue, working its way north, and ending finally on 6th Avenue and 9th Street.
Welcome to the neighborhood.
Greenwood Cemetery. Escape the grid.
The 5th Avenue entrance is at 25th Street
Does starting your day in a cemetery sound a little gloomy? Anything but. If I had to spend eternity anywhere, Greenwood would be my top choice.
Inspired by the 19th-century rural cemetery movement, Greenwood's founders created much more than a cemetery. They envisioned a place to connect with nature and get away from the grid. And while that original vision is at the heart of the Greenwood experience, there is also a great mix of sculpture and architecture, a history that reaches back to the American Revolution, and an on-going slate of contemporary cultural programming.
"Precisely because we don't allow traditional recreational activities, like biking or jogging, there's a very specific, quiet and contemplative experience here," said Lisa Alpert, Greenwood's VP of Development and Programming. "There's nothing quite like it in Brooklyn."
Only about 50 acres smaller than Prospect Park, Greenwood is a vastly under-appreciated green space. Shady lanes quietly meander around old-growth trees, undulating hills and valleys and ponds tell a story of glacial moraines, a chorus of bird song accompanies your every step. It's hard to believe you're in the heart of Brooklyn.
Roots Café. A Great Cup of Coffee Plus Community Spirit.
639 5th Avenue, Brooklyn. Between 18th and 19th Streets
View this post on Instagram
First and foremost, the coffee is great. The single-origin Mexican is particularly popular at the moment, but new choices come in weekly. For summertime the cold brew and iced coconut Americanos move fast. But unlike most coffee shops around town, Roots is not about getting coffee and running out the door.
"The goal is not only to serve a great cup of coffee, but you're going to say hi to someone that remembers you, remembers your name, and your face," says co-owner Gareth Manwaring. "Patricia (the other co-owner) has a heart for hospitality," he said. "The way she learns about people's lives and how conversations evolve over every visit, it's rich. We've developed a real community here."
When the pandemic broke out and the café had to scrap indoor seating, that community spirit blossomed. Patricia opened a pop-up food pantry to help feed struggling neighbors. It operated for several months during the peak of the disaster.
"Angels have touched this coffee shop," said Wendy Barron, a long-time patron.
Sip & Play. A Board Game Café for Everyone.
471 5th Avenue, Brooklyn. Between 10th and 11th Streets
View this post on Instagram
"I got tired of bringing my own food when I went out to play boardgames." That's how Jonathan Li got inspired to open Sip & Play—a board game café with a real menu.
"Coffee, bubble tea, beer and wine is just the start," he said. "We've got sandwiches, salads, specialty drinks, even a seasonal menu."
Ultimately though, the crowds come for the 300+ boardgames that Sip & Play offers. According to Jonathan, boardgames give people a chance to unplug. "It's a great way to spend time with people without technology: family, friends, sometimes it's a first date." Parents come in with their kids to play the games they grew up with. Aficionados want to try out the latest games.
"The community is really diverse and we're very proud when customers say they feel safe here," Jonathan said. "We get people from all walks of life. And everybody just has fun playing board games."
5th Avenue Records and Tapes. The Oldest Vinyl Store in Brooklyn.
439 5th Avenue, Brooklyn. At the corner of 9th Street
View this post on Instagram
Ain't nothin' like this classic hole-in-the-wall record shop—boppin' since 1968. The shop has no sign. Look for the cases of discounted vinyl and DVDs on the sidewalk. Above that, there's a window gate with old records and CDs hanging on it. You can't miss it.
When you walk in, you will absorb the history here.
Back in the day the store sold mostly classic rock, blues, jazz, and country. Those genres are still available, but Ryan Romanski, who bought the place after working there for years, has modernized the offerings.
"I'm adding lots of stuff: industrial, metal, experimental, electronic, DJ friendly music, and bands from around the world. I also support a lot of local artists."
Ryan prides himself on building a "real community shop. I'm a DJ, so people come in to find out about the music scene around Brooklyn." Stop by around closing time when the fridge opens and Ryan just might offer you a beer.
J+B / Brooklyn Beauty Fashion Labo. A Cultural Fusion.
300 7th Street, Brooklyn. Between 4th and 5th Avenues
View this post on Instagram
J+B is an innovative, collaborative art and retail project that brings together Japan ('J') and Brooklyn ('B'). Residing in a beautiful and grand space, the organization offers cultural, artistic, fashion, and business exchange at its best.
"We've created a cross-cultural venue between Japan and Brooklyn," said CEO Hitoshi Sagaseki (known simply as "Saga").
On the retail side, the Brooklyn space houses a hair and nail salon along with health and beauty products. A fashion design section presents one-of-a-kind jewelry and clothing pieces from independent designers from both Japan and Brooklyn.
On the artistic side, the space has featured documentary film series, Japanese art shows, workshops, demonstrations, and classes about Japanese art and culture. On their expansive rooftop, they recently hosted film screenings and a fashion show.
"Displays are constantly evolving," said Saga. "Every time you come in you'll see something new."
Barbès. A Live Music Bar That Samples the World.
376 9th St, Brooklyn. At the corner of 6th Avenue
View this post on Instagram
Growing up in Paris, founder Olivier Conan used to buy his music in the neighborhood known as Barbès.
"It was and still is a very eclectic community. That's what we're trying to create here," Olivier said, "the hybrid culture of Paris." And over its 19 years in Park Slope, Barbès has become a wonderfully diverse musical community—even a cultural center of sorts.
With 1000 shows a year, the music samplings run the gamut. Latin and African music are big draws. Downtown jazz, contemporary classical, old-timey blues, Klezmer, Gypsy swing, the weekly Balkan influenced brass band "Slavic Soul Party" has earned high honors for 18 years…name it and Barbès has it.
"There's a very strong exchange aspect to what we do here," says Olivier. Musicians come, fans come, everybody comes. It's truly "a multiplicity of communities. Everyone brings something and it's all about cross-fertilization, that's what makes it a special place."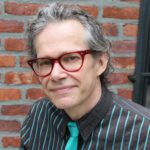 Listening, connecting, storytelling. Mike Putnam loves people, New York, and most of all, his little family.