The Lower East Side is a neighborhood with a punk-rock, bohemian history, and that past is still largely reflected in the nightlife here. There are a ton of great bars in LES. Some are old, some are new, some are classy, and some are dives, but all are extremely popular. So whether you want a cheap beer and live music, or a classy cocktail in a smoky room, LES has got what you're craving. These are the best bars in the Lower East Side, so check them out if you want to go on a wild ride.
Best Lower East Side Bars
The Mercury Lounge ($$)
This bar and lounge acts as a live music venue, showcasing indie artists and popular bands alike. Ticket prices range depending on the band, but usually never go above $25. What you pay for to see the show you make up for with their drink menu, as beer and cocktails are extremely affordable. This bar keeps the tradition of LES music alive so that you can experience it for yourself.
View this post on Instagram
Hair of the Dog ($)
This sports bar is extremely popular, especially when major sporting events are playing. They have multiple TVs that usually show a variety of sports unless there's a major tournament. Then all the TVs are glued into that. This venue serves a ton of beer and liquor for a great price and has a large food menu featuring classics like wings, burgers, and quesadillas. This place is great for sports fans of all kinds.
The Roof ($$$)
This classy cocktail bar sits at the top of the Public Hotel and overlooks the entire Lower East Side. These spectacular views are enhanced by signature cocktails that are served here. This place is so fancy that there's even a dress code, though it essentially says no gym clothes or sweatpants. You'll want to dress up for this spot anyway, as they often have a DJ and dancing during late night hours.
Pianos ($$)
Nothing beats a nightclub, but adding live piano performances is a great way to enhance the experience. That's what Pianos is known for: hosting live music events, including piano players, inside an old piano show hall. The music is always on point, the place is always full of energy, and they recently added a bottle service feature to their menu so that you can feel like a VIP.  They even have a food menu should you get hungry while you party.
169 Bar ($)
This dive bar is one of the oldest in the neighborhood. It was built in 1916 under the name "Bloody Bucket"  and has been serving drinks ever since. It's undergone some changes but great prices and unique decor have always been a staple here. Recently they've added an oyster bar, outdoor seating, and even have live DJs perform. This place is a piece of LES history, and it's just flat-out fun.
View this post on Instagram
Le Dive ($$)
This wine bar was inspired by a French Tabac, tobacco shops that also serve food and wine. This place has an amazing prix-fixe menu that's only $45 per person. Their regular menu is also delicious, but the real story here is the wine. They have options of sparkling, white, rose, orange, and red, all of which come from different wine regions of France. This a classy, yet affordable place to spend an evening, so it's worth checking out.
The Flower Shop ($$$)
This 70's themed pub received Michelin Stars in 2019, 2020, and 2021. This spectacular place is full of pub classics like fish and chips while offering more modern meals like a pan-roasted cauliflower steak. Their drink menu is rather large, too, featuring delicious wines, affordable beers, and a ton of liquor and cocktails. They even have a happy hour menu featuring oysters, meat pies, and great drink specials.
Sour Mouse ($$)
This entertainment venue has a little bit of everything, from pool tables to live music. They even have live comedy and feature art made by local artists. This place is a celebration of the neighborhood, fully embracing the bohemian roots of the area, and encouraging fun and artistic expression. They have a large drink menu, with specials on shots depending on happy hour and special events. The best part? They have personal pan pizzas in a variety of flavors.
Parkside Lounge ($)
Described as an old school dive bar and backroom, this bar hosts a myriad of special events like comedy shows, live music, and their famous trivia nights, which are popular due to the prize of a $50 bar tab. The bar also doubles as a sports bar for Saints fans, so folks from New Orleans will feel at home here. As of this writing, this venue is still checking for proof of COVID vaccination with a photo ID.
View this post on Instagram
The Delancey ($$$)
This rooftop bar claims to be the best in downtown Manhattan, and they might just be telling the truth. Their space is huge, featuring comfortable seating both indoors and outdoors. They regularly feature live music and have the city and East River in the background. They are very popular for their bottle service, which is classy, yet much more affordable than other bars offering similar services.
Bar Belly ($$)
This cocktail bar is famous for its oysters, which go for $1 daily at happy hour. This place has a ton of great food items. Some of their best offerings include lamb sliders, impossible burgers, and chicken milanese. Their drinks are out of this world as well, with classic cocktails at happy hour, and signature drinks all the time. This place is full of fanciful choices that are a delight to page through.
View this post on Instagram
Reception Bar ($$)
This Korean bar is comfortable, classy, and full of delicious and imaginative signature cocktails. These drinks aren't just tasty, they look stunning. Bright, refined, and artistic, these drinks will leave your jaw on the floor. The food menu is delicious, which is why it's been featured in publications like Eater, Travel + Leisure, and even Forbes. This establishment is quickly becoming the gem of the neighborhood, so check it out and see what the fuss is about!
The Ten Bells ($$)
This wine bar is perfect for a date or a celebration. They have $1 oysters daily during their happy hours, a huge tapas menu, and $18 carafes of wine. There are also a ton of wine events that they host, where guests can meet winemakers and take sommelier classes to increase their knowledge and refine their palate. Ten Bells is great for people seeking a casual evening, but they also offer private dining rooms for those seeking something a bit more intimate.
Las' Lap ($$)
This rum and cocktail bar is light and fun, making it a perfect place to grab a drink after a long day at work. Las' Lap means "the hour before the end of Carnival" in Trinidad and Tobago, though you'll have a lot longer than an hour to enjoy the specialty drinks found here. Their bottle service features some of the best rums in the world, and their happy hour and food menu will keep any guest happy and full. This is a great place to celebrate.
Paint n' Pour ($$)
This place is extremely popular for obvious reasons. Sip and Pour places allow you to take a painting class while having a drink or two. While it's not exactly a late night venue, This is a great place to spend an afternoon with your friends. These places are a great way to build community, making them very popular for office events, birthdays, or even just a new experience. This place even has food to enjoy, so this is truly a special place.
View this post on Instagram
Attaboy ($$$)
This cocktail bar is small, smoky, and a great place to spend a quiet evening. This place is a classy establishment that looks like a hole in the wall. This place doesn't take reservations and only allows parties under six people, making this an exclusive venue that's hard to enter. Once you do get in, you have a whole world of fine liquors and cocktails waiting for you. These bartenders are some of the best in the world, so you'll want to give this place a try.
Bar Goto ($$)
This cocktail bar has been hailed by the James Beard Foundation, Esquire, and Bon Appétit for its innovative cocktails, large selection, and breathtaking aesthetic. Their selection of sake and shochu is especially impressive and showcases this establishment's Japanese roots. They have a good selection of appetizers and non-alcoholic drinks as well, meaning anyone can enjoy this beautiful place.
---
The Lower East Side has a rich bar scene, constantly adding new ones every year. Between the live music venues and cocktail lounges, there's a little something for everyone in this neighborhood. So, no matter what your tastes are, come to the Lower East Side and try one of these bars. You'll eat well, drink plenty, and experience a night you'll never forget.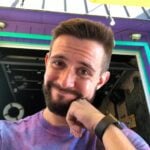 Russell is a writer and comic based in New York City. His plays have been featured at Penn State's Cultural Conversation's Festival, The NYC Thespis Festival, and Imaginarium's Inaugural Theater Festival. Follow him on TikTok and Instagram @pooleparty528