Many people assume that the small entryway in their home won't make a big impression, especially for apartments in NYC where all entryways have a habit of being a bit cramped. However, given the right touches, decor, and functionality, any entrance can impress a guest and make a major statement about one's home. Entryways are people's first impression of an apartment, and said first impression can be a great one if decorated correctly. So what makes an entryway fashionable? What makes an entryway functional? What makes an entryway unforgettable?
Entryway Mirrors
When it comes to making a space seem larger, nothing is better than a classy mirror. Entryway mirrors come in all shapes and sizes, and can emphasize the aesthetic of an apartment.
Desiree Irregular Metal Wall Mirror From Birch Lane
Though this mirror has "irregular" in the name, it's one of the more muted options when it comes to entryway decor. This mirror is subtle and refined, perfect for a home that doesn't want to be too loud with its style. Small and thinner, this piece can be the first thing people notice in a foyer or show itself a bit down the hall, greeting guests as they make their way into a classy abode.
Elinor Rattan Wall Mirror From West Elm
This mirror has a lot going on and is perfect for a house with a big and bold aesthetic. This unapologetic piece has a wooden frame that seems simple at first. However, at a closer glance, it's obvious how much time and care has been put into crafting such an intricate masterpiece. Guests entering this home will be greeted with a big, yet warm, welcome, and they'll know what to expect after being greeted by such a grandiose entryway decoration. Folks should make sure the rest of their home can keep up with this piece.
Marlowe Round Metal Wall Mirror From Birch Lane
This jazzy mirror is unique while not being too distracting. The frame of this mirror is like a pearl necklace and comes in black, gold, or silver, all for the same price.  This makes the mirror look refined and elegant and works perfectly for homes with many rare pieces of furniture and decor. This piece belongs in a vintage home and appreciates older items, almost like a museum. Guests who see this mirror will love it and know what they're in for with the rest of the home.
Entryway Hangers
Guests need a place to hang their coats, bags, or other things when they enter a home. Throwing all this stuff on the floor in a bed can get messy, and not everyone has a coat closet near the door. This is where decorative hangers come into play.
Bekins All-In-One Entryway Storage From West Elm
Perfect for guests and residents alike, this hanger has many features while managing not to stick out like a sore thumb. The hanger has three larger knobs for coats and jackets, two small knobs for keys, and a small drawer perfect for storing mail or pet supplies like leashes and doggy bags. The top of the piece also functions as a shelf and is a great place to put decorative plants, or even a small mirror, to add a welcoming, personal touch to any home.
Lakya Hall Tree From Wayfair
This piece has a little bit of everything and, while looking more industrial than some other pieces here, can fit the aesthetic of a home, depending on the person. This might be the most functional piece on this list, as it has a ton of hooks for coats, bags, scarves, and hats, a bench, and even shoe storage at the bottom. Four hooks are adjustable, meaning coats of various sizes have plenty of space for themselves. While the look might not be to everyone's taste, this piece is still a beauty and does everything it's meant to and more.
Everlene Hook Wall Mounted Coat Rack From Wayfair
This coat rack has a ton of storage options, and it looks nice too. With five large hangers for coats and four small hangers for keys, this piece can hold many items. Even better are the four shelves above the hangers, which can fit a ton of items like scarves, hats, gloves, or pet supplies. This unit has a shelf on top so people can add their own decor, like pictures, mirrors, or small plants.
Entryway Benches
Folks who have entryway mirrors and hangers now need something to bring it all together. A nice bench can do just that. It'll give people a place to sit as well as a place to put bags, so no one has to put them on the ground.
Lesia Bench From Joss & Main
This bench is stylish and comfortable, and even comes with features not usually found in entryway benches. The addition of a back and armrests make this a great place to sit and rest after entering a home. It provides a warm and welcoming feeling that guests will greatly appreciate, setting them up for a great experience in the home. It's also relatively tall, so shoes and boots can fit underneath the bench comfortably. Overall this bench is functional, stylish, and can bring a foyer together.
Astride Wood Bench From Wayfair
A bit more comfortable and homey, this bench will invoke a feeling of nostalgia. This bench is reminiscent of one you'd see on a ranch and goes great with more rustic decor. Coming in three colors, black, gray, and white, this bench can be customized and is extremely versatile. It'll look good anywhere in the home, not just in the foyer. However, a foyer is where it shines brightest. It invokes a mudroom while encouraging folks to leave their mess at the door. It has plenty of space for boots and shoes underneath it too.
Safavieh Lonan White Bench From Overstock
This bench has some amazing storage features, and it makes said features look good. Along with a comfortable, padded bench that greets guests upon entry, this unit has three large drawers with wicker baskets. These drawers make storing shoes easy, especially in winter when snow and salt can damage the flooring. It is also perfect for backpacks, other winter apparel, and pet supplies. This bench doesn't leave as much storage for shoes as other benches, but it makes up for that in style and comfort. This piece will make a statement about a home.
---
The entryway to a home is extremely important for function and decor. It shows guests what they can expect when they enter a new home, and it gives them a place to hang their stuff. For residents, entryway decor can be a welcoming part of their day. Every home deserves a grand entryway, even if the foyer is small. Many NYC apartments have a smaller entryway, but residents can utilize the decor we recommend to make these places feel large and comfortable and do it with style.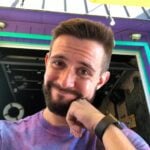 Russell is a writer and comic based in New York City. His plays have been featured at Penn State's Cultural Conversation's Festival, The NYC Thespis Festival, and Imaginarium's Inaugural Theater Festival. Follow him on TikTok and Instagram @pooleparty528