Moynihan Train Hall is the newest train station in NYC in Midtown Manhattan, providing New Yorkers access to the Long Island Railroad, Amtrak, and even local subways. However, the training hall is much more than just a transportation station. There is a ton of stuff to do and see here. The Train Hall has restaurants, shopping, and even art installations waiting to be explored. All seem a bit overwhelming? Not to worry. Here's the complete guide to Moynihan Train Hall:
Trains in Moynihan Train Hall
First and foremost, Moynihan Train Hall is a train hall. This means that you can catch a train that will take you almost anywhere in the US. The trains available at Moynihan Station are:
Amtrak
Amtrak is one of the most extensive train lines in the entire country. Most Amtrak Trains leaving Moynihan Station will take you up or down the east coast, but there are some trains that will take you west as well. Amtrak trains can connect you to other train lines, and some even have sleeping cars so you can spend days on a cross-country adventure. Amtrak is easily the most popular transportation service in Moynihan.
LIRR
The Long Island Railroad makes several stops in the city and is super helpful if traveling to The Hamptons or Montauk. The LIRR might not be as extensive as Amtrak, but it's a great way to get out of the city for a weekend while still being close by.
The Subway
Moynihan is attached to Penn Station and thus has access to many of the subways that service the city. The trains accessible via Moynihan are the 1, 2, 3, A, B, and C trains, which then connect to other subway lines, making the entire city accessible.
Food in Moynihan Train Hall
View this post on Instagram
There is a ton of food to be found in Moynihan. Some places are restaurants, others are stands, but many come from some of the best eateries in the city. Moynihan Food Hall has a little bit of everything, including:
Alidoro
Specializing in Italian sandwiches, Alidoro uses the freshest ingredients to make hot and cold eats for you to enjoy. You can choose from a number of classic sandwiches on their menu or build your own using any of their delicious ingredients. They even have breakfast sandwiches for those taking early morning trips.
Birch Coffee
A very popular coffee brand, Birch has some of the best coffee around, and you can get it in various styles at their stand in Moynihan. The stand also sells bags of their coffee in ground and whole bean form, so you can make sure you have fresh coffee no matter where your journey takes you.
Burger Joint
Easily one of the best burgers in the city, Burger Joint has classic cheeseburgers, Beyond burgers, milkshakes, and breakfast sandwiches. They even serve beer and wine so that you can start your trip on a high note. These burgers are huge and greasy, just as a burger should be, and it's an extremely affordable and portable meal.
Davey's Ice Cream
Not quite hungry for a meal? Get a frozen treat instead! Davey's Ice Cream has a ton of homemade flavors, from vanilla to Nutella chocolate chip. You can get a cone, a cup, or a pint of ice cream to take with you, and the prices are very good. If you want to start your trip with a bit of sweetness, this is the place to stop.
Jacob's Pickles
A new addition to the Moynihan Food Hall, Jacob's Pickles is one of the most popular restaurants in the city. Their sandwiches are out of this world, as are their biscuits and beer. Their menu in the Train Hall features some fan favorites and is a great way to introduce people to amazing NYC cuisine.
E.A.K. Ramen
Ramen is a great comfort food, and E.A.K has some of the best in town. The ingredients are fresh, the flavors are powerful, and the ramen will fill your heart with warmth just before you hop on a train. This place is extremely popular, so it pays to show up early, so you don't have to wait in a long line.
Sauce Pizzeria
Sometimes you just need a good ole New York slice of pizza, and Sauce can provide that. Whether it's a classic cheese or a vodka slice, this place serves what ales you. Sauce also serves a variety of salads and even sells a special brand of sodas called "Boylan's." Take some to go so you can enjoy the taste of NYC anywhere.
CHOPT
If you're looking for a slightly healthier option, CHOPT is the place to go. They have a ton of special salads, healthy beverages, and even specialty salad dressing that pair with individual salads. CHOPT salads are huge and filling, so it can easily be an entire meal and hold you over for a while when you're traveling.
Magnolia Bakery
Famous for their cupcakes which are always lavishly decorated, Magnolia Bakery is a sweet treat for any occasion, including traveling on a train. Cupcakes aren't their only specialty. They also have brownies, ice cream, and their famous banana pudding. Magnolia Bakery is an NYC staple, and most of their stuff is easy to travel with.
H & H Bagels
Considered, by many, to be the best bagel in the city, H & H Bagels are a favorite amongst locals and visitors alike. With a ton of variety and fillings, H & H Bagels can be great for a snack or for an entire meal. Extremely portable and affordable, these bagels are perfect for travel, which is why this stand is extremely popular.
The Bar
One of Moynihan's own creations, the bar is a vast venue right in the middle of the food hall. Known as a place to relax and socialize before your trip, the bar is a great place to grab a drink and watch a sporting event. They have a full beer, wine, and cocktail menu and are designed to resemble a classy establishment that visitors can expect to find around the city.
Shopping in Moynihan Train Hall
View this post on Instagram
While the food hall is definitely on the larger end when it comes to attractions in Moynihan, there are a number of shops that will help you pass the time. Perhaps you'll even find a gift for someone meeting you after a long journey. Some of the best shopping experiences in Moynihan are:
Damselfly Flowers
Nothing is better after a long train ride than being greeted by a loved one holding a beautiful bouquet. Damselfly Flowers in Moynihan can make that dream a reality, even if you thought of this idea at the last minute. They have gorgeous bouquets arranged by expert artists, and they even sell vases and flower food in the store. So get those brownie points today!
Lovepop Cards
Now that you have flowers, you should have a card to go with them. Lovepop has cards for just about any happy or sad occasion you can think of, and are always open to those who forgot to get a card for their trip. They have cards that range from funny to sincere, but the one certain thing is that these cards will always be appreciated.
Gotham News
This news stand and convenience store are a perfect addition to the Moynihan Train Hall. They sell a variety of newspapers, magazines, snacks, and beverages. They even have basic electric devices like headphones and chargers in case you forgot any. Though this store might not be a lavish shopping experience, it's worth checking out, especially if you're the forgetful type.
Art in Moynihan Train Hall
View this post on Instagram
Yes, it might surprise you that Moynihan Train Hall has a ton of art. Some of this art is just for decoration, but many of these pieces are artistic installations requested by the city. Some of the coolest art in Moynihan includes:
Stan Douglas,
From Penn Station's Half Century
This art installation features nine images showcasing moments from the original Penn Station's history. These historical moments were recreated with actors, period clothing, and even models of the original train hall. Showcasing period of history from 1914, when a group of vaudeville performers was stranded in the station during a snowstorm, to 1957, when the train hall installed its first electric ticking and service bureau.
Elmgreen & Dragset,
The Hive
If you enter the Train Hall from the 31st Street entrance, you'll be lucky enough to catch The Hive, a collection of 1:100 scale model skyscrapers dangling from the ceiling above you. While some of the skyscrapers in this installation come from the artist's imaginations, most are scale models of giant buildings found in mega cities from all over the world. These cities include London, Hong Kong, and even New York City. It's a dazzling display that graces the entrance of this amazing train hall.
Kehinde Wiley,
Go
This beautiful work of stained glass can be found at the 33rd Street entrance and is an excellent example of how art can enhance the architecture surrounding it. This hand-painted mural celebrates bodies in motion, whether that motion is via train, plane, or just your own two feet. It seems that the people in these murals are dancing in the sky, celebrating their own grace and beauty as only the individual can. It's a glorious work that celebrates the human condition and the grace of movement.
Other Services in Moynihan Train Hall
View this post on Instagram
Moynihan Train Hall is a great place to explore. However, if you just want to get on your train and go, there are some other very basic services that the train hall also provides. These services include:
Post Office
Moynihan Train Hall has a dedicated post office on the first floor of the building near the Amtrak Metropolitan Lounge. This is a full-service post office and an excellent resource for business travelers.
Amtrak Metropolitan Lounge
A special perk for Amtrak passengers of a certain status, this lounge is an exclusive, quiet hide away for those who are waiting on their Amtrak train, but don't want to be disturbed by the rest of the train hall. Contact Amtrak to see how you can get access to the lounge.
Restrooms
Restrooms can be found on both the concourse level and first floor. Both sets have baby changing stations, and both are tucked away from the busier parts of these floors. The bathrooms are regularly cleaned and resupplied, so you should always feel comfortable using them before your trip.
Ticketed Waiting Room
For those who want to wait for their train but don't want to be in the way, there is a ticket waiting room with monitors that shows when trains are arriving and departing. These waiting rooms are on the concourse level and just across from the food hall should you get hungry.
Customer and Ticketing Services
Both Amtrak and MTA (For the LIRR) customer service are on the concourse level next to the food hall. These booths can help you purchase tickets, change trains, and handle any situation or complaint you have. They can also give you information on baggage claims and train policies.
---
Moynihan Train Hall is a huge station with a ton to do and see. If you arrive early enough for your train, you can do some shopping, sit down and have a meal, or appreciate the fine art that peppers the station. If none of that sounds appealing, then you're more than welcome to sit in a waiting room and silently read, listen to music or a podcast. Moynihan is all about comfort before and during travel, and aims to provide customers with a great experience. So if you're traveling soon, or you just want to eat at the Jacob's Pickles stand, Moynihan Train Hall is worth looking at.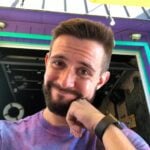 Russell is a writer and comic based in New York City. His plays have been featured at Penn State's Cultural Conversation's Festival, The NYC Thespis Festival, and Imaginarium's Inaugural Theater Festival. Follow him on TikTok and Instagram @pooleparty528