Flatbush Basics
Welcome to Flatbush, the historic neighborhood with a ton of stuff to do! When people think of Flatbush, they think of a busy neighborhood full of young professionals. While this is true, there are some quieter parts of the area that make this a great place for families. With great restaurants, bars, and landmarks, to go with it, this neighborhood has a little bit of everything.
History of Flatbush
Flatbush began, not as a part of Brooklyn or NYC, but as its own separate town in 1651. Flatbush was the county seat for Kings County, which made up many of the towns and neighborhoods that would soon become part of Brooklyn. Mostly made up of farms and large estates, Flatbush would remain on its own until 1894, when Brooklyn train lines would finally reach out to the distant little town. It became part of Greater NYC in 1898 along with the rest of Brooklyn.
As new train lines were added to the area, Flatbush quickly became a suburban neighborhood. The area was economically diverse, housing both working-class families and wealthy elites of NYC. Because of this, Flatbush was able to avoid much of the turmoil NYC faced during the 20th century. In the 1970s and 80s, however, much of the affluent white population began moving further away from the city, and the area became much more working class. The population began to diversify as well. Though some crime rates rose in the 80s and 90s, Flatbush remained a popular area to live in. Today Flatbush is a safe area that can still accommodate both working-class and upper-class families.
Landmarks and Notable Places of Flatbush
View this post on Instagram
Flatbush has a lot going on, and there are several locations that are worth checking out. Some of these places include:
Brooklyn College
Since its founding in 1930, Brooklyn College has been considered one of the best schools in the city, producing notable alumni like Al Sharpton, Don Lemon, and Bernie Sanders. This beautiful campus is in the southeastern corner of the neighborhood.
Flatbush African Burial Ground
This landmark was used as a burial ground for enslaved people from the 1700s until New York emancipation in 1827. Today, a coalition of artists, activists, and community leaders share the history of this site and protect it from further disturbance.
The Kings Theater
Originally a movie theater that opened in 1929, this theater lay empty for years until a renovation allowed them to reopen in 2015. Listed in the National Register of Historic Places in 2012, this theater hosts music, dance, and comedy shows.
Where to Eat in Flatbush
View this post on Instagram
Flatbush has a ton of great restaurants to enjoy all over the neighborhood. Whether folks want something fancy or something low-key, it can be found here. Some of the best restaurants in the neighborhood include:
Milk and Honey Cafe ($$)
One of the most popular brunch spots in Brooklyn, serving hearty meals in a chill atmosphere. They serve a ton of egg sandwiches, omelets, and sweet treats that go perfectly with their specialty drinks and coffee.
Jiku ($$)
This Korean comfort food restaurant specializes in hot wings and has a ton of fun specialty drinks to go along with them. The establishment is fun and comfortable, allowing guests to sit inside or outside and enjoy their meal.
Golden Blue ($$)
This Caribbean restaurant has custom menus for special occasions, and specializes in seafood and pasta. The fun vibe of this place can be felt all over the neighborhood, hosting regular live music nights to entertain their hungry customers.
Los Tres Chiflados ($$)
This Mexican restaurant is a bit on the smaller side, but they have a ton of powerful flavors and a bar filled with quality liquors. Since 2017, this establishment has fed hungry Flatbush residents delicious burritos and tortas along with strong margaritas.
Rantab ($$)
This Nigerian restaurant is raved about by its customers who call it, "one of the best African restaurants in the city." This place also doubles as a sports bar, where customers can get affordable drinks and watch the big game.
Bars of Flatbush
View this post on Instagram
While Flatbush doesn't have a raving nightlife, the bars found here are perfect for a more relaxed evening or a date night. Some of the best bars in the neighborhood include:
FIB Tattoo Bar ($$)
The name is exactly like it sounds. People can come to this establishment, get a tattoo, and then relax with a nice cold drink after. For those who just want to eat and drink in a chill environment, you can do so without getting a cool tattoo.
Rusty Nail Brooklyn ($)
This huge dive bar is cool and calm, with a great staff and a ton of drinks to choose from. They also have several large TVs that regularly play major sporting events. The food and drinks here are top notch, so this place is not to be missed.
Sycamore Bar and Flower Shop ($$)
Another specialty bar in the neighborhood, this establishment serves great drinks while also selling beautiful bouquets. Hosting regular live events like stand-up comedy, music, and even dance parties on occasion. This is truly a unique place.
Highbury Pub ($)
This sports bar is simple, subtle, and dedicated to having a good time. Hosting special events ranging from the Super Bowl to Drag Bingo, this establishment welcomes everyone. This is a great place to buy a cheap drink and make a new friend.
Westwood Bar ($$)
This gastropub has become very popular in the area, serving up delicious foods and gorgeous specialty cocktails since 2020. Open for brunch and dinner, this is a great place to go to celebrate any occasion in a low key setting.
Where to Live in Flatbush
Flatbush has a ton of great homes that are great for families and young professionals. Some of the best places to live in this neighborhood include:
The Newkirk
This newer condominium opened in 2022, and has been filling up fast. Homes here range from studios to two bedrooms, but all of them are spacious and modern. In-unit washers and dryers come standard and most homes have a private outdoor space.
206 Clarkson Avenue
Built in 1931, this historic brownstone has been converted into a multi-family unit. Close to Prospect Park, these homes are spacious, and come with stainless steel appliances, hardwood flooring, and plenty of natural light.
400 East 17th Street
This 1960's co-op has a lot to offer residents, including stainless steel appliances, hardwood flooring, and even private outdoor space for certain apartments. This building has a bike and laundry room for the convenience of their residents.
160 Clarkson
This rental building is brand new, and comes with a ton of amenities for residents, like a fitness center, parking garage, and a large laundry room. These sleek homes are just steps away from Prospect Park, which can be seen from the roof-top patio.
The Benny
This condo was built in 2019 and features spectacular views of Prospect Park and the surrounding area. This building comes with amazing amenities like a media room, fitness center, and a community lounge with games and TVs. Surrounded by historic brownstones, this building is in an ideal location.
Traveling in Flatbush
Located right under Prospect Park, Flatbush is relatively easy to get to and traverse. There are plenty of ways to get around this neighborhood. Some of the best ways include:
Trains
The New York City subway system has several train lines going through Flatbush, including the B, Q, and 2 trains. The 5 train can also land visitors and residents close to the neighborhood.
Buses
There are a number of bus lines that cover most of Flatbush. These bus lines include the B6, B8, B11, B12, B16, B35, B41, B49, B68, B103, BM1, BM2, BM3, BM4, and Q35 among others.
Ride Shares and Bike Rentals
Flatbush doesn't get a ton of traffic outside of Flatbush Avenue. This means that driving in this area is extremely easy, which is why many residents rely on ride shares or driving themselves. Biking is also extremely popular here. There are a ton of bike lanes, it's safe due to the light traffic, and there are plenty of Citi Bike docking stations for your convenience. Many of these docking stations are found near Prospect Park, which is also easy to navigate via cycling. Flatbush is also an extremely walkable neighborhood, especially during warmer months.
---
Flatbush is a unique neighborhood. It has a ton of larger houses for larger families, and large apartment complexes that are perfect for young professionals. The nightlife here isn't raucous, but the bars here know how to have a good time. Not to mention, the restaurants here are experts in take-out, comfort food, and delicious international cuisines. The historic sites here are both haunting and beautiful. Essentially, this neighborhood has a bit of everything. Visitors and locals alike love this neighborhood. It has a ton to offer, it's easy to get to, and it's incredibly fun to explore. Come see what Flatbush is all about.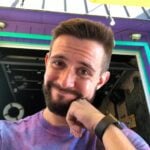 Russell is a writer and comic based in New York City. His plays have been featured at Penn State's Cultural Conversation's Festival, The NYC Thespis Festival, and Imaginarium's Inaugural Theater Festival. Follow him on TikTok and Instagram @pooleparty528