Construction Begins on All-Affordable Development Project in East New York
On Dec.19, Governor Kathy Hochul announced construction on a huge affordable housing development in East New York.
The first phase of the $1.2 billion housing project, Alafia, will include close to 600 affordable apartments, 7,000 square feet of retail space, and an outpatient medical clinic. 
In total, the mixed-use development will include 2,400 apartments across 11 residential buildings, a daycare, a trade school, and a grocery store. The 27-acre development is being built on the former Brooklyn Developmental Center property, which would otherwise go unused.
In a statement to the public, Hochul expressed her enthusiasm for the large-scale development, which forms a part of a greater statewide initiative to address housing and health disparities in Brooklyn. 
"This truly transformative investment will put us on the path toward mending the societal cracks in the system, to ensure all New Yorkers have a chance to prosper," said Hochul.
The Push to Become 'All-Affordable' & What that Actually Means
The plan for Alafia originally proposed rentals for New York residents making up to 120% of the region's median income, or a household income of $160,000. 
But, after fierce negotiations with Councilmember Charles Barron's office, the developer brought income limits down to a maximum of 80%, meaning that only households making up to $106,000 would qualify for residence.
According to data released by the Furman Center, around 61% of the area's household incomes would qualify for housing at Alafia. No market rate apartments are included in the project, making it 'all-affordable.'
The Power of the Council
Alafia developers certainly had their work cut out for them with Councilmember Barron to get through. As a former Black Panther, avowed socialist, and frequent opponent of rezonings, it was clear he wasn't going to let the project pass without substantial benefits to the community. 
Barron reminded council members of their leverage in a statement to The City, "I keep telling them, 'Go for 100% affordability, affordable to the income level of the income band in your community. We have all these projects that people say, 'Oh, I got 30% affordable or 25%.' That means you have 70% of the market. In this one here [Alafia], there's no market rate."
The power of the council lies in New York City's long standing, yet controversial practice of member deference. This is when the majority of the Council follows the lead of the member representing the district in which a given project is being built. 
If a district's councilmember doesn't approve of a particular rezoning, it's highly unlikely the other council members will vote in favor of it. "The City Council has the power," says Barron, "No matter what the mayor wants to do…the mayor can't do no rezoning." 
Long-Term Impact of the Alafia Redevelopment
As part of the state's Vital Brooklyn Initiative, Alafia's redevelopment has set high expectations for local leadership and residents of the community. The initiative focuses on Central Brooklyn, one of New York's most vulnerable areas. 
Vital Brooklyn intends to address social, economic, and health inequalities through a holistic approach. The initiative integrates eight areas of development—five of which Alafia is targeting; affordable housing, open space and recreation, community-based healthcare, healthy food, and education. When finished, the development is set to house 2,400 affordable homes, an urban farm, an outpatient medical facility, a grocery store and a trade school.
One Brooklyn Health will be in charge of the outpatient medical facility serving both residents of the property as well as those in the surrounding neighborhood. 
CEO of RiseBoro Community Partnership, Scott Short, told the Brooklyn Paper that Alafia "is a once-in-a-generation opportunity to invest in an underserved community on a scale that's pretty unprecedented in New York City community development work. This development really understands that health and housing outcomes are inextricably linked…"
Alafia's First Residents
Given the size of the Alafia project, it won't be completed for another 10 years. However, its first residents will be able to move in two years from now, after the first phase is complete.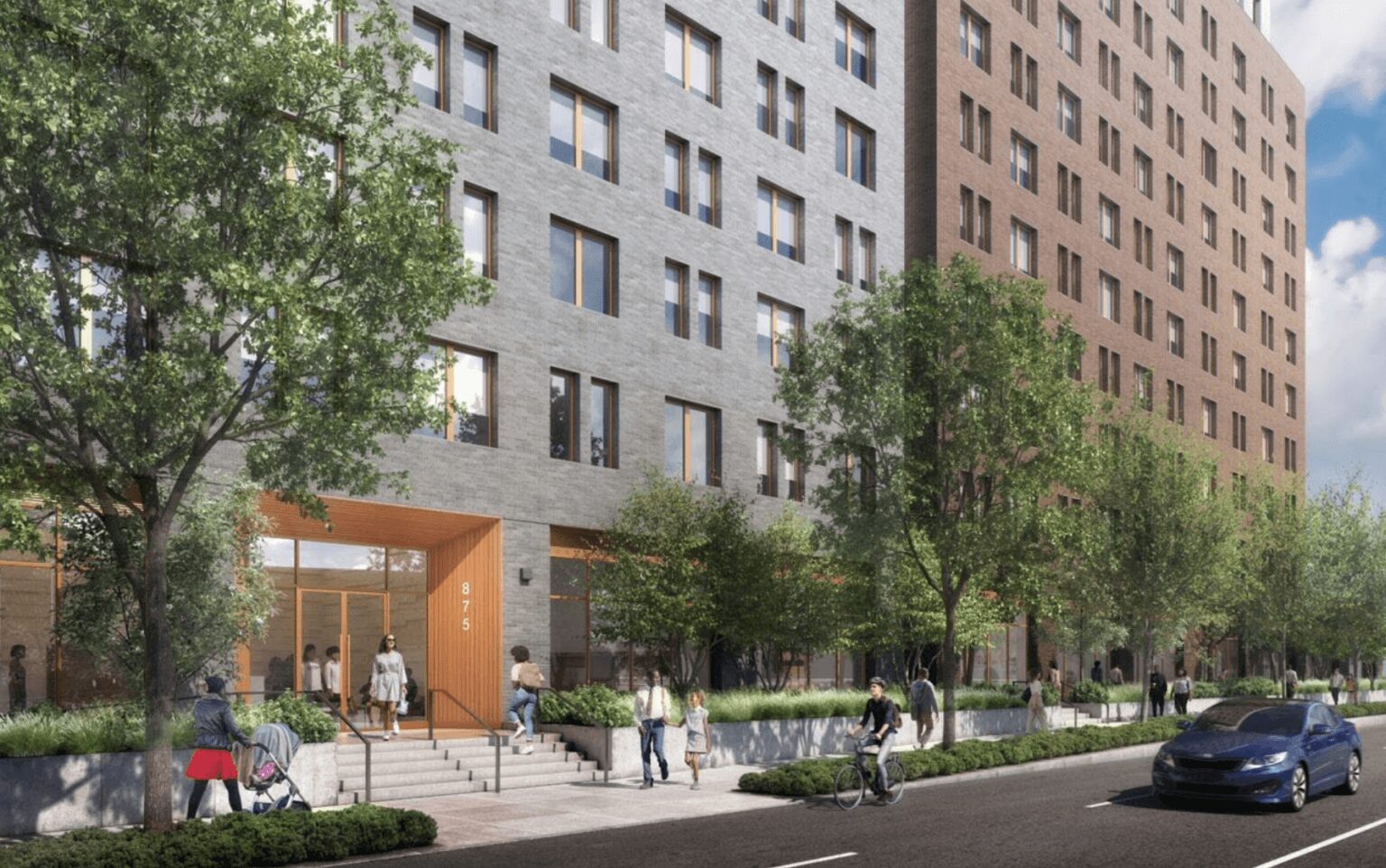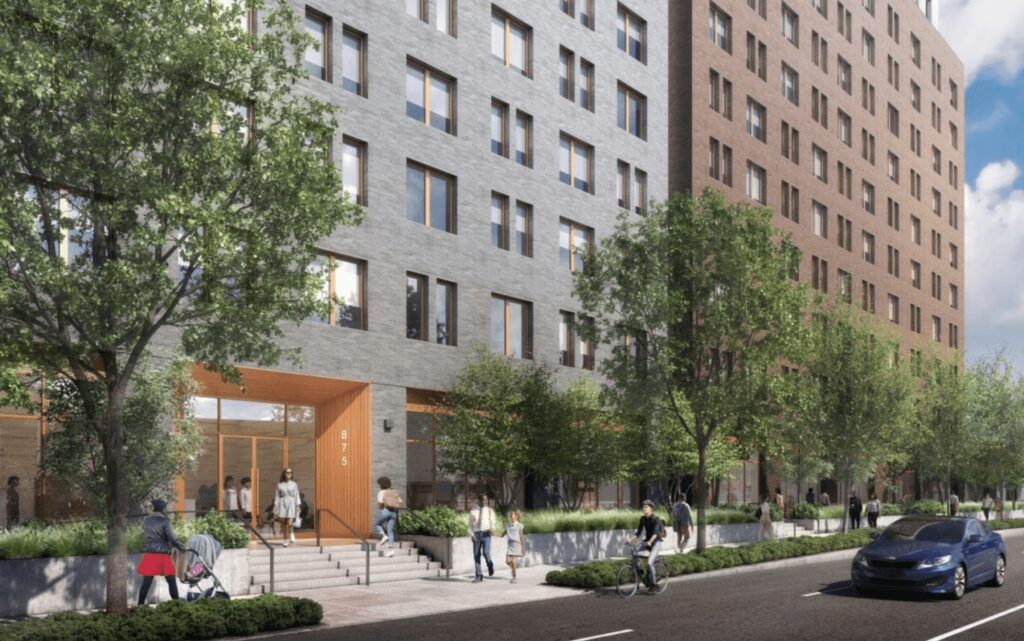 Phase 1 of Alafia costs $373 Million and will create 576 affordable homes across two buildings. The first is a six-story building with 124 apartments and the second is a 15-story building with 452 apartments. 
The larger structure will house a 15,000-square-foot medical clinic and 7,000 square feet of retail space. Both buildings will include geothermal heat pump systems and rooftop solar panels. A total of 136 units will be dedicated to people with mental health conditions and developmental disabilities. 
Other Housing Initiatives in NYC
While Alafia is currently the largest of its kind in New York's history, Governor Hochul made it clear in her statement that there's still a lot of work to be done in regards to the housing crisis.
The Governor mentioned an "ambitious goal" to introduce more than "800,000 new [affordable housing] units over the next decade," a massive undertaking that would require collaboration from Mayor Adams, the legislature, and city council.
Hochul has already introduced a $25 billion comprehensive housing plan in the FY 2023 State Budget. The project is intended to create and/or preserve 100,000 affordable units across the state over the next five years. 
10,000 of those units will include support services for vulnerable populations and an additional 50,000 homes will be serviced for electricity. 
Logan Fountain Development
Just a few days before her appearance on Dec. 19 at Alafia's inauguration, Governor Hochul and Mayor Eric Adams announced the construction for Logan Fountain, another mixed-use development smaller in size that will transform a defunct gas station into transitional housing for homeless families, 174 affordable units, and new retail space. 
Located on 265 Logan Street, the 13-story development will include approximately 7,677 square feet of ground-floor retail space as well as a variety of amenities to its residents. 
On the affordable housing side amenities will include multiple terraces with a garden area, a landscaped courtyard, and a children's play area. On the transitional housing side families will have access to both in and outdoor childcare space, bicycle storage, and a laundry room. 
Vital Brookdale Development
In November, Governor Hochul attended the ribbon-cutting of yet another affordable housing development, Vital Brookdale. The 160-unit property was the first of ten projects brought into fruition through the Vital Brooklyn Initiative mentioned earlier in this article.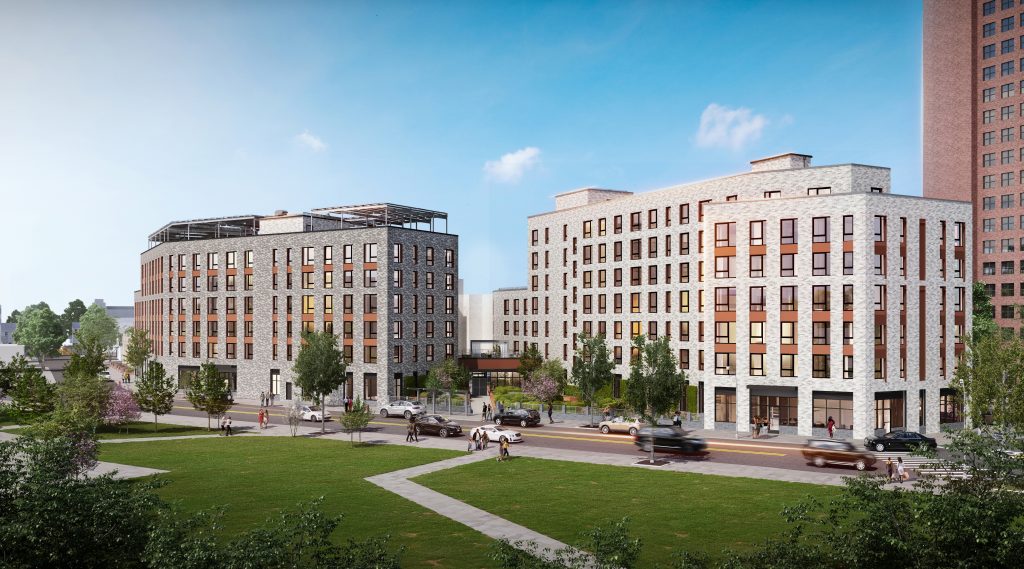 The majority of the 124 affordable units at Brookdale will be reserved for households earning at or below 60% area median income. A portion is set aside for residents at 80% AMI. 
The remaining 36 units are reserved for individuals with intellectual and developmental disabilities and youth aging out of foster care. Apartments range from studios to three-bedrooms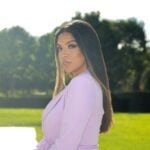 Vivian Tejada is a freelance real estate writer from Providence, RI. She writes SEO blogs for real estate, travel and hospitality companies. She's passionate about the future of work and helping Latin American freelancers achieve time, location, and financial freedom. When she's not writing you can find her at the gym, a family cookout, or at brunch with her girls. Follow her on Linkedin to learn more.