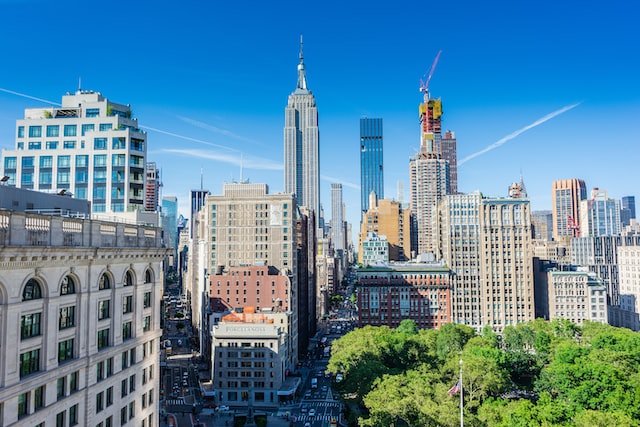 Whether you're looking to move to the city for the first time or need to switch things up, affordable rent is always something to look out for. 
We've rounded up a list of the most affordable neighborhoods for one-bedroom apartments in NYC as of February 2023 to get you started. Without further ado, here are the options in the 5 boroughs of NYC.
Cheapest Places To Live NYC
Bay Ridge, Brooklyn
Average 1br rent: $2,000
The neighborhood of Bay Ridge in Brooklyn is a historic enclave that offers its residents a quiet and comfortable place to call home. 
And best of all, it is one of the cheapest places to live in NYC. Originally settled by Dutch farmers, the area has seen a great deal of redevelopment in recent years, with new housing and businesses popping up along its tree-lined streets. 
There's something for everyone in Bay Ridge, from trendy cafes and restaurants to mom-and-pop shops and art galleries. 
The people who live here are warm and welcoming, making it easy to feel at home in this vibrant community with great schools and convenient commutes – great for families!
Sunnyside, Queens
Average 1 br rent: $2,500
Sunnyside Queens is a lively and vibrant neighborhood located in the borough of Queens, New York. It is known for its close-knit community and its diverse population. 
The area is home to many cultures. The streets are alive with activity throughout the day, as people make it to their destinations. Sunnyside has become known for its local restaurants and cafes that cater to all kinds of tastes. 
After dark, Sunnyside transforms into a bustling social scene where one can find bars and pubs that offer live music entertainment or karaoke nights. 
Sunnyside also offers a variety of outdoor activities such as biking trails and parks that allow residents to get out and enjoy nature from within the city limits. 
There's never a dull moment in Sunnyside, making it one of the best affordable neighborhoods in NYC. 
Bed-Stuy, Brooklyn
Average 1br rent: $2,683
Bed-Stuy, also sometimes referred to as Bedford–Stuyvesant is an iconic, vibrant neighborhood in NYC renowned for its cultural diversity and rich history. 
It's a melting pot of people from all walks of life, from young families to senior citizens, from those born and raised in the area to newcomers. 
With its grand brownstones, tree-lined blocks, and diverse population, Bed-Stuy is a neighborhood like no other. 
From trendy cafes and chic boutiques to local hot spots, Bed-Stuy has an abundance of great places to explore. 
Whether you're looking for the best spot to grab a bite or just enjoying a stroll around the block, you will be sure to find something special when exploring Bed-Stuy.
Kew Gardens
Average 1br rent: $1,800
Kew Gardens can be found in Central Queens, about a 30-minute subway ride away from Midtown Manhattan. The neighborhood has been around since 1868 and was one of seven planned garden communities built in the 19th century to 1950. 
There are a lot of single-family, million-dollar homes in the area, but there are also plenty of spacious, cheap rental opportunities. Prime architectural styles are Dutch Colonial Revival, and Beaux-Arts styles, and buildings tend to have spacious apartments that are between four to ten stories and are a mix of both standard rentals and co-ops. A change to the neighborhood makeup has started to occur as homeowners are selling their properties to developers who in turn are building high-rise and flashy new developments. 
While the building make up has started to change, the Hispanic and Asian populations have grown since 2000, providing a haven for members searching for those communities. 
Residents of the area have access to Forest Park to the West and Maple Grove Cemetery, two places that allow New Yorkers to get a breath of fresh air.
Washington Heights
Average 1br rent: $2,200
Washington Heights is an enchanting neighborhood in New York City, located near the Harlem River and boasting stunning views of the Hudson River. 
It's an incredibly vibrant area that offers a unique blend of culture, cuisine, and entertainment for both locals and visitors alike. Washington Heights also has several parks and green spaces for relaxation and recreation. 
Its close proximity to Manhattan means that locals can easily access all of the shopping, dining, cultural attractions, and nightlife the city has to offer. 
Whether you're looking for a quick bite or a night out on the town, Washington Heights has something for everyone.
Riverdale, Bronx
Median rent: $2,573
Riverdale is described as being often being confused for the suburb, and no, it's not the TV show we're talking about. In the 19th century, Manhattan's notable figures would build their country estates in the area and later brought wealthy businessman who lived their year round. 
A mix of both single family homes, co-ops and rental buildings, Riverdale is a perfect example of a mix of city and suburbia. Residents get to be in close proximity to the Hudson River, Yonkers and the city.
Astoria, Queens
Average 1br rent: $2,675
Astoria is a historic and vibrant neighborhood in Queens, New York City. Situated along the East River, it is bordered by Long Island City to the west, Sunnyside to the south, and Woodside to the north. 
The area is known for its cultural diversity and history and popular attractions, including Astoria Park, The Museum of the Moving Image, and so much more! 
The neighborhood also has many local restaurants serving up a variety of cuisines from around the world. Not to mention – it's affordable! 
Harlem, Manhattan
Average 1br rent: $2,600
Historically, Manhattan has never been the cheapest borough to live in NYC, but Harlem provides a little exception. Living in Harlem is a great experience. 
There are many things to do in the neighborhood, and it's close to all of the amenities you could need. The people who live there are friendly and welcoming, and it's a safe place to live. 
You'll find everything you need here, from restaurants to shopping to nightlife. From cultural attractions and historical landmarks to vibrant nightlife and delicious cuisine, there's something for everyone. 
If you're looking for a great place to call home, Harlem is a great choice! 
Cheapest Borough to Live in NYC
North Shore, Staten Island 
Average 1br rent: $1,800
If you don't mind a bit of a commute – including a ferry ride – you might consider adding Staten Island, the cheapest borough in NYC, to your browsing list. The North Shore of Staten Island is made up of multiple neighborhoods but is most notably known for housing West Brighton, New Brighton, St. George, Tompkinsville, Clifton and Port Richmond. 
A few-minute bus ride will get you from your apartment to the Staten Island Ferry that runs 24 hours a day, 7 days a week. From there, you'll be brought to the south of Manhattan where you can access the rest of the island via a transit method of your choice. You also have easy access to the Verrazano-Narrows Bridge where you can take a bus to get to South Brooklyn.
Residents love that Staten Island is so close to nature, with easy access to hiking trails and fishing spots in nearby Clove Lakes Park. There is also the benefit of being close to shopping as Empire Outlets is right off the ferry stop in St. George. You're far more isolated from Manhattan than in other boroughs of New York, but some people prefer the space that allows them to disconnect. 
Need a helpful place to start your search in your budget? We leaned heavily on RentHop's Stats & Trends page to get an idea about what was out there. Moving to NYC (or relocating in NYC) can be challenging and daunting, but don't fret, hundreds of other people have been in the same boat as you.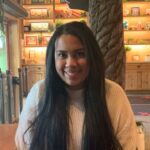 Kylee was born and raised just outside of Sacramento in a small town full of history and charm. She stays up-to-date on the real estate market and hopes to empower hopeful buyers and sellers to make the best decisions for themselves. Kylee is particularly interested in bridging the gap for younger generations, helping them understand the power of owning and investing in real estate.