NYC's residential real estate market is cooling off with most properties selling 10-20% lower than what they were just a few years back. Given that inflation remains persistent and interest rates have certainly not yet peaked, we can expect a continued tightening of the money supply. 
This, of course, makes it harder for buyers to secure the financing needed to purchase new homes. As long as this continues, buyers will have to find creative ways to secure real estate deals—perhaps even open their minds to real estate solutions they hadn't thought of before. 
The problem with waiting for the market to dip
Most buyers say that they are waiting for the market to turn. They prefer to buy when the market is low and will often pass up on properties they perceive to be overpriced in hopes that they will soon find a better deal.
The problem with this rationale is that no one knows when the market's lowest point is until after it's already passed. Buyers who bought homes in New York in 2002, shortly after 9/11, or in 2009 following the Great Recession, bought their homes at prices so low, we're likely never to see them again.
There's been a lot of talk of a potential recession in 2023. It's normal for buyers to want to wait until after it hits. However, they should note that the dynamics of the market, specifically in Manhattan and Brooklyn, where buyers are most eager, have changed dramatically due to the large amount of condos constructed over the past decade. 
The influx of condos in highly-desired areas have altered consumer expectations. Back in the day, the only way to access the amenities offered by condos was through purchasing a co-op, a jointly owned building owned by a nonprofit corporation allowing its joint owners to live in the residence. We're now seeing a return of the co-op in NYC.
What is the appeal of a Co-Op?
Co-ops typically come with demanding boards and strict regulations which turns a lot of buyers off. But in the '90s, purchasing a co-op was one of the only ways New Yorkers could own apartments in the city. 
Although there's no shortage of condos in NYC, there's definitely a shortage of the money supply, which is making co-ops more enticing to certain buyers. Purchasing a co-op requires a different type of financing. You usually can't finance a co-op with a mortgage. 
Instead, you'll go through an application process involving interviews with the co-op board and financial vetting. If approved, you'll be able to purchase shares in the company and become a co-owner of the building/nonprofit corp. The shares you purchase will determine the size of your apartment.
Given their convoluted ownership structure and sometimes lengthy approval process, fewer buyers seek out co-ops, which means less competition for the ones who do. If you're open to it, purchasing a stake in a co-op may be your path to owning an apartment in one of New York's historic pre-war buildings and prime location. Almost all pre-war buildings in New York are co-ops. 
Co-ops vs. Condos
Condos and co-ops share many similarities in appearance, but are fundamentally different in regards to ownership and financing structures. New York City is different from any other real estate market in the country. Co-ops are one of the reasons for this. 
Although co-ops technically outnumber condos in NYC by about 75%, you'll find more condos on the market at any given time. The vast number of co-ops is due to the "co-op conversion boom" of the late 80's, when developers converted a number of rentals into co-ops.
There are a few basic ways in which condos differ from co-ops. The first being that when you purchase a condo, your apartment as well as a part of the building's common areas, belong to you. 
When you purchase a co-op, you don't own the apartment. Instead, you own shares in the nonprofit corporation that is your building. Buying these shares allows you to occupy a unit in that building. 
If you're thinking about purchasing a co-op with the hope of subletting your apartment in the near future, you might have to think again.
Every co-op has different rules in regards to who can utilize their living spaces. You may have to live in-unit for at least a year before being able to sublet, or may not be able to sublet your apartment at all. 
This is because the rental unit is not technically not yours. Ownership belongs to its collective stakeholders. When you close on a condo, you'll get a deed. When you close on a co-op, you'll get a proprietary lease.
Both condos and co-ops have a doorman and a superintendent on staff. Some have concierge, while others don't. Amenities can range from lavish (gym, rooftop, children's playground) to simple (storage room, laundry room, bike racks).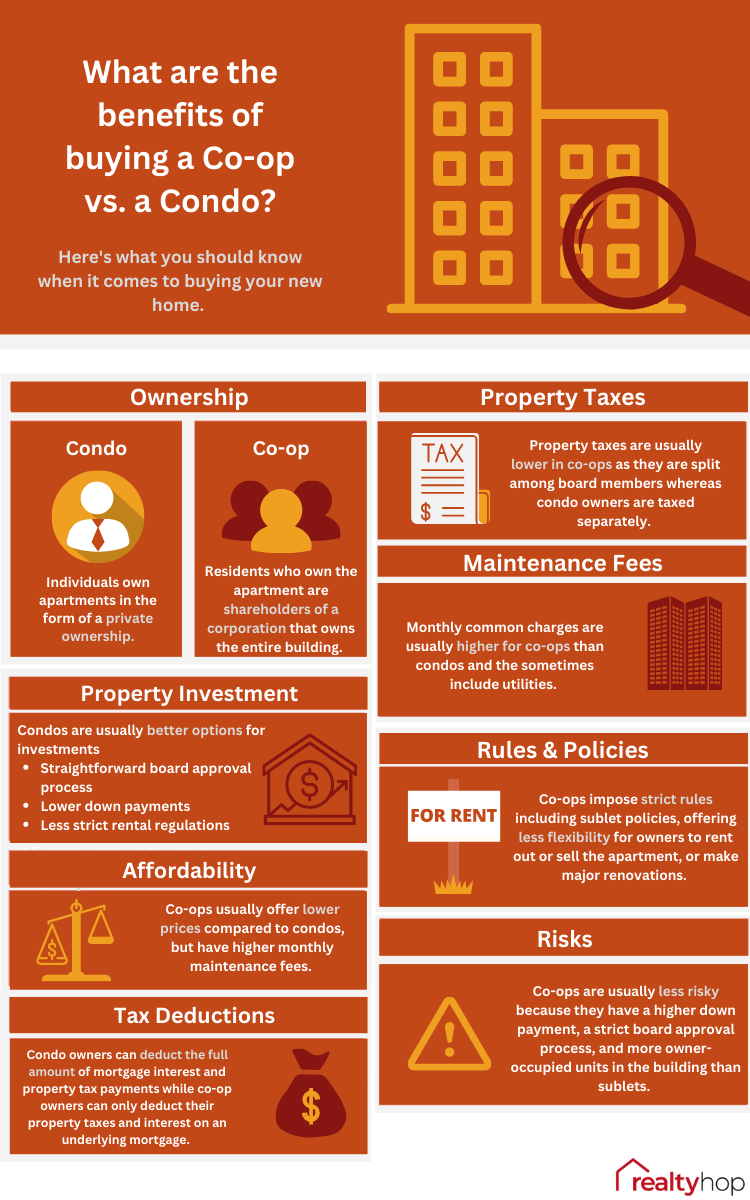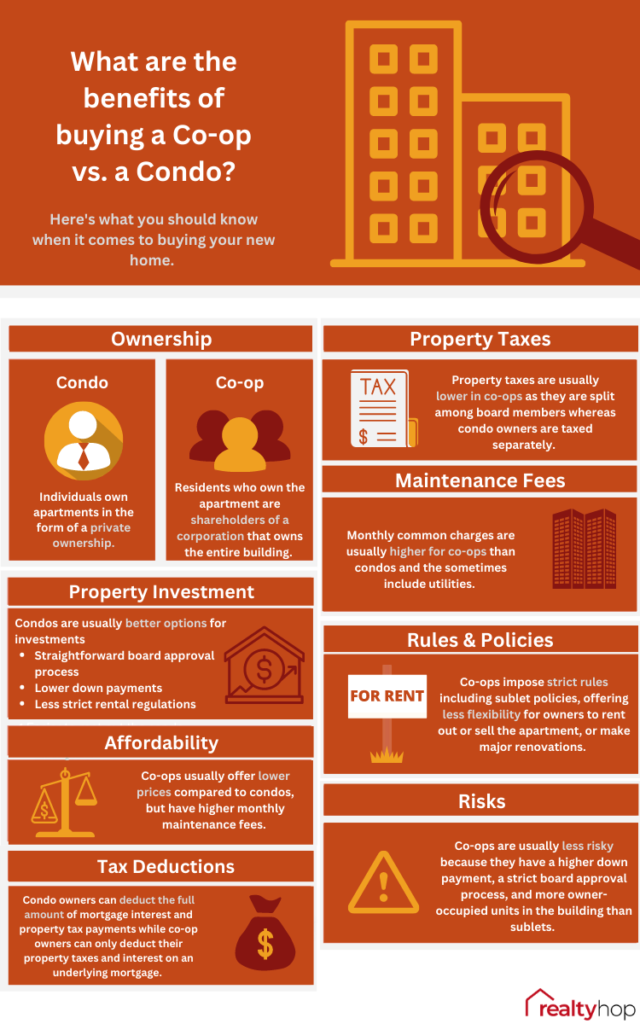 Down Payment and Price
According to Castle Avenue real estate, the average sale price for a Manhattan co-op ranges from $553,734 for a studio to $5,109,433 for a 4+ bedroom apartment. Whereas, the average sale price for a condo in Manhattan ranges from $908,991 for a studio apartment to $9,846,869 for 4+ bedroom apartments. 
Condos tend to be more expensive than co-ops, but co-ops usually require a larger down payment than condos. You can put down as little as 10% on a condo, but a co-op will require a down payment of 20%-50%. Property prices ultimately depend on the neighborhood in which the condo or co-op is located. 
Closing Costs
Co-ops also tend to have lower closing costs than condos, usually between 1%-3% of total purchase price. Closing costs for a condo in NYC run between 8%-10%. The difference in closing costs between condos and co-ops is due to their difference in classification of property. 
Condos are considered real property, while co-op shares are considered personal property. It may seem insignificant, but it makes a difference when calculating closing costs for either transaction. 
Monthly Charges
Both co–op and condo owners pay a monthly fee for basic upkeep of their properties. But, co-ops usually come with higher monthly fees than condos. Co-op maintenance fees are higher because they often include part of the mortgage for the building.  
Take A Deeper Look At the Comparison of a Coop and a Condo
These two listings in the same area in the West Village have the same listing price, but you can see that the monthly costs are a bit different.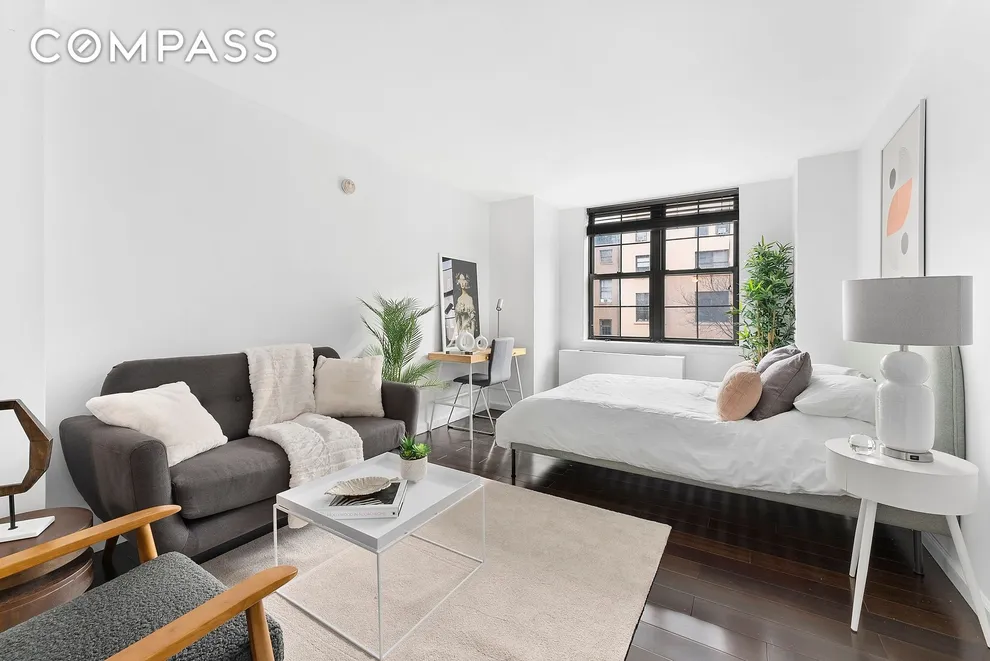 | | |
| --- | --- |
| Address | 222 W 14th St. #3J |
| Property Type | Condo |
| Listing Price | $725,000 |
| Maintenance & HOA | $772 |
| Monthly Property Taxes | $722 |
| Estimated Monthly Payment | $5,054 |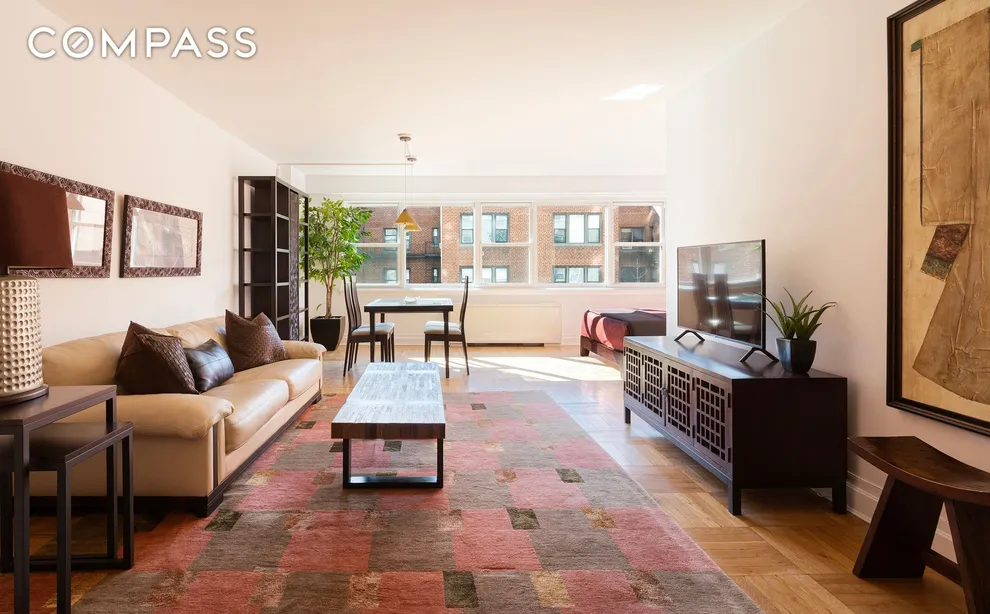 | | |
| --- | --- |
| Address | 101 W 12th St #6T |
| Property Type | Co-op |
| Listing Price | $725,000 |
| Maintenance & HOA | $1,579 |
| Monthly Property Taxes | $0 |
| Estimated Monthly Payment | $5,139 |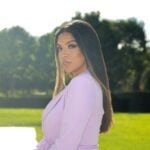 Vivian Tejada is a freelance real estate writer from Providence, RI. She writes SEO blogs for real estate, travel and hospitality companies. She's passionate about the future of work and helping Latin American freelancers achieve time, location, and financial freedom. When she's not writing you can find her at the gym, a family cookout, or at brunch with her girls. Follow her on Linkedin to learn more.