Downtown Brooklyn Basics
Welcome to Downtown Brooklyn, the third-largest business district in the city! This area is akin to Midtown and FiDi. Many corporations have made their home here, and some residential buildings have been popping up in the last few decades as well. This area is always extremely busy, especially during normal work hours. That said, there are a ton of things to do here besides sitting at a desk from 9-5. There are a ton of bars, restaurants, parks, and more, just waiting to be explored!
History of Downtown Brooklyn
Downtown Brooklyn was one of the original colonies of the Dutch after they displaced the people of the Lenape nation. They named the settlement "Breuckelen," and was later anglicized to be Brooklyn. During Dutch and British rule, the coastal areas of Brooklyn were developed rather quickly, while Downtown Brooklyn remained rural. Several farms and large estates could be found here in the 1600s and 1700s.
Starting in the early 1800s, new ferries allowed Brooklynites to travel to Manhattan quickly, and the development of Downtown Brooklyn began rapidly. Once developed, the area became a major player in the abolitionist movement, with many meetings and planning sessions being held there. The neighborhood also had several stops on the Underground Railroad. Even after the Civil War, the area was a haven for progressive ideals and continued to expand rapidly, especially after the building of the Brooklyn and Manhattan Bridges.
During the early 1900s, the neighborhood was busy, but nothing really changed since its original development, save for a few public transportation improvements. After WWII, the city decided to make some major changes to the area. They created a Civic Center, with new and renovated buildings that drew in many new businesses. Times were tough during the financial crises of the 1970s, but the area bounced back a few decades later. Much of the area was rezoned in 2004 to allow residential units, fully relieving its financial turmoil. Today, Downtown Brooklyn is a thriving neighborhood with a ton of energy.
Parks of Downtown Brooklyn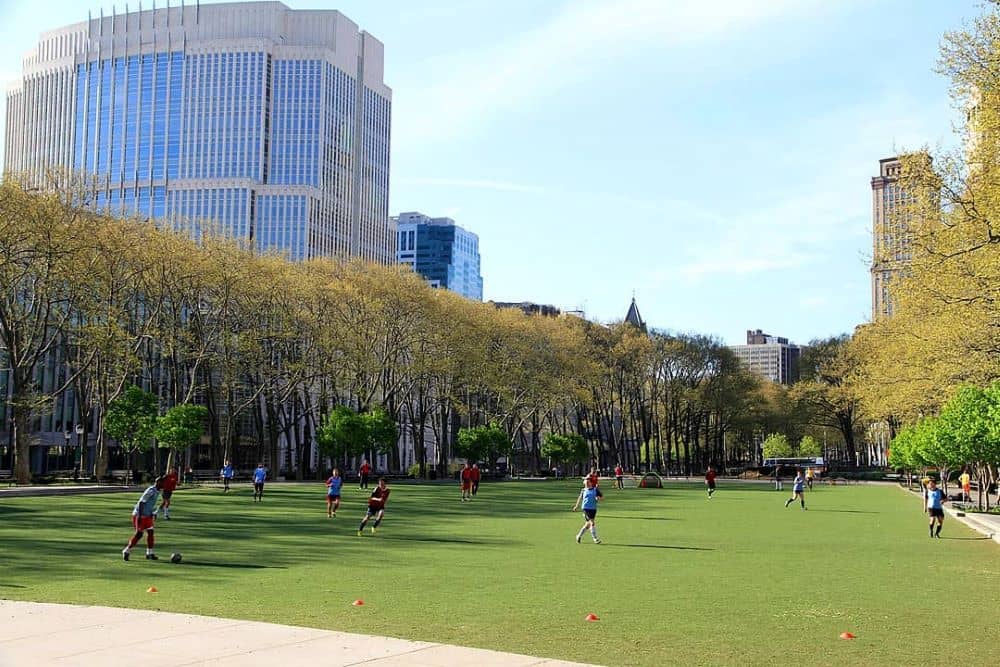 Despite being a civic center, Downtown Brooklyn has a lot of green space for people to enjoy. Some of the most popular parks in the area are:
Cadman Plaza Park
The largest park in the neighborhood, this area is home to the Brooklyn War Memorial, the Juneteenth Cove, and huge fields for recreation and relaxation. This is a popular spot for residents to ride their bikes and walk their dogs.
McLaughlin Park
This park is well known for its athletic fields. Residents and visitors can play baseball, handball, or basketball here, and there are a ton of playgrounds and even exercise equipment for people to use during the spring and summer.
Walt Whitman Park
Named after the famous poet who lived in the area, this park has huge lawns and beautiful architecture. The most famous site here is the fountain in the center, a beautiful place to sit and relax on a sunny summer day.
Museums and Notable Places in Downtown Brooklyn
This neighborhood has a lot to see, especially when it comes to museums, entertainment, and architecture. Some of the notable sites here are:
New York Transit Museum
One of the most unique museums, this place tells the tale of public transportation in New York City. They have replicas of old subway cars, vintage signs from train stations and ferry stops, and programs that allow New Yorkers to take special tours of the subway system.
Long Island University Brooklyn
Long Island University is a major part of the neighborhood and features theaters, parks, and even education programs for kids. It's a great school, especially for those in the medical profession, and brings thousands of students to the neighborhood.
Eastern District Court House
This courthouse has a unique design and an imposing presence in the neighborhood. While most people wouldn't want to find themselves here, the building is undeniably gorgeous and lends a powerful air to the rest of Downtown Brooklyn.
Where to Eat in Downtown Brooklyn
View this post on Instagram
This neighborhood is home to many great restaurants that are frequented daily by the professionals who work here. Some of the best include:
Amarachi ($$)
This West African restaurant is one of the most popular establishments in the neighborhood. They have special menus during holidays and an annual New Years' Eve party that draws a huge crowd.
Han Dynasty Brooklyn ($$)
This Sichuan restaurant has a very cool atmosphere that's both relaxing and sexy. They feature works of art from local artists and serve up some of the dishes found in the Dekalb Market. This place is great for a fun night out with friends.
Bokki Seoul Food ($$)
This Korean restaurant is full of delicious fried foods and has a very fun, casual attitude. They are famous for their bowls, which are colorful, nutritious, and flavorful. They also serve amazing iced tea and fried chicken.
Bars of Downtown Brooklyn
View this post on Instagram
There are a number of great bars that the professionals of Downtown Brooklyn flock to after work. Some of the best include:
Livingston Manor ($$)
This seasonal cocktail bar is cool and energetic. It gives off the vibe of a dive, but the cocktails they serve are a bit more upscale, making this a popular spot that anyone can enjoy. If cocktails aren't to your taste, they have a nice wine and draft beer list.
Sixpoint Brewery ($)
This is one of the newer taprooms from the Sixpoint family. This huge venue almost evokes a beer garden. The openness of the taproom encourages fun and community, making this a very popular place for students and younger professionals.
Vine Bar ($$)
This small neighborhood cocktail bar has an eclectic group of regulars, and that's due to the specialty drinks and fun atmosphere. The bar has a ton of special events like karaoke nights, and their bartenders are great at creating new cocktails, which is why they always have something new on their menu.
Where to Live in Downtown Brooklyn
Since being rezoned in 2004, many apartment buildings have been developed in the area. Some of the best places to live in this neighborhood include:
BellTel Lofts
One of the first conversions after the neighborhood rezoning, this 1928 building became a condominium in 2008. Originally home to a telephone company, these lofts are huge and great for families.
7 Dekalb Avenue
This luxury rental building has some of the best homes in Brooklyn. The complex has many amenities typically found in luxury condos and co-ops, like a fitness center, a media room, and even a children's playroom.
The Oro
This condo building is great for those with an active lifestyle, as this place has a fitness center, squash court, swimming pool, and basketball courts. Homes here are huge and come with in-unit washers and dryers.
City Tower
This rental building has some of the best views in Brooklyn, especially when looking off their rooftop deck. Homes in this building come with stainless steel appliances, including a dishwasher. They also have floor-to-ceiling windows and hardwood floors.
11 Hoyt
This new condo building was constructed in 2020 and is one of the most luxurious places in the city. Homes here are massive, making them perfect for families. Bathrooms are spa-like and kitchens are huge. Everything here is custom designed by professionals.
Traveling in Downtown Brooklyn
Downtown Brooklyn is a civic center, which means thousands of people travel in and out of the neighborhood on a daily basis. The best ways to do so are:
Trains
The NYC subway system services Downtown Brooklyn via the A, B, C, F, G, Q, R, 2, 3, 4, and 5 trains.
Buses
The NYC bus system services Downtown Brooklyn via the B25, B26, B38, B41, B45, B54, B57, B62, B67, B69, and B103.
Bike Rentals and Rideshares
Traffic in Downtown Brooklyn is almost always atrocious. While rideshares and driving are very popular here, the neighborhood is right off of two bridges into Manhattan. This means that getting anywhere in a car can take a long time. Biking is a bit easier, as there are miles of bike lanes and several Citi Bike docking stations. However, because of the heavy car traffic, cycling can also be challenging. Walking is probably the easiest way to get around this neighborhood. The streets aren't in a traditional grid, but the area is small and easy to navigate, if not a little crowded.
---
Downtown Brooklyn is a huge business district that has recently seen a rise in residential developments. These developments are all luxurious, matching the style and sensibilities of the rest of the neighborhood. This business district has plenty of ways to have fun during and after work hours. It's a busy area, but for those who love the hustle and bustle of NYC, there's no greater spot in Brooklyn to experience it. This neighborhood is equal parts historic and new, and one of the most unique areas in the city. Come see what Downtown Brooklyn is all about.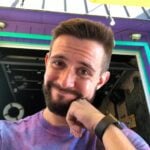 Russell is a writer and comic based in New York City. His plays have been featured at Penn State's Cultural Conversation's Festival, The NYC Thespis Festival, and Imaginarium's Inaugural Theater Festival. Follow him on TikTok and Instagram @pooleparty528