Luxury real estate is bringing in more sales than ever before, with $10.3 billion in transactions in 2022 alone. New York recently beat London to claim top dog of the super-prime and ultra-prime real estate markets, aided by a strong American dollar. While rising interest rates in the second half of 2022 put a slight damper on big spending, luxury real estate remains a force to be reckoned with. 
Browsing through New York's most expensive home listings, it is clear the range of lifestyles that can coexist within one area code. Super-prime and ultra-prime listings include homes worth over $10 million or $25 million; in 2022, New York had 244 super-prime and 43 ultra-prime sales.
For the ultra-wealthy, skyscraper penthouses and Michelin-starred restaurants for residents only are just a normal part of everyday life. The handful of homes and condos featured below are some of the most expensive listings in both New York City and the world. From Manhattan to upstate, many unsuspecting buildings open up to palaces inside. Let's take a look at some of the best this city has to offer.
Most Expensive Apartment in New York City
Currently up for grabs is the Central Park Tower penthouse at 217 W 57th St., also known as the world's highest apartment. Soaring 1,416 feet above Central Park and overlooking much of Manhattan, the penthouse is listed for a cool $250 million by Ryan Serhant, making it one of Manhattan's most expensive listings.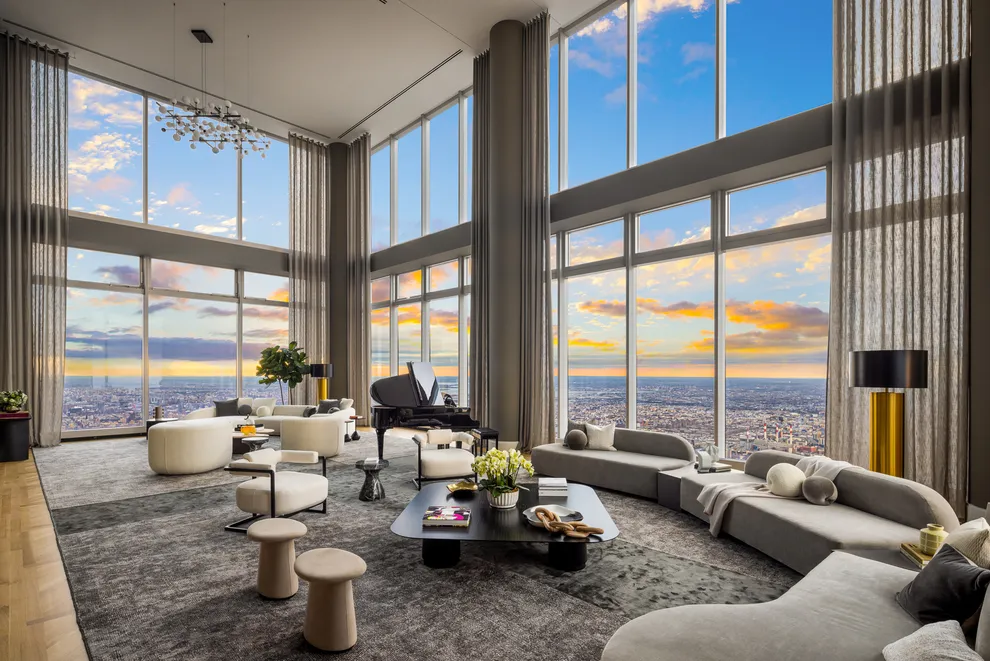 The Central Park Tower penthouse occupies the top three floors with seven bedrooms spread across a staggering 17,545 square foot layout. It is said the tenants can see the curvature of the horizon while standing on the terrace. Other notable features include a 1,500-square-foot grand salon, media room, library, staff bedrooms, observatory, gaming lounge, private gym, catering kitchen, storage spaces, and private reception gallery.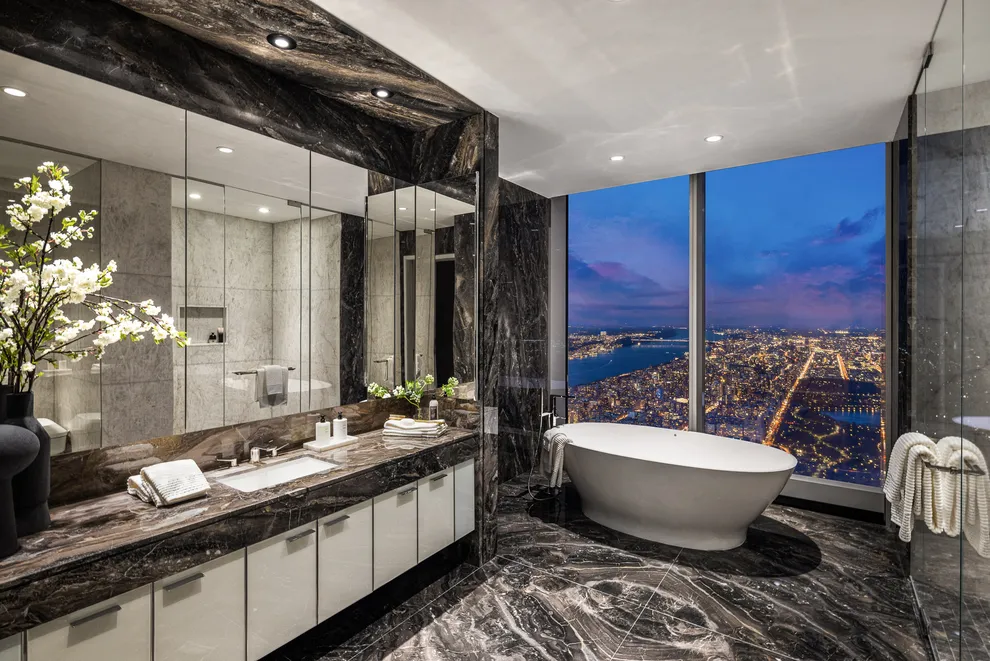 "Its unrivaled pair of baronial rooms–a 1,500 square foot grand salon and a nearly 2,000 square foot private ballroom–are truly empyrean," details the Serhant listing "featuring glass curtain walls with the entire City as a backdrop and soaring 27-ft ceilings."
Located on Billionaire's Row along the south end of Central Park, residents of this penthouse are only 38 feet below the Empire State Building. Central Park Tower has 131 floors and is 1,550 feet tall. Central Park Tower is the second tallest only to New York's famed One World Trade Center. Billionaire's Row is known as home to the rich and famous, a neighborhood with some of the most expensive residences in the world.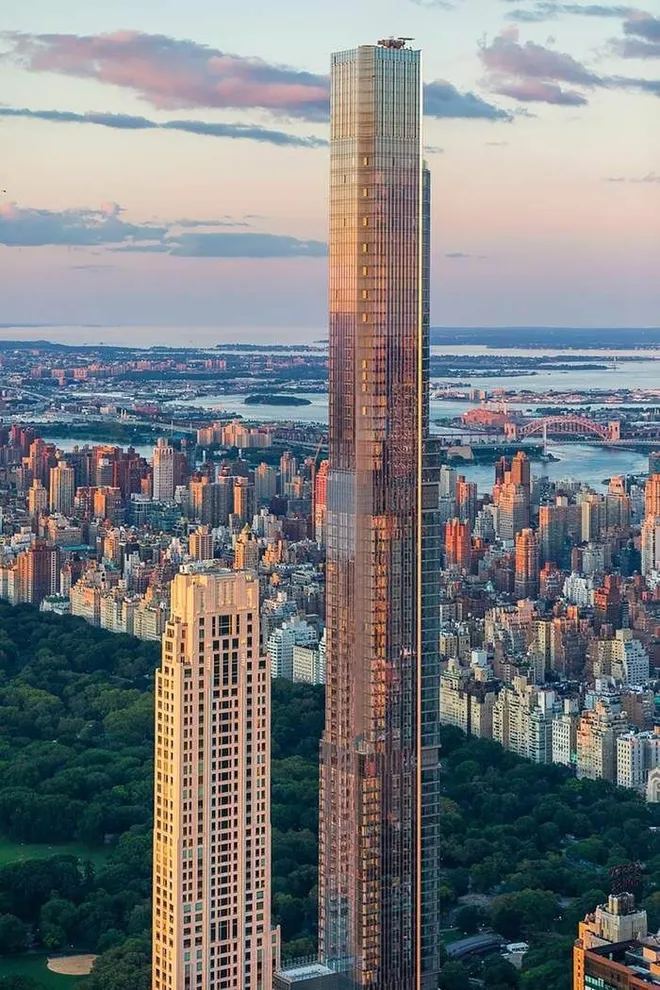 One major perk of living in the Central Park Tower is access to the Central Park Club, a three-floor hotel-style service with a 60-foot-long swimming pool, private park, gym, screening room, and Grand Ballroom. This might be one of the few buildings in New York City that truly has it all.
Most Expensive Real Estate in New York City
220 Central Park South's Extravagant Listings
One specific residence, 220 Central Park South, is home to a number of rich and extravagant properties. Located on Billionaire's Row, the most expensive area in NYC, and designed by former Yale School of Architecture Dean and architect Robert A.M. Stern, the limestone pre-war building is 70 stories tall with an 18-story section called "the Villa" that overlooks Central Park. Of the 118 units, most are duplexes, with three penthouses at the top of the building.
"220 Central Park South boasts a motor court with a porte-cochere – where residents and their guests can leave their vehicles – a wine cellar, an 82-foot-long saltwater swimming pool," details the RealtyHop building profile, "a basketball court, an athletic club, a juice bar, a library, a golf simulator, a children's play area, private dining rooms, and a 54-seat restaurant at the second floor that serves only residents." Not mentioned is the private Jean-Georges Vongerichten restaurant that operates for residents only.
A four-bedroom penthouse was purchased in 2019 for $93 million, bought by hedge fund founder and billionaire Daniel Och, then later sold in 2022 for a staggering $190 million. Other famous residents of the building include Sting and numerous other hedge fund billionaires.
In 2021, Brooklyn Nets owner and Ali Baba founder Joseph Tsai paid $157 million for two units in 220 Central Park South. Purchased anonymously at the time, the units are located on the 60th and 61st floors, along with an 18th-floor studio for staff quarters.
The Most Expensive Home Sale
On record for the most expensive home sale in America goes to buyer Ken Griffin, founder of Citadel and the "richest man in Illinois." In 2019 Griffin paid $238 million for the top-floor penthouse of 220 Central Park South, now called the Griffin Unit. The residence is 24,000 square feet inside. As if that wasn't enough, Griffin returned months later and bought another two units in the building for $3.95 million. Neighbors in the building include Sting and heiress Renata de Camargo Nascimento.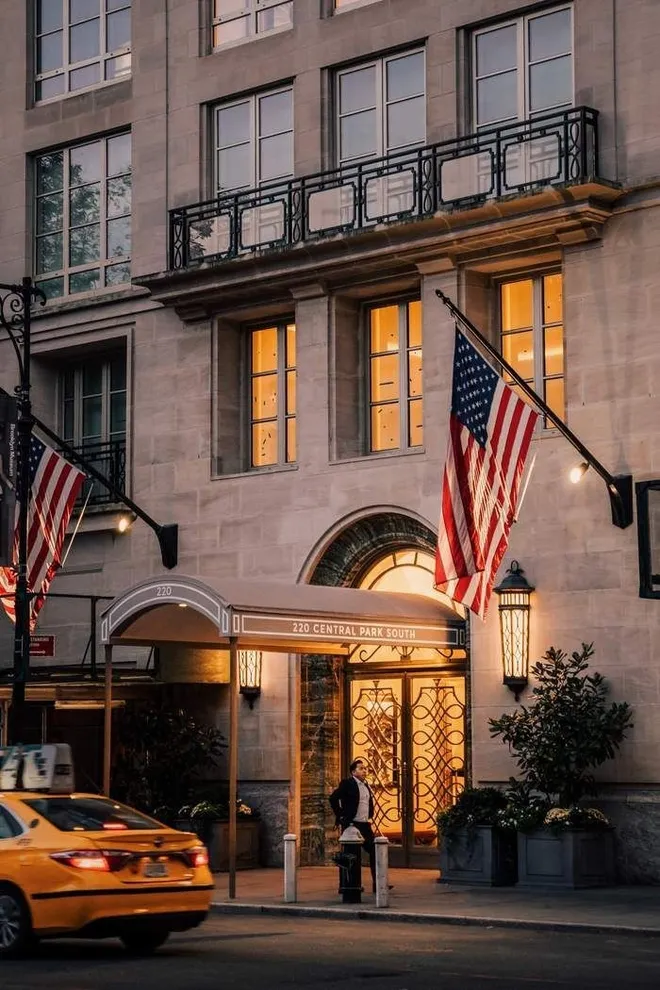 220 Central Park South is nearly 100% sold out and continues to deliver some of the wildest real estate deals in both the country and the world. Even during the height of the pandemic, in 2020, the building processed $1.52 billion in cumulative sales across 46 separate units. 
Ultra-Prime Residences of the Ritz Carlton
The Ritz Carlton is another building known for its extremely lavish residences. A number of large real estate deals come from the Ritz Carlton building exclusively. Located at 50 Central Park South, this 14-unit condo building in midtown was originally conceived and built by architect Emery Roth in the 1970s. In 2002 the newly renovated Ritz Carlton Midtown West Residences were opened within the Ritz-Carlton, composed of eleven private residences occupying the top twelve floors.
50 Central Park S #PH23 for $34,000,000
This residence occupies the entire 23rd floor with 9,500 square feet in five bedrooms plus a 2,500 square foot primary suite. Other highlights include a formal dining room, park-facing library, media rooms, and multiple Central Park-facing terraces.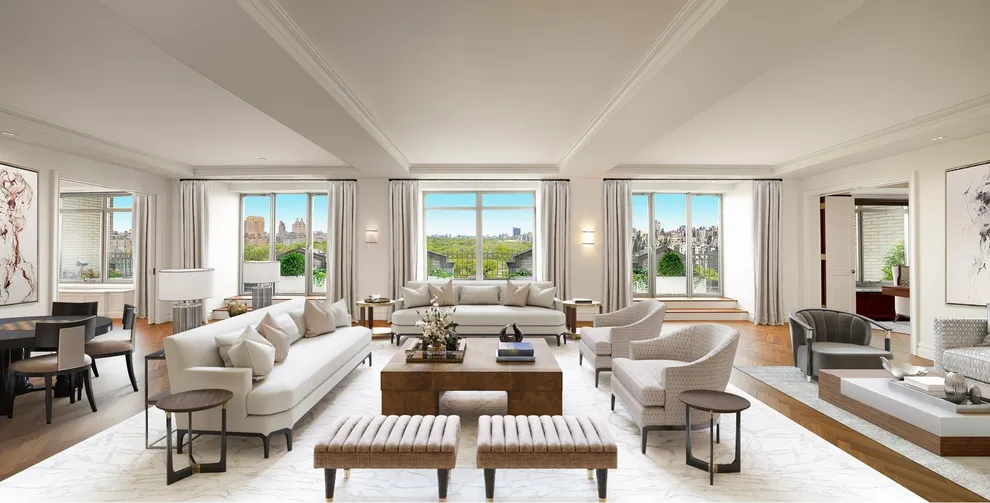 Residents enjoy access to the Ritz-Carlton Health Club, including a Movement Studio, La Prairie Spa, a Club Lounge, a Contour gastro lounge, and a hotel business center.
50 Central Park S #3031 for $90,000,000
Delisted in December of 2022, this three-bedroom and 10,875 square-foot condo, made up of the 30th and 31st floors of the building, has raised ceilings and a ballroom as its living room. With marble staircases, dressing rooms, massage rooms, and numerous ensuite baths, the residence is spacious and provided for.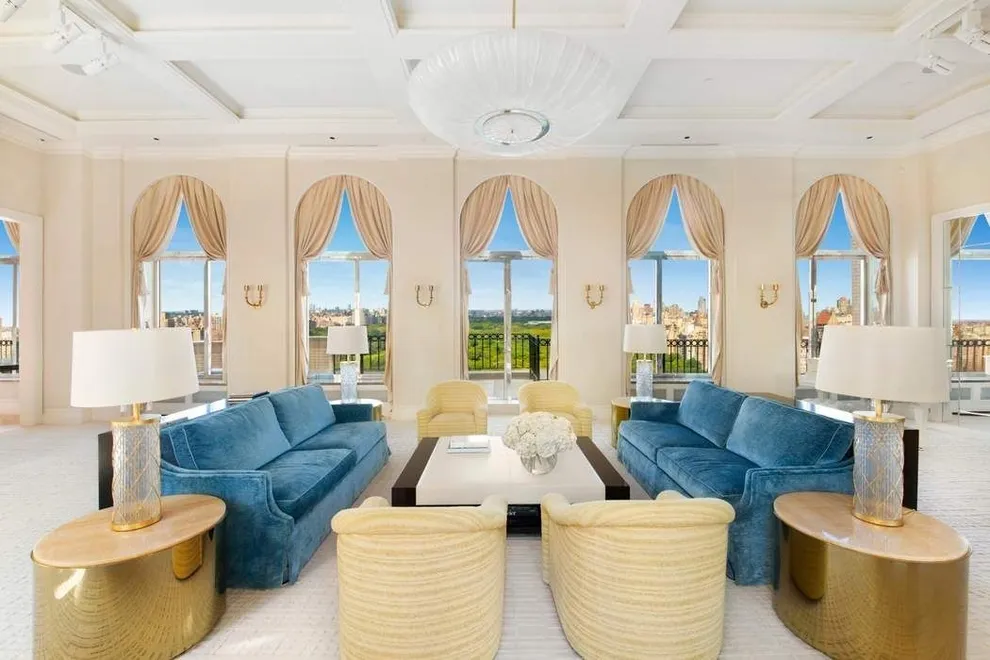 The Sotheby's listing detailed a "majestic room is lined with ten colossally-scaled arched windows, five of which overlook Central Park and the residence's largest Terrace, which stretches almost 45 feet along the length of the façade." 
Whether or not this unit will come back on the market is yet to be determined.
Mansions For Sale in New York
We've spent a lot of time looking within Manhattan's luxury scene. What about the rest of New York? While much of New York's wealth is concentrated around the Big Apple, there is still a lot to gawk over, Upstate and beyond. A home in Granite Springs listed for $100 million was quick to catch the eye of many.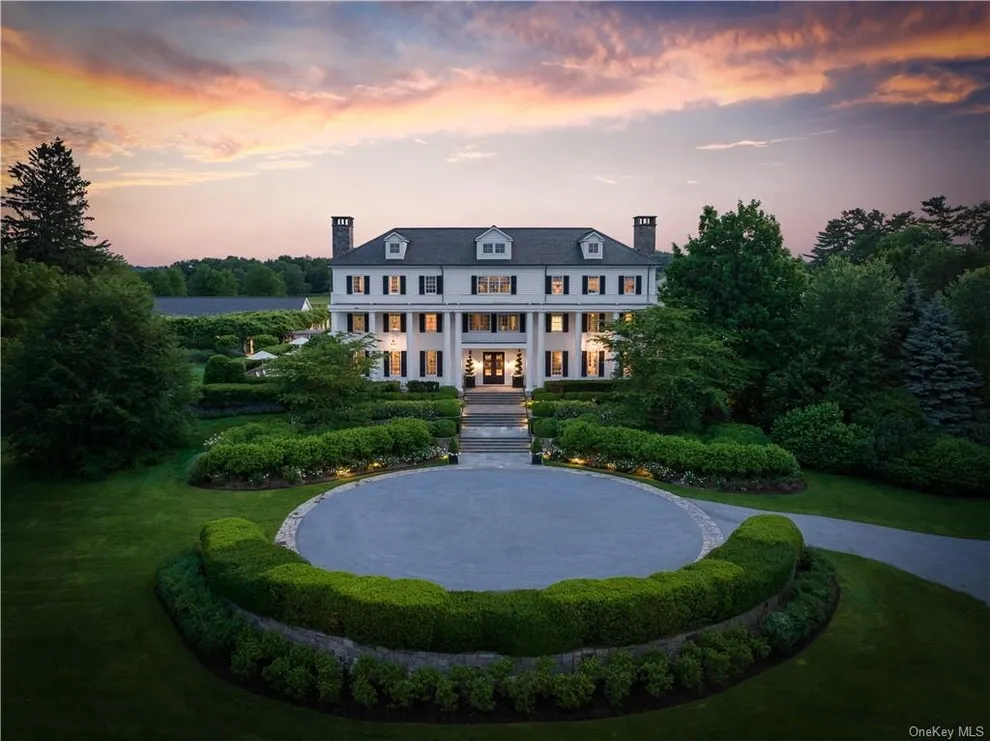 At 142-203 Mahopac Ave in Westchester County is Stonewall Farm, a sprawling 8-bedroom mansion with 24,000 square feet on a 740-acre lot. Built in 2004, the residence includes a wine cellar, tasting room, game room, and pub, along with sprawling staircases, atriums, and horse stables. Beautiful features abound, giving the property a heavy rural charm. A wisteria colonnade connects the 60-foot heated pool to a 4,000-square-foot pavilion where residents can enjoy the fireplace, Jacuzzi, gym, sauna, and changing rooms. A private guesthouse is located behind the main house, near freshly trimmed hedges and walkways. 
At one time, this farm was known as the highest listing in New York at $100,000,000.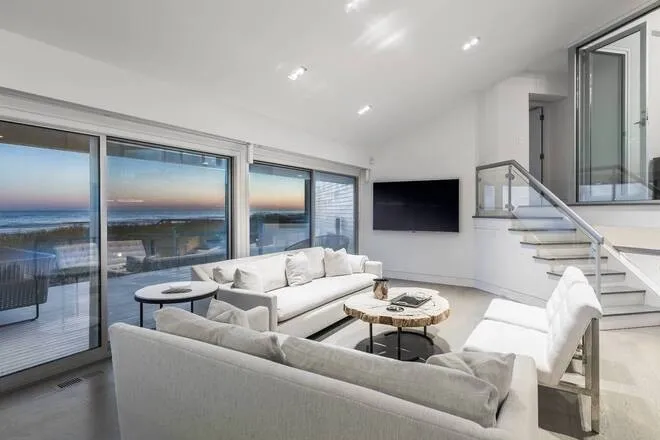 A beautiful home in Water Mill, New York, listed for $47 million dollars in 2022. Situated on a 2.6-acre oceanfront lot, the beach house at 381 Dune Road has a heated gunite pool, a separate guest house, and 250 feet of dune width. The guesthouse has a bonus loft, media room, and outdoor entertainment areas.
Houses near Scott Cameron and Dune Beach are highly sought after. The rolling ocean, warm sands, and multiple beaches to explore offer an enticing getaway for many city dwellers. This home was purchased in 2006 for $14 million, then listed in April 2022 for $47 million before being removed from the market in early June.
On the other hand, current active luxury listings in Water Mill look like 2040 Meadow Lane, priced at $24 million.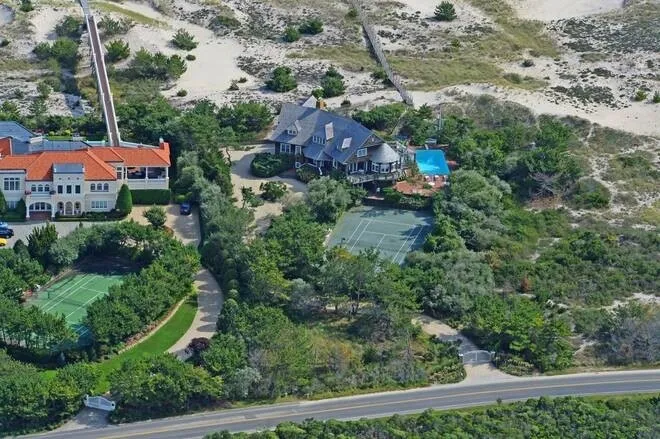 Luxury Sales Will Continue to Increase
While some of these listings have yet to sell, their existence speaks to the wealth and class embedded in New York City. Although interest rates have damped spending for some, the luxury market continues to soar as inflation pushes the dollar even higher.
"Despite rising economic headwinds and growing uncertainty, the world's wealthy have been committing to luxury residential property," said Liam Bailey, global head of research at Knight Frank, "with London and New York the standout cities in demand for ultra-prime sales."
In Manhattan, real estate sales fell 38% in the first quarter, but luxury deals rose to a record high of over 11%. Wealthy buyers are there no matter what. Now if only they'd give an open house.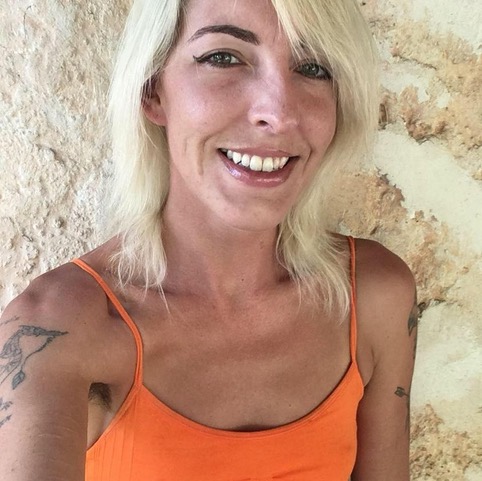 Lindsey Rae is a freelance writer, videographer, and medium format photographer with a background in economics, documentary filmmaking, and human rights. In past lives she covered the arts scene in Seattle and LA before morphing into a finance journalist, reporting from the NYSE for German news media. When not writing about culture & lifestyle she can be found studying herbalism and traditional healing techniques. She enjoys running, yoga, and world travel. You can find her at www.linerae.com or IG @hunteressthompson