Brooklyn Heights Basics
Welcome to Brooklyn Heights, the residential neighborhood with style and history! When people think of Brooklyn Heights, they think of posh residents who live in lavish brownstones. This is a pretty accurate portrayal, but there are plenty of parks, restaurants, and bars that attract visitors from all over. With some of the best views of the Manhattan skyline, this neighborhood is a true beauty that's worth your attention.
Brooklyn Heights History
Brooklyn Heights has many piers and a rich shipping history, which began with Dutch Settlers in 1642. The neighborhood was in a strategic military location too, and was where George Washington, and his troops, retreated too early in the Revolutionary War. After the war, the area began to develop as a neighborhood. Due to the excellent ferry service to Manhattan, Brooklyn Heights became known as the first commuter suburb in the 1820s.
The area continued to develop steadily during the 1800s, and soon became the cultural and financial center of Brooklyn. The Brooklyn Bridge was completed in 1883, which only made the neighborhood more accessible to Manhattan. This resulted in a population explosion, promoting the rich residents to move further out in Brooklyn. By the 1930s, Brooklyn Heights was a working-class neighborhood.
The neighborhood faced further troubles when the BQE was constructed in the 1940s and 1950s, which destroyed part of the neighborhood and left many people displaced. The neighborhood looked worse for wear until the 1960s when people started buying historic brownstones and renovating them. They also formed the Brooklyn Heights Historic District, which was the first of its kind in the city according to the Encyclopedia of New York by Ellen Fletcher. This success propelled back into high society, where the area remains to this day.
Where to Shop in Brooklyn Heights
View this post on Instagram
Brooklyn Heights has many smaller, family-owned stores that visitors and locals will love. Some of the best in the neighborhood include:
Seaport Flowers
This floral shop is one of the best in the borough. With flowers, bouquets, and vases that are perfect for any occasion, happy or sad. The flower arrangers here are top notch and their flowers are always perfectly bloomed.
Two for the Pot
This specialty coffee shop sells confections of all kinds. Just some of their inventory includes coffee, tea, and rhubarb, but they have a ton of stuff that's just waiting to be tried. This unique store will make anyone's day better.
Underground Thrift Store
This clothing store is in the basement of a church, and has a ton of fashionable items that have been donated by people from all over the city. Only open on Sundays, this store is exclusive in its own way.
Where to Eat in Brooklyn Heights
View this post on Instagram
Brooklyn Heights has many great restaurants that cater to both tourists and locals. Some of the best restaurants in the area include:
Colonie ($$$)
This farm-to-table restaurant is the gem of the neighborhood, and is almost always full. This place has a seasonal menu and a huge wine list, both of which are available to people who want to host private events at the establishment.
Chez Moi ($$)
This French establishment is one of the best in Brooklyn, and has been serving up cultural classics since 2012. Some of their best offerings include their mussel entrees, steak tartare, and white skate wish, all prepared with a careful, talented hand.
Henry's End ($$$)
This restaurant is known for their comfortable atmosphere, and has been feeding Brooklyn Heights since 1973. They have an impressive wine list and amazing dishes like lamb sirloin, sole with lobster, and Ozark BBQ ribs. They even have holiday menus.
Mint Heights ($$)
This Indian restaurant is very popular, and has amazing traditional dishes like tandoori, chutney, and daal. They also have a prix-fixe menu that's out of this world, and only costs $22. They even have special lunch boxes so you can take your food on the go.
Kogane ($$)
This Ramen restaurant provides a fun alternative to the American restaurants in the neighborhood, and has a ton of options that will leave your heart and stomach nice and warm. The atmosphere is relaxing and fun, and they offer takeout and delivery.
Bars of Brooklyn Heights
View this post on Instagram
There are plenty of bars in this neighborhood that have a cozy atmosphere and great drinks. Some of the best bars in the neighborhood include:
The Binc ($$)
This cocktail bar is inspired by art deco in both its atmosphere and its drink menu. Some of their specialty cocktails include the Evita, The George Harrison, and The Nice and Easy. This bar is lowkey but also very popular.
O'Keefe's Bar and Grill ($$)
This Irish pub has food, drinks, and live entertainment like music, comedy, and trivia. Even when the live entertainment is absent, their huge TVs play a number of sporting events, which makes this the perfect place for any football or baseball fan.
Fifty Henry ($$)
This wine bar is on Henry Street, the busiest street in the neighborhood which is why this establishment does very well, and serves wine from some of the best vineyards from all over the world. They also have a great menu.
Where to Live in Brooklyn Heights
Brooklyn Heights has a number of great apartment complexes and brownstones that are highly coveted by New York residents. Some of the best places to live are:
130 Hicks Street
This beautiful co-op was built in 1958, and holds 40 units over six stories. These units have been recently renovated, and come equipped with stainless steel appliances and new hardwood flooring. There's also a private green space for building residents.
39 Sidney Place
One of the oldest buildings in the neighborhood, this complex is a historical wonder. This rental building was constructed in 1846, but the interior has been renovated to keep up with modern living standards.
2 Grace Court
This multi-building co-op is right by the water and some of the best parks in the neighborhood. Built in 1923, this building has a lot of history behind it, and has a large garden and a roof-top patio that's open to all residents.
42 Hicks Street
This rental building was constructed in 1900, and is one of the historic brownstones this amazing neighborhood is known for. This place has a garden apartment along with the regular, but still luxurious, apartments in this complex.
One Brooklyn Bridge Park
This condo is right on the water, and was renovated from a warehouse built in 1928. This place has a ton of amenities like a fitness center, children's playroom, and a large laundry facility. These apartments are huge and have great views.
Parks of Brooklyn Heights
Brooklyn Heights has a ton of green space, especially by the water. Some of the best parks in the neighborhood include:
Brooklyn Bridge Park
No other park in the city has such great views as Brooklyn Bridge Park. Loaded with piers, nature walks, and beautiful sights, this is one of the most popular parks for Brooklynites and a great location for a romantic evening.
Hillside Dog Park
This enormous dog park is situated on a hill, and has a ton of room for dogs to explore and meet new friends. The park has a decent amount of toys and water fountains, so your furry friends will have plenty of space to roam.
Traveling in Brooklyn Heights
Brooklyn Heights is an easy place to travel to and is extremely easy to navigate. Some of the best ways to get around include:
The Ferry
Brooklyn Heights has access to a Ferry Terminal, which provides access to Manhattan, Queens, Staten Island, and even Dumbo.
Trains
The NYC subway system has a decent amount of trains that service this area, including the A, C, N, R, W, 2, and 3 lines.
Buses
There are a number of bus lines that service this neighborhood, including the B25, B57, B61, and B63.
Ride Shares and Bike Rentals
This neighborhood is small, but located right off the Brooklyn Bridge, so it's easy to navigate, but traffic can be bad during rush hour. For this reason, ride shares are popular, but can be a bit expensive. Biking, however, is far more popular here, as there are a ton of bike lanes and Citi Bike docking stations for your convenience. This neighborhood is also very walkable, which will lead to a very beautiful day of sightseeing. No matter what, this neighborhood's small size will make travel pretty easy.
---
Brooklyn Heights is a classy little neighborhood with a ton of history. From riches, to rags, to riches again, this neighborhood has seen the best of the worst of NYC, surviving all of it and coming out better than ever. History is not just preserved here, but respected, and sought out by locals and tourists alike. This neighborhood has a lot to offer. The views are beautiful, the food is amazing, and the bars are a delight. Brooklyn Heights has a little something for everyone, so cross the Brooklyn Bridge and see what it's all about.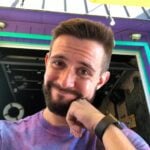 Russell is a writer and comic based in New York City. His plays have been featured at Penn State's Cultural Conversation's Festival, The NYC Thespis Festival, and Imaginarium's Inaugural Theater Festival. Follow him on TikTok and Instagram @pooleparty528