The brownstone townhouse has firmly established itself as an emblem of elegant urban living—the Brooklyn equivalent of 5th Avenue's Millionaire Row mansions if you will. However, the brownstone was not always the status symbol that it has become today. Join me as we take a deep dive into the background of this famous piece of New York City's architectural landscape.
What Exactly Is a Brownstone?
It may surprise you to learn that many of the row townhouses you see advertised as brownstones do not actually live up to their name. In order to pass muster, a building must be veneered with actual brownstone rather than the brown-tinted cement designed by crafty real estate developers to mimic the real deal. Brownstone townhouses are not constructed entirely of brownstone; rather, they are brick buildings that make use of the stone as a decorative facade. Brownstone is a type of soft, pinkish sandstone that eventually matures into a warm shade of cocoa brown as the iron hematite embedded within the stone is slowly oxidized. While the stone is extremely malleable, allowing for beautiful engravings to be carved into the lintels, stoops, and window stills of brownstone townhouses, brownstone is unfortunately extremely prone to cracking and crumbling.
Much of the stone used in New York City's brownstones were sourced from the now-defunct Portland Brownstone Quarry in Portland, Connecticut, whose proximity to the Connecticut River meant that stone could be easily shipped into the city by boat. While brownstone quarries exist in several other locales, including Pennsylvania, across the pond in Wales, and scattered over the Midwest, Portland brownstone has unique geological properties that give the stone a distinct appearance and texture. 
The Early History of the Brownstone
Brownstone first saw use as a building material in the mid-19th century because it offered a cheaper alternative to marble, granite, and limestone. Stone houses provided a greater sense of permanence and dignity than homes constructed of wood, and as the city's population experienced a boom in the aftermath of the Civil War, there were more people seeking to become homeowners than ever. As a bonus, the elevated stoop of the brownstone offered a reprieve from the literal heaps of horse manure that swamped city streets during this era.
Brownstone also came to be seen as desirable in its own right as Romantic Classicism came into vogue. Exemplified by the glorious, sweeping landscape paintings of the Hudson River School, this artistic movement prized terrestrial beauty and natural aesthetics—which the earth-toned brownstone fit to a T.
In spite of their popularity, brownstone homes were still very affordable even for middle-class families. This was in part because technological advances from the Industrial Revolution helped to automate the stone carving process and made construction much more efficient. In fact, brownstone was so widely used that an 1880 building census tally found that 78.6% of stone buildings in the city at the time were made wholly or partially from brownstone. 
Still, brownstones had their share of detractors. City officials were dismayed at how quickly the stone weathered in New York City's continental subtropical climate, noting its tendency to flake and peel even within a few decades of installation. New York-born novelist Edith Wharton had a particular grudge against brownstone, describing it as the "most hideous stone ever quarried" and asserting that its ubiquity left the city "hide-bound in its deadly uniformity of mean ugliness."
The Evolution of a Status Symbol
The brownstone was propelled into a hot commodity by a single, simple force: scarcity. Following a hurricane and intense flooding in the late 1930s, Portland Quarry was forced to close. Geologist Mike Meehan reopened a scaled-down quarrying operation at the Portland Quarry in the mid-1990s, but the quarry was finally shuttered for good in 2012. Suddenly, the New York City brownstone had become irreplaceably one of a kind. 
It also helped that the fragility of brownstones meant that many of the city's historic brownstones had deteriorated badly enough that they had been replaced with cement-based substitutes, making ownership of an authentic brownstone even more exclusive. The expensive upkeep required to maintain a brownstone facade—and the fact that many brownstones are located within historic districts that have specific regulations regarding these renovations—also contributes to their luxury status.
The iconic nature of the brownstone has also become self-perpetuating: brownstone townhouses have served as the fictional residences of dozens of iconic TV and movie characters, from Carrie Bradshaw in Sex in the City to Holly Golightly in Breakfast at Tiffany's. The brownstone has fully affirmed its place in pop culture and now has the price tag to prove it.
Where Can Brownstones Be Found?
Brooklyn is famous for its brownstones, and the densest concentration of authentic brownstone townhouses can be found in the neighborhoods of Park Slope, Brooklyn Heights, Fort Greene, Carroll Gardens, and Bedford-Stuyvesant. Brooklyn Unplugged Tours even offers a brownstone walking tour of Brooklyn Heights that highlights some of the most pristine examples of brownstone architecture in the borough. In Manhattan, your best bet to find some good brownstones is to take a promenade through the Upper West Side or Harlem.
What Are Some Examples of Brownstones on the Market Today?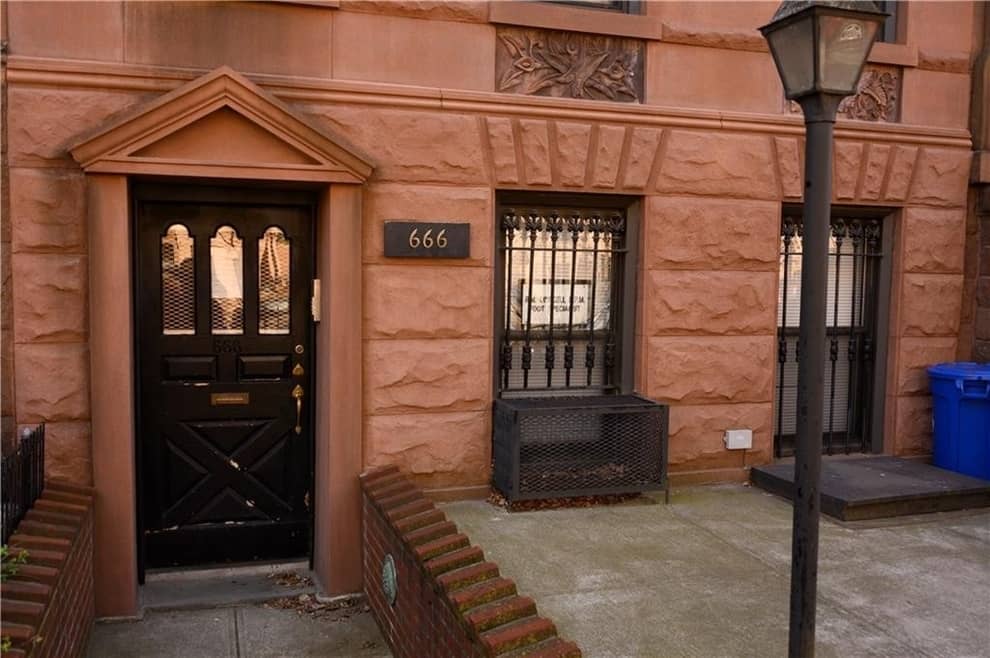 This four-story, 3312-square-foot brownstone located at 666 10th Street in Park Slope offers a full basement, a five-room office, a two-story duplex for the owners, and an additional rental unit on the top floor. The townhouse's gorgeous copper-brown exterior was restored seven years ago and the building is just across the street from beautiful Prospect Park.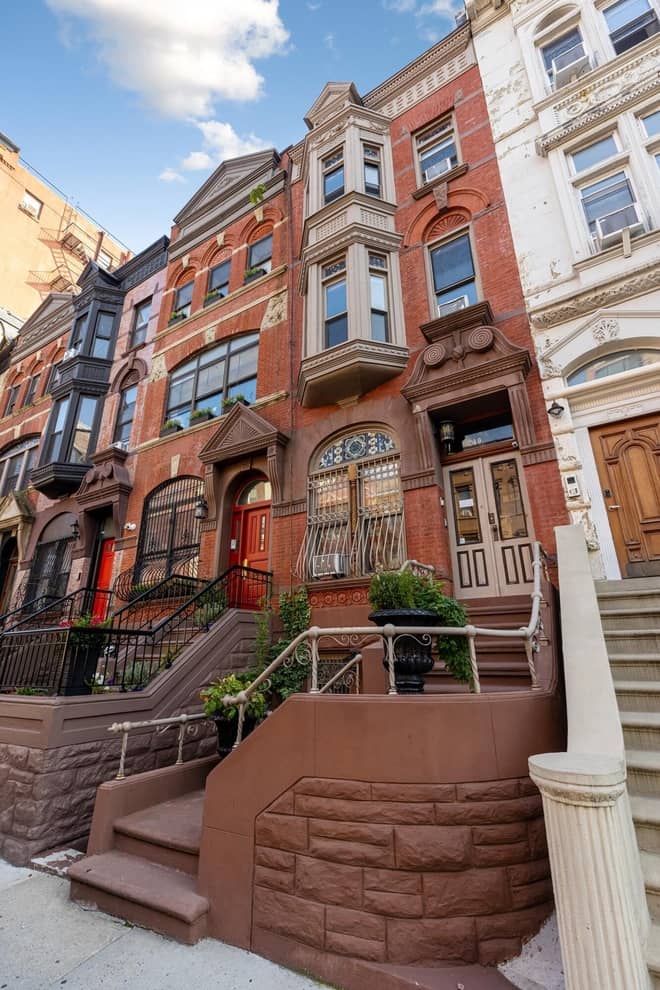 Sitting in the heart of Harlem at 210 West 122nd Street, this luxury brownstone townhouse includes six master bedrooms, each with its own fireplace, as well as mahogany woodwork and an outdoor garden.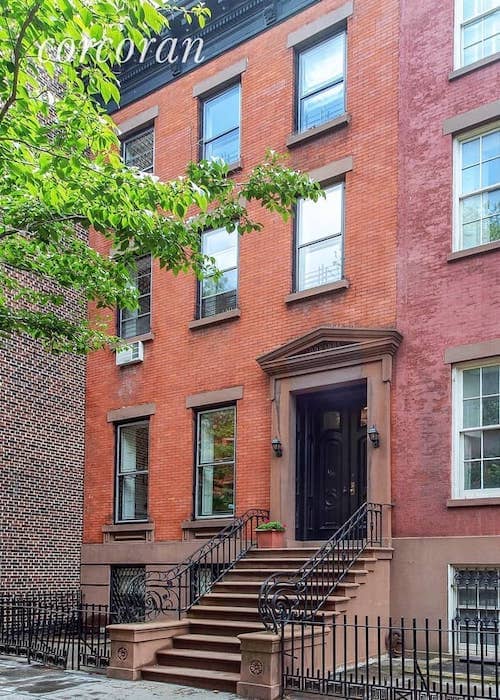 This two-family brownstone located at 169 Hicks Street in Brooklyn Heights' Historic District is nestled among several blocks of other Civil-War era brownstones and offers easy access to Brooklyn Bridge Park and Cadman Plaza Park.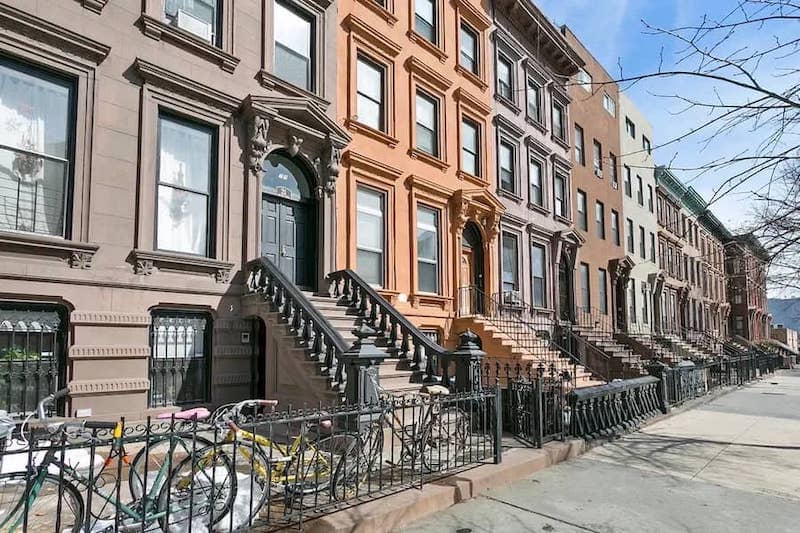 Perched on the southern edge of charming Bedford-Stuyvesant, this spacious brownstone found at 21 Brevoort Place benefits from its quiet, secluded location and its massive 88-square-foot backyard.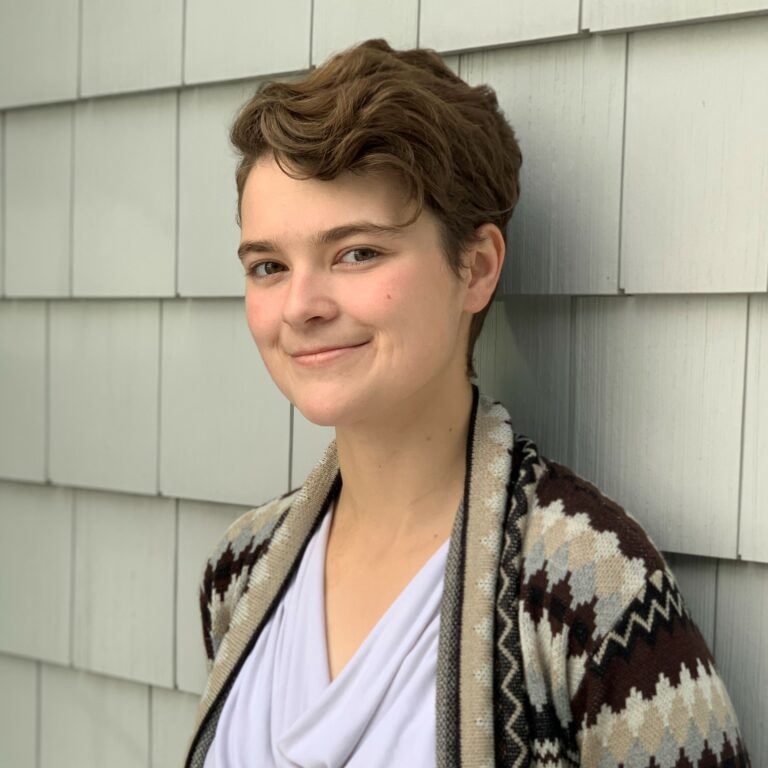 Sophie McIntosh is a Brooklyn-based writer and dramaturg hailing from Sun Prairie, Wisconsin. Her plays have been produced by Imaginarium Theatre Company, Platform Production Company, and in the Boston Theater Marathon. Check out more of her work at sophiemcintoshwrites.com!