Dumbo Basics
Welcome to Dumbo, the neighborhood "Down Under the Manhattan Bridge Overpass!" When people think of Dumbo, they think of NYC's Silicon valley, full of start-ups and eccentric street art performances. This is a pretty accurate description of the area, but it has much more going on than meets the eye. Surrounded by Brooklyn Heights, Bridge Plaza, and Vinegar Hill, this small but mighty neighborhood is active and popular.
History of Dumbo
Before the Manhattan Bridge was finished in 1909, this area of Brooklyn was considered part of Vinegar Hill. Mainly used for manufacturing purposes, this Dumbo factory specialized in various goods and has even received credit as the birthplace of the cardboard box. Once the Manhattan Bridge was complete, the area saw a slow decline in its manufacturing tradition as the industry began to move out of the city.
View this post on Instagram
With factories now abandoned and the area basically empty, artists and young professionals moved to the area seeking cheap rent for large apartments. Soon, though, prices started going up as developers grew interested in the neighborhood, so the locals coined the name Dumbo – an acronym for "Down Under Manhattan Bridge Overpass"—hoping that the silly name would stop the gentrification of the area.
Long story short, it did not stop gentrification from happening. By the late 1990s, the area was considered an artist enclave, and that reputation is still somewhat existent today. However, tech start-ups have moved to Dumbo en masse in search of office space, displacing many artists and long-time residents. This is why Dumbo has become known as "NYC's Silicon Valley." Now, newer developments stand next to historic buildings, Etsy and West Elm are headquartered there, and the population of Dumbo just keeps growing.
Where to Shop in Dumbo
Dumbo has some amazing shopping opportunities that are cool, trendy, and can't be found anywhere else. Some of the best shopping opportunities here include:
Empire Stores
A shopping mall with a sense of style, Empire Stores is home to some great shopping and dining opportunities like West Elm and the Time Out Market. These stores always have a great selection and are surrounded by a hip atmosphere.
Brooklyn Flea
An eclectic, seasonal flea market, Brooklyn Flea is the place to go if you're seeking art, clothes,  antiques, crafts, or vinyl records. Vendors are constantly changing here, and the outdoor market is open every weekend, rain or shine.
Little Poland Gallery
A cute toy store that your children will love, Little Poland Gallery specializes in bright and colorful baby and toddler toys. They have many puzzles, cars, and even some abacuses that your kids will spend hours playing with.
The Base NYC
This tattoo shop is among the best in Brooklyn if not all of NYC. With some of the best international tattoo artists, your new ink will be sure to make a statement that will last the rest of your life.
Redbeard Bikes
Bike riding in Dumbo is a way of life, and Redbeard Bikes is the go-to store for many people in the neighborhood. Offering various services, including repairs, fittings, and more, this shop is perfect for long-time cyclists and beginners alike.
View this post on Instagram
Galleries of Dumbo
This artistic community is full of great art, much of which is on display in galleries or public installations. Some of the coolest galleries in the neighborhood include:
A.I.R.
A gallery dedicated to works from women and non-binary individuals, this artistic community is welcoming to established artists and amateurs. They offer classes and educational experiences, and the works they display are truly innovative.
Minus Space
This unique gallery celebrates works that challenge the observer's sense of space and time. The gallery also publishes books and records of their past and present exhibitions so people can always look back and reflect on their experiences.
Klompching Gallery
This contemporary photography studio is dedicated to showcasing and selling brilliant works from photographers old and new. They offer classes and seminars both in person and online and have regular exhibitions each year.
Where to Eat in Dumbo
Dumbo is a very popular area, which means there are a ton of restaurants for people to enjoy. Some of the best eating experiences in Dumbo include:
Timeout Market NYC ($$)
This food court showcases some of the best bites NYC has to offer. Many of NYC's best restaurants also set up stands here, and the venue hosts a variety of live shows and events, meaning you'll get dinner and a show.
Superfine ($$)
This farm-to-table restaurant has been serving great food in Dumbo for over 20 years. The first organic restaurant in the neighborhood, this delicious place serves delectable bites like grilled calamari, flank steaks, and pork chops.
Celestine ($$$)
This Mediterranean restaurant is right on the water, so diners here are privy to some amazing views of the Manhattan skyline. They serve classy meals that will make your taste buds dance with delight, particularly the Branzino and the milk chocolate semifreddo.
View this post on Instagram
Bread & Spread ($$)
A popular brunch restaurant, this place offers strong coffee and some of the best breakfast sandwiches in the city. They also cater events so you can eat these sandwiches for birthdays, anniversaries, or even weddings!
Pedro's ($$)
This Mexican restaurant is extremely popular in the area for its reasonable prices and extensive drink menu. They have all of your Mexican favorites like tamales, tacos, and quesadillas, and all can be customized the way you like.
Bars in Dumbo
Dumbo is full of hip, young people who love to party after a hard day's work. The bars in the area are as artistic as the residents, and the best ones are:
68 Jay Street Bar ($)
This funky dive bar has live music and cheap drinks to satisfy your weary soul. This place is simple, rustic, and perfect for those who don't need a theme for their drink. They have a great staff and selection, and that's all they need.
Olympia ($$)
A classy wine bar with outdoor seating, this place has a wide selection of wines, as well as a fun assortment of specialty cocktails. A perfect place to unwind or bring a date, this bar is low-key and has a little something that everyone can enjoy.
Evil Twin Brewing ($)
This taproom is extremely popular due to its unique aesthetic, large selection, and to-go four-packs of beer. Serving everything from IPAs to Pilsners, this beer place is perfect for any occasion.
View this post on Instagram
Cafes in Dumbo
Dumbo plays host to many offices and tech workers, so there's a plethora of cafes that cater to commuters and lunch-takers alike. Some of the best cafes in the neighborhood include:
Butler
This cute coffee shop is one of four locations in NYC. Selling stunning baked goods and fresh coffee daily, this cafe has a brunch and lunch menu. They even sell wine and beer! But the real deals here are the coffee, tea, and matcha.
Devoción
This delightful place serves fresh Colombian coffee daily, along with an assortment of goodies to fill your stomach and soul. The cafe is cute, and if you want their coffee at home, they can deliver a bag of whole beans right to your door.
Burrow
This cafe and pastry shop will surely put a smile on your face. They have delicious new creations regularly and said creations are works of art. This is, perhaps, the most "Dumbo" cafe considering the artistry and experimentation that occurs here.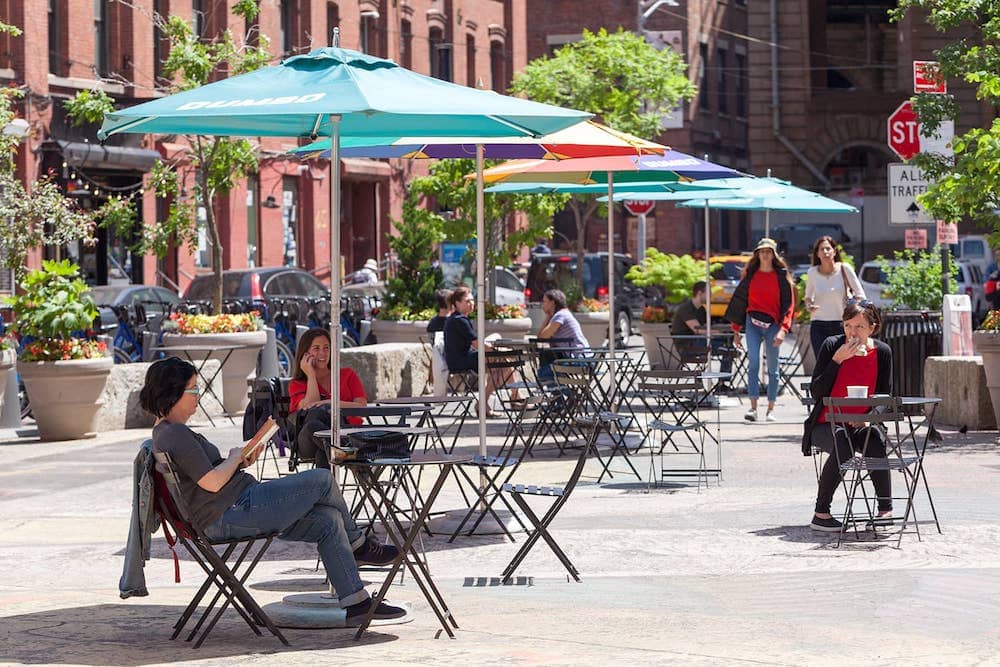 Where to Live in Dumbo
Whether it's an old factory or a new condo, Dumbo is one of the most popular—and most expensive—neighborhoods in Brooklyn. Apartments move fast here, so check out some of the best ones to get before it's too late:
Dumbo Rentals
Magnolia Dumbo
A huge complex with a ton of amenities, this building is imposing on the outside and comfortable on the inside. Featuring luxuries like a swimming pool, fitness center, media room, and children's playroom, families can also enjoy this behemoth building. Dumbo isn't just for the youth anymore!
Dumbo Lofts
A beautiful building with private balconies, residents of Dumbo Lofts can expect great views and tons of sunlight. The building includes a fitness center, and apartments come outfitted with stainless steel appliances, like dishwashers, as well as custom countertops and cabinetry.
30 Washington Street
Renovated from an old factory, this building features large, open-floor homes with a ton of natural light. Close to the water, residents have a prime location that's close to all the action in the neighborhood. Featured amenities include a fitness center, children's playroom, and even in-unit garbage disposals.
Dumbo Condos
Olympia Dumbo
Dominating the skyline, Olympia Dumbo has massive homes and a slew of amenities that make it the envy of the neighborhood. The building has a swimming pool, a hot tub, valet parking, a media room, cold storage, a roof deck, and more. The views are incredible from the resident's private terraces, and the building itself is stunning.
Sweeney Building
This stately gray condo is another converted factory near the waterfront. Though the exterior can be intimidating, homes here are rather comfortable, filled with natural light that bounces off the hardwood flooring to make the home bright. Stainless steel appliances and in-unit washers and dryers come standard.
168 Plymouth Street
A combination of two converted factories, this condo is luxury personified. An additional five penthouses were built on top of the original structures for some added refinement, and the amenities here, which include a fitness center and bike room, are top-notch. This green building is the perfect place to live as a young professional or artist.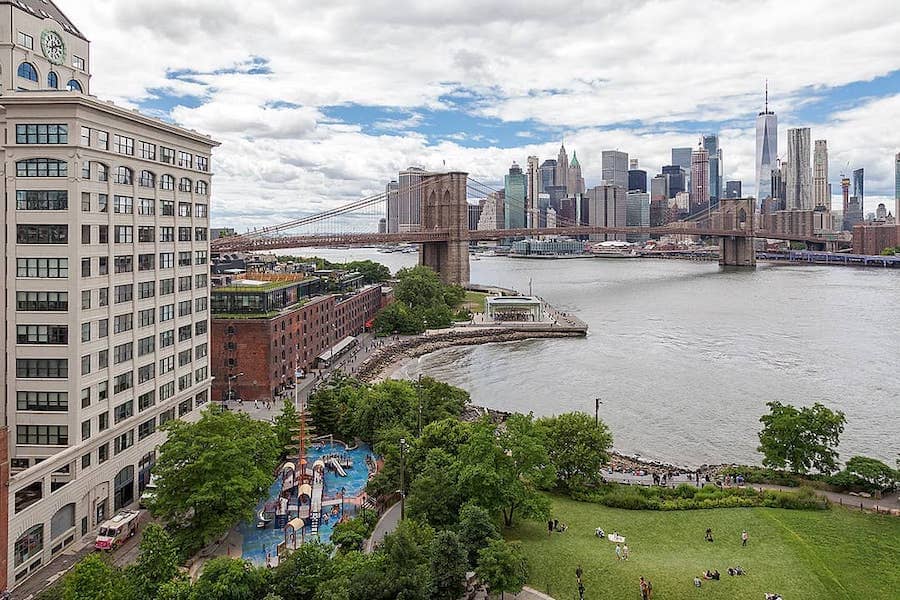 Parks of Dumbo
Dumbo might not seem like it would have a lot of green space, but there are several areas along the water that are perfect places to take families and friends for a special day. The parks of Dumbo are:
Empire Fulton Ferry Park
This delightful area has some amazing views of the Manhattan skyline, as well as wide open fields perfect for a picnic or sunbathing. Jane's Carousel, a beautiful attraction built in 1922, can also be found near the water here.
Brooklyn Bridge Park
Attached to Empire Fulton Ferry, this park is a great place to spend a summer day. For families who love to learn, one of the biggest draws to this park is the Environmental Education Center, which teaches kids about the native wildlife of NYC.
John Street Park
This scenic park features lookouts that face Manhattan and the East River, as well as a classy restaurant that's ideal for a date night. This park basically encourages romantic outings, with many beautiful paths that are just waiting to be explored.
Traveling In Dumbo
Dumbo is a smaller area, so foot traffic is really all someone needs when they live in the area. That said, there are some options when it comes to public transportation here:
Trains
Dumbo has no subway station within the actual neighborhood. However, the F train at York Street will land you right on the southern border of the neighborhood.
Buses
The streets of Dumbo are a bit small, so buses have difficulty navigating through them. The only Bus line that services the neighborhood is the B25.
Ride Shares and Bike Rentals
Driving and biking are by far the most used forms of public transportation here. The Manhattan Bridge is convenient for cars traveling to and from Manhattan, and there are a decent amount of Citi Bike docking stations for the convenience of people in the area.
---
Dumbo is a former beacon of an industry that has become a paradise for those in the creative and technical fields. The buildings are a mix of old and new, and there's a genuine appreciation for the entire history of the neighborhood, as well as its future. As the area's population grows, it's bound to only get better and better. It's currently one of the most expensive neighborhoods in Brooklyn, and that's probably not changing soon. Regardless, Dumbo will always be a haven for those who are artistically inclined.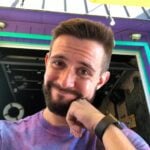 Russell is a writer and comic based in New York City. His plays have been featured at Penn State's Cultural Conversation's Festival, The NYC Thespis Festival, and Imaginarium's Inaugural Theater Festival. Follow him on TikTok and Instagram @pooleparty528