Williamsburg is one of the most popular neighborhoods in Brooklyn, and the food here reflects that notion. The restaurants here range from hamburger shacks to waterfront fine dining, and all of them will leave your taste buds singing for more. If that's got you excited, just wait, the bar scene in the neighborhood is even better. With plenty of fun dives and fancy cocktail lounges, you'll have a blast checking these places out on a night out on town. No matter where you look, Williamsburg has amazing food and drink. To help you get started, we've compiled a list of the best of the best.
Best Restaurants in Williamsburg
Kokomo ($$)
This Caribbean restaurant is a must-try for anyone living in or visiting Williamsburg. Their wonderful drink menu features delicious specialty cocktails with an assortment of beer and wine. Better yet, they offer a happy hour, aptly named Koko Hour, from Tuesday-Thursday between 4pm-7pm. While many come here for brunch to sample their delicious Koko's Chicken and Waffle dish, don't forget to stop by sometime for dinner as well! Some of their best dinner options include gochujang wings, oxtail, and, of course, sweet plantains. There's a reason why this place is a go-to for many of the residents who live in the area. 
Nami Nori Williamsburg ($$$)
View this post on Instagram
This sushi restaurant is intimate, bright, and full of delicious delicacies. Diners can choose delectable items from both the kitchen menu and the temaki counter. The kitchen menu features cooked foods like soups, crispy rice, and peppers. The temaki counter features a variety of sushi options, including a "create your own" set so you can have the fish you like. There's also a huge selection of wines and sake that can be purchased by the glass or by the bottle. Nami Nori also has a location in the West Village and Montclair in New Jersey, but the location in Brooklyn is simply divine! 
Café Mogador ($$)
This Moroccan restaurant opened in the East Village in 1983 and was so successful that the family eventually opened up a secondary location in Williamsburg. Today, Café Mogador is seen as a staple in the neighborhood as it brings a cuisine not often seen in the US right to your table. Some of their best offerings include their Moroccan eggs benedict, malawach, and their couscous, which is served with a variety of meat and vegetables. They also have an diverse drink menu to accommodate each individual patrons' tastes.
Móle ($$)
This Mexican restaurant has been feeding NYC since 1991. Móle built its reputation through its famous secret Móle sauce. The sauce is made directly in Mexico and delivered right to the restaurant. Featuring authentic traditional Mexican cuisine, as well as popular Tex-Mex foods like burritos and enchiladas, this restaurant makes sure everyone who visits will have something to delight their senses. Be sure to indulge in some of their best dishes including the camarones a la Mexicana and cochinita pibil the next time you're in the area.
La Nonna ($$)
This Italian restaurant is the brainchild of Chef Cono Morena, who was born and raised in Italy. He first begin his food journey in 1995 when he moved to New York. This journey led him to open La Nonna in 2007, and it has since grown to become one of the most popular Williamsburg restaurants. Serving a variety of pasta, pizza, and traditional Italian seafood dishes, this place offers an authentic Italian experience that can't be beat. For those who enjoy a boozy brunch, they recently started offering a prix fixe brunch menu for $40 per person that features bottomless mimosas.
SEA ($$)
This Thai restaurant features fine dining at a reasonable price. Featuring stunning décor, like a small indoor pond you can sit next to, this restaurant incorporates style into the menu along with delicacies from all over South East Asia. The menu changes every so often, so guests will never get bored with their options. Some of the current favorites include the pineapple curry duck, tamarind whole fish, and pad woon sen, though these are just some of their many offerings.
Gran Torino ($)
View this post on Instagram
This eclectic restaurant has a large outdoor space, a pool table, and tons of delicious things to eat for a very low price. Their specialty is mainly pizza, which they cook in a wood burning stove and pair with a house wine. They also have a large brunch menu, and very inexpensive mimosas, bloody marys, and specialty cocktails that you can enjoy outside on a sunny summer day. They even have several prix fixe menus that feature delicious hors d'oeuvres you won't want to miss out on.
Fushimi ($$)
Another Japanese restaurant with ambiance and style, this place pairs traditional Japanese cuisine with French cuisine for a unique pairing. The establishment has been listed in both the Zagat and Michelin guide as a place that is highly recommended. This place has weekly specials, a sushi bar, and a catering menu. Some of their best selections include salmon four ways, blue fin toro tasting, the chef sushi and sashimi, and their stir fried yaki udon.
Fandi Mata ($$)
This Mediterranean restaurant is so stylish, you'll forget you're in Brooklyn. The décor and greenery provide a delightful bright eating experience, and the menu only adds to that effect. Some of the best offerings include roasted lamb, branzino en papillote, and fandi gelato. The restaurant also has live music nights, as well as industry nights where guest chefs and bartenders visit to show off their skills to guests. If you're looking for an experience on top of a great meal, then this place is it.
Beco ($$)
This Brazilian restaurant is a super casual eatery that doesn't take reservations. They serve some of the best Brazilian cuisine in the city and they are more than happy to deliver their delectable bites right to your door if you live nearby. Some of their best offerings include their moqueca, feijoada, and their bife a cavalo. They also make their special blend of peppers available for purchase to use in your own cooking ventures.
Reunion ($$)
View this post on Instagram
This Israeli establishment has been called a "love letter to Tel Aviv," and features some of the best Israeli dishes in the city. They are especially known for three of their biggest sellers: hummus, shakshuka, and fattoush salad. However, these are only some of their best dishes. They have a huge brunch, dinner, happy hour, and catering menu as well, all of which are crafted to make you feel like you're enjoying an authentic Israeli meal right in Tel Aviv.
Lilia ($$$)
This fine dining establishment features Italian cuisine in a comfortable atmosphere. Founded in 2016 by Michelin Star chef, Missy Robbins, Lilia serves only the finest cuisine made with talented hands. Whether you order the wood fire fish or handmade pasta, you'll be getting a quality meal. Some of this restaurant's best offerings include black bass, mortadella-filled tortellini, and grilled lamb leg steak. They also have an extensive wine list featuring options that pair well with any meal.
Pheasant ($$$)
This new American restaurant offers seasonal menu items in a relaxing environment. Though the food is a bit more upscale, the restaurant itself is rather down-to-earth, encouraging guests to grab a drink and kick their feet up. Currently, their best offerings include their fez burger, Montauk tuna, and their 8oz steak. They also feature a delightful salad made from vegetables grown in the Brooklyn Grange, and have a rather extensive wine menu.
The Four Horsemen ($$$)
View this post on Instagram
This cute establishment has a menu that's a bit more upscale and seasonal, with new specials and options available every week and month. They have a large wine list and a ton of merch, but the thing people like most about this place is the ambiance. The dim mood lighting is perfect for more intimate evenings and small gatherings of friends. Some of their best bites that come and go include beef tartar, smoke speck, and a snap pea salad that's both filling and refreshing.
Namkeen ($$)
This Pakistani restaurant specializes in chicken. Chicken wings, chicken sandwiches, chicken tenders, you name it, they have it, all with special flavors and spices from Pakistan. They have a mean chicken and waffles, as well as a grilled cheese for those not into the whole chicken thing. For those who are into the whole chicken thing, we recommend their chicken tikka mac & cheese. For sauces, they have four options of spice level ranging from "naked" to hot, with hot's description being "BLAOW!"
Sea Wolf ($$)
This seafood restaurant is right on the water, and sports a wide variety of cocktails and delicious bites from the ocean. They have a ton of specials, including summer lobster fests. Some of their best seafood offerings include their lobster mac & cheese, linguini with clams, and their fish and chips. Don't worry though, they have plenty of other food options for those who can't handle their fishy flavors. For example, they have a divine Beyond Burger, that everyone, not just vegetarians, will love! Looking for an experience? Sea Wolf offers cocktail making classes so you can make their signature drinks at home.
Masquerade ($$)
This Tapas bar is cute, intimate, and full of great food and drinks. The bright aesthetic of the restaurant will fill your heart with delight. Dishes that have garnered the most attention and delight include their meatball stew, noon paneer sabzi, and kashk o bademjoon. They also have a huge list of specialty cocktails, beer, and wine. This place is a perfect way to spend an afternoon, especially if you're in the mood for smaller dishes.
Win Son ($$)
View this post on Instagram
This Taiwanese restaurant is small, but mighty, and features an outdoor patio space that's normally reserved for walk-in customers. This establishment serves brunch and dinner, with both menus featuring a wide variety of food and beverages. Some of the best offerings here include their xián dou jiang, lu rou fan, and their sesame noodles. They also include many whiskeys that are local to Taiwan.
Meadowsweet ($$$)
This new American restaurant was started by a chef and marketing manager who also happen to be a married couple. This establishment has earned a Michelin Star every year from 2015 to 2020, and you'll know why when you take your first bite. Their ingredients are fresh and their menu is seasonal, so you'll never have the same thing here twice. One of their regular options is their famous Scottish salmon.
Maison Premiere ($$$)
This oyster bar is one of the best raw bar experiences in the city and has fresh catches from all over the East Coast and Canada. Their specialties are their seafood towers, which come in two sizes, including a small one, Le Petite Maison, for $90 and a large one, La Maison, for $135. No matter which one you choose, you get a chef's selection of quality shellfish and an optional wine pairing, which will create an evening you'll never forget.
Best Bars in Williamsburg
View this post on Instagram
Hatchet and Hops ($$)
New York City's first axe throwing bar is located in Williamsburg, and it's quickly become one of the go-to spots in the area. While they don't serve hard liquor for obvious reasons, guests can responsibly enjoy a selection of local beers while they enjoy yeeting a hatchet in a supervised environment. This establishment is great for parties and may even be setting up a mobile axe throwing station to bring the fun to the rest of NYC.
The Bedford ($$)
This gastropub and speakeasy serves upscale bar food along with a delightful assortment of carefully crafted cocktails. These cocktails include seasonal ingredients, so the menu changes all the time from refreshing summer beverages to comforting drinks in the winter. Nothing beats drinking for the season, and this place knows that. They also have a wide variety of beer, wine, and liquor.
Pete's Candy Store ($)
View this post on Instagram
This bar calls itself "the biggest little venue in NYC" and it's a title they deserve. This fun establishment hosts a slew of live events from music to comedy, and is one of the most popular bars in all of Brooklyn. Since 1999, this venue has been a beacon to those who love cheap beer and a great night out, which is why this bar will likely be around for a very long time. They also make a mean grilled cheese.
Golden Years ($)
This cute bar serves a ton of stuff from burgers to pho, but the drinks here are what really make this place amazing. With happy hours every day of the week, 5pm to 8pm Monday thru Friday and 12pm to 6pm Saturday and Sunday, this place has everything from spicy margaritas to a specialty cocktail called Fernet About It, which is a mixture of whiskey, fernet, lime, angostura, and Coca-Cola.
Night of Joy ($$)
This eclectic cocktail lounge features vintage furniture in a moody setting. It's like you'll be sent back in time to visit a speakeasy, and the drink menu reflects just that. Their Bison grass vodka and basil-lime gin gimlet are light and refreshing, and can be enjoyed in the comfortable interior or their rooftop patio. This establishment is innovative while also celebrating the vintage style of a hidden bar from the 1920's.
Thief ($$)
View this post on Instagram
This bar might not look like much on the outside. On the inside, however, is a sleek, industrial venue that's perfect for those seeking a chill night out. Along with an amazing menu, the bar hosts a ton of live music events, making it a popular spot for music lovers and performers alike. They'll even let you host private events here! This establishment is very popular with birthday and anniversary celebrations.
Midnights ($$)
This bar and club is all about creating a night you'll never forget. They have an amazing food menu, delectable specialty cocktails, and the Pasadena Room, a large space specifically for dancing the night away with your friends old and new. Some of their best specialty drinks include the Al Green, a mixture of gin, mint, lime, and angostura bitters, and the Drunk Love, a mixture of rum, overproof, orange juice, pineapple, grenadine, lime, and angostura bitters.
Ba'sik ($$)
This bar is attempting to get back to basics when it comes to drinking establishments. Marketing itself as a public house rather than a bar, this Ba'sik is a place where members of the community can gather to catch up and bond. This place isn't just a bar, it's a community, and their drinks reflect that fact. One of their specialty cocktails is called Poppa's Pride, and it's a mixture of bourbon, mint, lemon, ginger, soda, and bitters. Another one of their best drinks is the Beez in the Trap, which is a mixture of gin, lemon, honey, absinthe, and Peychaud's bitters.
Alligator Lounge ($)
Featured in the HBOMax show, "The Rehearsal," this bar is a great place to socialize with friends and grab a cheap drink. They have regular events like trivia, comedy, and live music, plus they give away free personal pizzas every once in a while. The free pizza comes with every drink (don't worry, it's just the option to get a free pizza) and you can even add toppings for just a few dollars extra.
Blinky's ($$)
View this post on Instagram
Based off a British pub, but with a much more eclectic vibe, Blinky's is a fun place to grab a specialty cocktail and hang out with your friends. This place has karaoke nights, live music, latke nights, a writing club, and even video game tournaments. All of their specialty cocktails have received superlatives. The Rose Gold for example, a cocktail made of gin, lemon, hot honey, and rosemary bitters, has won the "Best Dressed" award, probably because it looks so good. It certainly sounds good!
TBA Brooklyn ($$)
This live music bar is all about the jams and pumping them up. They feature a ton of local and visiting artists, all of which will make you want to get out of your seat and dance. The bar offers some food, but they have drinks like beer, wine, and specialty cocktails. Their Aperol Spritz is especially refreshing, and matches the vibes of the bands that play there. This place is great if you just need to listen to some great tunes.
Nicky's Unisex ($$)
This fun bar is newer to the area, but it's already making a big name for itself. They are open to folks from all walks of life who have a sense of fun and adventure. They host a ton of live music events, drag shows, stand-up performances. The bar is bright, energetic, and has a ton of food and drinks to satisfy any guest. This place is perfect when you and your friends need to let loose. Come support this newer establishment.
The Rosemont ($$)
This famous queer bar is a go-to, not just for residents of Williamsburg, but for residents of NYC as a whole. This establishment is just fun and wholesome, except on comedy nights when things can get a little PG-13. Aside from comedy, they also host live music nights and karaoke, and both events encourage people to sing along and dance. This place is fun with a capital "F," so visit here if you need some great vibes in your life.
Pokito ($$)
View this post on Instagram
This cocktail bar is subtle on the outside, but a ton of fun on the inside. They usually have events for holiday markets in NYC, and can host a number of private events like birthdays or work functions. Some of their best cocktails, which are available to go, include the Rick Ross, a mixture of tequila, Thai chili, pear, cinnamon, lemon, and tajin, and the Muy Bueno, a mixture of rye, ginger, lemon, honey, and orange bitters.
The Woods ($$)
This bar and club is full of good vibes and encourages people to dance to the live music they feature on a regular basis. Folks tend to gather in their back patio for tacos, as the dance floor indoors has a tendency to get packed to the rafters. They have a ton of cocktails, beer, and wine for your enjoyment. This place can be both lowkey and energetic, So anyone can have a good time here regardless of the type of night you're seeking.
Dolly's Swing and Dive ($)
This dive bar is a blast, and features comfortable seats, delicious drinks, and a jukebox with all the classic music you could ever want to hear. The specialty cocktail list is spectacular and features drinks like the Jane Fonda, a mixture of Flor de Cana 5YR, pineapple, orange juice, lime and coconut. They also have the Dolly Crush, a mixture of vodka, guava, lime, and red bull red.
---
Williamsburg has a ton of restaurants and bars to enjoy, and the ones on this list are the best of the best. Some are fancy and some are chill, but all of them feature stunning drinks, delicious food, and an atmosphere you can spend a lot of time in. No matter what you're hungry or thirsty for, you can find something to fit your needs in this magnificent neighborhood.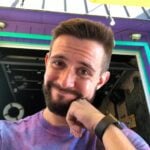 Russell is a writer and comic based in New York City. His plays have been featured at Penn State's Cultural Conversation's Festival, The NYC Thespis Festival, and Imaginarium's Inaugural Theater Festival. Follow him on TikTok and Instagram @pooleparty528