NYC is a cultural melting pot, meaning the city has one of the most diverse restaurant scenes in the nation. Some of the best fine dining establishments in the world can be found here, and the amount of Michelin Stars here could fill the night sky. Every borough has great places for a high-end evening, where formal attire is required, and the service is impeccable. Getting hungry yet? Check out the best fine dining establishments in every borough!
Best Fine Dining in Manhattan
View this post on Instagram
Le Bernardin ($$$$)
Starting with a French restaurant might be a bit on the nose, but this establishment is one of the most talked about in the city. This place has been feeding New York since 1986, but the restaurant originally came from France, where it earned its first Michelin Star in the 70s before going international. The NYC location has its own accolades, with the most James Beard Awards in the city and appearing on the Michelin Guide's "Best 50 Restaurants in the World" list every single year since 2005. They are famous for their Chef's Tasting menu, which runs $295 per person and $445 should you want a wine pairing. This menu includes scallop-caviar, langoustine, and lobster.
Aquavit ($$$$)
This restaurant features upscale Nordic cuisine and has received two Michelin Stars since it opened in 1987. Their seasonal menu changes as certain foods become available, and new cooking techniques are discovered. You'll seldom see the same menu twice here, which is why they have a tasting menu for $175, and a special Chef's Tasting menu for $275. The latter serves dishes like arctic bird's nest, lamb and lettuce, and fluke and elderflower. In addition to a stellar lunch and dinner menu, the restaurant also has special events like cocktail tastings. They are most known for their herring festival, a ten-day celebration of the most delicious fish in the world.
Junoon ($$$$)
This Indian establishment comes from decorated restaurateur Rajesh Bhardwaj and has won eight consecutive Michelin Stars. Interpreting classic Indian dishes with modern and ever-evolving techniques. Since opening in 2010, Junoon has won an "Award of Excellence" from Wine Spectator, so you'll always have the perfect drink to pair with your meal. The dinner menu is a $95 prix fixe meal and includes three delectable courses. A meal might look like an appetizer of eggplant chaat, an entree of paneer pasanda, and a dessert of kulfi pops. There's also the chef's tasting menu to consider. This six-course meal is $135 with a $75 optional wine pairing and features some of the chef's specialties, as well as newer creations from the brilliant minds in the kitchen.
Sushi Noz ($$$$)
This omakase experience will make you feel like you flew to Japan, as everything from the food to the table is plucked right from the Land of the Rising Sun. Head sushi chef, Nozomu Abe, designed this place to look like a Kyoto temple, made from various cedar wood found all over Japan. There are only two dining rooms in this exclusive establishment, one which holds six people and another that holds eight. Depending on the experience you sign up for, you'll eat five to six or twelve to fourteen servings of different sushi, appetizers, and desserts. When we say this place is exclusive, we mean it. They only do a few omakase experiences per evening, and if you show up more than 15 minutes late to your two-and-a-half-hour experience, you won't be seated. 
Ai Fiori ($$$$)
This Michelin Star Italian restaurant is often on Zagat's list of best restaurants in the city. Their handmade pasta has earned them a reputation of excellence, as their seasonal ingredients keep the menu surprising for repeat guests. Head chef, Lauren DeSteno, is dedicated to her craft, and her specialties are available in a special tasting menu that's $175 with an optional $130 wine pairing. They also have a vegetarian tasting menu for $150 full of fresh veggies with bold flavors. Their regular dinner, a prix fixe $120 menu, is a four-course meal with delectable dishes like polipo, tortelli, and agnello, along with a special dessert.
Best Fine Dining in Brooklyn
View this post on Instagram
Aska ($$$$)
This Scandinavian restaurant was founded by Swedish chef Frederick Berselius and earned a Michelin Star within its first year of business. The restaurant itself is located in a former warehouse in Williamsburg and only has ten intimate tables that can see their food being prepared. They offer a prix fixe menu for $295 per person, with an optional $195 wine pairing. The meal is a seasonal journey through 12 to 14 courses, each one with an emphasis on nature and Nordic traditions. They also offer private dining experiences for those who wish to take this journey on their own or with loved ones. No matter how you experience Aska, it will change how you see food.
Claro ($$$)
This Mexican establishment specializes in food found in Oaxaca, where head chef T.J. Steele lives part-time. Everything in this restaurant is handmade, with some ingredients sourced straight from Oaxacan farmers. The menu changes depending on seasonality and availability. Even day-of changes should be expected due to Claro's dedication to excellence. Along with special cocktail menus, like the mezcal flights, dinners here are on a $74 prix fixe menu, with an optional $55 mezcal pairing. The meals include four delicious courses with favorites including mole verde, tacos de pescado, and arroz con leche. They even have special event menus for birthdays, work events, and other larger functions.
Celestine ($$$)
Specializing in Mediterranean dishes, Celestine opened in 2017 and has become a popular waterfront destination for the borough in its neighborhood, Dumbo. Elegant and accessible, the venue is often booked for birthdays and weddings, receiving quite the reputation for good times and great food. They have one of the best brunches in the city that feature whitefish rillet, chocolate babka, and caramelized onion focaccia. Their dinner menu is also impressive, with roasted half chicken, branzino, and rhubarb crumb cake. They have a large drink menu with options that will pair well with any meal.
MeadowSweet ($$$)
This six consecutive Michelin Star establishment comes from the mind of head chef Polo Dobkin an accomplished cook who has trained in the finest establishments NYC has to offer. He and his wife, Stephenie Lempert, have been running the restaurant since 2014 and even use ingredients from their farm upstate. The menu here changes daily, and you'll never see the same one twice. That said, there are some regular dishes here, including wagyu empanadas and fried green tomatoes. They also have an extensive beer and wine list, though you can bring your own wine for a $35 corkage fee.
Best Fine Dining in Queens
View this post on Instagram
Maiella ($$$)
Known to some as the best Italian restaurant in NYC, this Long Island City establishment resides next to the famous Pepsi sign. Executive chef, Giuseppe Agostino, is a master craftsman who has perfected the art of handmade pasta. This talent is showcased in Menu Maiella, a $78 prix fixe menu that guests can order starting at 5 p.m. The menu consists of four courses, and guests can choose pasta straight from the dinner menu, with the option of adding an additional pasta dish for just eight dollars more.
Christos Steakhouse ($$$)
This Mediterranean steakhouse is run by head chef Mina Newman, who has appeared and won on Chopped. She has also been added to Zagat's "15 Badass Female Chefs and Restaurateurs You Need To Know Around The US." She has curated a menu of steak, seafood, and chops that will blow anyone out of the water. Her cuts of steak are aged for 21 days before being charred at 1200 degrees and enhanced with simple spices. In addition to prime cuts of beef, they have a spectacular seafood menu with offerings like octopus, bronzino, and even a raw bar with extremely fresh oysters.
Amylos Taverna ($$$)
This Greek establishment is right in the middle of Astoria, a neighborhood with a huge Greek population. This restaurant has been featured in Eater, Thrillist, and even Eyewitness News, all of whom had nothing but great things to say about this place. The menu is light and elegant and features many cooked options and an extensive raw bar. Some of their best offerings include the seafood truffle risotto, dark ale lamb shank, and Madagascar king prawns. They also have delectable side dishes, like brussel sprouts and roasted lemon potatoes, that are farm-to-table, ensuring freshness and quality for every meal.
Best Fine Dining in The Bronx
View this post on Instagram
Hudson Garden Grill ($$$)
Part of the New York Botanical Garden, this restaurant is inspired by the food commonly grown in the Hudson Valley. This establishment is farm-to-table, which means everything is fresh and local. Parts of the menu are even drawn from the Garden's Edible Academy, dedicated to educating people about edible plants. Their menu is seasonal, so it changes every so often. However, they have some regular dishes almost always on the menu, like their Hudson Burger, a short rib burger with applewood smoked bacon, and their beet salad. They also have a fish of the day.
Jake's Steakhouse ($$$)
Considered an upscale pub, Jake's Steakhouse is where you can watch a football game while chowing down on some filet mignon. Guests can either order off the menu or go for the $35 prix fixe three-course dinner Sunday to Friday from 3 p.m. to 6 p.m. Both menus come with amazing cuts of meat. Bone-in beef has been aged for 35 days and seasoned to perfection while also being rather affordable compared to similar restaurants. Jake's is truly a unique experience that everyone can enjoy.
Roberto's ($$$)
One of the many Italian establishments in the borough, this place serves up large portions of delicious farm-to-table handmade pasta and more. Chef Roberto grew up in Salerno, and his love of cooking stemmed from the region and his father. This passion grew into a restaurant with an extensive wine list, rave reviews from publications like The Village Voice, and an ever-changing menu of delicious foods that can only be found in the Bronx's Little Italy.
Best Fine Dining In Staten Island
View this post on Instagram
Violette's Cellar ($$$)
This American fusion has won OpenTable's "Diners Choice" Award six years in a row, and it's easy to see why when you look at all the stuff they offer their guests. This place fuses cultures and cuisines from around the world. They have American omakase, pasta, tacos, and a huge wine list. They even have live music for diners to enjoy in this classy setting, as well as other special events like wine and scotch tastings. 
Osteria Bocelli ($$$)
This Italian restaurant is listed as one of the "Ten Best Italian Restaurants in NYC" by OpenTable, and it's not surprising. The establishment makes you feel like you're in Italy, and the menu will have you taste the nation. They have several dinner and brunch menus, but the real deal is the $40 prix fixe menu, a three-course meal with optional wine pairings. You will find Italian classics here, like fettuccine frutta di mare, salmon al vino porto, butterfish francese, and any dessert or tea from their spectacular dessert cart.
---
Fine dining isn't hard to find in NYC, but choosing the right restaurant can be intimidating. Price tags are so high that you'll want to ensure some bang for your buck, and everything listed above has that bang. The restaurants on this list aren't afraid to experiment. They go out of their way to take on new challenges and create dishes that are both new and familiar. Going to one of these establishments means experiencing an evening you'll never forget. So be sure to bring your appetite because these places love dishing out multi-course delicacies.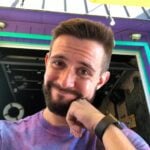 Russell is a writer and comic based in New York City. His plays have been featured at Penn State's Cultural Conversation's Festival, The NYC Thespis Festival, and Imaginarium's Inaugural Theater Festival. Follow him on TikTok and Instagram @pooleparty528