Update: The composting pilot program has largely been a success, and the city is expanding the project to other parts of Queens. This expansion includes an optional curbside pick-up of compost by the sanitation department, rather than adding more bins to the sidewalk.
New York City is built on garbage. Over the course of the 17th century, the city used debris and refuse to artificially expand the island of Manhattan—meaning that, in essence, the entirety of Battery Park rests on a centuries-old dump. If we brought back this historic practice, Manhattan could double in size within just a few years: according to the New York City Department of Sanitation, or DSNY, residential New Yorkers throw out over 10,000 tons of garbage each day.
The largest single portion of New York City's waste stream is believed to be organic materials, which have the potential to avoid a lifetime in a landfill if properly composted. While the city suspended many of its composting initiatives following the outbreak of the Covid-19 pandemic, New York is slowly resuming its commitment to reusing organic food waste—and employing some new tactics, such as Astoria's state-of-the-art Smart Bins, along the way.
The Science of Composting
All organic material decays eventually. Composting is the art of speeding up that chemical process to generate nutrient-rich compost matter.
Anaerobic composting (also known as "cold" composting) is relatively hands-off. One simply piles up their organic material and allows it to decompose without additional assistance. This process is driven by micro-organisms who thrive in low-oxygen environments and tends to generate a greater odor than aerobic composting. Anaerobic composting requires less of a time commitment and fewer resources but may take over a year to result in usable compost.
Aerobic composting (or "hot" composting) requires careful maintenance of airflow, moisture, temperature, and the nitrogen-oxygen balance of compost in order to cultivate hyper-efficient bacterial decomposers. This method naturally generates temperatures hot enough to neutralize most harmful contaminants and can produce usable compost in under a month—and also significantly reduces the amount of greenhouse gasses produced by the organic matter as it decomposes.
How Can Compost Be Used?
Compost is generally added to depleted soil in order to replenish its nutrients and promote plant growth. This is especially useful in urban environments, whose limited biodiversity and heavy exposure to pollutants takes a great toll on soil.
The addition of compost to community garden plots drastically increases the crop of edible food going out into the community. It may also be used to rejuvenate ailing street trees and added to flowerbeds to increase their longevity. Compost has the added bonus of making soil more drought resistant, which helps to conserve water used in the upkeep of city parks.
There is a growing market for high-quality compost in the agricultural and landscaping sectors, and a few businessmen believe that New York City could easily become a compost goldmine. However, the very thing that makes New York such a concentrated source of organic waste—its population density—is also what makes composting in the city such a confounding task.
How Does Composting Work in New York City?
The greatest challenge of composting within the city is the lack of infrastructure to centralize millions of people's organic waste in the limited urban space available to store and maintain compost. 
Historically, the city has based most of its composting efforts around voluntary drop-off sites. The main advantage of neighborhood composting is that it generates its compost locally and then returns the fruits of its labors directly to the community, which offers a great incentive for area residents to compost.
The NYC Compost Project is a DSNY-funded initiative whose mission is to "reduce waste in New York City and rebuild city soils by giving New Yorkers the knowledge, skills, and opportunities they need to produce and use compost locally." The DSNY partners with local organizations such as botanical gardens and community centers to create a network of organic waste drop-off locations. 
In spite of these efforts, many households are unable or unwilling to commit the time to travel to their local drop-off site once a week. Prior to the onset of the Covid-19 pandemic, New York City maintained a curbside compost collection program intended to make composting more convenient for the average New Yorker, but the program was effectively shut down in 2020 among pandemic-related budget cuts.
However, a new initiative now aims to implement a new approach to curbside pickup in Astoria—one that could eventually be expanded city-wide.
Pilot Program: Astoria's Smart Bins
Starting in December, sixteen new food scrap drop-off sites were added to the Queens neighborhood of Astoria in the form of bright orange Bigbelly Smart Bins. As part of the Smart Compost residential composting program, the bins accept food waste, food-soiled paper products (such as tea bags and paper plates), and dead flowers and houseplants. 
In order to prevent passersby from inadvertently dumping in trash, Astoria's Smart Bins require users to register online and wait to receive a special keycard before they can drop off their food scraps. The Smart Bins accept food scraps 24/7, making them a more accessible alternative than community drop-off sites, which often have limited hours.
As a pilot program, Astoria's Smart Bins are currently limited to a twelve-block stretch along 31st Avenue. However, a similar initiative, which makes use of a mobile app and Bluetooth technology to control access to the bins, has also recently begun operations in Lower Manhattan. The DSNY hopes to use data gleaned from these programs to determine how to expand their composting operations in the coming years.
The Future of Composting in New York City
While these new initiatives represent a promising step forward, there is no denying that New York City's long-term plans for composting remain in flux.
Even if the Smart Bin programs are expanded, some composting advocates believe that an opt-in composting system is not enough. Following in the footsteps of San Francisco, which now boasts an 80% landfill diversion rate thanks to its Mandatory Recycling and Composting Ordinance, they suggest that the city make composting compulsory. But, as budget cuts and disputes with the Parks Department have begun to impact community compost processing sites, it is unclear whether such a program can be feasibly mounted in the near future.
If you are interested in making a difference today, your best bet is to seek out your local DSNY food scrap drop-off site, explore some independent community composting drives, or to begin composting yourself. There are a range of options, from tumbler barrels to compost crocks to worm bins, that will allow you to start making your own compost out on your fire escape or right within your apartment.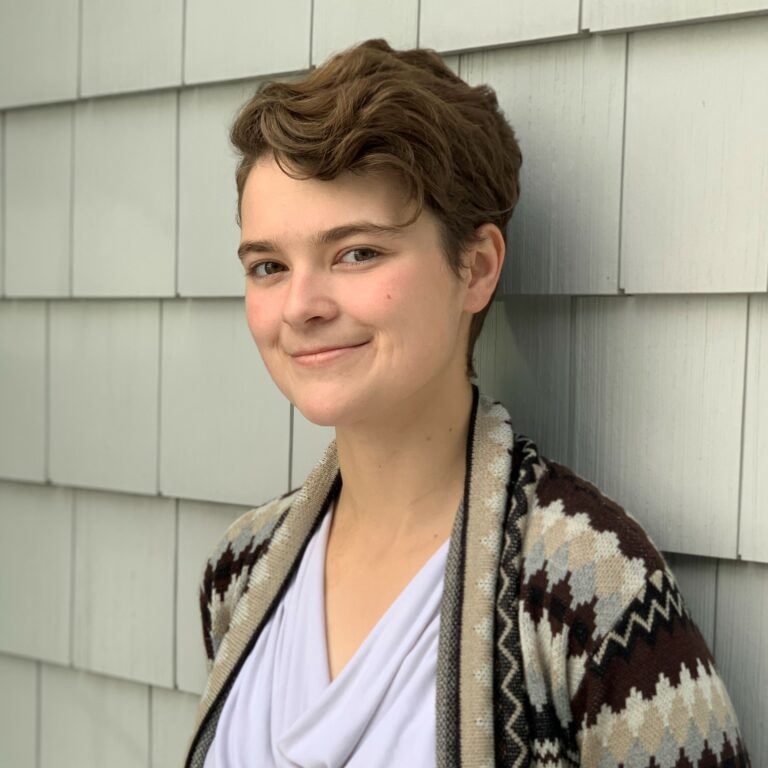 Sophie McIntosh is a Brooklyn-based writer and dramaturg hailing from Sun Prairie, Wisconsin. Her plays have been produced by Imaginarium Theatre Company, Platform Production Company, and in the Boston Theater Marathon. Check out more of her work at sophiemcintoshwrites.com!