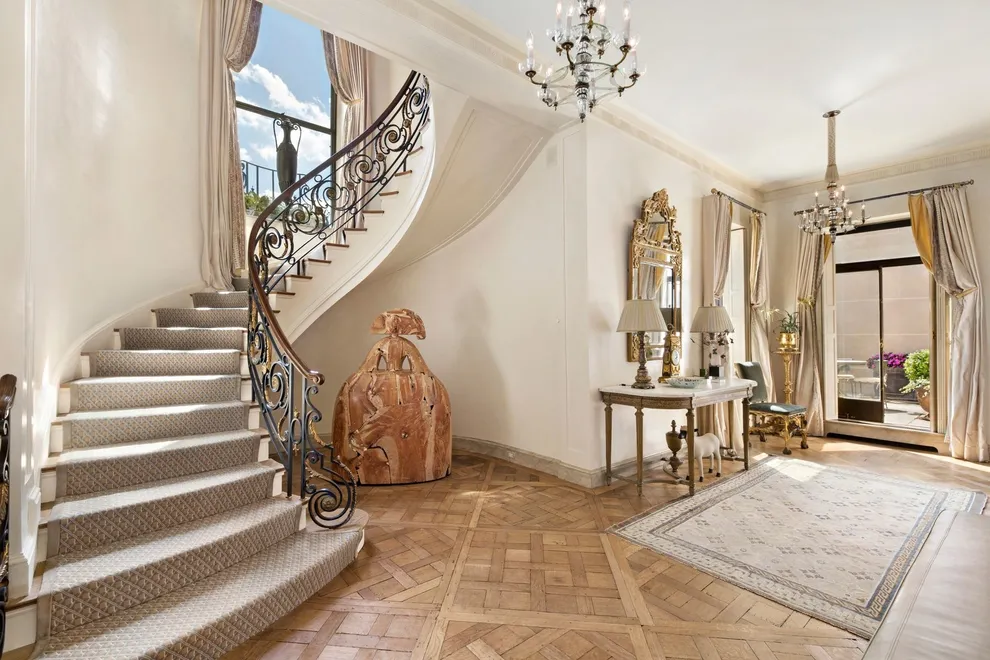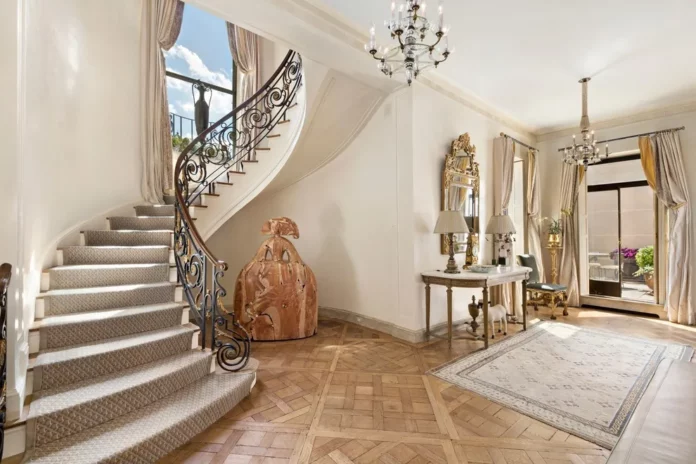 When looking at notable, affluent NYC addresses – 740 Park Avenue, in the Lenox Hill neighborhood of the Upper East Side in Manhattan, is legendary.
Exclusivity, Privilege, and Prestige
The stately art deco style building even had auspicious beginnings. Destined for greatness, its construction was completed in 1929 by developer James T. Lee; the grandfather of Jacqueline Kennedy Onassis. One of its earliest well-known residents was John D. Rockefeller Junior, in 1937, who purchased a duplex – unit 15-16B. The luxury 19-story building holds just 31 co-ops, including duplex, and even triplex apartments, as well as the always coveted penthouse, of course. Speaking of the penthouse, check out these photos of the interior of the penthouse at 740 Park Avenue, last on the market for $27.5 million.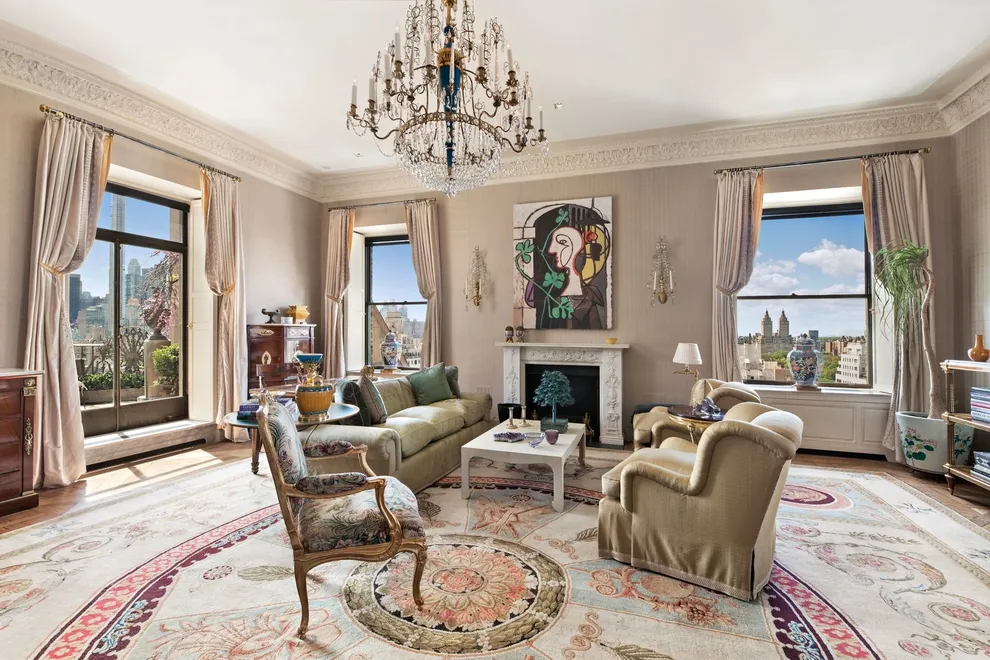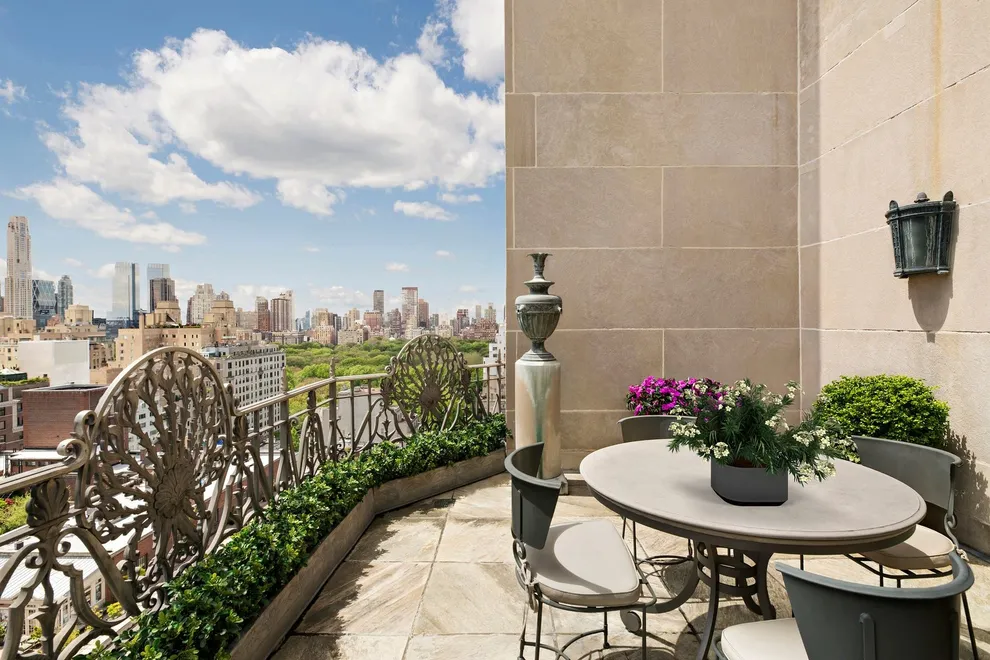 The bourgeois apartments feature spiral staircases, 12′ ceilings, massive living room space with parquet de Versailles floors, beautiful molding and architectural designs, breathtaking views, wood-burning fireplaces, top of the line appliances, marble bathrooms, and so much more.
Not All Diamonds and Caviar
This famous address gets a lot of its reputation from the fact that some of the nation's wealthiest people have lived here. And since it's a co-op means being approved by a very discerning co-op board. This intimidating board has turned down the likes of people such as Joan Crawford, Barbara Walters, Barbara Streisand, and Neil Sedaka.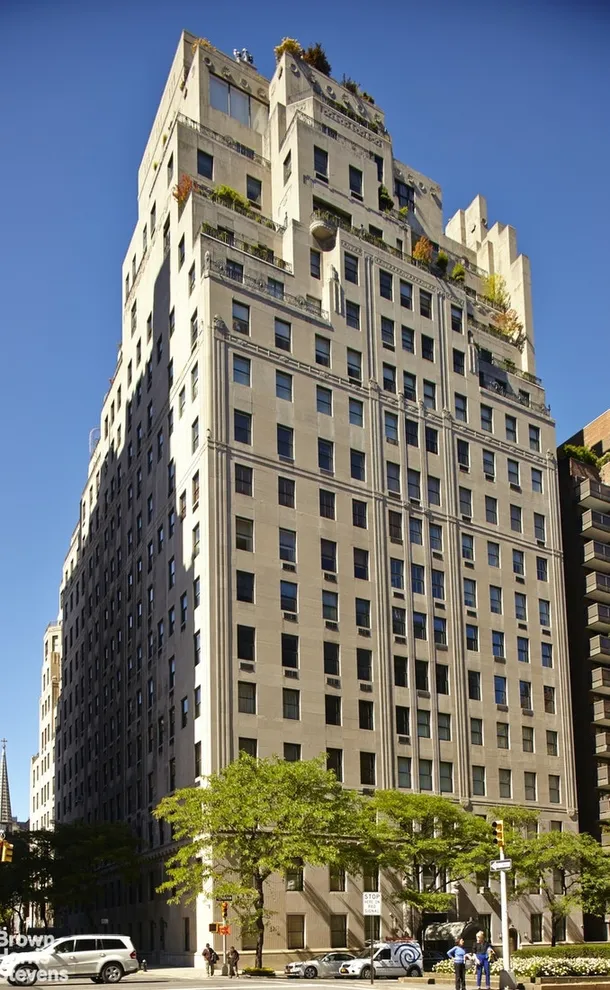 One of the requirements is to show at least $100 million in liquid assets. Not only that, but the monthly maintenance fees can be around $10K, and more for special projects when necessary. This is a place where old money presides, and the aristocrats who wield it mete out their justice with careful prejudice. There is no plebeian society here.
Robberies and Fire
Many residents don't even worry about locking their doors; their upscale community is so exclusive. However, that may have led to a string of robberies in 2016. According to the New York Post article, the victims, which included four different households, never called the police during the 6-week pilfering spree – until it came time to report the items to the insurance company, that is.
Additionally, a fire broke out in one of the apartments in 2016 due to a faulty sauna, damaging several other residences, including David Koch's home, causing him to stay in a hotel while repairs were completed. The fire originated in J. Ezra Merkin's unit (the man thought to have been the financier for famous swindler Bernie Madoff) because someone left something flammable too close to the heating mechanism of the sauna. It affected several nearby dwellings and caused significant damage, though no one was seriously hurt. This was yet another shocking experience in Koch's fascinating life.
Notable Residents of 740 Park Ave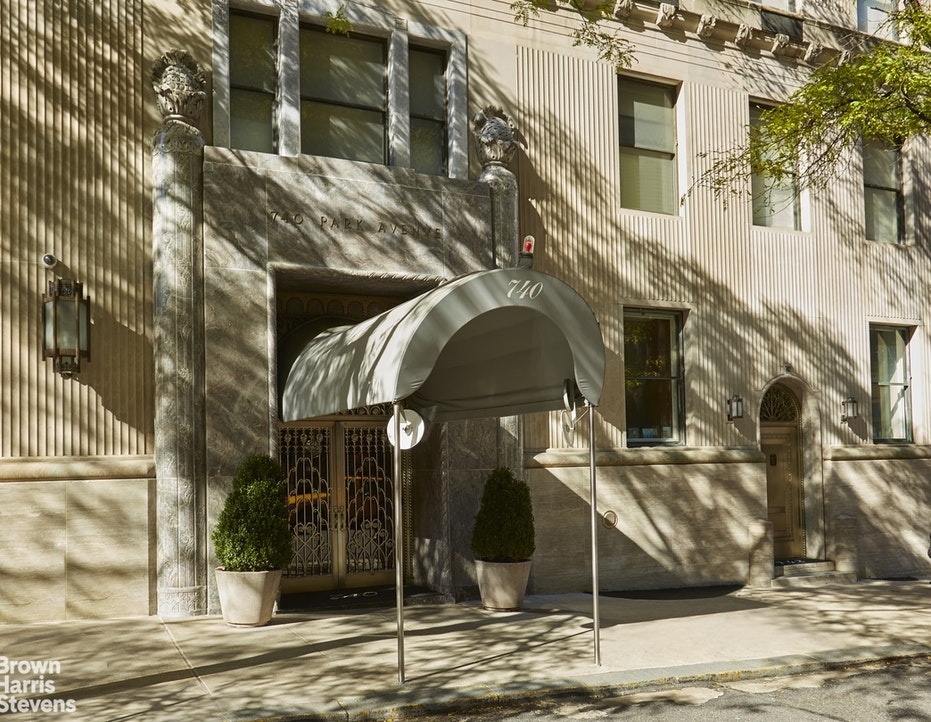 Let's go over some history of 740 Park Avenue and the names that have made the address famous. Interestingly, the building has the highest concentration of billionaires in the country and possibly worldwide. Back in 2004, it was reported that 6 out of the Forbes 25 richest New Yorkers – all billionaires – either currently live or had lived at 740 Park Ave. Today, the list of icons remains impressive, proof of its timeless magnificence.
In 1971, Saul Steinberg, a New York businessman who was a millionaire before his 30th birthday and a billionaire before his 40th, bought the Rockefeller duplex for $285,000. In 2000, he sold it for around $30 million to Stephen Schwarzman, co-founder, chairman, and CEO of The Blackstone Group.
In 1979, an 18-room duplex was purchased by the French government for $600K to be used as their United Nations Ambassador's residence. In 2014, the apartment sold for $71.3 million to Israel Englander, hedge fund billionaire, and founder and CEO of Millennium Management.
Other notable residents include:
Rand Araskog, former CEO of ITT Corporation, who also served as the Co-op Board President for many years.
Woody Johnson, heir to the Johnson & Johnson fortune, owner of the New York Jets, and the United States Ambassador to the United Kingdom.
Stephen Mnuchin, former Secretary of the Treasury of the United States, investment banker, and film producer.
Howard Marks, co-founder, and chairman of Oaktree Capital Management.
Steve Ross, late CEO of Time Warner.
Jerzy Kosinski, novelist.
Thelma Chrysler Foy, heiress to the Chrysler fortune.
David Ganek, hedge fund manager.
Vera Wang, fashion designer.
Thomas Tisch, director of Sears Holdings Corporation, Brown University trustee, etc.
Jonathan Sober, former partner of Goldman Sachs and investor.
John Thain, former CEO of Merrill Lynch and CIT Group.
Enid Haupt, late philanthropist.
The list goes on and on, but they all have one major thing in common: wealth beyond imagination.
NY Real Estate Lore
There is also a bit of New York City real estate lore attached to 740 Park Avenue. It is said that whoever occupies the biggest penthouse there actually inherits the throne of NYC society itself – much like Rockefeller in his day. It is not just a co-op but a status symbol of powerful proportions.
Whether this bit of superstition has any truth to it or not is up for discussion, but one thing we can all agree upon is if you live at 740 Park Avenue, money is the least of your worries.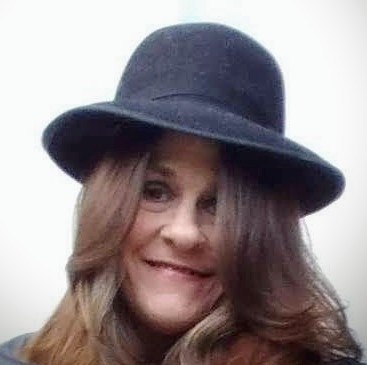 Rochelle Harris is a passionate writer originally from Phoenix, AZ. who credits her success to integrity and determination. She has a great sense of humor, loves music and her family, and writes fiction and poetry in her spare time. She is excited about the New York experience and lifestyle! Follow Rochelle on Twitter at @LinguisticAnRky or get in touch at [email protected]