Ivana Trump's estate listed her Lenox Hill townhouse this week following her passing this summer. Ms. Trump, who purchased the townhouse after her divorce from former President Donald Trump, occupied the home consistently throughout the later portion of her life. The socialite paid $2.5 million for the five-bedroom, five-bathroom abode at 10 East 64th Street in 1992. 
The socialite and workaholic, who at one point served as the vice president for interior design for the Trump Organization, had an eye for detail and decorated her home accordingly. Throughout her time in the home, she upgraded the building into a decor-filled, vibrant space, with something to marvel at in every room. 
While Ms. Trump owned several properties worldwide, her son Eric describes the townhouse as her favorite, saying, "she was so comfortable there…it was the last possession in the world she would ever have gotten rid of."
Around the Property 
Built in 1879, Ms. Trump's luxurious property spanned over 8,725 square feet with an additional 700 square feet of outdoor space. Full of personality, this home boasts luxurious features like a columned facade and mansard roof, gold and black doors, and Italian crystal chandeliers.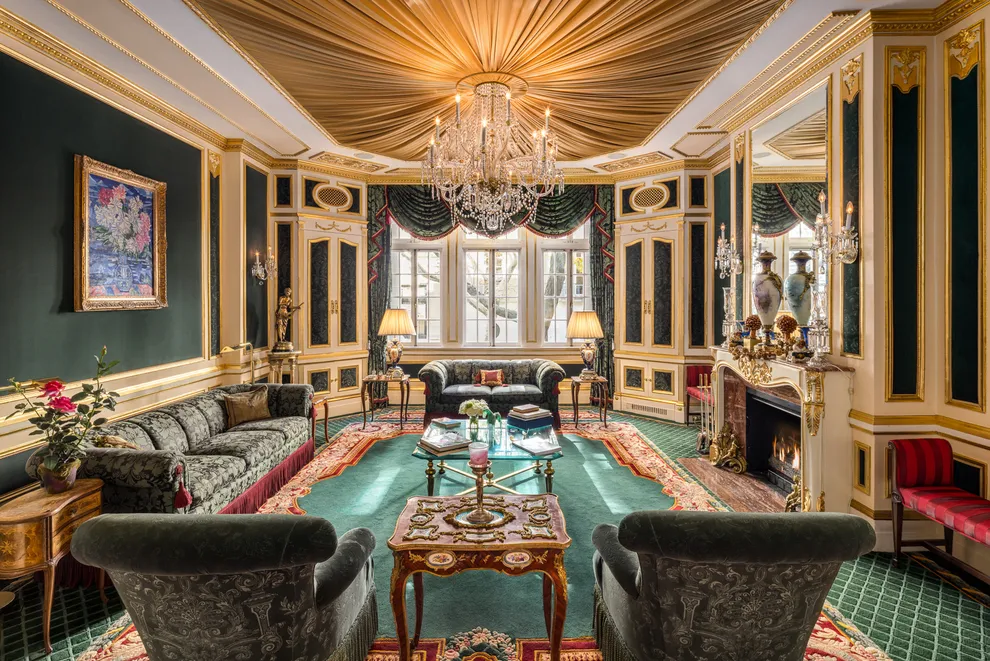 Ms. Trump transformed the property from a dentist's office into a lavish estate, welcoming guests into the vibrant red-carpeted and wallpapered entryway with a spiral staircase, gold crown molding, and a gallery. 
The over-the-top design choices run throughout the remainder of the six-story home. From a Versaille-inspired dining room to the gold-embossed fireplace in the living room, Ms. Trump seemingly spared no expense to create her version of an oasis.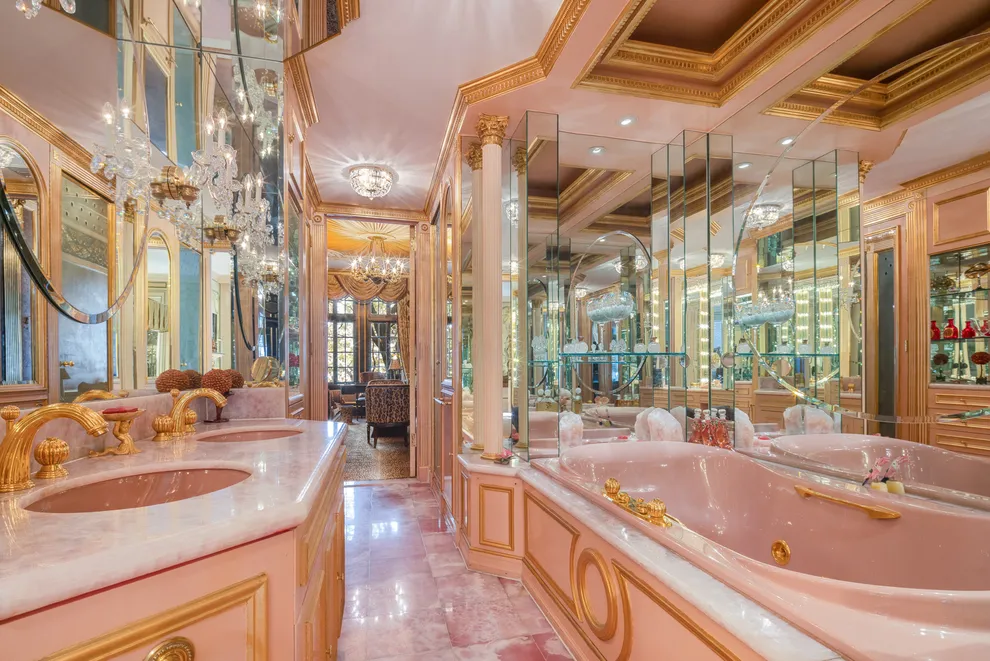 The third floor hosts the primary suite, with a south-facing bedroom featuring a restored mural and French doors that lead onto a private terrace. The ensuite bathroom makes a statement with copious amounts of pink Onyx marble, gold hardware, an oversized tub, mirrored vanity, and a separate closet. 
Listed as a co-exclusive between Adam Modlin of The Modlin Group and Roger Erickson of Douglis Elliman, this property has a cap rate of 0.19%. Complete with many bedrooms and spaces, new owners have plenty of room to alter the space to their liking. 
The building resides on one of Mahattan's most coveted blocks, East 64th Street, between 5th and Madison Avenue. Part of the Upper East Side Historic District, this block boasts some of the borough's most beautiful homes. Homeowners here have quick access to city favorites like Central Park, the Metropolitan Art Museum, and countless dining and shopping opportunities. 
"It's like being between Boardwalk and Park Place on a Monopoly board," Mr. Modlin said.
Ms. Trump's Life in the Townhouse 
After her public divorce from Donald Trump, Ivana acquired custody of their three children, Donald Jr., Ivanka, and Eric. She raised them in their Manhattan home and described their upbringing throughout her novel Raising Trump. Crediting herself to raising the three children, Ms. Trump did so in the comfort of their meticulously-designed palace. 
After their divorce finalized in 1992, Ivana received several million dollars, which she used to purchase the townhouse. Of the home, she said, "my home reflects my style perfectly." Post-divorce, she entered other marriages, raised the children, and strived to build her businesses. Ms. Trump created a clothing and jewelry business, appeared on daytime talk shows, performed in movies, and wrote several books. 
It was in the townhouse where Ms. Trump spent the end of her life, passing in the home at the beginning of July. 
Ivana Trump's Real Estate Portfolio 
The Manhattan home was not Ms. Trump's only real estate holding. Throughout her life, she acquired several properties across the country. There are rumors that she also held onto properties in France and London. 
Greenwich, CT Mansion
Donald Trump gave the couple's first mansions to Ivana in the divorce, which she sold in 1998 for $15 million. The property, located at 21 Vista Drive, has entered and exited the real estate market several times since Ms. Trump's transaction. Past owners completed upgrades and modified the home but have remained unsuccessful in their attempts to sell the property. Currently, the home sits on the market at $29.9 million. With 5.8 acres and over 750 feet of shoreline, there is much to see in this spacious Greenwich mansion.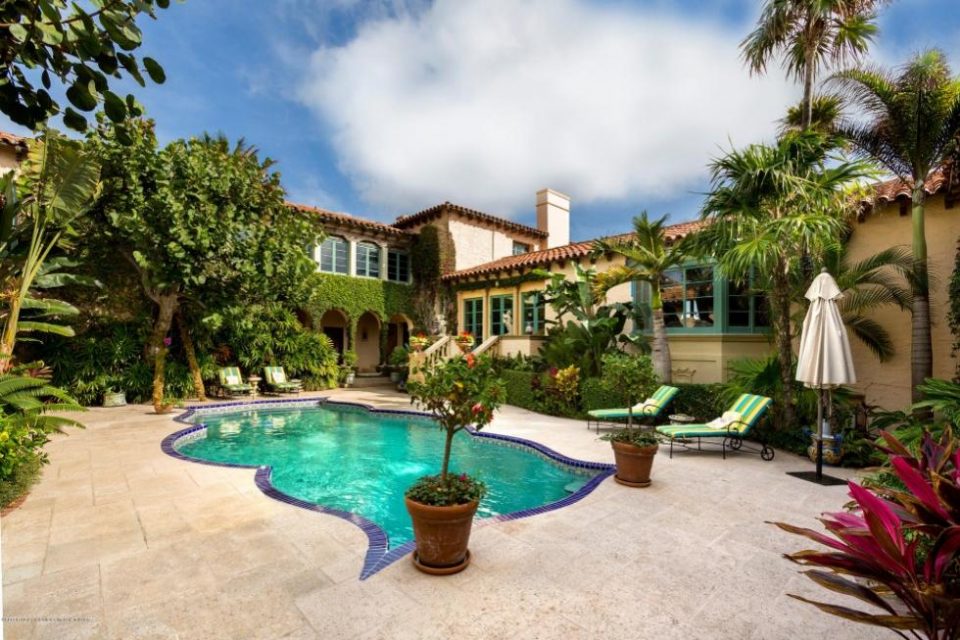 Palm Beach, FL Vacation Home 
Ms. Trump purchased the home in 1994 and sold it 20 years later in 2014 for $16.6 million. 102 Jungle Road consists of a sizeable Spanish-Mediterranean mansion that achieved landmark status in 1990, and in 2012 the American Institute of Architects put it on the Top 100 list of architecturally significant buildings in Florida.