New York City LOVES Halloween and goes all out to celebrate it. There are a ton of parades, parties, events, and, naturally, trick-or-treating. Most people who grew up in the city know the deal when it comes to trick-or-treating in NYC, but many folks new to the city might be a bit confused by it. It can be a bit daunting for parents who don't know what time it starts, who's participating in the annual tradition, or even if they should stay in their own neighborhood. Luckily, CitySignal has talked to several parents with NYC trick-or-treating experience, and we're sharing their wisdom so you can be in the know.
What Time Does Trick-or-Treating Start in NYC?
Generally, trick-or-treating in NYC starts at dusk on the 31st. That said, "dusk" is a frustratingly vague description, especially when it means different things to different people. "Some places start as early as 5pm," says Alex Peña, a parent whose family made their trick-or-treating debut in 2021. "If you have younger kids, go earlier." Other parents we spoke to said similar things: Younger kids should start around 5pm or 6pm, whereas older kids can start around 7pm. 
In general, folks will stop handing out candy around 9pm. Again, though, younger children will likely want to end around 7:30pm or 8pm. Halloween in the city can get a little rowdy depending on where you are, so it's best not to stay out too late. "Don't overdo it," says Will Kukin, another parent with experience in trick-or-treating in NYC. "You'll get plenty of candy if you only walk down a couple of streets."
Where to Trick-or-Treat in NYC
It can be tricky to find a solid spot to trick-or-treat in the city, but there are plenty of options. If you live in a larger apartment complex, check to see if they have organized a trick-or-treating event. Many buildings will have sign-up sheets where tenants can let people know if trick-or-treaters are welcome there. This might not be the only place you'll want to go, but it's a great place to start if you want to build confidence for when you venture out into the greater city.
If you want a more traditional experience, neighborhoods with brownstones are usually filled with enthusiastic homeowners that have plenty of candy to give away. "Most of them have people waiting on the steps or at the gate with candy to give out," says Will. "You don't have to ring any doorbells."
Depending on the neighborhood you're in, storefronts will get involved too. "We joined our friends in Windsor Terrace last year," says Peña, whose friends assured her that their neighborhood was great for trick-or-treating. "There were mostly townhomes, row houses, and a few businesses participating. Everyone was incredibly friendly, and there were lots of decorations, which put us in the Halloween mood."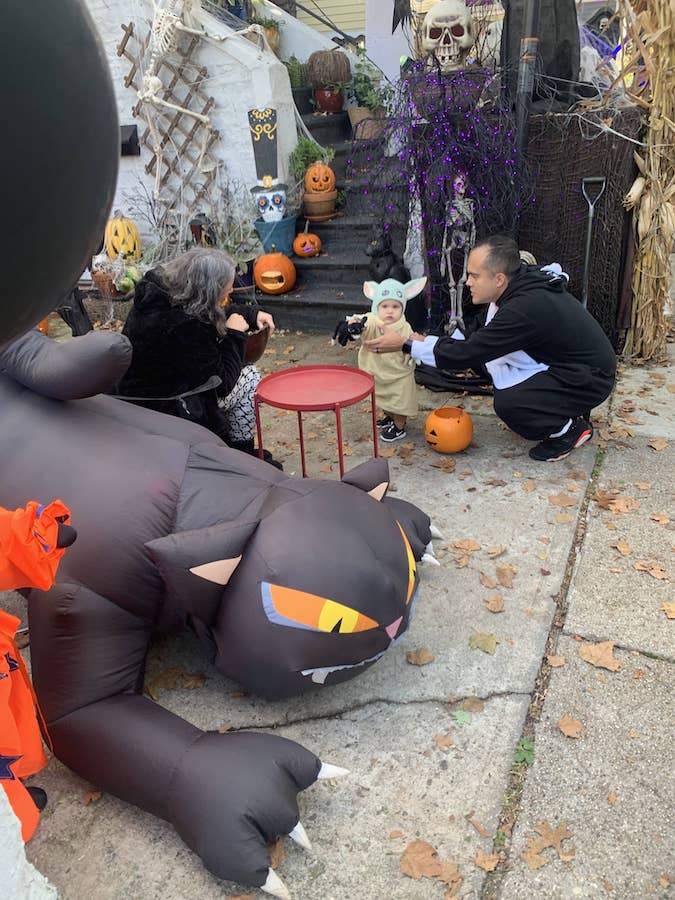 Most parents we asked agreed that brownstone-heavy neighborhoods, Park Slope, Astoria, and the Upper West Side are great places for trick-or-treaters. There are no rules against going to other neighborhoods for free candy, so it'd be beneficial for parents to scout areas that they think would be a good fit for trick-or-treating. Places that go all out on Halloween decorations are safe bets when it comes to trick-or-treating prowess.
General NYC Trick-or-Treating Advice
Many of the people we asked had similar pieces of advice when it came to trick-or-treating, especially for first-time parents. For example, many parents advocated for going with a group. Peña did so last year, saying, "It was more fun for us, and gave us confidence as new parents." Going in a group is especially beneficial for those with younger children, who get to have their first trick-or-treating experience with their friends and loved ones cheering them on. This will also help them build confidence in a safe, structured environment.
Another piece of advice we've heard over and over can be best summed up by Will Kukin, "Stick to a small area." As excited as your children might be, sticking to small, planned routes can make all the difference in the world when it comes to trick-or-treating. Kids, especially younger ones, can get tired pretty quickly, especially with all the excitement of free candy. Sensory overload is a concern for many families, too, given all the folks running around and a large number of decorations and flashing lights. Sticking to smaller areas can solve all these problems by ensuring families won't be out too late.
In addition to parents' advice, the city itself has a few pieces of wisdom to share. One of the biggest and best pieces of advice they offer is about costumes themselves. Children can get creative, but they should never wear a costume that restricts movement or causes them to trip as they walk. Additionally, parents should ensure their kids' costumes don't impede their vision in any way. The best way to ruin Halloween is with an injured kid, so parents should do everything in their power to avoid that.
In that same vein, parents should also avoid candies that are unwrapped or in packages that appear to be tampered with. Situations where strangers mess with Halloween candy are extremely rare, and it's not at all likely to be an issue. Still, checking the candy packaging won't hurt anyone, and taking candy that doesn't come in packaging at all sounds very gross. So probably best to avoid that scenario altogether.
Trick-or-Treating Don'ts In NYC
While we've primarily focused on advice that will lead to a great trick-or-treating experience, there are many situations that can turn Halloween into a bad time for you and your kids. These situations can also be dangerous for other people. For example, the city reminds parents that trick-or-treaters should stick to the sidewalks and stay out of the roads. Some will be closed for the convenience of trick-or-treaters, but most will still be open and will, quite possibly, have more traffic than normal, especially in neighborhoods that receive visiting families on Halloween.
Another big no-no is entering homes for candy. Many folks in the city like to add a little pizazz to the trick-or-treating experience. One parent we interviewed even said someone on their street was dressed as Dr. Fauci and gave parents "medicine," which was actually a small amount of wine. This is delightful, and people might even have games that are a bit more family-friendly on their front porches. However, the city recommends not letting your children enter strangers' homes for very obvious reasons. Children should stay in sight of their adult supervision at all times, especially if they're traveling in a larger group.
One thing to avoid is traveling with a group that's too big. While traveling with groups has been strongly encouraged, it has also been pointed out to us that traveling with too many people can ruin the experience. Some people give out less candy to larger groups, and too many children can be hard to keep track of if there are only a small number of chaperones. Remember, this isn't a party; it's trick-or-treating, and having too many people going the same route at the same time is going to be a logistical nightmare, which can really dampen the vibe of the evening. Stick to around three families at most.
Trick-or-Treating Do's In NYC
Don't just wing your Halloween route. We mentioned the benefits of scouting neighborhoods to see which ones are friendly toward trick-or-treaters, but parents should take care to choose neighborhoods they have some familiarity with. Nothing is worse than getting lost with a bunch of children on Halloween. That's a recipe for a horror movie. Instead, plan your routes in advance, and have your phone fully charged in the event of an emergency. It also pays to have a meet-up spot should anyone in the group get separated from one another. It'll be beneficial to over-prepare when you're a new parent to trick-or-treating in NYC.
Most importantly, don't forget to have fun! Halloween in NYC is amazing! The costumes are top-notch, the decorations are spooky, and the whole town gets in on the fun. It can get a little crazy later in the evening, but that's because the spirit of the holiday is so infectious. When your kids are trick-or-treating, they'll feel it too and want to spend the entire night exploring, making friends, and getting candy. This holiday is supposed to be fun, so don't forget to put on a smile and enjoy yourselves!
Conclusion
Halloween is very big in NYC, and everyone should get to enjoy it. While trick-or-treating might look different here than it does in the suburbs, it's still an awesome experience that your kids will remember for the rest of their lives. To make that memorable experience a good one, just follow the advice we've listed above. Everyone wants their kids to have a great time this Halloween while also staying safe, and the advice of parents who've done it before is extremely valuable. So take it to heart, don't be afraid to ask for help, plan out your trick-or-treating experience, and have a blast!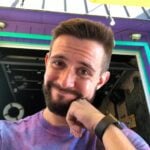 Russell is a writer and comic based in New York City. His plays have been featured at Penn State's Cultural Conversation's Festival, The NYC Thespis Festival, and Imaginarium's Inaugural Theater Festival. Follow him on TikTok and Instagram @pooleparty528