Bed-Stuy Basics
Welcome to Bed-Stuy, the Brooklyn neighborhood full of food, fun, and beautiful brownstone row houses. In the past, when people thought of Bed-Stuy, they usually considered it a less than reputable neighborhood. Those views lack many contexts, especially considering Bed-Stuy's contributions to the Civil Rights movement. An epicenter for Black culture, Bed-Stuy is an extremely diverse neighborhood with a lot to offer.
History of Bed-Stuy
Bed-Stuy is a combination of four smaller neighborhoods from the early days of Brooklyn. These neighborhoods include Bedford, Stuyvesant, Weeksville, and Ocean Hill. These neighborhoods became lumped together as Bed-Stuy in the early 1900s when working-class immigrants and workers formed a solid identity in the area.
By the 1930s, Bed-Stuy held the second largest Black community in the city. Thanks to illegal practices like blockbusting, the area quickly went into disrepair. A combination of racist policy and over-policing led to multiple clashes in the area, which prompted civil leaders to spearhead grassroots organizations that rebuilt the neighborhood into an ideal home for its residents. 
This, with the help of a lawsuit against the racist gerrymandering of the neighborhood, got the city to finally aid in the reconstruction efforts. New York's 12th Congressional District was formed, and in 1968, it led to the election of the first Black woman, Shirley Chisholm, to the US Congress. Since then, Bed-Stuy has grown and thrived and continues to do so.
Where to Shop in Bed-Stuy
View this post on Instagram
Bed-Stuy is full of small businesses that cater to residents' every need. Some of the best stores in the neighborhood include:
Bike Plant
A bike shop that specializes in repairs. They also sell several full bikes and accessories perfect for the many cyclists who frequent this neighborhood.
Bedford Galleries
An antique furniture store with pieces for every room of your home. Their most popular items include chandeliers, love seats, and wardrobes. They also buy antiques that are in good condition.
Skinblu
A popular tattoo shop with some of the best tattoo artists in New York City. Their work is known throughout the borough, and their prices are extremely competitive.
Bed-Stuy Landmarks
As an older neighborhood, Bed-Stuy has many older buildings that are protected landmarks. Most are in the same area called:
The Stuyvesant Heights Historic District
This historic district was built between 1870 and 1900, becoming a landmark in 1975. In 1996, the district was expanded to include 577 historic buildings, including Our Lady of Victory Catholic Church and St. Phillips Episcopal Church.
Where to Eat in Bed-Stuy
View this post on Instagram
Bed-Stuy is full of delicious restaurants that are perfect for a night out. Some of the best include:
Cheri's Bed-Stuy ($$)
A southern comfort food restaurant that will make you feel right at home. This restaurant comes from Harlem native Torri Clayton, who wanted to bring the food she grew up with to the area.
Saraghina Pizzeria ($$)
A classy pizza joint with a wide selection of wine. The pizzas here are cooked with a wood-burning stove, and their pasta dishes are out of this world.
Peaches ($$)
A southern restaurant with all-day brunch deals and some amazing mac & cheese. They are also famous for their delectable shrimp and grits.
Guacuco ($$)
A Venezuelan restaurant with delicious tapas, arepas, and empanadas. This family-owned restaurant has been a staple in the neighborhood for years.
Winona's ($$)
A new American restaurant that specializes in natural wines. The dishes here are seasonal, and the menu changes often.
Bars of Bed-Stuy
View this post on Instagram
The nightlife of Bed-Stuy is alive and well, and some of the best bars to see are:
Project Parlor ($)
An outdoor bar where the party never stops. This place has professional DJs who bring down the house and ensure everyone is having a good time daily.
The Coyote Club ($$)
A fun bar for a wild night out or a special event. This bar hosts karaoke nights, trivia nights, and even has live music every once in a while.
Do or Dive Bar ($)
A fun dive bar that hosts many special events like holiday parties and music nights. This place is dog friendly.
Cafes of Bed-Stuy
View this post on Instagram
Bed-Stuy has many places where residents can get a great cup of coffee. Some of the best are:
For All Good Things
A small Mexican cafe with a ton of breakfast food to start your day right. 
Cafe Erzulie
Named for the Haitian spirit of love, this cafe has traditional Haitian food and delicious fresh coffee.
Rita and Maria
An eclectic cafe and bar that serves refreshing meals along with fluffy pastries.
Where to Live in Bed-Stuy
735 Lafayette Avenue
This beautiful boutique condo has private patios, in-unit washers and dryers, and stainless steel kitchen appliances, including a dishwasher.
153 Chauncey Street
This gorgeous building was erected in 1910 and is part of the Stuyvesant Heights Historic District. Several units in this condo are duplexes.
473 Bainbridge Street
This modern condo was designed to look like one of the many row houses this neighborhood is famous for. There's a roof-top terrace and some homes feature a Juliet balcony.
849 Madison Street
This brand new condo is extremely pet friendly and provides most residents with a private patio space.
979 Lafayette Avenue
This garden apartment fits in perfectly with the other row houses on the street and features brand-new construction in their large, bright rooms. 
Traveling in Bed-Stuy
Trains
Several subway lines travel through Bed-Stuy. These lines include the A, C, G, J, M, and Z trains.
Buses
Several bus lines service the majority of this neighborhood. These lines include the B7, B15, B25, B26, B38, B43, B44, B46, B47, B48, B49, B52, B54, B57, B60, B62, and Q24
Bikes and Ride Shares
Bed-Stuy is a drivable neighborhood, and several restaurants and bars here make ride-shares a popular way to get around. There are also many Citi Bike Docking Stations for your convenience.
---
Bed-Stuy is a popular neighborhood that's ever-growing. The food here is amazing, the nightlife is thriving, and the people who live here sing the neighborhood's praises. Bed-Stuy is an important part of Brooklyn history, and it definitely worth checking out.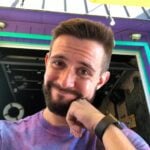 Russell is a writer and comic based in New York City. His plays have been featured at Penn State's Cultural Conversation's Festival, The NYC Thespis Festival, and Imaginarium's Inaugural Theater Festival. Follow him on TikTok and Instagram @pooleparty528