Prospect Heights Basics
Welcome to Prospect Heights, one of the most popular neighborhoods in Brooklyn! Just north of Prospect Park, this area is full of things to do and beautiful places to live. This neighborhood isn't just great for residents, but for tourists as well, with some of the biggest and best venues in the city. Whether you come here for food, entertainment, or just a walk in the park, this place will make any day great.
History of Prospect Heights
In the early days of the city, Prospect Heights was mostly rural farmland and large estates. The area played a large role in the Battle of Long Island during the American Revolution, but the area didn't see much development until the 1800s when the Commissioners Plan of 1839 turned the land into the grid system we know today. Row Houses were built, and the neighborhood quickly became popular with wealthier New Yorkers.
Prospect Park was finished in 1873, and large mansions were built surrounding it. However, as Brooklyn continued to expand, the wealthy residents moved farther away, and the neighborhood became popular with immigrants and the working class. The neighborhood did well for the next few decades until the Great Depression, which forced people out of their homes. Prospect Heights was a low-income area for several decades.
In the 1980s, the city started pouring money into the neighborhood. As people moved back to the area, businesses started cropping up, and the neighborhood sprouted a decent nightlife. Luxury condos started appearing in the early 2000s, which made the area even more appealing. Today, Prospect Heights is a thriving neighborhood with many things to do and see.
Notable Places in Prospect Heights
This neighborhood has some of the most popular destinations in Brooklyn. The three most famous include:
The Barclays Center
Home to the Brooklyn Nets, this arena hosts some of the biggest sporting events in the city. Mainly used to host basketball games and wrestling events, this venue also puts on special performances like Disney on Ice.
Prospect Park
The largest park in Brooklyn, this green space is visited by thousands of people on a daily basis. It has everything from wedding venues to a zoo and is a great place for a picnic or bike ride. Nothing beats this park on a sunny day.
The Brooklyn Museum
This art museum is enormous and features paintings, sculptures, and even performance art. There are many educational programs for both children and adults, as well as volunteer opportunities for those interested in the art world.
Shops of Prospect Heights
View this post on Instagram
This area is great for shopping, especially near the Barclays Center. Some of the best stores in the area include:
Kith
This clothing store has several locations in the city, but the one in Prospect Heights is the flagship store. They have everything from formal attire to comfortable winter coats and even sell shoes and accessories.
Minus Moonshine
This store sells specialty drinks. Specifically, non-alcoholic alternatives that still taste amazing. They have alternatives for beer, wine, and even spirits like whiskey and tequila. These drinks are delicious and a perfect way to enjoy a beverage while staying sober.
Vinnies Styles
This men's clothing store is full of fresh styles. Whether you want hats, jackets, or even swimming gear, this place has it in styles that are distinctly Brooklyn. The vibe of this place draws in folks from all walks of life.
Where to Eat in Prospect Heights
View this post on Instagram
Prospect Heights is full of delicious restaurants that have garnered fame. Some of the best in the area include:
Piquant ($$)
This American restaurant specializes in southwestern food, and many of their meals have a Latin twist to them for an extra blast of flavor. Colorful and delicious, this place is popular amongst those seeking high-end food at an affordable price.
Faun ($$$)
This Italian restaurant has been featured in the Michelin Guide several times, and is one of the best restaurants in the city. They have special menus for select holidays, like Valentine's Day, and they always have something new to try.
Olmsted ($$$)
This American restaurant has been featured in several food magazines and was a finalist for the James Beard Foundation's Best New Restaurant list in 2017. Their seasonal menu always uses the best ingredients.
Alta Calidad ($$)
This Mexican restaurant is one of the best in the borough and has been featured in Eater and the Michelin Guide. They offer menus for dinner, lunch, and brunch, all of which have fresh, delicious meals to choose from.
Chuko ($$)
This Ramen restaurant prides itself on a rich culinary tradition. Serving some of the best-looking ramen in the city, this place is always packed and delivers savory soups right to your door if you live in the neighborhood.
Bars of Prospect Heights
View this post on Instagram
Prospect Heights has a rich nightlife full of fun bars. Some of the best bars in the neighborhood are:
Weather Up ($$$)
This cocktail bar has been around since 2008 and has been serving amazing signature drinks since that time. The vibe is that of a dive bar, but the drinks here will knock your socks off. They recently opened another location in Tribeca due to its success.
Bearded Lady ($$)
This bar is incredibly fun, and serves some great bar food alongside delicious drinks. Their outdoor space makes it very popular in the summer, and they even host events like weddings and parties.
Branded Saloon ($$)
This LGBTQ+ bar has been a staple in the neighborhood for over a decade. They host a ton of events like Karaoke, live music, and holiday parties. A source of pride in the area, they have many great things to eat and drink.
Where to Live in Prospect Heights
This neighborhood is extremely popular, and people move here all the time. Some of the best places to live here are:
349 Prospect Place
This new condo building has six units on four floors. These apartments are great for young professionals and feature private outdoor spaces, stainless steel kitchen appliances, and hardwood flooring.
567 Vanderbilt Avenue
This rental building was constructed in 1930 and is a great example of a historic row house in the area. This house has seven units, all of which have seen recent renovations, including new flooring and updated kitchens.
550 Vanderbilt Avenue
This condo was constructed in 2017 and is one of the most luxurious buildings in the neighborhood. Amenities include a fitness center, a rooftop deck, and a community room. These units are huge and great for families.
836 Bergen Street
This rental building is right on the border of Prospect Heights and Crown Heights. Built in 2008, this building has a fitness center, media room, and a large laundry facility. Some of the homes here have private outdoor spaces.
375 Lincoln Place
This co-op is another great example of a historic building in the area. A former mansion, this building has huge apartments that are amazing for families. The building even has a fitness center and a laundry room.
Traveling in Prospect Heights
Prospect Heights is a smaller neighborhood, and there are a lot of ways to get around. Some of the best ways to travel in this neighborhood include:
Trains
The New York City subway system services Prospect Heights via the B, D, N, Q, R, 2, 3, 4, and 5 trains. All of these trains arrive at the Barclays Center. The 2 and the 3 train travel down to Prospect Park and the Brooklyn Museum.
Buses
The New York City bus system services Prospect Heights via the B41, B45, B65, B67, and B69. These buses cover the entire neighborhood and even go through Prospect Park.
Rideshares and Bike Rentals
This neighborhood is rather small and extremely walkable. That said, there are other ways to get around. Traffic here is rather light, which makes rideshares a great option. Many people in the neighborhood also have their own cars thanks to the ample parking in the area. Biking is also a popular option here. Prospect Park has miles of lanes, as does the rest of the neighborhood. While many residents own their own bikes, there are also many Citi Bike docking stations. Since the neighborhood is so small, all of these methods of travel are easy and inexpensive.
---
Prospect Heights is a neighborhood with many things to eat, drink, and do. While mostly residential, people come from all over the country to watch a basketball game at the Barclays Center, smell the flowers in Prospect Park, and see innovative art at the Brooklyn Museum. The restaurant and bar scene makes the area a popular brunch spot for visitors and locals alike, and many of these places also make for a romantic evening. The living situations here are varied. One can live in a piece of history or a luxury highrise. No matter how you spend your time in Prospect Heights, you can rest assured that it will be well spent.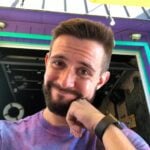 Russell is a writer and comic based in New York City. His plays have been featured at Penn State's Cultural Conversation's Festival, The NYC Thespis Festival, and Imaginarium's Inaugural Theater Festival. Follow him on TikTok and Instagram @pooleparty528