Working out in NYC can be a challenge. Gyms can be ridiculously expensive if you can even find time to go. Tons of gyms are making tons of money from people who buy subscriptions but never go. This is fine if you can afford it. However, if you're tight on cash, those gym costs can add up fast. Luckily, there are many alternatives to gym memberships that let you work out for cheap or even free! Some of the best membership alternatives include:
Free Gyms and Classes
Equinox Guest Passes
If you can't afford a gym membership, find a rich friend who can! Equinox gyms offer seven free guest passes to many of their members, and this guest pass will allow people to work out in the gym for free for a week. Guest passes are limited, so you can't keep getting new ones. However, if you want to work out with a friend or explore a new gym, this is a great way to try Equinox without committing to anything.
Blink Fitness Guest Passes
Another method that requires a friend with a membership, Blink Fitness, allows members to bring guests to every workout session. Only one guest can be brought in at a time, so make sure you're that one guest that always gets invited. Blink is one of the fanciest gyms in the city and has a ton of free weights and equipment. They even offer classes so you can get help with your workout.
Free Crunch Pass
Crunch gyms are some of the most popular in the city, and you can experience a lot of what they offer through a day pass. The day pass is free and gives you access to classes and the fitness center as a whole. If you like your experience, they'll offer you 15% off a membership. If you don't like your experience, there's no obligation to do anything else with the gym.
TMPL
This high-end gym offers a trail pass for first-time gym goers, with no obligation to sign up for a membership. You might have to unsubscribe to a few email chains, but that's part of the gig. The free class offers access to classes and the fitness center, which is a great deal for folks who want to explore the fitness world in New York City. The gym also offers deals to newcomers after their free trial is over.
Alternatives to Gyms
Working Out in Parks
You might think the only way to exercise in a park is by jogging, but most NYC parks have exercise equipment available for public consumption. This equipment is mostly used for bodyweight exercises, but some parks have awesome equipment and even free weights. It might be a bit crowded, especially on nice days, and most of these places are unusable in the autumn and winter. However, these are some of the best free alternatives to a gym membership in the spring and summer.
Free Fitness Classes Provided by the City
The city provides several great fitness classes that are completely free of charge. These classes include swimming, cross-country groups, and memberships to recreational centers. These free classes encourage city goers to get fit and healthy in an affordable, judgment-free way. Everyone deserves a chance to be healthy in a safe environment, and this program provides that.
At Home Workout Alternatives
Youtube Workouts
Youtube might not seem like a great place to find workouts, but there are many experts on there who are more than happy to lead you on your fitness journey. It's good to check out comments and reviews to make sure you subscribe to professionals, but plenty of experts can guide you through yoga, weightlifting, and bodyweight workouts. These professionals are fun and enthusiastic and will have videos of various lengths to fit in with your busy schedule.
Free Weights
Free weights are a great way to exercise in your own home. They might seem a bit cumbersome, especially if you want individual weights. However, many free weights are quite compact. These weights from Bowflex, for example, are adjustable, and each can range from five to fifty-two pounds. It is important to find a manual or expert to show you how to use them properly. Once you know how to do that, personal free weights can change your life.
Body Weight Exercises
If free weights are a bit too expensive, just stick to bodyweight exercises! Push-ups, squats, and crunches are great alternatives. Even pull-up bars are inexpensive. Most are only around $20, will fit most door frames, and provide an amazing workout. Again, it's helpful to find a professional to help guide you on your exercise journey, but bodyweight exercises can make you just as strong as people who weight lift.
Fitness Bands
A good alternative to both free weights and body weight exercise, fitness bands are an easy and portable way to get your fitness on. Fitness bands are better for your joints than weights and bodyweight exercises, and they are super flexible. Almost any exercise you can do in a gym, you can do with fitness bands. They are also inexpensive and easy to find on Amazon, Dick's Sporting Goods, and many other stores.
Apartment Complex Gyms
Many apartment complexes now have fitness centers as an amenity. These gyms can be small or large, but their equipment is usually pretty good, ranging from machines to free weights to cardio workouts like treadmills and stair climbers. Not every complex has a fitness center, but the ones that offer this are a great alternative to the busy gyms in the city.
Things to Avoid When Exercising in NYC
Don't Exercise on Bad Equipment
If you've been in the city for a while, you might've noticed people exercising in interesting ways. For example, every New Yorker has seen a guy exercising on painter scaffolding. Don't ever do this. For one, no one wants to see you exercising there. You'd be blocking the sidewalk, and doing pull-ups on that stuff is not only weird, it's also dangerous. Scaffolding in NYC can be old and unstable. If the scaffolding collapses because you're doing pull-ups on them, you could end up seriously hurt.
Don't Exercise Under the Influence
It's important to exercise while you're clean and sober. Some gyms offer late-night classes, and others are open 24 hours daily. If you go during these hours, you will likely see someone under the influence. This is a horrible idea. Working out is hard enough when you're sober. Under the influence, you are more prone to injury. Plus, you could be banned for life if the gym catches you. All around, it's better to be hydrated than intoxicated at the gym.
Things to Do When Exercising in NYC
Consult With a Professional Before Trying a New Workout
Working out can be a lot of fun, but it can also be dangerous if you go about it wrong. Seeking a professional or well-researched literature on the subject can help save you from injury. Even if you don't suffer a major injury, working out in an unsafe way can destroy your joints. Save yourself a future on weak joints and hospital bills, and start with a professional opinion right away.
Make Sure to Prep Well
Working out is a strenuous activity, so it's important to prepare for your workout, so you have the energy and flexibility to do it well. You should eat a healthy meal an hour or so before exercising. Make sure to be well hydrated to avoid cramping and stay level-headed. Lastly, warm up before you exercise. This will help you be flexible and avoid injury. These simple steps are very important aspects of a workout routine, especially if you're working out in the park or in your own home.
Take Breaks
Fitness junkies will tell you that you should be hitting the gym every day of the week. Some people even go multiple times a day. However, this can get tedious and exhausting. Your body needs time to recover, and it's okay to rest. Working out every other day, or switching up your workout routine, can be super beneficial. Your body needs rest, and there's nothing wrong with that. Don't take too many days off, as it'll be harder to keep up with your current routine. That said, taking a day or two off is never bad when you need time to rest.
Have Fun!
Working out is supposed to make you healthier, but it's also supposed to be fun. Exercise is often seen as a chore, but it doesn't have to be that way. Working out can be a lot of fun if you find the right routine. Whether swimming, biking, running, weight lifting, or anything else, working out can be the best part of your day. There are a ton of workouts that are easy, fun, and will still challenge you. You might have to try a bunch of workouts before finding the right one, but that one is out there waiting for you.
---
Working out in NYC can be expensive and difficult. It's not easy to find an affordable gym, it's not easy to find the time to exercise, and it can be hard to find the right motivation to do it. However, there are alternatives to the gym. Try short exercises you can do daily, and the right motivation will come along eventually. Working out in the city doesn't have to be a nightmare. You just have to figure out a way to make it fun and safe. Then you'll be on your way to a healthy lifestyle.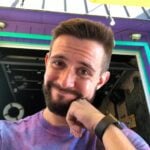 Russell is a writer and comic based in New York City. His plays have been featured at Penn State's Cultural Conversation's Festival, The NYC Thespis Festival, and Imaginarium's Inaugural Theater Festival. Follow him on TikTok and Instagram @pooleparty528