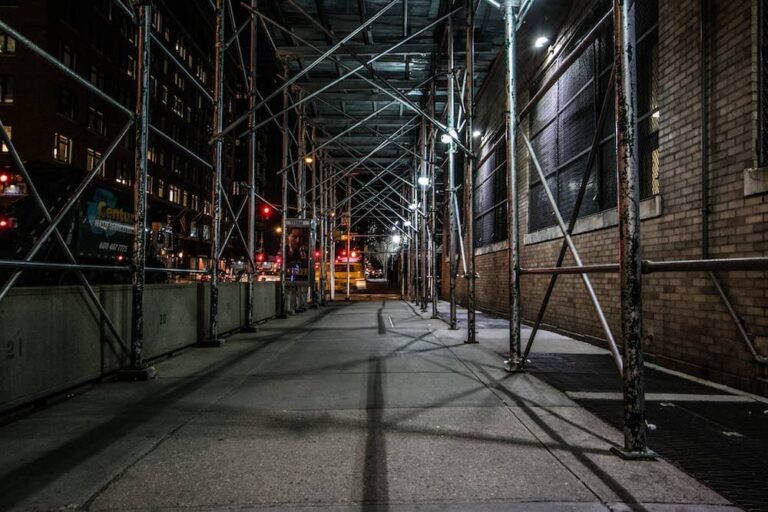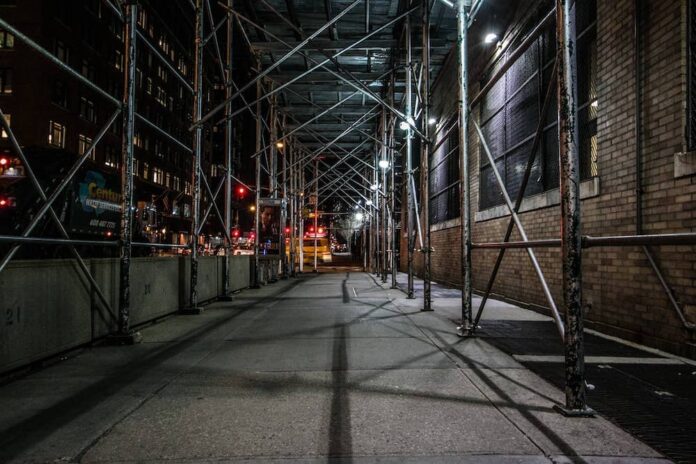 New York City has some of the most beautiful buildings in the United States. From the art deco-style skyscrapers to haunted mansions. From Victorian homes to cast-iron facades. There are even tudor style homes in Queens! Yes, NYC's architecture is truly something to behold. But no structure of New York is more versatile, controversial, and confusing than scaffolding. A staple of the city, scaffolding is put in place whenever construction or a touch-up is needed in NYC. As of June 2021, 8,900 scaffolds surrounded buildings in New York City, leading to jobs, shelter from the rain, and providing a place to do pull-ups for those who are desperate for validation. And yet, most New Yorkers don't seem to appreciate how long some scaffolding is up.
According to the Active Sidewalk Shed Tracker, scaffolding stays up, on average, less than a year. However, there are many scaffolds that have been up for a number of years. ABC 7 even recently did a story about scaffolding that has been surrounding a landmarked school for around seven years. The parents of the school are livid because it looks ugly. They also say it's unsafe, even though that doesn't seem to be their top concern, saying only, "you hear stories of bricks falling on people." 
However, these parents seem to only scratch the surface of these "falling debris" stories. The events we've found of bricks falling and killing people usually happen when no scaffolding was put in place. One such instance happened in 1979, and this tragic event actually led to the city inspecting buildings every five years to ensure facades were safe. If they weren't, scaffolding sheds were to be placed around the buildings so nothing like this would happen again.
Even though it's a safety measure, these parents have a right to be upset. On the ABC 7 report, one parent even pointed out, "It took a year and 46 days to build the empire state building." Granted, that doesn't exactly have the best and injury-free history…
So why was this scaffolding up for so long? According to the construction company, they were delayed due to COVID and a search for a new contractor slowed the process down even more. But while that explains this specific scaffolding, it doesn't explain some of the others that have been around for years, and even decades. One landmark building in Harlem has had scaffolding up for 15 years.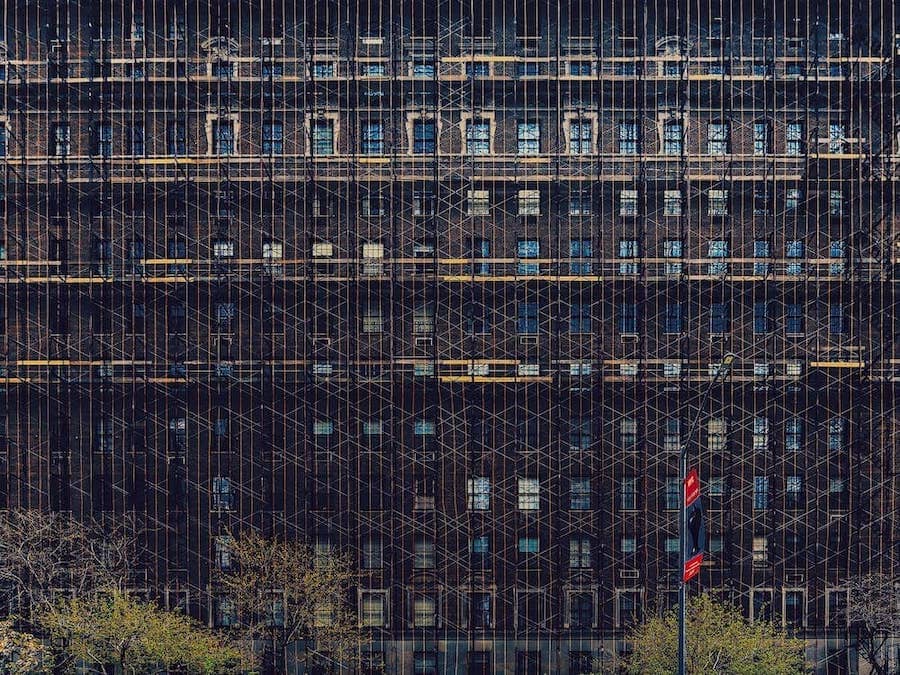 Scaffolding across the city can remain on buildings for a longer period of time due to any interruptions in the work that's being carried out. COVID didn't help, obviously, but generally speaking, the weather in NYC is one of the main reasons why work can be delayed. That building in Harlem? The work that the construction company had completed was struck by lightning which essentially undid any progress that was made. Unfortunately, the project then ran out of money, so the scaffolding remained up until more money could come its way.
While the weather is definitely one big issue, New Yorkers are going to roll their eyes at this next reason for why scaffolding may remain up for longer. The truth is that a lot of building owners will just put up scaffolding rather than actually repair the building. Why? Because it's cheaper. Don't ask questions you know the answers to.
The city has since recognized that is a serious issue and has increased inspections and fines, even resorting to fixing the issues themselves and slapping building owners with the bill. So has this increase worked? Are people finally repairing their buildings instead of just throwing scaffolding up to protect pedestrians? Unfortunately, not always.
In 2001 a building in the Bronx was told that the facade of their property was unsafe and that it needed repairs. However, the building owner never started these repairs on the building, opting to throw a scaffolding up in 2011 instead. This landlord has racked up over $49,000 in fines over the span of 20 years. If you're thinking, "they should really drag this guy to court," you're right. They've tried. Seven times, in fact, but the owner ignored every hearing on the safety of the building. And this owner isn't alone. Over $31 million in fines have been ignored in favor of just keeping scaffolding up to protect pedestrians.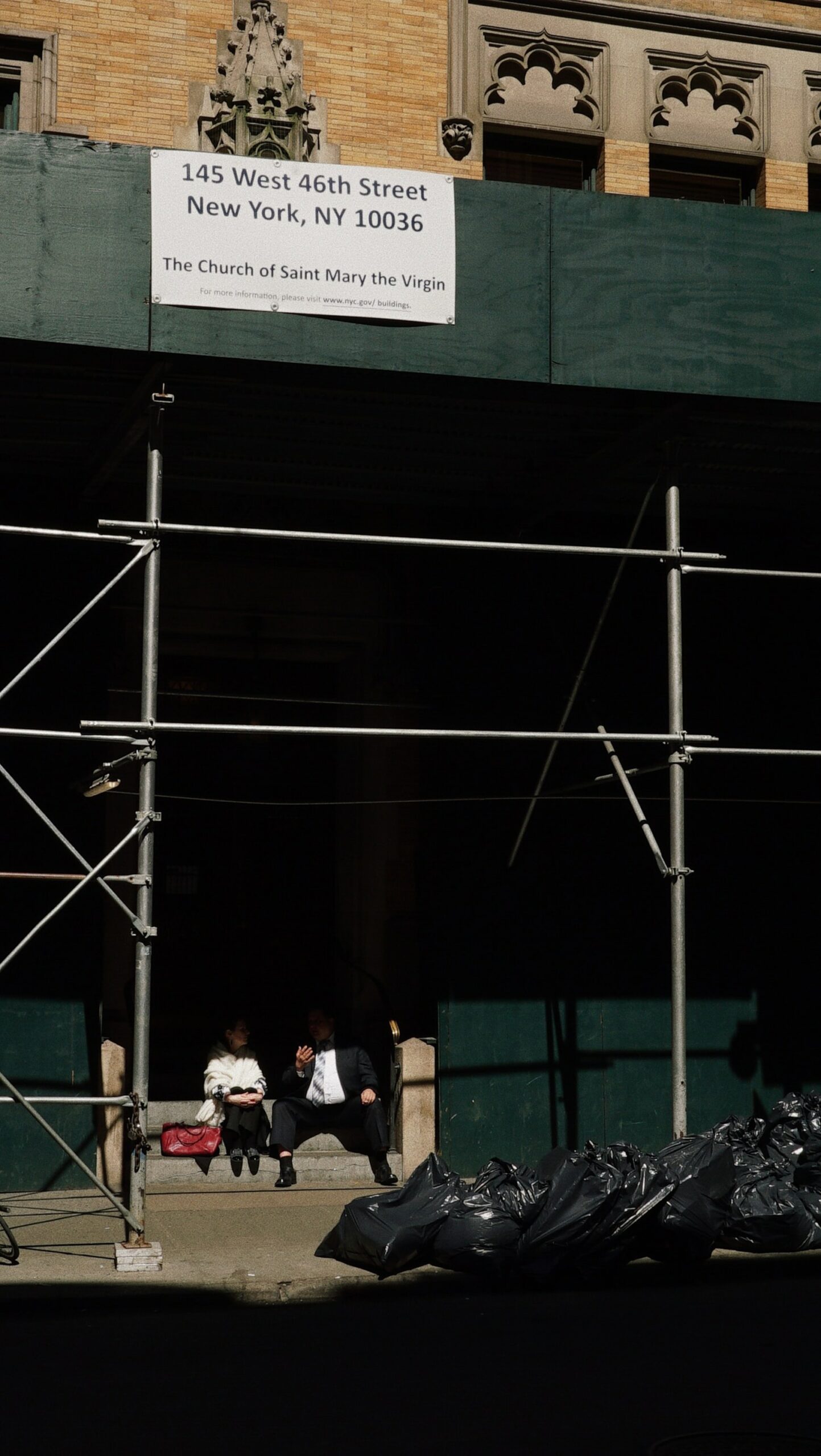 Some of you might be thinking, "So what? If the scaffolding is there, that means no one is getting hurt, right?" Actually, those parents from the school we mentioned earlier were onto something. Like with all things, time and the environment tend to make stuff deteriorate. And remember, much of the scaffolding in the city has been up for well over a decade and has not been maintained since then. There are even warnings on some of these older scaffolding that tell people not to gather under them due to the falling debris. This could mean debris from the building has piled up over time or that the scaffolding shed itself could just fall on you.
Fun to think about, right?
So what can be done about this? For starters, there needs to be more accountability for the building owners. NYC seems to know this and is attempting to put several laws in place, including increased fines and a 90 day limit on scaffolding sheds, effectively forcing owners to fix their building facades within that time limit. There's even discussion of slapping negligent landlords with criminal fines should they ignore desperately needed building repairs. 
We should apologize at this point. The opening paragraph of this article made it seem like a fun adventure into the kooky scaffolding that surrounds the city. However, while none of this is the scaffolding's fault, it's used as a loophole to ignore problems that could, and have, literally killed people.
So is scaffolding good to hide from the rain and do pull-ups under? Absolutely. No one is arguing that. But that doesn't change the fact that it's used as a bandaid for problems that require surgery. Hopefully, the new regulations that the city is putting in place will hold building owners accountable. But, until then, be careful when you exercise in your makeshift gym.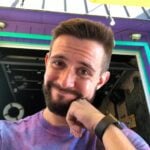 Russell is a writer and comic based in New York City. His plays have been featured at Penn State's Cultural Conversation's Festival, The NYC Thespis Festival, and Imaginarium's Inaugural Theater Festival. Follow him on TikTok and Instagram @pooleparty528