Picture this. It is January 2020 and you are basking in the new year. You have a fresh start at your fingertips, and you know it is your time to shine. 2019 was rough and you are ready to put it behind you. You finally get that gym membership you keep telling yourself you will get. You bought a pair of new sneakers just as motivation and can't wait to show them off. You are doing this for you and only you, nothing can stop you. Things are going great. You have your routine down pat, rarely miss a day, and hold yourself accountable to accomplish all the goals you have set. Then… February rolls around and word about the pandemic strikes the nation. It doesn't seem serious at first, but then before you know it, we are in our first official lockdown. All your plans are now put on pause, people are in danger, the world feels like it is crumbling around you. As if the worst thing that could ever happen in terms of growth has happened and now sets you back a lifetime. You and millions of other people. 
In the midst of a crisis, you are starting to lose hope. You can no longer do the things that kept you going and are secluded indoors all day with very little interaction. Going to the grocery store seems like a daunting task, not only because you're scared of the virus, but because your lack of motivation has taken full effect. You mourn the loss of routine which is one of the only things that got you going in the morning. Life is starting to feel blurred and you are yearning for any sort of viable distraction. 
Over FaceTime your friend mentions to you that through word of mouth, an at-home fitness routine was recommended to them and it helped them immensely. So, you take the YouTube link, sit through the 30-minute ab workout, and still feel just as unmotivated as before. But, the concept of figuring out another medium does not seem all so bad. After reading a bunch of blogs you continuously see the name 'Peloton' popping up. With further research, you discover that it is a piece of workout equipment that you can have right in your very home. 
Like I said – you and millions of other people. Writers at Spectrum News covered a very similar story not too long ago regarding the surge of at-home workout practices stemming from the COVID-19 pandemic. With lockdowns set strictly in place gyms all over are closed, so people must find a different way to get their workout fix safely. Joseph Pimentel at Spectrum writes: "In March, free weights sales jumped 181% compared to the previous year; weight benches saw a 259% uptick, stationary bikes, a 170% uptick, and yoga mats, 146% gains year-over-year.
According to reports, eBay saw a 1,000% increase in at-home fitness equipment from March to April of 2020". Statistically, these numbers are significant. YouTube creators that cover fitness content are benefiting from this greatly due to the number of people searching for a way to work out while also being socially distant. You can get the same advice a trainer would give you from the comfort of your own home, what's so bad about that? 
A Break Down of the In-Home Workout Equipment
Peloton, Eragatta, Tonal, and Mirror are all pieces of equipment that can settle themselves comfortably in any space of your home, giving more of a catered and luxurious experience compared to a YouTube video. The one other thing all these items have in common is that they create a sense of community during such a lonely time. 
As far as equipment goes, all these companies are unique and give you lots of choices to pick from. Tonal is a unit mounted on your wall with a large display and the ability to lift weights without having to worry about racking or re-racking them. The Mirror is a classy full-length mirror that fits with any home decor but doubles as a fullscreen workout display for an instructor of your choice to lead you along through a large variety of workout classes. The Ergatta is a sleek and compact rower that allows you all the freedom of rowing on the open water, all from the comfort of your own home. Lastly, there is Peloton, where you can choose from the treadmill, bike, or just a monthly subscription for equipment-free classes. All mentioned workout amenities have the option where you can interact with others. 
For example, Peloton has a function where you can do classes with a friend if they also have a Peloton. With a built-in camera on their spin bikes, you can essentially "FaceTime" a friend while taking the same class as them. Miss working out with a buddy? There's your remedy. Want to take part in a competition because you miss the intensity of competing? Don't worry, all devices have the option to compete with other users whether it be in races or simply looking at a leaderboard for the class. Wherever you may find a grey area in-home workouts, these companies have got it covered. 
The workouts that these companies offer can also be personalized to the T and catered toward exactly what you are looking for. The only downside is, is that it costs money. And it is not cheap. A Peloton spin bike starts out at $1.5k with all the base features minus all the bells and whistles. Then you have to purchase any extra equipment you may want to use during your workout sessions: dumbbells, yoga mat, yoga blocks, sweat towel… The whole nine yards. Not only that, but then do you have to pay a monthly fee of $13 to even use the classes they offer. It comes with a wide array of choices that you can also stream to your TV or do on your smartphone, but it is still an extra cost. The other products mentioned are really no different. One way or another you will have to be ready for a large expense if you want to proceed with an at-home workout outside of YouTube. 
From personal experience, I am a big fan of Peloton and know many people that use and adore the products from other companies. It gives you something to look forward to, something to work toward, and gets that serotonin flowing. Let me tell you, I am not an active person whatsoever. I do not enjoy working out or even breaking a sweat for that matter, but there is nothing wrong with doing some slow-moving yoga on a Thursday afternoon. If you are interested in any of these home-workout products I highly recommend just going for it. Don't worry, you can always return it.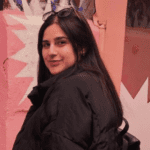 Carly is a freelance writer with interest in topics pertaining to lifestyle blogging, social justice, and anything to do with film/media. She graduated from the University of Wisconsin - Madison with a degree in English & Literary studies in hopes to write for a large music publication. When she is not writing, you can find her watching movies, cooking her famous Carbonara, and enjoying time outdoors.