Meet Bernard Arnault, this week's billionaire and the newly minted richest person on the planet. Practically any luxury brand you can think of is owned by Bernard Arnault, or LVMH. Want to try? Here's a list: Louis Vuitton, Moët & Chandon, Hennessy, Christian Dior, Bulgari, Celine, Givenchy, Fendi, Tiffany, Sephora – and these are just a few. The company is divided into segments: wine and spirits, fashion and leather goods, perfumes and cosmetics, watches and jewelry and select retailing. All luxury brands, nothing else. He also owns 3 newspapers and one magazine. With a net worth of $188.6 billion according to Forbes, this French magnate is indeed an intriguing man. 
Career/Life Highlights
In Arnault's early career, he heard the business Boussac Saint-Frères empire, a textile and retail conglomerate that owned Christian Dior, was looking for someone to take over. Skipping the details, Arnault ultimately bought Boussac, and when he did, he laid off over 9,000 employees in the first 2 years, earning him the early nickname "the Terminator." 
Unlike fellow billionaire Elon Musk, who created his businesses from nothing but an idea, growing them into the empires that made him the former richest man in the world, Arnault has a great eye for fashion and the luxury industry mixed with a shrewd business acumen. In fact Ye said at one point in time that Arnault is one of his heroes and when asked about his feud with Drake at that time, that he thinks more about "Arnauld than Drake". This comes even if he may harbor ill feelings towards Arnault after Virgil Abloh received a position at Louis Vuitton over Ye. 
Arnault uses his aggressive style and savvy business sense to take over any business he chooses where an opportunity may lie. And boy does he choose well, only going after luxury brands he feels are up to the extremely high standards of LVMH. He typically goes after established luxury brands that have already proven to be timeless, watching for the opportunity to take the largest majority in stock holdings. 
He has been accused of using his influence in various instances, as he is friends with the French President – and was friends with the previous French President, as well. While inspired by Warren Buffett and Steve Jobs, Arnauld has received criticism for some of his business practices. In 2017 it was discovered that his large factories for Louis Vuitton shoes were in Romania, where the workforce is cheap. This became a problem due to the Louis Vuitton brand's claim to value its heritage and operate in Italy using an Italian workforce. However, a spokesperson for LVMH rejected the claim.
Arnault also applied for citizenship in Belgium, presumably to avoid taxes, although when that was questioned, he dropped the process – making the whole thing even more suspicious. 
The man himself is soft-spoken, polite, cultured – just as you would expect one of the top richest people on earth to be. Arnault is a trained classical pianist and an avid art collector, with works in his personal collection by Andy Warhol, Picasso and countless others. He lives a life of pure luxury as he owns a private island that is "invitation only", a private luxury yacht and some fabulous real estate – which we will get to, of course
Bernard Arnault's Real Estate Portfolio
And now, it's time to get to the section we've all been waiting for – Bernard Arnault's real estate! It is truly a massive and impressive portfolio, fit for the richest man in the world, but only in cost. People have reacted before that the portfolio could be larger, but even still, he has too many homes to live in!
Keep in mind he owns jets (well, before he sold them so people on Twitter wouldn't track him), luxury cars, and one of the largest yachts in the world. The yacht is a 150-foot superyacht that cost $150 million, has a glass-bottomed pool, an outdoor cinema theatre and jacuzzi, among countless other guilty pleasures.
Like many of the ultra-wealthy, Arnault is private, so it is rare to see the insides of his homes, and there is scant information about the estates, but let's start with Arnault's main residence.
Bernard Arnault's French Real Estate
Arnault's castle is surrounded by the vineyards of Bordeaux, France, and is over 150 years old. Having been in the family since 1998, the property covers 41 hectares. 
Arnault owns 25 wineries around the world, one of which is in Burgundy which is almost 25 acres large that he purchased for 10 million euros.
In the French Alps, Bernard's Cheval Blanc is a glamorous hotel used for both business and personal matters. There are 34 rooms in the luxury hotel, a private chalet, a penthouse, a heated swimming pool, a jacuzzi, and fitness center. 
Arnault additionally owns château Saint-Rémy-des-Landes in  Clairefontaine-en-Yvelines and a villa in St. Tropez.
Bernard Arnault's United States Real Estate
Arnault owns 5 homes in Beverly Hills, CA. right here in the USA, totaling $125 million. Two are located in the Trousdale Estates neighborhood, while another two are also right next to each other on the infamous Bird Streets. 
Arnault reportedly bought one of those homes in the Trousdale Estates neighborhood of Beverly Hills for $30 million in 2018, to complement a neighboring parcel in 2016 for $32.5 million. It's 6,400 ft², and he was building a house on the combined 2.84 acres. 
It may be possible to stay in one of his "properties" as LVMH's Hotel Cheval Blanc Beverly Hills, a rendering seen below, is planned for Rodeo Drive and could receive final city council approval soon.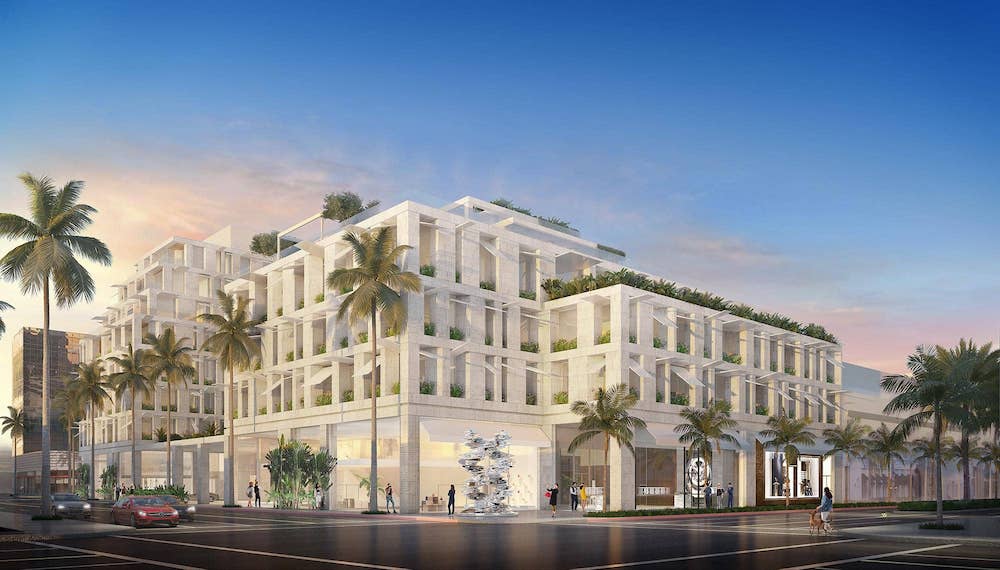 Other Notable Arnault Real Estate
In 2000, Arnault purchased a 318-acre plot of land called Lyn Park, that is 30 kilometers North of London, on which he built a luxury villa of 4,300 m2.
Lastly, Renault owns Indigo, an entire island he purchased for $35 million located in the Bahamas. The island is 133 acres, and guests can only access it with a private invitation. Once again, it must be nice to be so exclusive.