Flatiron Basics
Welcome to the Flatiron District, the neighborhood named after one of NYC's most iconic buildings! When people think of Flatiron, they think of a tourist paradise full of special stores, fun bars, and even a park. All of this is accurate, but the neighborhood is fun for locals too. Surrounded by Nomad, Gramercy, and Chelsea, this area is in the heart of the action, full of beautiful architecture and fun activities.
The History of Flatiron
The Flatiron District was originally a gray area in the city. The neighborhood was built up with everything else surrounding it. The Flatiron Building, the namesake of the neighborhood completed in 1902, was considered one of NYC's first skyscrapers, but even that couldn't make the area stand on its own two feet. Split between Gramercy and Chelsea, the area was sometimes called the Toy District due to the many commercial enterprises there.
The neighborhood wouldn't be dubbed "Flatiron" until 1985 when real estate developers were trying to sell it to potential renters and homebuyers. The name stuck and attracted, not just residents, but businesses as well. Of the many skyscrapers that pepper the neighborhood, many are commercial, with tons of firms, software companies, and other businesses calling the area home.
Where to Shop in Flatiron
View this post on Instagram
Flatiron has many unique stores that are a hit with locals and tourists alike. Some of the best places to shop in the neighborhood include:
Showplace Auction House
This antique furniture store is full of unique finds. They specialize in furniture, but they also sell art, lighting, and much more. If you're a fan of vintage materials and décor for your home, this place is definitely worth checking out.
Abracadabra
This magic and costume shop are especially popular on Halloween, but it's also open year round. They also include props and decorations so your party can have an extra flair to it. The costumes are very affordable and the décor is festive and fun.
Flower You
This floral shop is full of beautiful bouquets and arrangements that are perfect for any occasion. Whether buying a gift for a hot date, or showing a family member you care, these flowers are sure to brighten anyone's day.
Landmarks of Flatiron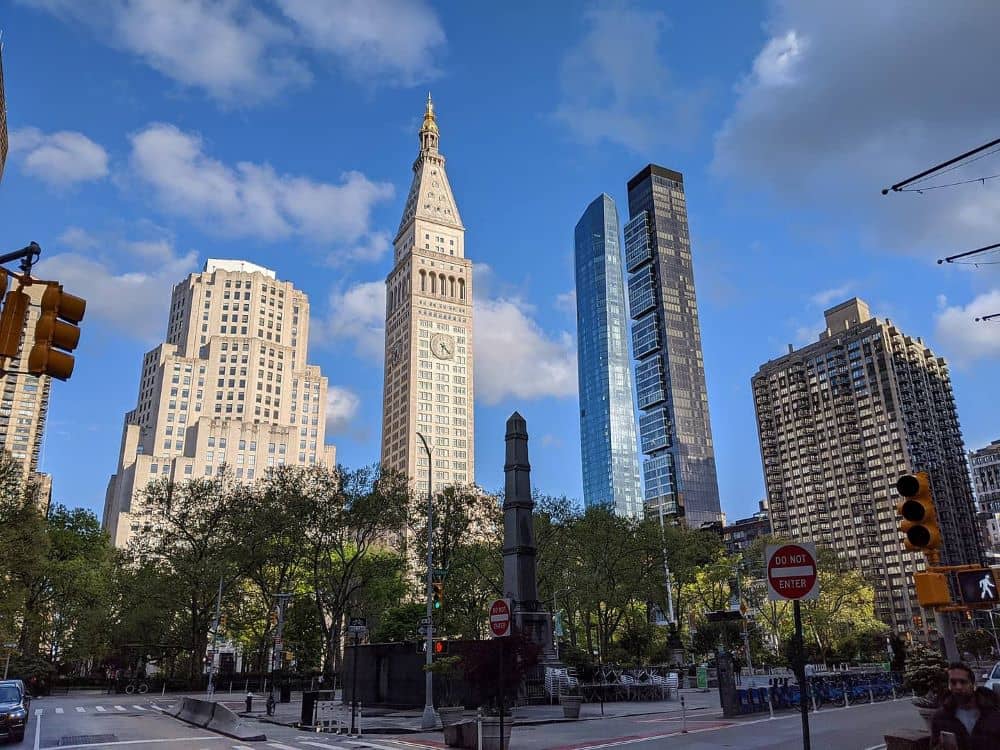 Flatiron is full of landmarks and places to see. Some of the most iconic locations here include:
The Flatiron Building
This structure was built in 1902, and made a landmark in 1966. The building is one of the most unique skyscrapers in NYC, and was one of the first skyscrapers to grace the city at all. Home to many businesses, this building is one of NYC's favorites.
Madison Square Park
This park is one of the most frequented in the city, and it easy to see why. Full of greenery, fountains, and beautiful flowers, this park has a little bit of everything. Bring the kids for a picnic, or your dog for a run, and see what this park is all about.
New York Life Building
The original home of Madison Square Garden, this building was built in 1928 and received landmark status in 1972. The building takes up an entire city block, and the golden pyramid that stands atop it is one of NYC's most iconic images.
Where to Eat in Flatiron
View this post on Instagram
Flatiron is full of amazing restaurants that serve a wide variety of cuisines from all over the world. Some of the best in the neighborhood include:
Eleven Madison Park ($$$$)
This fine dining establishment might seem like an ode to the super wealthy, but every meal eaten here helps pay for New Yorkers experiencing food insecurity. Along with the plant based tasting menu, there are many reasons to try this place out.
Baodega ($$)
If you like Dim Sum, then this is the place for you. This restaurant specializes in the dish, and has a variety of other meals that will wet any appetite. They have a ton of cold dishes, soups, and family style platters just waiting for you to dig into.
COTE Korean Steakhouse ($$$$)
Credited as NYC's first Korean Steakhouse, this place is fancy, cool, and delicious. This restaurant blends Korean BBQs with American steakhouses for a blend that will satisfy any meat lover you could find.
Junoon ($$$$)
One of the best Indian restaurants in the city, Junoon is a refined taste of one of the most decadent cuisines in the world. With a Michelin Star, you can't go wrong with your order here, as everything is deliciously cooked to perfection.
Cosme ($$$$)
One of the best Mexican restaurants in the city, this place is subtle, yet extremely delicious, even including a special beverage program that you can participate in while you eat. They also serve a brunch that is out of this world.
Bars of Flatiron
View this post on Instagram
Any place with great food is going to have a great bar scene, and Flatiron is no exception. Some of the best bars in this area include:
Thyme Bar ($$)
This cocktail bar is found in the basement of a pre-war building, giving it some serious speakeasy vibes. They have a regular menu and a tasting menu, the latter of which gives guests an inside look into the art and science of mixology.
Slate ($)
This bar and event space is perfect for birthdays and work celebrations. There are a ton of games to play from giant connect four to ping-pong and pool. The best part is the affordable drinks, so you know you'll have an amazing time here.
Shinji's ($$$)
This newer cocktail bar is making waves in the community for being exclusive and creating an extremely personal experience. Not much is known about this small establishment. Only that those who go here will have an unforgettable experience.
Where to Live in Flatiron
Flatiron is home to some of the finest luxury living in the city. Some of the best homes here include:
Flatiron House
This condo is brand new to the neighborhood, and is full of impressive amenities. This complex has a fitness center, garden, and even a large laundry facility, though most homes here come with a washer and dryer.
Madison Green
This condo is huge, standing at 29 stories and holding nearly 500 apartments, all of them large and luxurious. Many of the homes here have a private balcony, and all of them have access to the fitness center, community lounge, and garden. 
Crossing 23rd
This condo has been around since 2004, and most of the homes here have a beautiful balcony space. The condo comes with a fitness center, laundry room, and bike storage, along with a full-time doorman and concierge.
One Madison
This condo was completed in 2009, and is full of luxury homes that feature washers and dryers, hardwood flooring, and stainless steel appliances. The building has a fitness center, children's playroom, and even a large swimming pool.
260 Park Avenue South
This condo was originally built in 1913, but has since been renovated into a modern luxury apartment complex. The halls of this building are covered with beautiful works of art, and the building has a fitness center and rooftop terrace.
Traveling in Flatiron
Flatiron is in the heart of the action, and there are numerous ways to get around the area. Some of the easiest ways to travel here include:
Trains
The New York City subway system services this neighborhood well. Lines that service Flatiron include the 4, 5, 6, N, Q, R, and W trains. They will land you in the middle of the neighborhood.
Buses
There are a number of bus lines that service this area. Those lines include the M1, M2, M3, M7, M23, M55, SIM1C, SIM3, SIM3C, SIM4C, SIM33C, BM1, BM2, BM3, BxM7, BxM10, X63, X64, and X68 among others. They cover most of the neighborhood, though the traffic in the area can get a bit rough.
Ride Shares and Bike Rentals
As stated, this neighborhood is in a dense part of the city, so traffic can get extremely hectic, especially during rush hour. In addition, the streets are on the skinnier side. So, while many of the buildings in the area come with private parking areas, driving and ride shares aren't super popular here. There are plenty of bike lanes here, though, and a decent amount of Citi Bike docking stations, which makes cycling a very popular option in this neighborhood. The area is also rather small, so walking is easily the most popular way to traverse the neighborhood.
---
Flatiron isn't a new neighborhood by any means, but it only had a distinct personality for a few decades. This personality is energetic, classy, and fun. Beloved by visitors and locals alike, this neighborhood has some of the best shops and restaurants in the city. People from all over come to Flatiron to experience some of the best the city has to offer. The architecture, establishments, and vibe here are iconic. If you want to experience it, all you have to do is drop by. Every establishment here is welcoming, and waiting for you to visit one of the coolest neighborhoods around.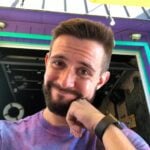 Russell is a writer and comic based in New York City. His plays have been featured at Penn State's Cultural Conversation's Festival, The NYC Thespis Festival, and Imaginarium's Inaugural Theater Festival. Follow him on TikTok and Instagram @pooleparty528