One out of every five New York City commercial spaces currently sit empty. Post-pandemic vacancies have reshaped Manhattan and this country as we know it.
The rental forecast for commercial spaces remains grim as city officials warn Manhattan's abnormally high vacancy rate should persist well into 2026. As of August 2023, Manhattan is currently at 22.7% office vacancy with little hope of recovery anytime soon.
New York City commercial vacancy rates typically hover at a steady 11%, but as the pandemic continued into the early 2020s, those rates climbed to 15% and beyond. Currently, the national average for 2023's first quarter is 18.6%, with cities like Denver and Seattle squarely at 20% vacant.
For many, these vacancies hit close to home- shuttered bodegas, struggling independent shops, and the loss of retail storefronts continues to alter the dynamic of neighborhoods throughout the city. Look closer, and empty offices bleed into transport as well; rush hour subways are only half full, a far departure from an overcrowded past.
Lower and midtown Manhattan and downtown Brooklyn have seen the highest turnover and climb in vacancy rate changes to speak of. Despite receiving the most COVID-19 grant and loan money, businesses and offices continue to empty out.
Manhattan's Troubled Rental Landscape
Spikes in vacancy affect not only landlords and building owners but the city as well. One of New York's most important revenue sources is property taxes. Nearly 20% of New York City's total tax revenue comes from commercial property taxes, with 10% attributed straight to office building rentals. In the first quarter of 2023, 4.6 million square feet were leased in the city, while asking rents for offices in NYC were priced at $78.35 per square foot. In April 2023, the price was at an average of $75.13 per square foot, down 50 cents in a YoY comparison, according to a Colliers market report.
Officials estimate that over half of Manhattan's 450 million square feet of office inventory is practically obsolete.
Manhattan isn't an easy place to open a business. Especially for family-owned shops, the regulatory hoops, and hurdles of rising rent, taxes, and industry competition challenge even the most genuine intentions. Inflation has taken its toll and led to genuine change across the city landscape. Take a walk down Third Avenue in midtown and you can see for yourself. Empty storefronts and boarded windows have sucked the magic out of New York's once-energizing presence.
How Much NYC Office Space Is Actually Being Used? How Much Is Under Construction?
A major contributing factor to vacancies is the underperformance of aged commercial spaces. The shift into remote working left many businesses reconsidering their needs and desires for office space. Pandemic downtime made room for major remodels and full or partial fit-outs as companies dreamed of an eventual return to normalcy. The demand for older buildings- many with poor energy performance and outdated design- began to plummet, leaving skyscrapers and roadside shops alike empty around the city.
Officials estimate that over half of Manhattan's 450 million square feet of office inventory is practically obsolete. Newer buildings with energy-efficient systems are more desirable to renters than older buildings. With 14 million square feet of modern office space under construction, it's anticipated tenants of older buildings will continue trickling into newer energy-efficient builds long past the vacancy crisis.
Remote Work Is a Major Contributor To the Decline In Commercial Building Values
Recent studies highlight remote work as a major factor in declining building values. Estimates blame the shift into remote work for cutting building values by half. What was once a temporary fix has become the norm. This trend is not unique to New York alone; nationwide, businesses and landlords struggle to find a solution to emptying spaces.
"We now estimate a more persistent work-from-home regime, which has more of an impairment of office values even in the long run," Arpit Gupta, co-author of the study, "Work From Home and the Office Real Estate Apocalypse." told The Real Deal.
Post-pandemic rates of office return have reached no higher than 50%, severely lower than anticipated and hoped for by employers and landlords alike. Because of this, official estimates that NYC office stock loss would be 28% have been updated to reflect a 44% loss in value. New York has been on track to recover by the second quarter, with 1 million jobs lost due to the pandemic shutdown, but this is not reflected in local rental markets.
A major decline in worker spending is another backlash stinging local business. Without workers traveling to their offices, who will buy coffee, lunch, and run errands nearby? Less commuting means less commuter-based revenue; workers have spent $12.4 billion less annually compared to pre-2019.
Landlords are defaulting on loan payments. With more than $16 billion in loans due this year, many landlords are in a bind for alternative cash flow as renters continue to dwindle. The Fed's rising interest rates and tight lending standards jeopardize the ability for older office buildings to refinance, ultimately putting their ownership at stake. Nationally, this is a loss of $506.3 billion in value and has affected the state of local public finances.
Commercial East Village and Lower East Side Hardest Hit From Pandemic
The residential market has also experienced a major shift from the old norm. The residential vacancy rate is currently above 2%, where it has stood for nine consecutive months. The highest vacancies are concentrated within the East Village and Lower East Side with a rate of 3.25% compared to the lowest in the Upper East Side at 1.34%. That said, close to 3,704 new leases were signed in Manhattan by February 2023 compared to 1,000 in Brooklyn.
"In Manhattan, the vacancy rate ticked up from January to February as apartments took longer to find tenants and leasing activity slowed. These are all positive signs for apartment seekers," says Chief Operating Officer Gary Malin of The Corcoran Group. "However, the median rent has remained unchanged since October 2022, which shows that owners still remain hesitant to reduce pricing."
The median rent in Manhattan was $4,200 monthly as of February, unchanged since late 2022. Pricing is 12% higher than in February of 2022, making average rent higher than last year. In contrast, the median rent in Brooklyn was $3,500 a month in February 2023.
"Meanwhile, in Brooklyn, rents in February cooled just enough to encourage tenants to take action. In contrast to Manhattan, the number of signed leases in the borough increased monthly, hitting 1,000 for the first time since November."
Sadly, areas with the highest concentration of low-income residents face higher vacancy rates than elsewhere as businesses and landlords struggle to maintain profit margins that are quickly falling out of reach.
What Is The Status of NYC's Housing Affordability?
The 2021 Housing and Vacancy Survey, collected every 3 years, summarized the state of the rental landscape throughout the boroughs. The most recent report confronted increases in New York apartment vacancies since 2021. Rent regulation can be drastically affected by these numbers, and rates of 5% and higher constitute an official "housing emergency."
These surveys help representatives defend low-income residents and their rights. Members of CHIP (Community Housing Improvement Program) have challenged the city's rent stabilization laws in court. Low-cost apartments appear on the outs as the city lost 96,000 units at $1,500 or less since 2017.
But many are fighting. Vacancies in commercial space have advocates looking at new opportunities for affordable apartments and urban housing. Real estate groups, urbanists, and market experts wonder at the possibility of reinventing Manhattan and Brooklyn. Older buildings, in particular, seem nearly perfect for housing conversion.
"Landlords are being very creative trying to improve their buildings, amenitize their buildings, improve the air quality systems," said Peter Riguardi, chair and president of real estate services firm JLL's New York tri-state region. "But at this point, without any unforeseen change, there's still going to be some empty [office] space when we cycle through this, and some of those buildings are going to be ripe for conversion to residential."
Still, hurdles persist as Albany failed to pass legislation helping with the conversion of office buildings to residential use, stoking the anxiety of many. In some cases, banks may eventually gain ownership of the building should loans go unpaid. As affordable housing continues to slip away, many wonder at the persistent inflation present in rent prices but absent in wages.
In the last year, the city gained 107,000 units with rents of $2,300 and up, bringing the median asking rent of vacant apartments to $2,750 in 2022, up 46% from 2017. To afford this, a household would need to earn $110,000 or more. The 2021 survey found over 50% of renters paid upwards of 30% of their income toward rent. This severe rent burden signals an affordability crisis that is pinching the lowest earners in the city.
As buildings continue to empty and New York's population continues to increase, pressure is mounting on the affordable housing market. As of July 2023, there are 8.948 million inhabitants, up 0.37% from last year.
The high vacancy rates are not present for low-income apartments but are found for the most expensive. Deregulation of apartments from pre-2019 rent laws and the focus on high-end apartment buildings are partially to blame. Despite all this, outsiders continue to move to New York City in droves, ensuring demand never falls too low.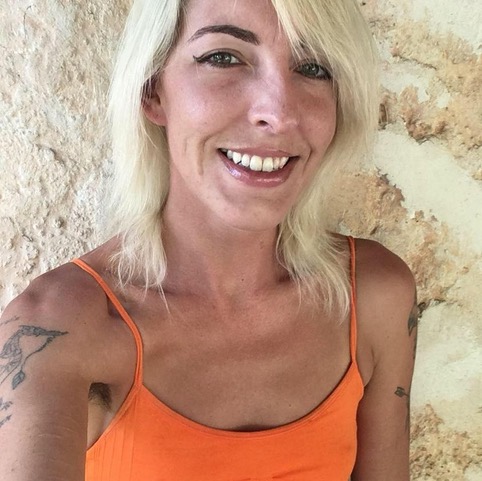 Lindsey Rae is a freelance writer, videographer, and medium format photographer with a background in economics, documentary filmmaking, and human rights. In past lives she covered the arts scene in Seattle and LA before morphing into a finance journalist, reporting from the NYSE for German news media. When not writing about culture & lifestyle she can be found studying herbalism and traditional healing techniques. She enjoys running, yoga, and world travel. You can find her at www.linerae.com or IG @hunteressthompson