Located at street level amidst most New York City neighborhoods, a bodega is a small corner store that sells snacks, lottery tickets, cigarettes, and toiletries, along with other basic food and household items. Most folks are extremely loyal to their neighborhood bodega, and if you ask any New Yorker you will get an animated response. As one New Yorker said to NPR, "If you're not cool with your corner store guy, you're not from New York."
Bodegas often stay open until 4AM, serving both the daytime and nighttime crowds. These hours also provide for working class and late night shift workers needing food on their way home. To an outsider, the bodega might appear as a regular old corner store, but beneath the loosies, tinfoil wrapped deli sandwiches, and bodega cats lie more important societal aspects. Bodegas represent a cornerstone of New York City's Hispanic population, with deep roots in Puerto Rican immigrant culture. These stores function as an axis for the newly emigrated to find resources and community within their neighborhoods – and maybe a snack or two along the way.
The History Of The Bodega
The Spanish word "bodega" originates in Spain and translates to "storeroom." Cuba was the first country to begin calling their convenience stores bodegas but it is Puerto Rico we have to thank for bringing them to the Big Apple. During the 1920s and 30s, bodegas first appeared and sold comfort food to Puerto Ricans working in New York factories. But it wasn't until after World War II that bodegas became the citywide icons we know of today, stretching through all neighborhoods of NYC. 
The early bodegas specialized in Caribbean culinary staples such as cilantro, recao, yucca, and other herbs. Families could find everything they needed to make beloved recipes such as asopaos and carne mechada along with necessary household necessities like toilet paper, cigarettes, and batteries. 
Bodega owners often held leadership roles within their communities and were familiar with the issues and needs of their local community. Bodegas exist in most of Central America and those that immigrate to New York often continue patronizing them. Large retailers and grocery store chains charge more for basic items like milk, eggs and fruit, making it economically advantageous for inner city dwellers to shop at the bodega instead.
While capitalism may present challenges to the bodega, strong cultural ties to all of Latin America keep their pulse strong. "In Central and South America and the Caribbean, they have bodegas on every corner to serve the poor," said Fernando Mateo, cofounder, and spokesman for United Bodegas of America, "New York City is basically the largest urban community in the world. Bodegas serve people who are used to that service in their native countries."
In mainstream culture as well, bodegas have gained much popularity. Social media users have fallen in love with bodega cats, and a few of New York's favorite hot sandwiches are made on bodega grills daily.  
Bodega Classics: Chopped Cheese and Bodega Cats 
Two New York culinary classics are best found in bodegas: the chopped cheese and the bacon-egg-and-cheese sandwiches. Made to order on a piping hot grill, these sandwiches keep New Yorkers going. There are several ways to order each, and incorrect pronunciation will give away a tourist in a second. Did you say chopped cheese or chop cheese or chop? A good "chop" can get you through a long night out on the town, and any respected bodega has a line at 2 AM of dedicated chop enthusiasts. Compared to a cheesesteak or a cheeseburger, this sandwich is served on a hero roll and comes steaming hot, wrapped in foil. The bacon egg and cheese is another popular New York breakfast icon, and proper pronunciation involves rolling all words into one long slur: "bacon-egg-and-cheese-salt-pepper-ketchup." Try saying that casually in under three seconds if you want to sound native to the block.  
While waiting for your sandwich to be made, you might notice a cat lounging in the shop. Bodega cats, as they are fondly referred to, are shop cats that live in these corner stores. Often seen sitting on a store shelf amongst cans of soup or sleeping underneath a rack of vegetables, these furry friends are the mascot of the shop. These cats are not there to look cute but more for their excellent hunting skills. A cat in the tienda will ensure the mouse and rat population remains next to nil, protecting food products from being ravaged by rodents. Bodega cats gained increasing popularity through social media when New Yorkers began posting cute bodega cat photos. Nowadays there are numerous social media channels dedicated solely to bodega cats (even a bodega cat Twitter) where you can see these felines working in their natural habitat.
— Bodega Cats (@Bodegacats_) August 3, 2022
While some complain about bodega cats and fear for the sanitation in bodegas, in most cases the bodega is less sanitary without the cat. Cats in stores are illegal and banned by the New York City Health Department but many owners prefer to pay the $200 to $350 fine to keep their rodent control as opposed to a steeper fine of $300 for rat feces. "It's hard for bodega owners because they're not supposed to have a cat, but they're also not supposed to have rats," said José Fernández, the president of the Bodega Association of the United States. Despite differing attitudes towards cats in stores, most New Yorkers love their local bodega cat.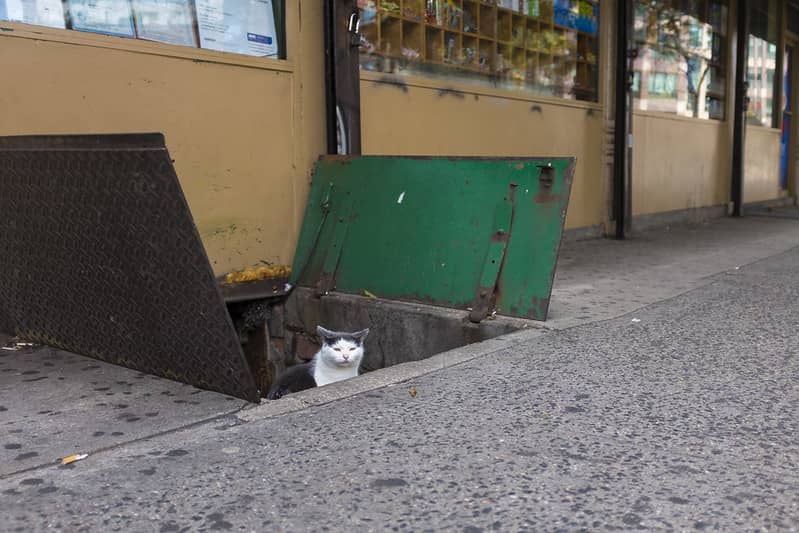 Other aspects of the bodega have come under challenge over the years. Changing trends in food and health have led to criticism toward bodega products, which tend toward processed foods heavy in sugar and carbohydrates. Local crime and stickups put bodega workers in danger, some losing their lives in shootings. 
Difficulties of the Modern Bodega
In a city that is constantly changing and reinventing itself, the New York City of today is not the same city as that of the 1960s and 1970s. Since 2000 there has been growing criticism toward the food options in bodegas, which over time have changed from fresh food and herbs to processed and packaged foods. 
New York City health officials track the ratio of bodegas to supermarkets within a neighborhood as a measuring point for access to healthy or fresh food. The calculated ratios often mirror local income demographics: areas like the Upper West Side had three bodegas per one supermarket, while the working-class neighborhood of Bedford Brooklyn area had a ratio of 57 bodegas per one supermarket. This ratio is often indicative of persistent health problems within its surrounding community. 
Neighborhoods with higher poverty rates have higher levels of diabetes and obesity. In Melrose and Mott Haven, two neighborhoods in the Bronx with more bodegas and less supermarkets, a 2015 study measured a 33% local obesity rate compared to 24% citywide. Diabetes was also more prominent, measuring at 15% of the local population compared to 10% citywide. Local officials and health workers blame the lack of fresh, affordable food as a main contributor to these health markers. And who was blamed? The bodega. 
Launching the Healthy Bodega Initiative for Fresher Foods
Complaints and concerns about access to quality food eventually led to the "Healthy Bodega Initiative," established in 2006 to combat low-quality food in underserved communities. Working mainly in East Harlem, the South Bronx, and Central Brooklyn, this initiative worked with over 1,000 bodegas in neighborhoods with the highest poverty rates in New York, bringing public awareness to issues like obesity and diabetes.
Focusing on revitalizing the supply of fresh produce, low-fat dairy, and whole grains, the initiative works in-store by providing larger refrigerators and shelving that can be used to stock healthier food products. In tandem with community organizations, the initiative also works outside of bodegas to raise nutritional awareness and knowledge of healthier foods. The movement was successful and showed positive results.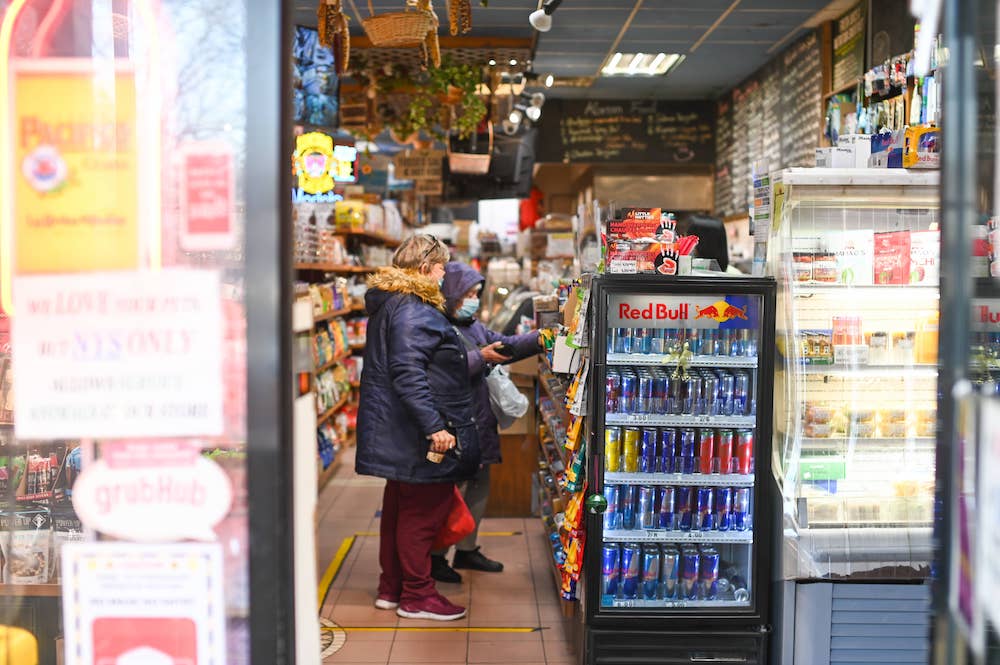 In 2018 the Bronx Bodega Partners Workgroup launched a movement called "Don't stress, eat fresh" featuring slogans such as "Live Longer, Be Stronger." Bodegas that had previously offered only one or two fresh vegetables now have over 30 varieties of fruits and veggies to purchase. Studies have found that shoppers are happier with these changes and praise access to healthier, fresher foods directly in their neighborhood. Adding fresher foods benefits shop owners too, some reporting sales increased up to 50% following these inventory changes.
Bodega Owners Caught in the Line of Fire
Armed robberies remain a recurring danger for smaller stores, often operating with one or two workers at a time. After 12 bodega owners were murdered in stickups, New York City assemblymen passed an initiative called Operation Safe Store, to install cameras throughout bodegas in Queens. Despite this and other measures created to protect the safety of shopkeepers, violence still threatens these community hangouts. 
Recently at the center of this talking point is Jose Alba, a bodega owner held under prosecution for killing a man out of self-defense. The convict who started the quarrel had 27 prior arrests before attacking Alba, a man in his early sixties. Despite what many see as an act of self-defense, Alba spent a week in Rikers with a $500,000 cash bail. District attorney Alvin Bragg announced Alba would be charged with second-degree murder, sparking outrage throughout the city. Mounting pressure eventually pushed Bragg to drop charges, but for many, fear still remains.
Shopkeepers now fear repercussions should they defend themselves in danger, and the response from organizations like the United Bodegas of America has been clear: arm yourself. "We want to make sure every bodega owner in New York City that is law-abiding, that feels the necessity to carry a licensed gun, to go and apply for it. Why? Because you need to be able to defend yourself," said Fernando Mateo of United Bodegas of America at a press conference outside the Manhattan District Attorney's Office.
Despite being simple corner stores, bodegas have a healthy amount of representation. The United Bodegas of America (UBA) is an organization that brings together support for bodega owners and works to protect their interests and safety. The Bodega and Small Business Group is another group formed by Hispanic entrepreneurs representing the interest of bodegas in New York. This group offers financial relief and assistance to bodega owners, along with free legal consultation. As their website states, "Our store owners had the courage of opening Bodegas in areas abandoned, low-income communities… economically depressed and mostly minority neighborhoods." With the vocal support of these groups, there is hope that bodega owners can continue to operate and support their communities safely. 
Can the Bodega be Replaced by AI?
On a larger scale, perhaps the largest predator to threaten the bodega comes from capitalism itself. Nowadays, you'll notice that most bodegas are not Puerto Rican-owned. The term bodega has been transmuted from the Hispanic-owned store, and in most neighborhoods, there are bodegas, Korean grocery stores, and delis whose naming conventions are often blended together. With over 13,000 corner stores in operation in New York City itself, it is clear that small shops fill a need in New York City society, and many consider the bodega irreplaceable. 
The amount of bodegas hasn't stopped big businesses from trying to reap the benefits, and recent challengers to this business model include AI vending machines and stores like Amazon Go.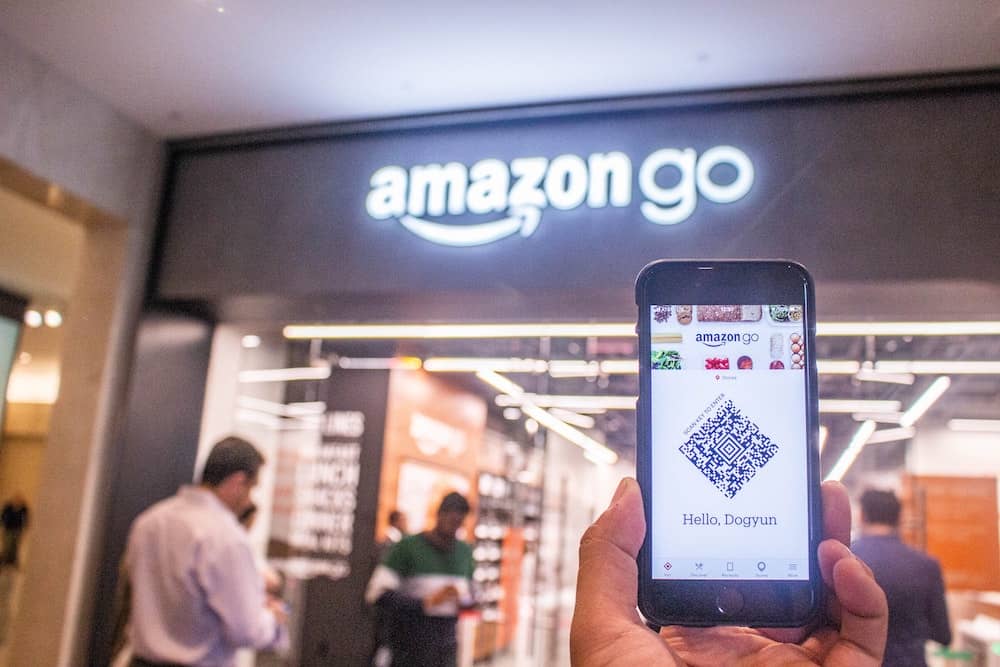 One major competitor decided to use the term Bodega for their product. Created by two ex-Google employees, Bodega was a startup designed to meet nationwide consumer demand through an AI-run, cashierless vending machine. "Bodega" had planned to install 100,000 five-foot wide vending machines across the US, each offering an array of household and personal care items along with foodstuffs and beverages. The vending machines were operated by a smart phone app which tracked purchases through camera, debiting the person's account afterward. The founders envisioned a world where no person was more than 100 feet away from a Bodega vending machine. 
While the startup had no problem raising the money needed to launch, there was outrage and public outcry at appropriation of the word "Bodega" for a vending machine. By profiting off the cultural following of the bodega, the startup was accused of exploiting community ties for monetary gain. As one person wrote on Twitter, "I'm so mad about this bodega thing. No box is going to know what I like when I'm hungover or sad or give me somebody to talk to."
The startup eventually changed its name to Stockwell AI not long before announcing its closure in 2020. Despite generous funding from prominent backers, Stockwell AI could not succeed. The 2020 pandemic became a kiss of death as consumers began to make larger purchases from chain stores instead of needing one-off items like in the pre-pandemic world. Major criticism of the AI vending machines centered around cleanliness, with people worrying about viral infections surrounding machines that were not consistently sanitized.
Amazon Go has been another competitor looking to profit off grab-and-go shopping. First establishing itself in San Francisco, Amazon Go opened in New York City in 2019. "It's a great city," Cameron Janes, Amazon's vice president of physical stores, said of New York, "And it's a city full of millions of people who are hungry and who are in a hurry." 
Hoping to capitalize off the rumored antisocial behaviors of New Yorkers, Amazon Go uses hi tech mechanisms to power its 1,300-square-foot shop, making it free from human contact. The store itself has the technology to track items with their shopper, debiting an account after the shopper has left the store. While many were excited about the prospect of high-tech shopping, most were disappointed at the lack of interaction. "I'd rather go to the mom and pops," said Daria Siegel to the New York Times, "I like to give back to the local economy when I can."
Rooting for the Bodega Underdog
New York consumers were happy to see Amazon Go struggle. The lessons learned between the Bodega startup and Amazon Go are simple, don't challenge the bodega. Rich historical ties and fierce loyalty to bodegas ensures a continuous relationship. With more bodegas popping up each year through New York City, it's not a trend that appears soon to end. Besides, who wants a chop cheese from an AI?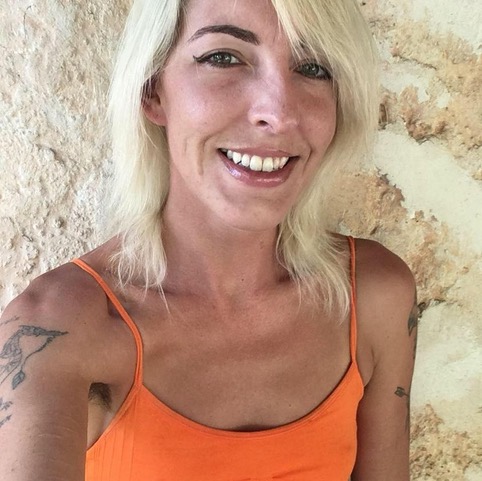 Lindsey Rae is a freelance writer, videographer, and medium format photographer with a background in economics, documentary filmmaking, and human rights. In past lives she covered the arts scene in Seattle and LA before morphing into a finance journalist, reporting from the NYSE for German news media. When not writing about culture & lifestyle she can be found studying herbalism and traditional healing techniques. She enjoys running, yoga, and world travel. You can find her at www.linerae.com or IG @hunteressthompson