One of the best parts of living in the suburbs is going to a drive-in movie theater on a nice evening. Nothing beats opening the trunk of your car, cuddling up under a blanket, chowing down on some snacks, and watching a film on the big screen. Sadly, those who live in NYC don't have access to this experience, right? Wrong! In fact, there are several drive-in theaters in and around the city where folks can gather for a fun time outside. Many don't even require cars to attend, and all of them play newer hits and classics depending on the night. The best ones to check out are:
Drive In Movie Theaters in NYC
Skyline Drive
This venue in Greenpoint, Brooklyn has three large screens, each with a different movie showing every night, weather permitting. Their state-of-the-art sound system forms a wall of noise so the other movies playing don't interfere with the one you're watching. This drive-in features both newer pictures and classics. They even have theme nights/weeks for specific directors and genres. Family-friendly with a breathtaking view, this is one of the coolest movie-going experiences in the entire city. Pets are allowed here.
Snacks
You have many options for snacking when it comes to this theater. They do have a snack bar, but there are only two windows open for the entire venue, so it pays to get in line early. Additionally, they do not sell alcoholic beverages, though they do have non-alcoholic beers. They have the traditional movie theater menu such as popcorn, hotdogs, chicken tenders, and a ton of soda available for purchase here. For those who aren't driving and want to drink a little bit, or for those who want to avoid waiting in line, the theater allows people to bring their own snacks and beverages. There are even some bars and restaurants nearby that are perfect takeout options for this venue.
Seating and Sound
For those who have a vehicle, you can either back your car in and watch from the trunk, or you can park normally and watch from the driver and passenger seat. Regular speakers will be blasting the movie's sound at you, but there's also a radio station you can turn on to listen to the film. The exact channel will be displayed on the screen before your movie starts. For those who don't have a car, seating is provided for you in the form of fancy folding chairs and picnic tables. These are both set up in front of vehicle seating areas.
Radial Park
This venue in Hallets Points, Queens first opened in the wake of COVID-19 as a safe way to get outside while safely social distancing. Even though most COVID restrictions have been lifted in NYC, this venue is still considered a social distancing safe haven where everyone can come and catch a show. While they are mostly known as a drive-in, Radial Park calls themselves an entertainment multiplex. They have live music, dance, and even live theater performances here on a regular basis. This place really does have it all, so bring the whole and experience the fun. Pets are not allowed here with the exception of ADA service animals.
Snacks
This venue has a concession stand with movie theater classics like popcorn and soda. This place also allows themed food trucks to set up shop around the seating areas. Mexican, Halal, and more are usually available here, and every option takes cash or credit. You're also allowed to bring in your own snacks, including alcohol if you're not driving, but are strongly advised to drink responsibly.
Seating and Sound
Seating is designated by row, with picnic tables up front and car spots in the back. Because this venue is socially distanced, there is no bad seat in the house, and people driving in are encouraged to bring lawn chairs and blankets so they can enjoy the festivities from the great outdoors. The sound system here is very good, but the volume is turned down at 10pm to comply with local noise ordinances. Those watching movies from their vehicles are encouraged to listen to movies via an FM radio station that will be provided to you upon entry to the venue.
Bel Aire Diner Drive-In
This Astoria drive-in is another COVID-19 response after the Bel Aire Diner was in danger of closing in 2020. They converted their parking lot into a small drive-in theater, which was so popular that they decided to keep it as a regular feature. On top of that, they have regularly donated proceeds from these movie nights to charitable organizations, and have even expanded into other forms of entertainment like live music and comedy. While this venue isn't open as often as the others, it's a unique experience that's worth the trip. Pet are allowed as long as they stay in cars.
Snacks
The best part about this drive-in is the food situation. Visitors have access to the diner's full menu, as well as some simple snacks like popcorn. However, why get popcorn when you could have a delicious burger or pasta dish? The diner also has a full bar that includes signature cocktails, though they encourage people to follow the law and drink responsibly since they are driving. People are allowed to bring their own snacks, but why would you?
Seating and Sound
This venue is a bit smaller since it's in the parking lot of a diner. It's mostly meant for cars, though people are allowed to bring lawn chairs and sit at the front of the crowd. They have set strict limits on cars due to high demand, so be sure to get tickets early by signing up for their mailing list. As for sound, this is, again, a bit rudimentary. They have a decent speaker system, but the FM radio stations found at other venues are decidedly absent. Though the tech is nothing to write home about, the experience and community is what sets this place apart from other drive-ins.
Queens Drive-in
This drive-in movie theater in Flushing Meadows-Corona Park was one of the first in NYC and is still extremely popular to this day. This venue is for film and film alone, showing a wide array of stuff from big budget classics to cult indie darlings. They even have premieres of films, sometimes featuring celebrity guests. The best part is that a portion of every ticket price will go toward charities that assist communities hardest hit by COVID-19. With all this in mind, it's no wonder why this venue is one of the most popular drive-ins in the entire city. No pets are allowed except for ADA service animals.
Snacks
The Queens Drive-In offers quality concessions from two of the most popular restaurants in the Queen's Night Market. These establishments are CBao, for those seeking some extra flavor for their movie watching experience, and Dilena's Colcini, for the more traditional movie snacker amongst you. Both places are available for orders by phone, and you'll receive a text when your food is ready to be picked from the concessions stand. Guests are also allowed to bring their own food and beverages. However, the Queens Drive-In is a dry venue, meaning no alcohol is permitted on the premises.
Seating and Snacks
This is a vehicle only venue, so everyone who attends will have to do so in a car. Every ticket purchased is good for one, five-passenger vehicle, and no RV's or extra seating are allowed outside the vehicles that enter. Additionally, there is no amplified sound system at this venue. Guests must tune in to an FM radio station that will be given to them upon arrival. If a car doesn't have an FM radio, guests are encouraged to bring a portable radio instead.
Other Outdoor Movie Options
Drive-Ins aren't the only ways to see outdoor movies in NYC. There are plenty of rooftop theaters that are available in the city like The Rooftop Cinema Club or The Green Room 42. The city itself also provides ample opportunities to see movies outdoors with its annual Free Summer Movie Series. This city service sets up shop in multiple parks, and shows new and classic films all summer long, specifically for people who don't have, or don't want to drive, cars.
---
Drive-in theaters lost some popularity a few years back when other movie going experiences became much more popular and convenient. However, when COVID-19 hit, people were itching to get out of the house in a safe way. Drive-in movies were the perfect answer, and the experiences they had at these venues made people remember what made them so special in the first place. There's something magical in sitting in a car with your friends, your food, and your conversation. It's a more communal way to experience a film on the big screen, and these venues will ensure that this grand tradition is around for a long time.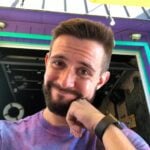 Russell is a writer and comic based in New York City. His plays have been featured at Penn State's Cultural Conversation's Festival, The NYC Thespis Festival, and Imaginarium's Inaugural Theater Festival. Follow him on TikTok and Instagram @pooleparty528