In 1898 Andrew Carnegie and his wife, Louise Whitfield Carnegie, bought a large green lot in northern Manhattan with the mission to build "the most modest, plainest, and most roomy house in New York" in which to raise their daughter, Margaret. Designed by the now-defunct architectural firm of Babb, Cook & Willard, the 64-room Andrew Carnegie Mansion more than fulfilled the prompt. Ground would break on the project far from what was then fashionable in New York in order to spur community development, eventually becoming the namesake of the neighborhood now surrounding it; Carnegie Hill. This mansion was innovative and evocative in its time, remaining one of the finest examples of English Georgian country house design, currently serving as the home of the Cooper Hewitt Smithsonian Design Museum.
Who were Andrew Carnegie and Louise Whitfield?
Andrew Carnegie's Immigrant Tale
Called the Father of Modern Philanthropy, Andrew Carnegie was born in 1835 to Will and Margaret Carnegie in Dunfermline, Scotland, the capital at the time. Having fallen on hard times, Will Carnegie joined the popular Chartist movement, a populist movement composed of thousands of working-class Scotsmen sharing a vision for a "better life for the working man." After the movement failed in 1848, Will and Margaret Carnegie sold their belongings to book passage to America for themselves and their children, 5-year-old Tom and 13-year-old Andrew. They eventually settled in Allegheny, Pennsylvania, taking over a family member's weaving shop, which ultimately failed, leaving the family in need.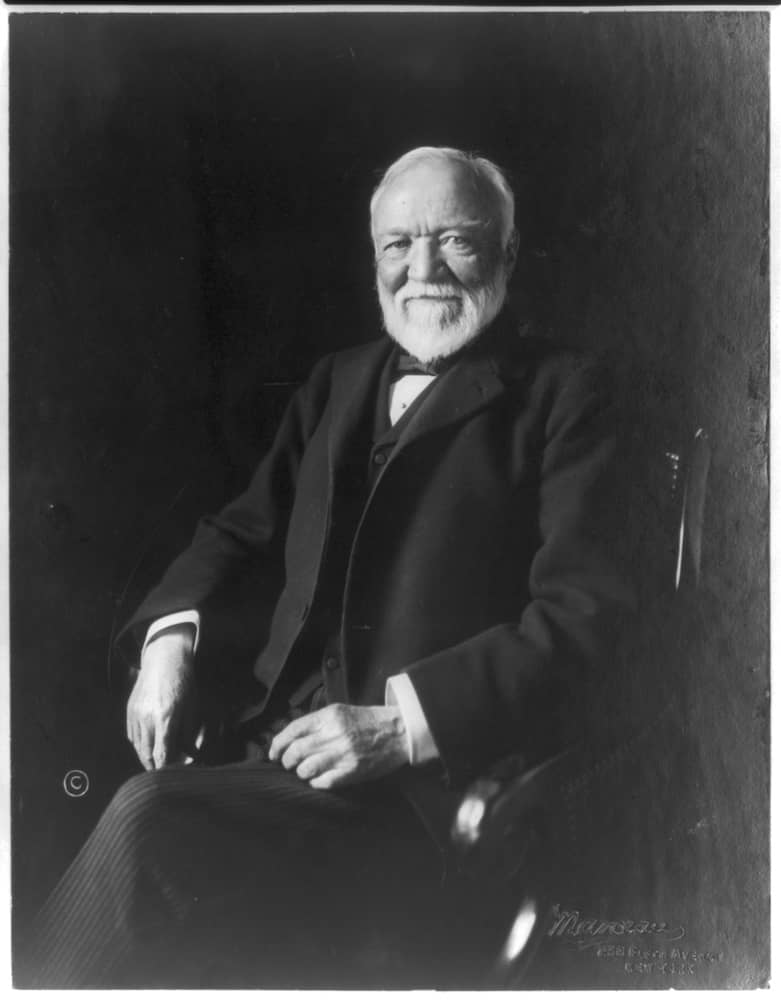 Andrew began working at age 13 as a low-paying bobbin boy in a cotton mill, anything to help support the family. He quickly found better work as a telegraph messenger, teaching himself how to operate the equipment. He eventually found himself in the position of telegraph operator for the Pennsylvania Railroad, where he was promoted to superintendent by age 24. When ten shares of the Adams Express Company went up for sale, Thomas A. Scott, a superintendent of the western division of the Pennsylvania Railroad, alerted Carnegie. But it was Margaret Carnegie who mortgaged their home to obtain the $500 needed for the shares. This investment was massively successful, and Carnegie eventually spun it into another purchase of a share in his business partner Theodore Woodruff's Sleeping Car Company, a business that Carnegie would eventually buy.
Louise and Andrew's Secret Engagement
By age 30, around 1865, Carnegie was a multi-millionaire business tycoon with business interests in iron works, steamers on the Great Lakes, railroads, and oil wells. It wasn't until 1880, at age 45, he began courting his future wife, Louise Whitfield, age 23. Miss Whitfield was born in Chelsea, Manhattan in 1857 to English immigrant and textile merchant John Whitfield. After befriending her father, Carnegie met and was immediately attracted to equally ambitious Louise. 
Andrew was one of the most famous bachelors in the US  at the time, with a growing value of $20 million ($350 million today), although Louise made it clear she had no wish to marry rich. Andrew compromised, making it clear he planned on giving his fortune away: They fell in love. Margaret Carnegie, age 70, disapproved, purportedly having exacted a promise from Andrew that he would remain single while she was alive. Even with her undermining, the couple was engaged in 1883 before breaking it off in 1884 before engaging each other again secretly weeks later to spare mother Margaret, marrying after her death in 1886. Unusual for the time, Louise signed a prenup renouncing claim to Andrew's millions, gaining stocks and bonds for an independent annual income instead. 
The Andrew Carnegie House
The house was planned by Louise and Andrew not only as a place to raise their daughter, also named Margaret, but also as a base for Carnegie's philanthropic ventures. After selling his company for $480 million (a staggering $13 billion today), Carnegie retired to the mansion in 1901. There he and Louise oversaw the donation of around $350 million to education, cultural institutions, and promoting world peace. The home was the first modern steel-framed construction, highly sophisticated for the time, featuring multiple electric elevators (one of the first Otis passenger elevators in the city), a fully electric laundry, a hi-tech air conditioning system, and a cellar coal car that traveled over a miniature train track to transfer fuel from a storage bin to the boiler-room. With four levels, a ground floor, and a basement, it rivals some of the one-percenter mansions of today!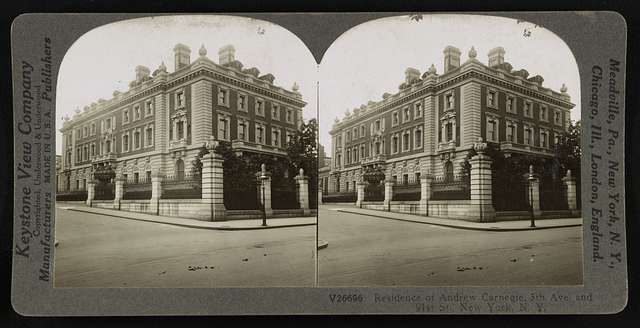 The spacious private garden was rare at the time in New York City, but the Carnegie family preferred simple natural pleasures to the flashy trappings of the Gilded Age elite. Every morning the family would wake up to the sounds of renowned church organist Walter C. Gale who would arrive daily and play the massive organ in the main hallway. The two lived happily with their daughter there for about twenty years until Andrew's death in 1919. Louise continued their philanthropic ventures long after, living in the mansion until her death in 1946, leaving it to the Carnegie Corporation.  In 1974 the building received historic landmark status before being turned over to the Smithsonian Institute in 1976 to be used as a home for the Cooper-Hewitt Museum. 
The Andrew Carnegie Mansion Today
The interior remained largely unchanged until 2011, when it was renovated by the organization with respect for the original spirit and character of the building. Being a historic landmark, the renovations took care to restore key features of the interior, including moldings, chandeliers, and woodwork, while also allowing for the creation of the Cooper-Hewitt Research Library and the 6000-square-foot Barbara and Morton Mandel Design Gallery. 
In 2015 the mansion and Cooper-Hewitt campus earned LEED silver certification from the United States Green Building Council, which is awarded to buildings that are designed, constructed, maintained, and operated for improved environmental and human health performance: Even after their deaths, the legacy of Andrew and Louise Carnegie is being honored by their home and organization. 
featured image of Carnegie Mansion: Some rights reserved by ajay_suresh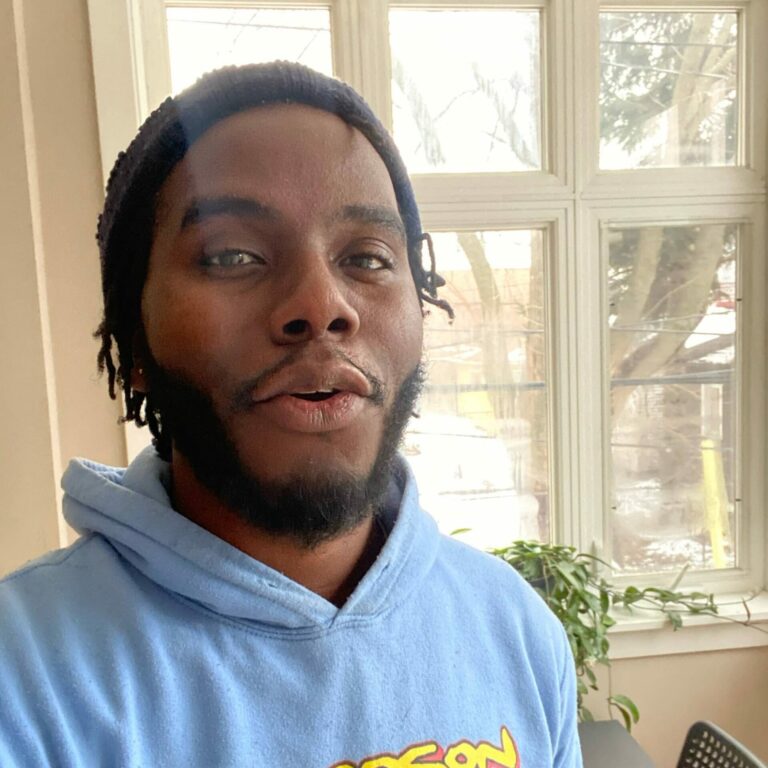 Josiah Thomas Turner is writer and musician based out of Washington Heights, New York. Turner received his undergraduate degree in Drama from the University of Wisconsin - Stevens Point before earning an M.F.A. in Playwriting from The University of Texas at Austin. Born and raised in Milwaukee, Wisconsin, Turner trained as a multi-instrumentalist from a young age and spent much of his early years creating and performing music. Josiah's current interest include animation, video-games and French-Canadian prog-rock.