Living in NYC is pretty great when it comes to convenience, diversity, and the endless amount of delicious food and things to do. But what it lacks, besides the parks, is the ratio between concrete vs. nature. For those in need of a getaway for a day or the weekend, Upstate New York is the perfect option to consider. New York State is more than just NYC, and you will realize that once you venture upstate. Going to the Catskills during the winter months guarantees some of the best ski spots. You'll find some of the most beautiful hiking trails and lakes if you go in the summer and fall months. If you're going for the art and food, be sure to visit the towns in Hudson Valley. Here are the most beautiful places to visit in Upstate NY.
Beautiful Places in Upstate New York
1.) Whiteface Mountain
View this post on Instagram
About five hours away from Manhattan by car, Whiteface Mountain is breathtaking with its views and height. In fact, it is the fifth-highest mountain in the state of NY and one of the High Peaks of the Adirondack Mountains. If you happen to get to the peak of the mountain, you can get a 360-degree view of the Adirondacks. You might even catch a glimpse of Vermont and Canada on a clear day. It's literally a real-life Google Earth! 
Whiteface Mountain skiing is a major area, run by the Olympic Regional Development Authority. If you come here to ski, you're definitely in for a treat. According to Whiteface Mountains, Whiteface is the home to the greatest vertical drop east of the Rockies with 90 trails within 25 miles. If you visit during the warmer months, Whiteface offers bike riding and gondola rides. The nearest town is Lake Placid, which is also known as the Olympics winter sports hub.
Home Listing Nearby: By the Lake
2.) Cooperstown
View this post on Instagram
Recognized as the home of the National Baseball Hall of Fame, this small town that's about three hours and 40 minutes away from Manhattan is full of rich traditions, restored historical buildings, and plenty of museums. While known mostly for baseball, Cooperstown has also been called the "village of museums" for how many they boast. There is the National Baseball Hall of Fame, The Farmers' Museum, Hyde Hall, Fenimore Art Museum, and the Heroes of Baseball Wax Museum. Other attractions include the New York State Historical Association, the Glimmerglass Opera, Nation Art Association Show, and many others. In the summer, there are boat tours on Otsego Lake and Glimmerglass State Park offers winter sports activities and camping. 
Home Listing Nearby: Big Backyard

3.) Eternal Flame Falls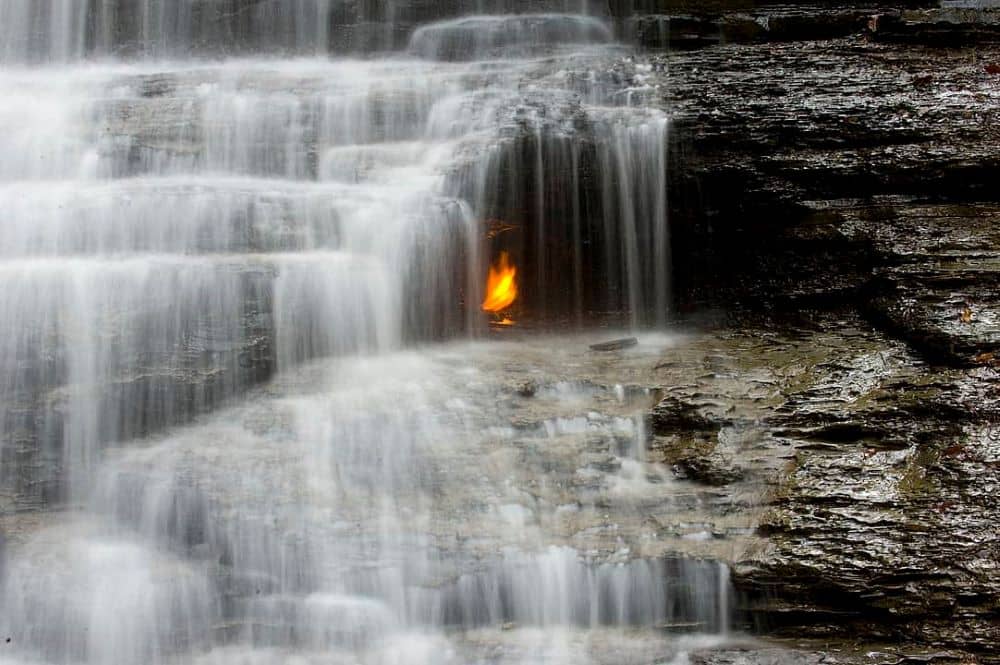 About six hours and 40 minutes away from the city, Eternal Flame Falls looks exactly like how it sounds. The 35-foot waterfall is beautiful in its own way, but the treat lies within its grottos. One of its grottos actually contains a small flame that is about eight inches high. It is believed that the flame was lit centuries ago by Native Americans. It was also believed by scientists, for a long time, that the fire stays burning because of the gas pockets that rise from the hot bedrock made of shale. However, it was later discovered that the shale bedrock isn't hot enough to produce gas pockets. It is a mystery how the flame stays lit.
If you're planning on hiking the half-mile trail leading to the falls, bring a lighter with you! Even though this flame is constantly lit up, it can go out if water gets into the grotto. Hikers often will light it up again.
Home Listing Nearby: Family Home
4.) Kingston

Only about an hour and 40 minutes away from Manhattan, Kingston is a must-visit city. Nestled in NY's Ulster County, Kingston was actually NY's original capital in 1777. The city itself dates back to 1652 when the Dutch first arrived. The city also served as a battleground during the American Revolution. Thanks to its long history, Kingston is a vibrant community rich in history and architecture. If you visit the city, be sure to check out all three different areas: Uptown, Midtown, and the waterfront. Uptown is where the Farmer's Market can be enjoyed from May to November. Midtown is more for the arts, and Kingston has 20+ gallery spaces for the art-lovers. The waterfront is also the place where the Hudson River Maritime Museum stands. They provide boat tours, as well as boat building lessons, where you can learn how to build and refine wooden boats. They have classes for youths and adults. 
Home Listing Nearby: Quaint Classic Home
5.) Corning
View this post on Instagram
Known as America's Crystal City, this beautiful spot is one of the top Upstate locations for a getaway. Take the weekend to Corning with a four-hour drive from the city. You'll love seeing why they're known as America's Crystal City. The Corning Museum of Glass is entirely focused on a single material: glass. The museum has daily live glass-blowing shows, demonstrations by special guest artists, and a chance to make your own glass. This museum has the largest glass collection in the world. It is definitely one to check out while you're at the Finger Lakes. However, the glass museum isn't the only attraction Corning has to offer. Explore the Rockwell Museum which has an amazing collection of Western Native American art. For those who want to see historical buildings and workshops, Heritage Village has your back. If you're looking for something more laidback, Gaffer District is filled with hundreds of art galleries, boutiques, restaurants, and studios. Make sure to sit down once in a while and enjoy the breweries and distilleries around the city, as well as shop for a meaningful souvenir at one of their many, many shops. 
Home Listing Nearby: Colorful Walls
6.) Sam's Point
Only about an hour and 30-minute drive from Manhattan, Sam's Point is located on the highest section of the Shawangunk Mountains. It is located in the southernmost section of Minnewaska State Park Preserve. Sam's Point is home to one of the five Shawangunk lakes, with ice caves that you can explore as well as scenic spots and cliffs to take the coolest of pictures. If you decide to hike this area, please note the small parking area. Sam's Point trails are dog-friendly, but the park's site says to keep the leash six feet or shorter. It's stunning to go in the fall, and in late spring and early summer, you can actually hike to the ice caves. 
Once you're done with Sam's Point, there are plenty of other areas at Minnewaska State Park Preserve that you can explore and hike through.
Home Listing Nearby: Wooden Wonder
7.) Montezuma National Wildlife Refuge

 While there are several locations for the National Wildlife Refuge, this Finger Lakes region is a globally renowned place for birds and nature photography. According to their site, there are several ways to enjoy the refuge. Take the three-mile Wildlife Drive tour, go on hikes of different levels, go fishing, go hunting NY species during hunting season, and more. If you're here exclusively to see the animals living in their natural habitat, from late February to April is the best time to see thousands of different birds passing through to the north. Montezuma National Wildlife Refuge is four hours and 40 minutes away from Manhattan, so it would make a perfect trip for the nature lover. 
Home Listing Nearby: Country Charm
8.) Mushroom House

While this upstate gem is more quirky than beautiful, it should still be a must-see spot when visiting Rochester. Five hours by car, or an hour by plane from Manhattan, on the outskirts of Rochester lies a strange piece of property. The mushroom pod-shaped building was built in the 1970s and designed by architect James H. Johnson. He made a design based on Queen Anne's floral lace for his clients. The design came out more fungal than it was floral, the brownish color of the structure made it seem even more so. The house was designated a town landmark in 1989. It's made of four 20-foot stems made up of steel-reinforced concrete. The house is decorated with more than 9000 ceramic tiles handmade by Marguerite Antell, one of the original owners of the house. If you're interested in the property, you can contact the property's realtor for a private viewing. The house is also available for rent for $5,500 a month. 
Home Listing Nearby: Cute Townhome
9.) Lemon Squeezer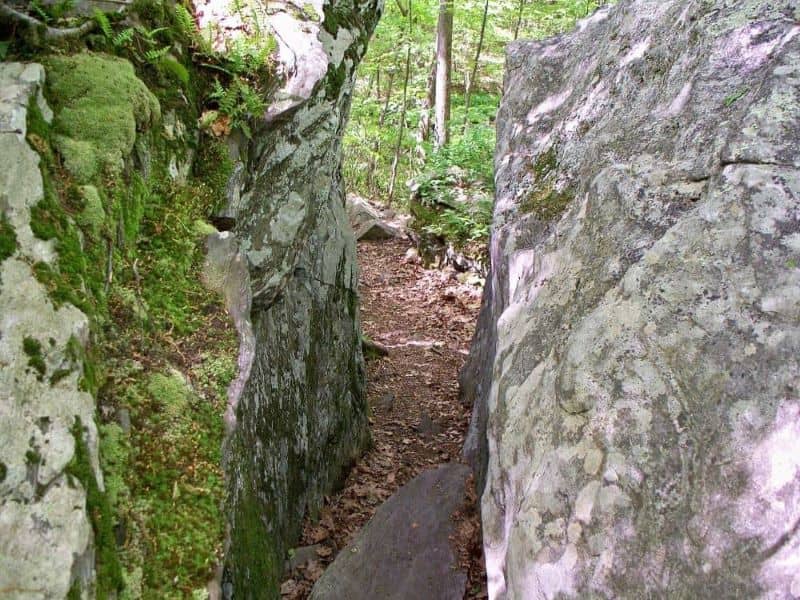 Only an hour from Manhattan, hiking the Lemon Squeezer and other trails in the area would make for the perfect day trip. It's called the Lemon Squeezer because of its unusual formation. Located in Harriman State Park, it is also a part of the Appalachian Trail. The hike itself ranges on the longer side, 8.2 miles, but you can stop at four miles when you reach the Lemon Squeezer. It's called what it's called because the trail goes through a small and tight opening between big rocks. The hiker will have to squeeze through a narrow section before getting up a rock face. It is said that the scramble up the rock face is the hardest part, so if you're struggling, there is a sign that points out an easier way. There are plenty of other hikes nearby if you only decide to go the four miles. Black Rock and Hogencamp, Pine Meadows Loop, West Mountain and Doodletown, and the Jackie Jones Fire Tower to name a few. 
Home Listing Nearby: Family Friendly
10.) Bannerman Castle
View this post on Instagram
Formerly known as Pollepel, Bannerman Castle used to be an uninhabited place and one that was only accessible by boat. Since the American Revolution, the castle has only had five owners: William Van Wyck, Mary G. Taft, Francis Bannerman, the Rockefeller Foundation, and now the New York State Office of Parks, Recreation, and Historic Preservation.
Brooklynite Francis Bannerman immigrated from Scotland to Brooklyn when he was three. He later became a successful businessman, but while he was rowing along the Hudson one day, he noted this island. He bought it from the Taft family as a safe storage site but later started constructing a Scottish castle, which became Bannerman Castle. This is another destination that would be the perfect day trip. Only an hour away from Manhattan, make sure to book tickets to the activities you want to do before arrival. Bannerman Castle offers a cruise and walking tour, allows tourists to canoe/kayak in their own boats to the island, a farm-to-table dinner, and theatrical events. Learn about the long history of this island, the castle, and the surrounding areas. If there is still daylight remaining in your day trip, stop by Beacon where you can stop by the Farmer's Market, check out some art galleries, eat some delicious food, and soak up Beacon's culture. 
Home Listing Nearby: Whimsical Victorian